Full Week 1 Stat Predictions for Tennessee Titans Offense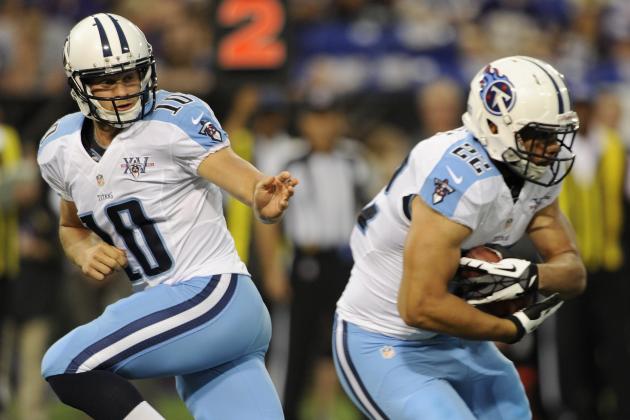 Hannah Foslien/Getty Images

With the roster finally cut down to 53 players, it's now time for the Tennessee Titans to start thinking about their trip to Pittsburgh in Week 1 to take on the Steelers.
The running game looks to be legit with the additions of Shonn Greene and Jackie Battle to help out Chris Johnson. Expect the Titans to lean heavily on all three of these guys throughout the season.
As for Jake Locker, he generally showed improvements from where he was at this point last year when he was heading into his first full season as the starting quarterback.
Many of the question marks still surround the defense, but the offense looks to have the ability to put up plenty of points on a consistent basis.
Here are your stat predictions from key Titans players on the offense as they'll face an aging Steelers defense to get 2013 started with a bang.
Begin Slideshow

»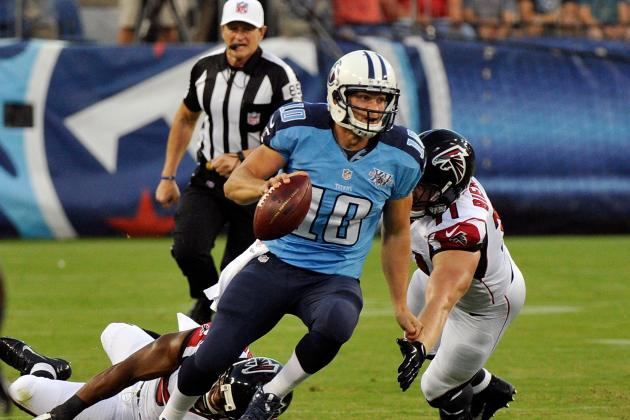 Frederick Breedon/Getty Images
Locker threw for 229 yards in Week 1 of 2012
Jake Locker did what he had to do in his busy preseason to give Titans fans a reason to have some reserved excitement about how much he could improve, starting in Week 1 against the Steelers.
In what is widely considered the dress rehearsal in Week 3 of the preseason, Locker played very well against the Falcons' defensive starters, which led to three scoring drives in the first half.
Locker has still had some consistency issues with his accuracy, but he definitely seems to be in a much better place than he's ever been with his mechanics.
However, Locker still has plenty of critics that think that he can only take the Titans so far, which isn't far at all judging by the rating given to Locker by John Clayton of ESPN.
We'll get a good idea of whether Locker's preseason is a true sign of things to come judging by how well he manages the game in Pittsburgh. No one is saying he has to go out there and throw for 300 yards to prove that he has gotten better.
What Locker does have to do is avoid the big mistakes to keep the Titans in the game all the way until the end. He has the offensive line, the receivers and the running game to win plenty of games if he learns to lead this offense effectively as a signal-caller.
Locker should also get several opportunities to make plays with his legs to move the chains. He just has to learn to slide and protect the football.
Managing expectations for Locker on a gigantic stage in Pittsburgh should be the key here. Don't expect big numbers in Week 1.
Projected Stat Line: 20/29, 205 yards, 1 TD, 1 INT, 25 rushing yards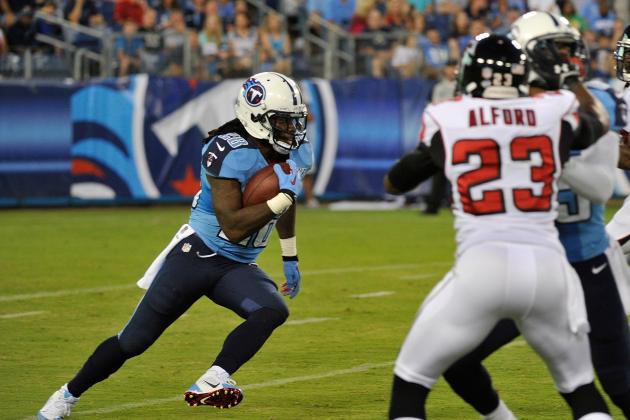 Frederick Breedon/Getty Images

There is no absence of buzz surrounding Chris Johnson and what he expects of himself heading into the 2013 season.
The Titans needs Johnson to at least come close to meeting those lofty expectations that he always sets for himself.
Here is what Johnson has done in his career in regular-season openers:
| | | | | |
| --- | --- | --- | --- | --- |
| Year | Att. | Yds. | Avg. | TD |
| 2008 (vs. Jax) | 15 | 93 | 6.2 | 0 |
| 2009 (@Pit) | 15 | 57 | 3.8 | 0 |
| 2010 (vs. Oak) | 27 | 142 | 5.3 | 2 |
| 2011 (@Jax) | 9 | 24 | 2.7 | 0 |
| 2012 (vs. NE) | 11 | 4 | 0.4 | 0 |
Even though the Steelers are in somewhat of a rebuilding mode, their defense is still going to present some challenges to the Titans' running game.
Johnson is always a threat to bust loose for the long one, but a game short of 100 yards is likely if he doesn't get that one long run.
Sharing the backfield with two other viable running backs will also cut into Johnson's production a bit, and that's not necessarily a bad thing for the Titans.
Johnson's yards-per-attempt average will be around four to five yards, but the total may seem low. Don't be surprised if Johnson tallies up a few receptions for some moderate yardage as well.
Projected Stat Line: 15 attempts, 75 rushing yards, 3 receptions, 20 receiving yards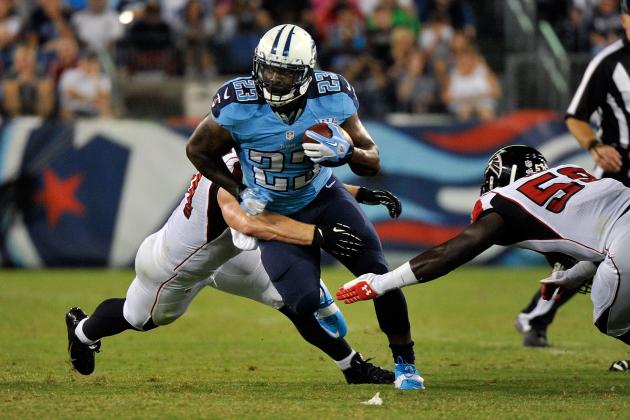 Frederick Breedon/Getty Images

Shonn Greene could end up being the key addition that makes this offense really tick when it's all said and done.
A sore ankle that forced Greene out of the preseason win over the Falcons shouldn't cause much concern. He should be ready to go in Week 1 and give the Titans a formidable rushing attack.
It's hard to know at this point how many carriers Greene will see on a week-to-week basis, but the flow of the game will probably dictate what kind of action Greene sees.
If this revamped Titans offensive line lives up to expectations in this first game, then both Greene and Johnson will have plenty of holes to run through to put the running game well over 100 yards total.
As for Week 1 against the Steelers, Greene should see around 10 carries at the very least. If the Titans get near the goal line, then a rushing touchdown in Greene's regular-season debut with the Titans is likely.
Projected Stat Line: 11 carries, 40 yards, 1 TD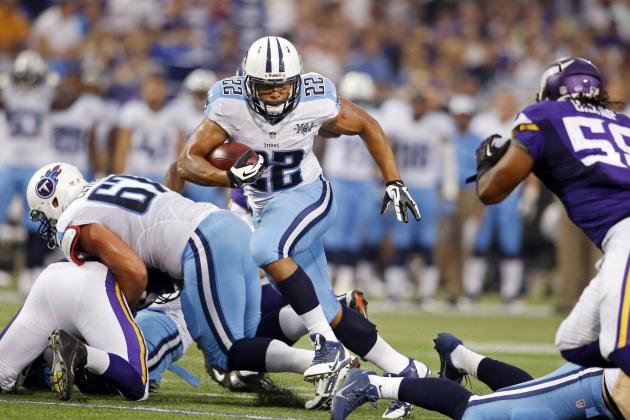 Bruce Kluckhohn-USA TODAY Sports

Jackie Battle is the biggest surprise for the Titans this preseason. He fully earned his spot on the team, and he'll see some limited action in what will be a game with a lot of running plays.
However, there won't be enough touches for Battle to do anything more but pad the rushing numbers for a much improved Titans rushing attack.
Shonn Greene figures to get most of the touches in short yardage situations, but Battle could still be another change of pace guy that gets featured in this game to keep the Steelers defense guessing.
Projected Stat Line: 3 rushes, 15 yards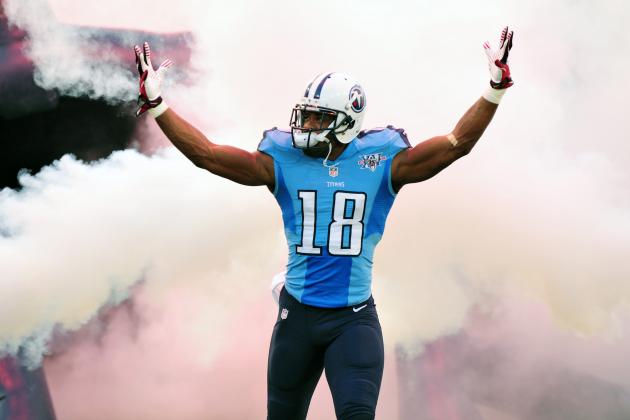 Don McPeak-USA TODAY Sports
Britt had 62 yards and a touchdown against Pittsburgh in 2012
Kenny Britt is entering a make or break year in 2013. He has the abilities to make this offense a top 10 threat in the NFL, but that's only if he shows up for the entire season. That has been a problem in the past.
As for the game against the Steelers, he'll make his fair share of plays. He had a touchdown against them in the upset last season when Matt Hasselbeck was under center.
It's not going to be a game for any player on offense in the box score, and Britt might have to wait until a weaker opponent comes up on the schedule to have his breakout game.
Projected Stat Line: 3 receptions, 40 yards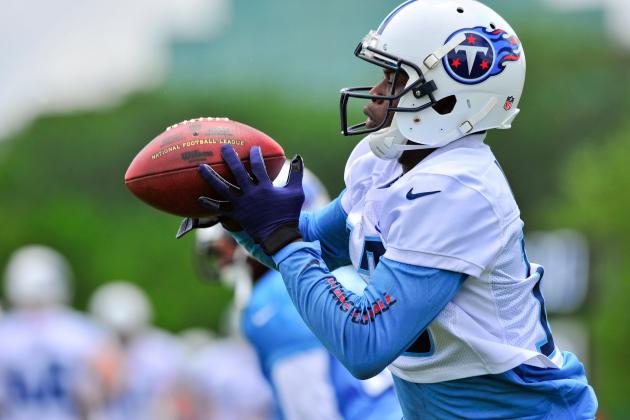 Jim Brown-USA TODAY Sports

The sky could be the limit for Kendall Wright in 2013 after having a very productive rookie season. He even cracked the list of being a player who could make the leap to the next level by NFL.com Around the League writer Chris Wesseling.
Wright is going to spend most of his time as a slot receiver now that the Titans have both Justin Hunter and Kenny Britt on the outside. He could end up doing some damage against the Steelers if he can get some separation using his speed.
If the running game can also be dependable, then Wright could really put up some big numbers to get 2013 started. Wright will end the season as the Titans' leading receiver, and he'll lead the team in this game as well.
Projected Stat Line: 6 receptions, 75 yards, 1 TD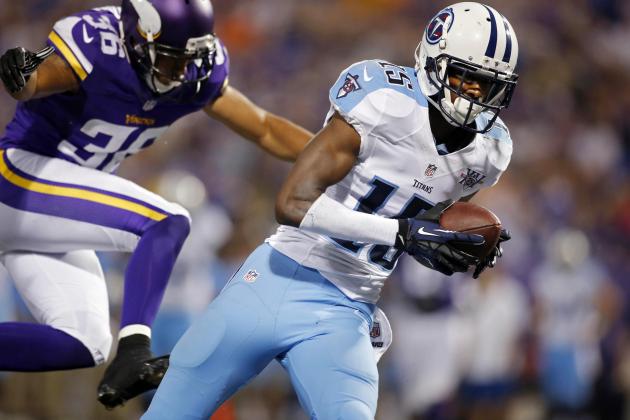 Bruce Kluckhohn-USA TODAY Sports

Justin Hunter capped off the preseason with a nice performance against the Vikings to give himself some momentum heading into the games that actually count.
Patience is going to be key when it comes to Hunter at the start of the season. He's not going to come in and put up crazy numbers with an average quarterback.
However, it only takes one big play to inflate those numbers and get everyone talking about this rookie. If it was a weaker defense that the Titans were up against, then Hunter might have a chance to do that. Since it's against a still-respected Steelers defense, low numbers should be expected.
Projected Stat Line: 2 receptions, 25 yards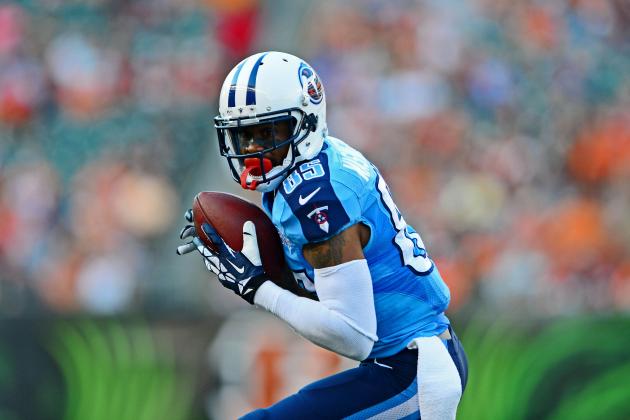 Andrew Weber-USA TODAY Sports

Nate Washington is going to need to be the veteran presence that holds this unit together, and he can't waste any time doing that in Week 1 in a hostile environment.
Count on Washington to make a couple key catches to keep a few drives alive despite a nagging foot injury that he's currently dealing with.
It's not going to be a big splash in the box score against his former team, but Washington will chip in for some modest production.
If Kenny Britt starts off 2013 in a big way like he did in 2011, then that might phase out Washington all together.
Projected Stat Line: 3 receptions, 28 yards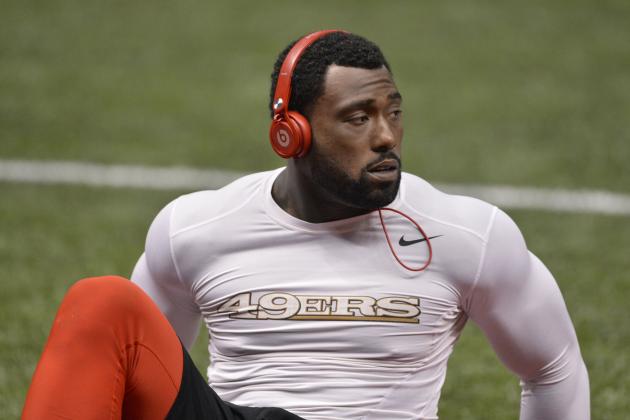 Kirby Lee-USA TODAY Sports

It looks like Delanie Walker is going to finally be ready for the regular-season opener after missing so much time in training camp.
Walker is going to bring some valuable versatility to the Titans, but it's still unclear how big of an impact he's going to make as a receiving tight end. He was always in the large shadow of Vernon Davis while he was with the 49ers.
Since Walker is the main guy at tight end entering the season, he's going to get his fair share of opportunities to make some plays.
At this early point in the regular season, Craig Stevens might produce more than Walker. Once the chemistry is built, that could easily change.
With no opportunity for Walker and Jake Locker to build any chemistry just yet, don't expect anything big from Walker in Week 1 when it comes to numbers. However, he will make an impact in other ways that can't always be measured in the box score.
Projected Stat Line: 2 receptions, 15 yards
Don McPeak-USA TODAY Sports

The numbers for Rob Bironas were down a little bit in 2012 by his standards. He had his lowest field-goal percentage since 2006 as he made 25 of 31 kicks.
Bironas should get a few chances to keep the Titans in the game with some long field goals, and one of his signature 50-plus yard field goals could make all of the difference in a game that should be close.
Another long field goal will be added to Bironas' career numbers, and he'll be pretty reliable as he usually is.
Projected Stat Line: 2/2 FG, 2/2 PAT's, Long of 51