Why Daniel Agger Would Be a Good Fit at Barcelona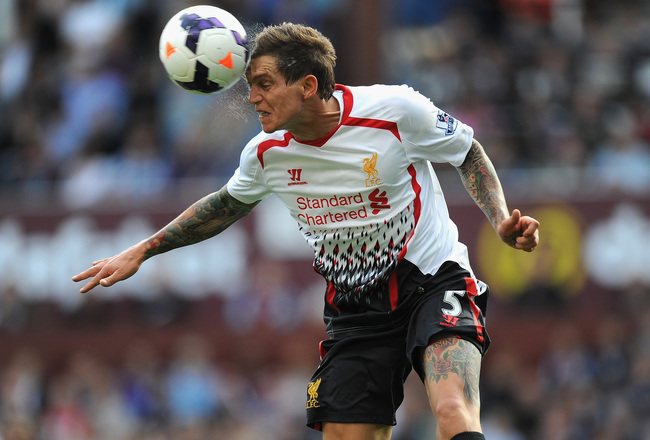 Stu Forster/Getty Images
It is only mere hours until the summer transfer window closes and several clubs are still scrapping to find the missing pieces. For Barcelona, there remains only one glaring weakness.
That is the unaddressed matter of the Blaugrana defense.
After last season's defensive problems, several names were thrown around this summer. That included heavy interest in Liverpool's Daniel Agger, according to ESPN.
With all the different players who could help reinforce the Barcelona back line, it was easy to get lost in the speculation. However, despite not being a major name in the rumor mill, Agger would actually fit Barcelona well—were the Catalan club to make a last-minute swoop for the 28-year-old.
It is highly unlikely that Barcelona will deal for Agger, or any defender, in these remaining hours. However, with the possibility always open, let us now take a look at why Daniel Agger would be a good fit for Barcelona.
His Passing Ability Fits the Bill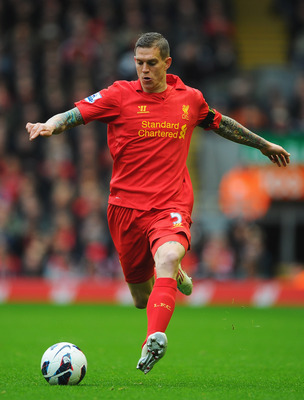 Michael Regan/Getty Images
It is no secret that every player in the Barcelona squad must be able to play with the ball at his feet. For most defenders, this is not a strong suit, but Daniel Agger happens to be a phenomenal passer.
According to Squawka, Agger finished last season with a pass accuracy rating of 89 percent.
Let that sink in for a moment.
Not only is Agger a more-than-capable passer, he also knows what he is doing when he passes the ball.
Indeed, nearly 82 percent of his passes are directed forward.
The 28-year-old would prove a very good partner alongside Gerard Pique. Both would be comfortable with the ball at their feet. If Agger were to join Barcelona, he would instantly fit in with what is required of the Blaugrana defenders without missing a beat.
The Denmark captain is able to build play from the back while remaining calm in possession. At Barcelona, this must be second nature. For most defenders, it is a rare treat.
Overall Defending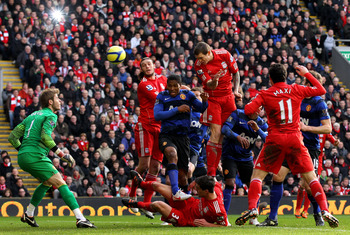 Alex Livesey/Getty Images
Despite being a capable passer, Barcelona is in dire need of a defender who just knows how to defend.
That just so happens to be a specialty of Daniel Agger.
When looking at his defensive statistics, courtesy of Squawka, it becomes easy to see why Agger is a very accomplished defender.
The 28-year-old boasted a 72 percent successful tackle rate and head-on defensive rate last season. When it comes to purely defending, Agger knows exactly what he is doing. Barcelona may have defenders with special abilities, but what the club really needs is a pure center-back.
It is also well-known that Barcelona struggles to defend set pieces and aerial balls due to the lack of height within the squad. Again, this is an area that Agger would greatly improve.
The Denmark international won 62 percent of his aerial battles last year and knows how to defend the ball when it is played into the box.
With his proficiency with the ball at his feet and his pure ability to defend, he would offer an immediate upgrade at Barcelona. However, there is one more area that stands out above all else.
Agger Doesn't Make Mistakes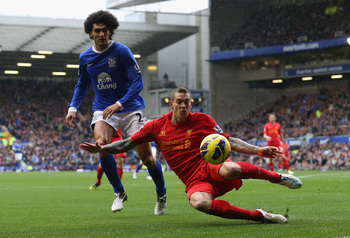 Clive Brunskill/Getty Images
The other two promising statistics we looked at make a strong case for Agger being a fitting purchase for Barcelona. However, this stands out head-and-shoulders above anything else.
Over the last two seasons, Barcelona fans have witnessed countless defensive errors. These errors often lead to scoring chances—and, against tougher opponents, usually a goal.
It is due to these defensive errors that the club has been in the market for a new center-back, and that is an area that Agger would immediately improve as well.
Last season, Agger made only one defensive error for the entire year. That statistic becomes increasingly impressive when you take into account that he played in over 35 matches.
Barcelona would benefit greatly from a center-back who does not make mistakes and it is this reason why Daniel Agger would prove a very strong partner for Gerard Pique in front of the Barcelona goal.
Again, it is nearly impossible that Barcelona will make a late bid for anyone. However, if the Catalan club was to make a last-minute offer for Daniel Agger, it would be something for Cules to be happy about.
La Blaugrana need a defender who knows how to defend and distribute the ball without error. That is exactly what Agger would provide. He may not be the best defender around, but he knows what he is doing and he does it very well.
Would Daniel Agger fit at Barcelona? Who should La Blaugrana bring in to pair alongside Gerard Pique? Leave your thoughts and comments below!
Tre' Atkinson. Follow me on Twitter for more discussions on Barcelona and all Spanish football.
Keep Reading

FC Barcelona: Like this team?