Oakland A's: Stock Up, Stock Down for A's Top 10 Prospects for Week 21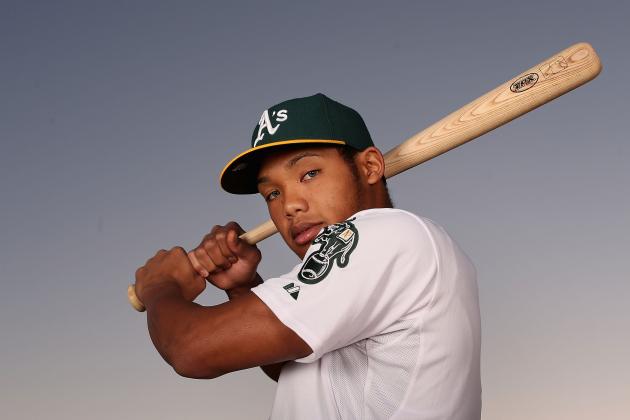 Christian Petersen/Getty Images
Russell is still proving his worth in the A's organization
As the season winds down, Oakland's farm clubs continue to give ample opportunity for future stars to enhance their abilities and develop as they move incrementally towards playing in the major leagues. Some of the most noteworthy players in the organization bounced back from a rough week to produce with numbers more in line with their overall production in 2013.
It is worth noting that a couple of prospects (Miles Head and Michael Ynoa) are out with injuries. And even more noteworthy, one currently is hoping to help deliver the A's back to the postseason. With that, here is a list of the top 10 players and how they performed for the week of August 19th-25th.
Note: Top prospects are listed according to MLB.com's 2013 Prospect Watch List, written by Jonathan Mayo. All stats courtesy of MiLB.com
Begin Slideshow

»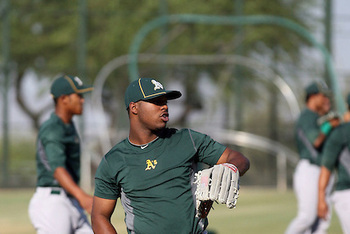 B.J. Boyd
The A's may be loaded at the outfield position, but Boyd still continues to give the club a future option. Just 20 years old, Boyd has time to develop and continues to inch forward as a hitter and outfielder. That ability was clearly on display as Boyd bounced back from a rough week to post stellar numbers.
Last Week's Stats
.381 average, 1 HR, 6 RBI, 2 BB, 5 K
Stock: Up
After a putrid 1-for-20 stretch, Boyd responded with an 8-for-21 week and clearly rebounded well.
Next up on this list is right-handed pitcher Nolan Sanburn. Currently pitching for the minor league Benoit Snappers of the Midwest League, Sanburn was looking to build upon a good week and would end up only performing once during the week.
Last Week's Stats
2.0 IP, 0 ER, 2 H, 1 BB, 4 K
Stock: Up
Though he just made one appearance, Sanburn was dominant on August 22nd, fanning four of the seven batters he faced. The progress continues to be made, which is encouraging.
2013 first-round selection Billy McKinney is the next player on this list. The A's top pick has been largely slashing the ball, and he continued his hot hitting with a very good week.
Last Week's Stats
.476 average (10-for-21), 2 XBH, 3 RBI, 5 R
Stock: Up
Bolstered by a 5-for-6 game on August 21st, McKinney posted a strong week down at the Rookie Arizona League. The A's hope the overall game (.328/.388/.424) continues to improve. If this week is any indication, so far so good.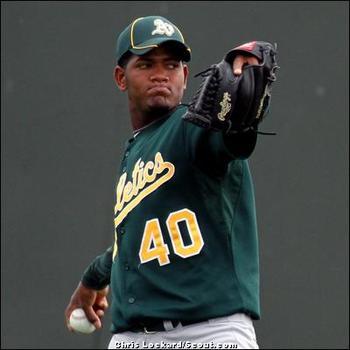 Photo Courtesy of Chris Lockard of Scout.com
Hard-throwing Raul Alcantara is the No. 8 prospect for the Oakland A's. And pun intended, that may be with a bullet. Acquired in the trade that sent Andrew Bailey to Boston for Josh Reddick, Alcantara has been very good (12-4 overall with an under 3.00 ERA) in 2013.
Last Week's Stats
6.0 IP, 4 ER, 5 K, 2 BB, 1 HR allowed
Stock: Same
Alcantara has posted a 3.72 ERA over his last 10 appearances, and his start against the San Jose Giants on August 21st was a bit up and down, but it's nothing to be too hard on the youngster about.
Coming in at No. 7 is first base prospect Matthew Olson. The 19-year-old has been mostly feast or famine with 22 HR and 87 RBI but also 140 strikeouts in 127 total games with Beloit in the Midwest League.
Last Week's Stats
.345 average (10-for-29), 5 HR, 12 RBI, 8 K
Stock: Way Up
In what was clearly the best week of his professional career to this point, Olsen absolutely mashed, hitting 4 home runs from August 19th to the 21st and adding a fifth on August 23rd. If you strike out over 150 times, you better also hit your fair share out. That has definitely been the case with Olson in 2013.
The bottom half of this list ends up with the third player from the Beloit Snappers, infield prospect Daniel Robertson. The 19-year-old out of Southern California saved his best performance for the end of the week and has improved over the last couple of weeks.
Last Week's Stats
.391, 2 HR, 6 RBI, 4 BB, 2 K
Stock: Up
Robertson smashed two home runs on August 25th and has hit .310 over the last 10 days. While his projection to the majors is not expected to be as rapid as fellow infield prospect Addison Russell, it is heartening to see improvement over the course of the season from Robertson.
Photo Courtesy: BaseballAmerica.com
Yet another member of the 2013 Beloit Snappers makes the list as A's third base prospect Renato Nunez checks in as the No. 5 prospect this week.
Nunez possesses a quality bat, even as he hit just .266 on the year entering the week. His defense is less than average and needs to improve. Also, 120-plus strikeouts is simply too much for a player not projected to be a middle-of-the-order masher.
Last Week's Stats
.130 (3-for-23), 0 XBH, 0 RBI, 6 K
Stats: Down
Mired in an overall 3-for-39 slump, Nunez has watched solid numbers take a big hit (currently hitting .262 overall). It continues to be a disappointing end to a promising season for this prospect.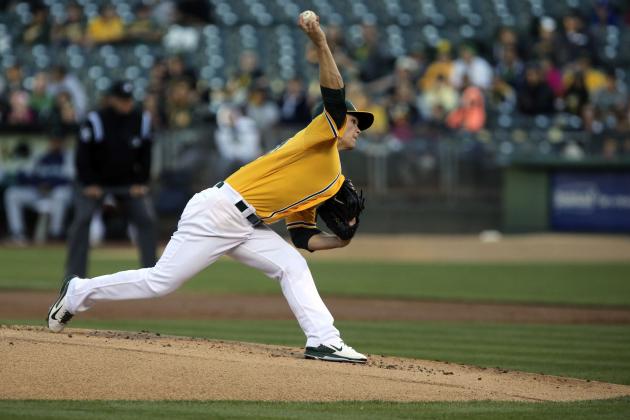 Kelley L Cox-USA TODAY Sports
Gray was good and bad this week for the A's
The only player on this list currently in the majors is starting pitcher Sonny Gray. The A's have a lot of hopes pinned to the 2011 first-round selection (11th overall) out of Vanderbilt. And while his most recent start was lacking in Baltimore, Gray has largely delivered with the green and gold.
Last Week's Stats
10.1 IP, 10 hits, 8 ER, 10 K
Stock: Even
Gray pitched really well and deserved a win against Seattle August 20th (7 IP, 2 ER, 7 Ks). His most recent start in Baltimore proved to be a bit of a reality check as Gray did not make it out of the fourth inning in a 10-3 loss. But, on the whole, the A's will need Gray to be good to avoid fading away down the stretch of the 2013 season.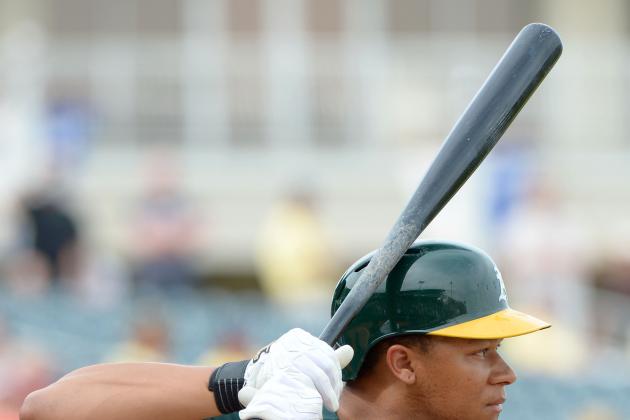 Jake Roth-USA TODAY Sports
Choice waits for a chance in Oakland
The penultimate player on this list is Michael Choice. The outfield prospect has continued to expand his hitting to be a bit more diverse as opposed to the feast or famine nature he had heading in to 2013. While his strikeouts are still high (112 in 125 games), the batting average and gap power (26 doubles) has been promising.
Last Week's Stats
.217 (5-for-23), 0 HR, 5 RBI, 2 2B, 2 BB, 0 K
Stock: Even
The ability to drive in runs without a high average is a good trait considering the woes the A's have had with situational hitting in the second half of 2013. Choice was not really tearing the ball up, but 23 at-bats without a strikeout is impressive considering his high totals entering the week. While I expect Choice to be included with the 40-man expanded roster, he should get a legitimate chance in 2014.
The No. 1 prospect for the Oakland A's remains shortstop Addison Russell. The No. 1 draft pick (11th overall) for the A's in 2012, Russell has shown flashes of brilliance at Single-A ball in Stockton, Calif. Quite simply, he is a stud and should be given the opportunity to move up sooner than later.
Last Week's Stats
.333 (7-for-21), 2 HR, 3 RBI, 3B, 2 BB, 6 K
Stock: Up
I believe Russell could conceivably be in the majors by 2015. That's how high I am on him as a prospect. His week is a construct of his overall ability. The consistent power will come, but the ability to hit to gaps and run for extra bases makes him a special prospect for Oakland.
The week of August 19th to the 25th saw many of the A's best prospects show the abilities that have them so highly regarded in the organization. With the season winding down, there is solace with the idea that their top three prospects have managed to improve, with Gray of course making the leap to the big club.
With next week being the final week, it will be interesting to see if Choice joins Gray in Oakland on the expanded roster.