Preseason football is a roller coaster of irrational responses from football fans across the board, the media too for that matter.
After the Atlanta Falcons' first preseason game against the Cincinnati Bengals, fear and loathing was in full effect in regard to the offensive line. It wasn't pretty.
But let's rewind a bit first.
For the first time since the 2000 season, the Falcons are going to be without center Todd McClure, who retired after 14 seasons with the team. The team is also looking at two new starters on the right side of the line, Garrett Reynolds at guard and Lamar Holmes at tackle. To make matters worse, Holmes played just seven snaps during the year prior as a rookie, after an injury sidelined most of his 2012 season.
Falcons OL Starters

| | | | | | |
| --- | --- | --- | --- | --- | --- |
| | LT | LG | C | RG | RT |
| 2012 | Sam Baker | Justin Blalock | Todd McClure | Peter Konz | Tyson Clabo |
| 2013 | Sam Baker | Justin Blalock | Peter Konz | Garrett Reynolds | Lamar Holmes |
AtlantaFalcons.com
Between Peter Konz at center and Holmes and Reynolds, the trio of linemen combined for just 13 career starts at the position they're slated at for 2013, all by Reynolds. Neither Holmes nor Konz had ever started at right tackle or center, respectively, in the professional careers.
It showed against the Bengals.
According to Pro Football Focus, the five starting linemen combined graded out at zero. Konz, Reynolds and Justin Blalock were given negative scores while Holmes and Sam Baker both graded out positively. But the real fear came with the inability for this line to open up any massive holes for new running back Steven Jackson.
Jackson carried the ball five times for eight yards, and just three of those carries gained positive yardage.
Blalock said the offensive line as a whole had some good, bad and ugly moments. "We put some good things out there, but we know we have to play a lot better."
Play better they did Thursday on the road in Baltimore against the Ravens.
The offensive line gave quarterback Matt Ryan plenty of time to throw the ball and kept him clean from sacks. More important was the way the line opened holes for Jackson.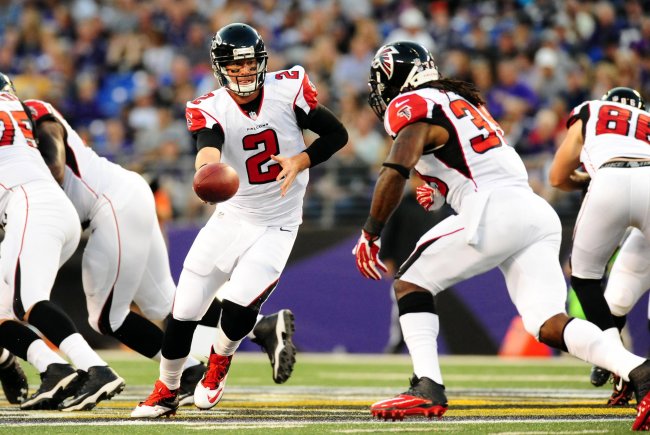 Evan Habeeb-USA TODAY Sports
Jackson carried the ball eight times for 42 yards and had a much more explosive step against the Ravens because his line was pushing would-be tacklers off the line of scrimmage with regularity.
But which Falcons' offensive line was the real version, the one we'll see in the regular season? Better question: Does this line have to play like it did against the Ravens for Atlanta to make a Super Bowl push?
The easy answer is no.
While the Falcons season would be lollipops and licorice if the offensive line stepped up and played like it did Thursday night, it's not necessary. With three new pieces to the puzzle, this unit will take some bumps and bruises as it learns how to function together.
Even if the Atlanta offensive line played 16 games like it did its first preseason game, a Super Bowl run could still be in the cards.
According to Football Outsiders, only one Super Bowl winning team in the last five years had an offensive line that ranked in the top 10 in both run blocking and pass protection. The 2009 New Orleans Saints' line ranked first in run blocking and fourth in pass protection.
Of the 10 Super Bowl participants since 2008, only two lines have been ranked as top 10 for both run and pass blocking, the '09 Saints and the 2011 New England Patriots.
OL Ranks of Recent Super Bowl Contenders

| | | |
| --- | --- | --- |
| Team | Run Blocking | Pass Protection |
| San Francisco 49ers, 2012 | 1 | 29 |
| Baltimore Ravens, 2012 | 6 | 14 |
| New England Patriots, 2011 | 2 | 8 |
| New York Giants, 2011 | 28 | 6 |
| Green Bay Packers, 2010 | 23 | 21 |
| Pittsburgh Steelers, 2010 | 19 | 29 |
| New Orleans Saints, 2009 | 1 | 4 |
| Indianapolis Colts, 2009 | 23 | 1 |
| Pittsburgh Steelers, 2008 | 26 | 29 |
| Arizona Cardinals, 2008 | 30 | 8 |
Football Outsiders
It appears that a top-notch offensive line isn't required to make a Super Bowl run. A stellar offense, or defense, can carry a team a long way.
The Atlanta line will improve as it gels this season. The unit we saw against the Bengals in the first preseason game likely won't be back. But the line we saw Thursday against the Ravens is probably not going to stick around either. If it does, pencil the Falcons in as Super Bowl front-runners right now.
If not, this Atlanta offense still should be powerful enough to carry the team as far as it went last season, possibly farther.
Unless otherwise noted, all quotes and statements were obtained firsthand.
Knox Bardeen is the NFC South lead writer for Bleacher Report and the author of "100 Things Falcons Fans Should Know & Do Before they Die." Be sure to follow Knox on Twitter.