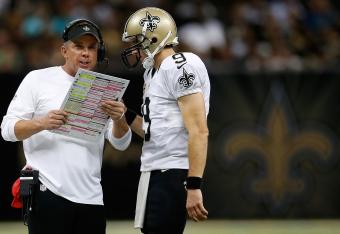 Chris Graythen/Getty Images
The New Orleans Saints were meticulously picked apart, battered and left for dead on the turf of CenturyLink Field in Seattle Monday. The Seahawks convincingly defeated the Saints 34-7 and left no doubt which team was in charge in the NFC.
Everything seemed to go wrong for the Saints in Seattle. The team was held to fewer than 10 points for the first time this season, the 27-point loss was the worst New Orleans had endured since a 31-point beating in 2007 at the hands of the Indianapolis Colts, and the team even had trouble with its plane and was stranded in the Pacific Northwest overnight.
But there's no time for New Orleans to lick its wounds. After Monday night's loss the Saints have one less day to prepare for an upcoming divisional battle, said head coach Sean Payton in his postgame press conference.
The Carolina Panthers are coming to town.