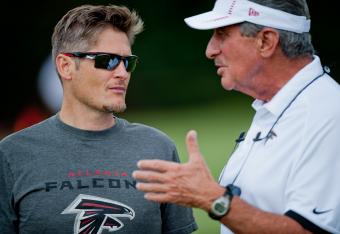 Kevin Liles-USA TODAY Sports
Prior to the 2013 NFL season, the Atlanta Falcons were chock-full of talent and inevitably headed to a Super Bowl. That plan didn't work out so well.
Twelve games into the season the Falcons are 3-9 and floundering, and there are plenty of problems to fix.
Atlanta can't run the football. Only three times has this team rushed for more than 100 yards in a game. And at 81.1 yards on the ground per game, the Falcons rank 29th in the league in rushing yards. The Falcons can't stop the run either or keep opponents from passing.
The Falcons rank 20th in passing defense, allowing 247.8 yards through the air per game, and 30th in run defense, giving up 135.4 yards on the ground each week. This feeble defense is the reason why Atlanta ranks 29th in the league in scoring defense and gives up 28.3 points per game.