The Beaten Path: Prospect Pedro Munhoz on RFA 9 Title Fight, MMA Future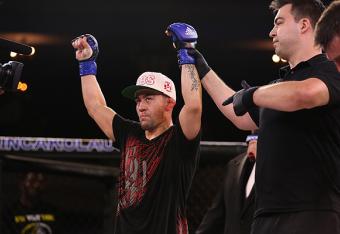 Bantamweight prospect Pedro Munhoz fights for the Resurrection Fighting Alliance bantamweight title at RFA 9. (Photo: Dave Mandel/Sherdog)

Pedro Munhoz is pretty chipper for a guy in the middle of a weight cut, not to mention preparing for the last fight on his contract, a main event, a title fight, a short-notice opponent and the biggest moment of his entire professional career.
The 26-year-old bantamweight prospect out of Sao Paolo, Brazil and a longtime member of the Black House Gym goes for the vacant bantamweight belt this Friday at Resurrection Fighting Alliance 9, where he'll square off with UFC veteran Jeff Curran.
Why so calm? It could have something to do with the fact that he's been doing this more or less all his life. Munhoz took his first karate class at age six, started judo at age eight and then entered jiu-jitsu at age 13.
This also isn't the first time Munhoz (8-0) has had a late replacement. It's actually the second consecutive time it's happened, and both times it was the same opponent, Keoni Koch, brother of UFC featherweight Erik Koch.
"Three weeks ago, they say 'you're gonna fight Jeff Curran.' I didn't know too much about him," Munhoz said in an exclusive interview with Bleacher Report. "I train everything. I never have a plan. It doesn't matter who I fight. I feel the fight out."
Letting the fight come to you is probably second nature when your first fight happened when you were 16 years old and under Vale Tudo rules at that.
"It happened in the gym where I was training," Munhoz recalled. "The Muay Thai instructor called me Friday night and said 'you wanna fight?' They weren't going to pay me nothing."
But Munhoz won the fight, setting him even on the path to pro fighting, a path now two decades in the making.
"My dad told me I had a lot of energy in the house," Munhoz said. "I was always jumping over furniture and stuff. We went to a gym, and they had a really cool karate place. I did one class and I got into it."
Jiu-jitsu is his bread and butter today, as evidenced by his five submission wins as a professional cage fighter. He's a long way away from Vale Tudo now, as he prepares to fight for the RFA belt in the California branch of the Black House gym, rubbing elbows with the likes of Anderson Silva and Lyoto Machida.
"Anderson Silva and Lyoto, we play soccer sometimes," Munhoz said. "When we don't have a fight coming up we hang out…Lyoto is a very humble guy. Anderson Silva, he is humble, too. I learned from them how to feel confident. When I train good with those guys, I feel like I can fight with anyone."
Munhoz named several fighters with whom he is close but pointed to Chute Boxe pioneer and Black House trainer Rafael Cordeiro as a top influence.
"Rafael Cordeiro and me, we talk about life," Munhoz said. "He obviously has a lot more experience than me and he is like another dad. We talk about life, relationships, fighting, everything."
Munhoz, who pays the bills working as an instructor, said Friday will mark the final fight on his current RFA contract. What will his future hold, particularly given that RFA is an unabashed UFC feeder league? For now, he isn't tipping his hand.
"I'm really focused on this fight," he said. "I don't think nothing about after the fight. Curran's a really big name and he is a tough opponent. The only thing on my mind is beating him in any situation. Then I'll talk with my manager."
The Beaten Path is an article series profiling top MMA prospects. Read the previous interview installment here. Scott Harris is a featured columnist with Bleacher Report. Find him on Twitter @ScottHarrisMMA. All quotes were obtained firsthand unless otherwise noted.
This article is
What is the duplicate article?
Why is this article offensive?
Where is this article plagiarized from?
Why is this article poorly edited?