Everything You Need to Know About Alabama's Next Superstar RB, Derrick Henry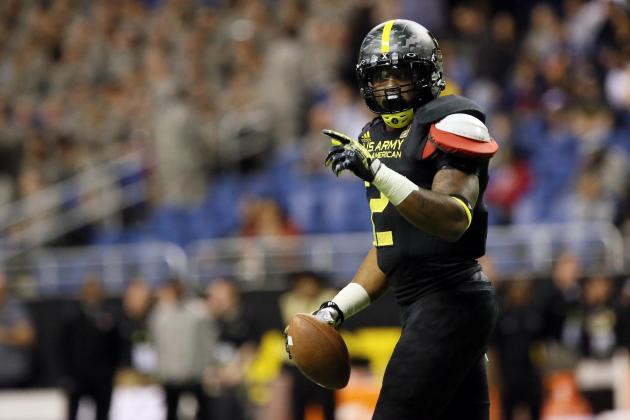 USA TODAY Sports
Alabama running back Derrick Henry is a candidate to become the Tide's next superstar running back.
At 6'3", 238 pounds, Derrick Henry physically looks the part of a player who could line up at linebacker for Nick Saban's defense.
Instead, he's the headliner in a group of four standout running backs who were part of Alabama's top-rated 2013 recruiting class.
Henry, who, according to Mitch Stephens of MaxPreps, is the nation's all-time leading rusher in prep football, has all the tools to become the next superstar running back for the Crimson Tide.
What attributes make Henry the logical choice to follow in the footsteps of Mark Ingram, Trent Richardson, Eddie Lacy and T.J. Yeldon?
Lead image courtesy of cbs42.com.
Begin Slideshow

»
Height/Weight: 6'3", 238 lbs
Position: Running Back
Stats from High School: 1,387 carries, 12,212 yards, 153 rushing TDs, 8.8 yards per carry
High School Awards: Army All-American, USA Today First Team All-American, Maxwell Football Club National High School Player of the Year, Parade Player of the Year
Other Finalists: Alabama over Georgia, Florida, Florida State, Tennessee and Clemson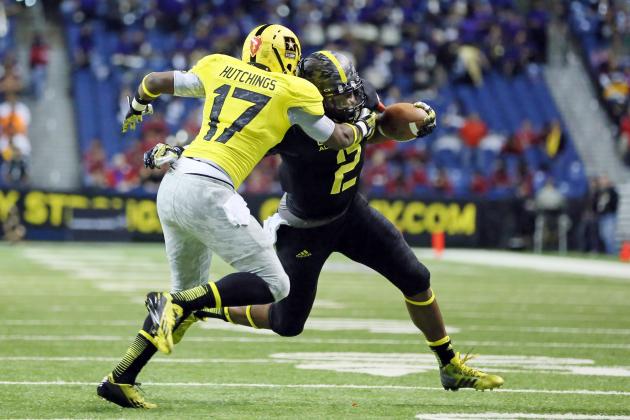 USA TODAY Sports

"We were talking about it on the sideline, me and a couple of the players, how Henry looked like a bigger version of Trent Richardson." – Alabama linebacker C.J. Mosley to Andrew Gribble of AL.com.
"Seeing the size of Derrick Henry and all them, that's real SEC football." – 2014 linebacker and Auburn commitment Tre Williams after visit to Alabama, as told to Greg Ostendorf of ESPN.
"Really impressed with our backs. Derrick Henry made some good runs. The OL didn't play with a lot of power, the backs were impressive." – Nick Saban to Cecil Hurt of the Tuscaloosa News.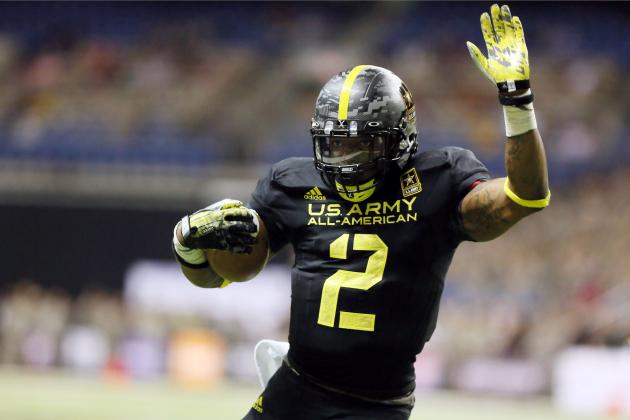 USA TODAY Sports

Henry is a bruising runner with the size to earn tough yards and the speed to break long runs.
Considering the trademark of Alabama's offense has been its physical ground game, Henry is an imposing figure who can grind out tough yards in the SEC on a weekly basis.
He's also versatile enough to contribute to the Tide's passing game as a receiver.
With an open competition to see who will share carries with feature back T.J. Yeldon, Henry and sophomore Kenyan Drake are the early favorites to claim the backup job.
With freshman running backs, Saban is always most concerned about their ability to pass-block.
Simply put, if newcomers can't pick up blocking concepts, they are likely to stay on the sideline until they master those skills.
Henry certainly has the size and physical makeup to handle that task, but he still has to prove he can do it at the SEC level.
Henry's ability to learn the details of the offense and contribute on third-down situations as a blocker and receiver could be his ticket to getting on the field as a freshman.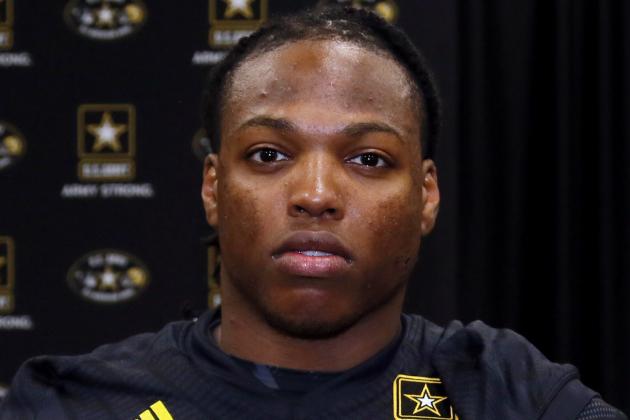 USA TODAY Sports

Bleacher Report's Michael Felder breaks down the strengths of Henry's game, and how it translates to the college level:
Henry is a physically imposing running back who fits into the Trent Richardson-Eddie Lacy mold at the collegiate level. He is thick through the core and possesses tremendous upper- and lower-body strength, which makes him best suited for running between the tackles and shaking off defenders. Underrated qualities Henry has include light feet and a forward body lean to pick up extra yardage at the second and third levels of a defense.

Coming off surgery to repair a broken fibula suffered in the spring, durability will be the first thing to watch. Over his career, the characteristic to watch will be how his speed translates, from an every-play standpoint, at the next level. If Henry can be a back who can pick up the extra 5-to-10 yards against defenses by running away from them, he will be special.
USA TODAY Sports

Predictions for 2013: 130 carries, 875 yards, 10 TDs
Henry can look at what Yeldon accomplished last season as a guide for how to make an early impact.
Yeldon rushed for 1,108 yards and 12 touchdowns as Eddie Lacy's backup, and he's now ready to ascend to the feature-back role. Like Yeldon, Henry was able to enroll early and impress the staff before suffering a leg injury that caused him to miss a large portion of the offseason.
However, he's healthy now, and he impressed Saban in the team's first scrimmage of fall camp, according to Cliff Kirkpatrick of the Decatur Daily.
Considering his sterling prep credentials and that he possesses a physical frame that can handle the rigors of playing in the SEC, Henry appears primed to win the backup running back job and have a strong debut season on the college level.