Stock Up, Stock Down for New York Yankees' Top 10 Prospects for Week 19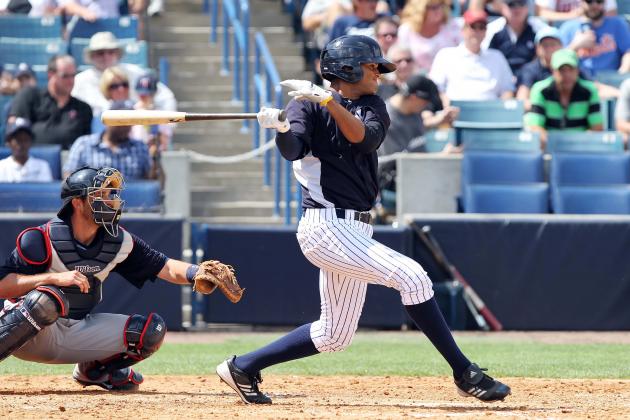 Kim Klement-USA TODAY Sports
Center fielder Mason Williams
The New York Yankees finally welcomed Alex Rodriguez back to the lineup in Week 19 of the season, and his presence on the team was met with mixed results. The home fans didn't know whether to boo him or welcome him, while the media added a ton of hype to his much-awaited 2013 debut.
The Yankees continued their slide during the week, though. They were swept by the Chicago White Sox and experienced three straight blown saves by Mariano Rivera. Justin Verlander fell victim to the team, however, so at least some good can be taken from the week.
Brett Gardner came up huge this week as well. He recorded two walk-off hits—one of which was a home run—and kept the Yankees from a complete downward spiral.
Gardner's emergence as a clutch hero this week gave the Yanks a boost, but it's worth remembering Gardner will have but a few more years to prove his everyday worth to the Yankees. A few strong outfield prospects in the minors could be within a few seasons of making an impact.
The infield has promising prospects as well, and the team's young pitchers could potentially make an impact as soon as September. Even if the 2013 season gets lost, the future seems bright.
Begin Slideshow

»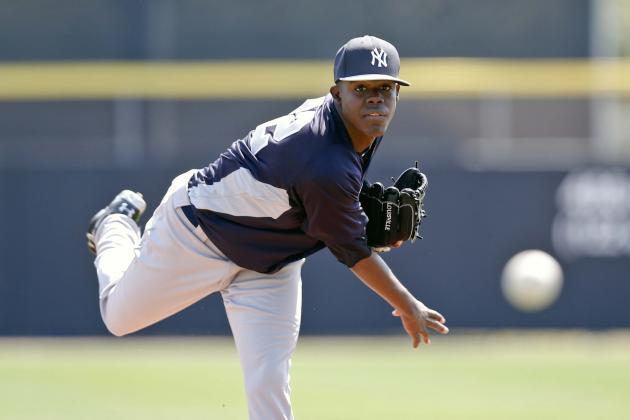 Derick Hingle-USA TODAY Sports

2013 Stats: 16 GS (17 G), 2 W, 6 L, 3.67 ERA, 10 HR, 78 K, 36 BB
Last Week's Stats: Did not play
Overview: Jose Ramirez hasn't exactly lit up Triple-A lineups with the same dominance that earned him the call-up from Double-A Trenton.
He did not pitch during the past week, so his record remains at 1-3 in Triple-A. His 4.88 ERA shows just how poorly he's pitched against more experienced lineups. If he doesn't pick up his performance within his next few starts, he may be taken off the top 10 entirely.
He's a hard-throwing strikeout pitcher who has a ton of promise, but hotter prospects could move up the ranks and move ahead of him.
Stock: Down
2013 Stats: 19 GS, 2 W, 2 L, 3.76 ERA, 5 HR, 70 K, 16 BB
Last Week's Stats: 2 G, 1 S, 4.0 IP, 5 R, 1 K, 0 BB
Overview: Jose Campos has made two straight appearances out of the bullpen for the Charleston RiverDogs. He got lit up in his first appearance (five runs in two innings) but earned the two-inning save in his most recent appearance.
After a string of strong starts prior to moving to the bullpen, it appears the right-hander's stock in the organization is rising. He's still at least two seasons away from the majors, but the future is clearly bright for the throw-in portion of the deal that netted the Yankees Michael Pineda.
It's unknown if Campos' future lies in the bullpen, however. He has explosive stuff as a starter, but he hasn't shown he can go all that deep into games. Minor league innings are monitored for starters, but going four innings in a start just won't cut it.
The fact that he earned a save this week bodes well for him, but the fact that he was lit up in his other appearance cancels that out.
Stock: Even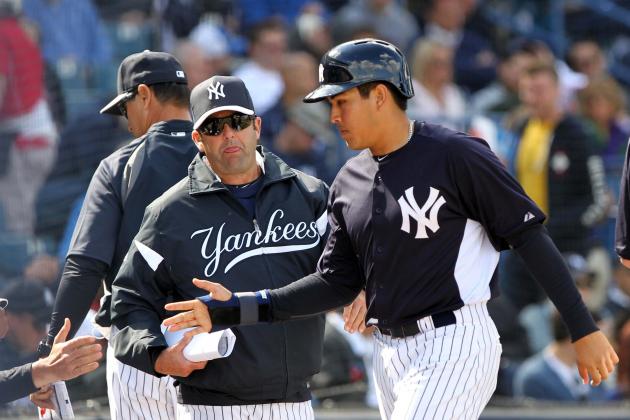 Kim Klement-USA TODAY Sports

2013 Stats: 115 G, .253 BA, 18 2B, 5 HR, 46 RBI, 88 SO, 59 BB
Last Week's Stats: 6 G, 9 H, 1 2B, 1 HR, 8 RBI
Overview: Ramon Flores had a strong week for the Trenton Thunder, recording nine hits in just six games and driving in a robust eight runs. Offense had been a question mark for the light-hitting left fielder, but he has proved over the past few games that he has the potential to be an above-average bat.
The highlight of Flores' week came in a five-RBI performance on August 7, a game in which he reached base three times and hit a home run.
Flores is a lesser-known outfield prospect in the organization, but he could continue to sneak up the list if he puts together performances like this more consistently. Inconsistency has clearly been a problem for him, as evidenced by his .253 average.
Putting up nine hits and eight RBI in a week is definitely the way to establish consistency, however.
Stock: Up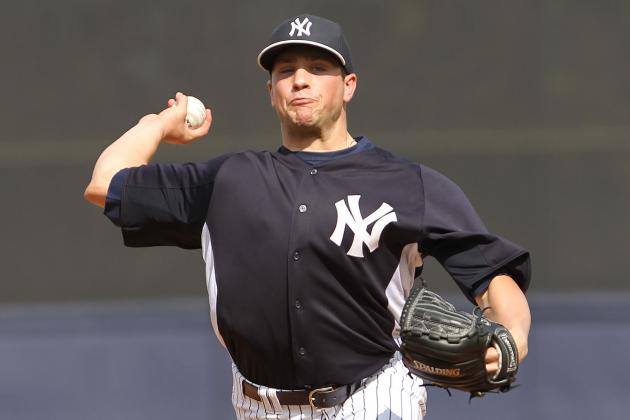 Kim Klement-USA TODAY Sports

2013 Stats: 29 G, 3.38 ERA, 45.1 IP, 41 H, 59 K, 25 BB
Last Week's Stats: 1 G, 1.0 IP, 3 R, 1 HR, 1 BB, 2 K
Overview: Mark Montgomery only made one appearance over the past week, and it was not a good one. He allowed three runs (one home run) in the only inning he pitched.
Montgomery is widely viewed as an option to replace Mariano Rivera in the future. David Robertson may get the first crack at the job, but Montgomery will be there if Robertson falters.
A trip to the disabled list slowed down his progression to the bigs earlier in the season, but a strong August could lead to a September call-up. With performances like last week's, though, he might have to wait until 2014.
Stock: Down
Jeff Blake-USA TODAY Sports

2013 Stats: 82 G, .225 BA, 74 H, 4 3B, 4 HR, 35 RBI, 14 SB
Last Week's Stats: 6 G, 2 H, 3 R, 1 RBI, 10 SO
Overview: Simply put, Angelo Gumbs had a terrible week. All three runs he scored came in one game (the same game he knocked in the run). He struck out three times in one game and two times in two others.
Gumbs has the defensive skills and speed to be useful in the bigs, but his inability to hit in Single-A isn't a good sign for the Yankees. If Robinson Cano doesn't re-sign this offseason, Gumbs will have to mature as a hitter and work his way through the system.
What's even worse is his .279 on-base percentage. Speedsters need to get on—period. Hopefully the next week will bring more success to Gumbs.
Stock: Down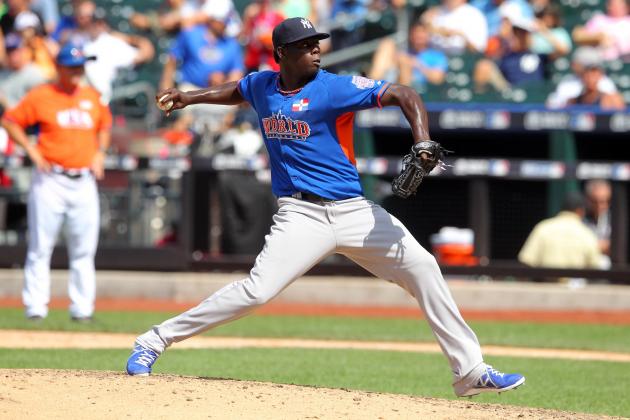 Brad Penner-USA TODAY Sports

2013 Stats: 20 GS, 7 W, 4 L, 4.05 ERA, 100.0 IP, 5 HR, 136 SO, 45 BB
Last Week's Stats: 1 GS, 4.0 IP, 3 R (2 ER), 3 BB, 4 SO
Overview: Rafael De Paula, the organization's only representative in the MLB Future's Game, pitched poorly in one start this week. The defense let him down to the tune of one unearned run, but he didn't help himself by walking three.
De Paula is arguably the organization's best strikeout pitcher. He averages well over a strikeout per inning and manages to keep his walks down to a respectable level. He'd obviously benefit from minimizing walks, though.
He's a ways away from making an impact in New York, as High-A Tampa is still two levels from the bigs. With another strong season in the minors in 2014, he could make a run at the bigs in 2015. He had a down week, though, and more of those will result in a drop down the rankings.
Stock: Down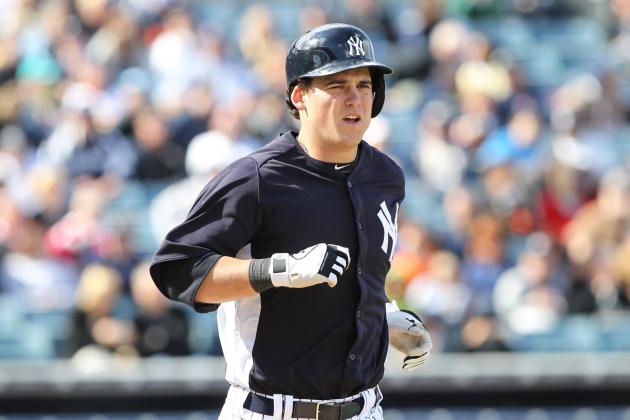 Kim Klement-USA TODAY Sports

2013 Stats: 81 G, .254 BA, 6 HR, 39 RBI, 15 2B, 76 SO, 41 BB, .344 OBP
Last Week's Stats: Did not play
Overview: Tyler Austin, one of the organization's top bats, has been on the disabled list since July 12 and hasn't even played all that well when healthy. Austin had an outside shot at competing for a roster spot at next year's spring training, but a poor season coupled with a lengthy trip to the disabled list could hurt those chances.
Austin is one of the three top-notch outfield prospects for the Yankees and is a part of the future of the team. The Yankees have an aging outfield comprised of Alfonso Soriano, Vernon Wells and Ichiro Suzuki (all three are under contract for next season), so Austin's talents could be needed soon.
His best bet could be 2015, when all three are gone. Curtis Granderson could leave this offseason as well. Whether Austin capitalizes depends on his health.
Stock: Down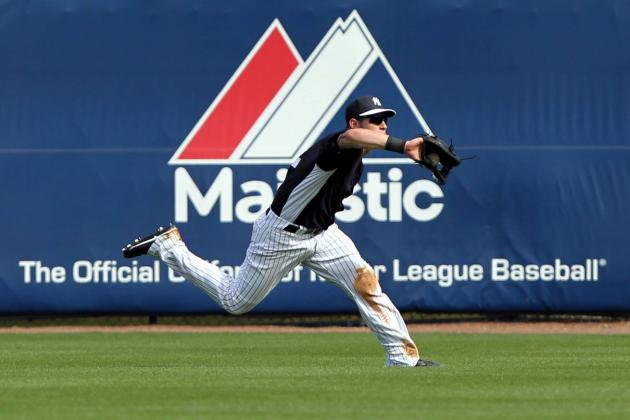 Kim Klement-USA TODAY Sports

2013 Stats: 103 G, .261, 22 2B, 7 3B, 8 HR, 49 RBI, 107 K, 36 BB
Last Week's Stats: 5 G, 5 H, 6 R, 1 2B, 1 3B, 1 HR, 2 RBI
Overview: Slade Heathcott has turned it on lately and has raised his batting average back to relative respectability with a few strong weeks in a row. He continued in Week 19, posting a double, a triple and a home run among five hits.
The outfielder has propelled himself above Tyler Austin in the rankings, mostly because of Austin's lack of health in 2013. A healthy Austin would likely outproduce Heathcott, but injuries clearly hampered Austin's production this season.
Heathcott is widely considered to be the outfielder with the least potential between himself, Austin and Mason Williams, though that doesn't mean he won't make it as a major leaguer. With the way he's hitting, he could find himself in the bigs by next September.
He's one of the few prospects whose stock has gone up this week.
Stock: Up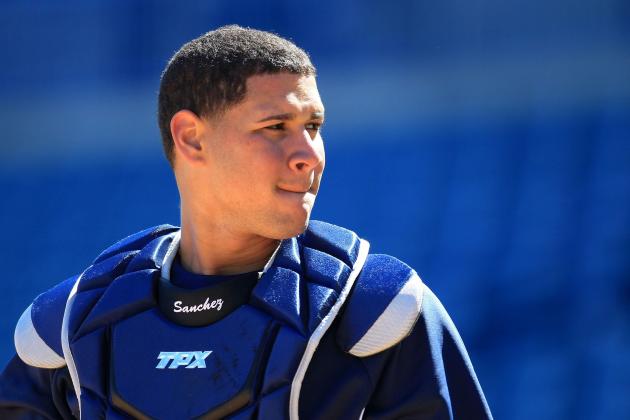 The Star-Ledger-USA TODAY Sports

2013 Stats: 98 G, .257 BA, 13 HR, 63 RBI, 25 2B
Last Week's Stats: 4 G, 1 R, 5 H, 2 2B, 3 SO
Overview: Gary Sanchez recently got his much-deserved promotion to Double-A Trenton. This week was his first week with the team, and he played pretty well considering it was his first action against more advanced pitching.
He recorded five hits, two of which went for extra bases. Sanchez is the catcher of the future for the Yankees, and he finally took a much-needed step in his development. He can hit for power and a decent average, even if his .257 season average isn't the most spectacular.
Sanchez was recently demoted from the top spot in the rankings, and even the new promotion doesn't bring him back to the top. Another strong week should do just that, though.
Stock: Up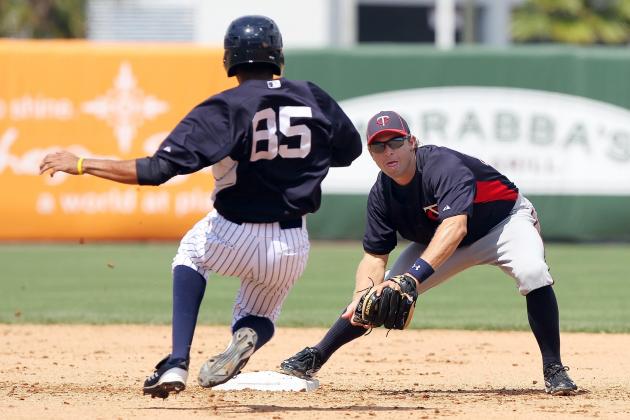 Kim Klement-USA TODAY Sports

2013 Stats: 97 G, .262 BA, 21 2B, 3 3B, 3 HR, 23 RBI, 60 SO, 38 BB
Last Week's Stats: 6 G, 2 R, 4 H, 1 SB
Overview: Mason Williams stays on top this week, even though his performance was just so-so in Week 19. He only tallied four hits (all singles), but he also stole a base and scored two runs. For a guy who doesn't figure to have all that much power in the bigs, moving around the bases and scoring runs is paramount.
Williams is a pure athlete who will bring new excitement to the Yankee outfield. He's a Brett Gardner-type with even more potential than the center fielder. He's in danger of losing the top spot to Gary Sanchez if Sanchez puts together another strong week in Trenton, but that's not an issue for now.
He has will make an impact on the Yankee lineup one day. He's a future leadoff hitter who could develop 15-plus home run power. Not many players in the league are capable of doing that.
Stock: Even