Ranking the 10 Most Thrilling Cup Races in NASCAR History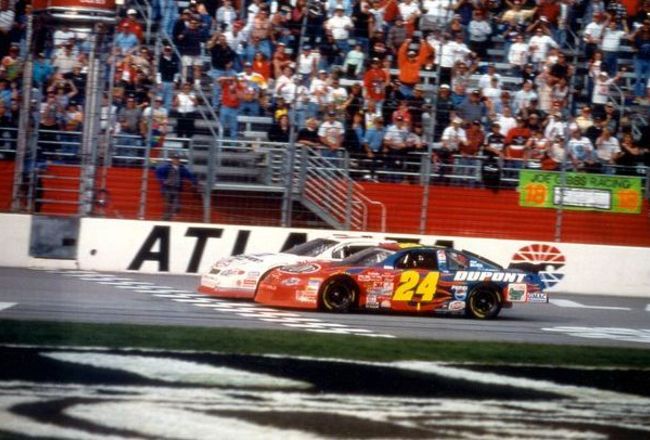 Kevin Harvick's improbable first win in 2001 still stands as a shining moment in NASCAR history.

Every longtime NASCAR fan has that one race that stands out and gives them goosebumps. That one race that they bore witness to that they intend to tell their grandchildren about with a smile as they recall those moments when every fan watching the race wasn't sitting down at all.
My personal favorite was the 2001 Cracker Barrel 500 at Atlanta. As a 12-year-old Dale Earnhardt fan growing up in Oklahoma, I vividly recall standing in my living room with my father as we watched the closing laps with rookie Kevin Harvick somehow managing to hold off a pair of champions to win in just his third start. I remember screaming, asking to no one in particular who won, while Mike Joy screamed deliriously that it was Harvick, Harvick got him.
Of course, it's different for every fan. Some are bound to recall moments from Bristol to Daytona, or Talladega to Darlington. Still, these are the races that thrilled us.
10. 2011 Ford 400
Until the 27th race of the 2011 season, Tony Stewart wasn't exactly having the best of seasons. He had gone winless all year, and looked to just be another good name in the Chase.
Meanwhile, Carl Edwards, despite having only one win in the third race of the season, looked to add to that number while continuously posting the excellent results that No. 99 crew was known for.
Yet when the checkered flag flew at the conclusion of the 2011 season, it was Stewart who was celebrating as the season champion on the strength of five wins, all of which came in the last 10 races of the year. Edwards finished second, but by something that was less than the closest of margins.
He finished second in a tie-breaker.
Stewart seemed to come out of nowhere in those 10 races, coming from the back of the chase to the top of the list. While Edwards held his ground, the No. 14 used wins to continuously chip at his point lead, and when the laps wound down at Homestead, it was clear that in order to be crowned the champion, one of those two would have to win.
Stewart won at Homestead, and by virtue of finishing second, Edwards was tied for the points lead after the race. But one win doesn't compare to five, and Stewart got the better end of the deal in that case.
9. 1999 Goody's 500
This was the legend of Dale Earnhardt as we knew it. Win at all costs, even if it meant roughing up the other guy. In this instance, it was the stoic veteran Terry Labonte who felt the wrath of the No. 3.
After a late spin by Labonte, Earnhardt took the lead under the ensuing caution. His Chevy sat on old tires, while Labonte's No. 5 took to the pits to get fresh rubber. The restart saw Labonte charging like a madman to get to the front, with the white flag waving, Labonte moved Earnhardt out of the way.
Well, you don't tug on Superman's cape, you don't simply walk into Mordor, and you don't move Earnhardt. Going into the second turn, Labonte found this out the hard way when Earnhardt turned him around, igniting a multi-car accident on the backstretch where the No. 5 took the worst of it.
Meanwhile, Earnhardt took career win No. 74 while fans big and small voiced their thought about the finish rather loudly. Earnhardt's explanation? "Didn't mean to wreck 'im. Just mean to rattle his cage."
To paraphrase Michael Cole, that was vintage Earnhardt.
8. 1981 Talladega 500
At the end of the 1981 Talladega 500, who was the victor between a two-car fight involving Terry Labonte and Darrell Waltrip?
The answer? Ron Bouchard.
The rookie, who was running third to the two heavyweights, took advantage of the first- and second-place cars racing side-by-side to slingshot past them and claim his only Cup win. It was a surprising win, prompting Darrell Waltrip to ask where Bouchard came from after the checkered flag dropped.
7. 2010 Aaron's 499
Although Kevin Harvick's narrow victory in the 2010 Aaron's 499 was plenty exciting for a Talladega finish, it was the race's stats that put this down as one of the most thrilling events in NASCAR history.
Over half the entrants were credited with leading a lap as there were 29 different leaders, and a new record was set for lead changes as the lead was officially credited as changing 88 times.
In the end, Kevin Harvick passed Jamie McMurray in the tri-oval to take the win, snapping a 115-race winless streak dating back to the 2007 Daytona 500.
6. 2000 Cracker Barrel 500
At the end of the 2000 Cracker Barrel 500 at Atlanta, it was a battle between a champion and a championship contender as Dale Earnhardt attempted to hold off Bobby Labonte's No. 18 Pontiac.
Labonte, having won at Rockingham two weeks before, was looking to add to his impressive Atlanta resume. However, he would have to go through the best in order to get the job done. Passing Earnhardt would be easier said than done.
Going into the third turn on the last lap, Labonte managed to move Earnhardt high, thus leaving the bottom lane open. The No. 18 seized that opportunity, drag racing the No. 3 to the line. However, it was Earnhardt who won by a nose, taking his 75th career win.
5. 2007 Daytona 500
It was supposed to be Mark Martin's day to shine. He finally had the Daytona 500 in the bag, and it looked like he would finally be able to be crown a champion of the 500.
However, in racing, fate is fickle. Nobody has been snake-bitten more than Mark Martin when it comes to grabbing the biggest prizes in NASCAR.
He held the lead all the way to the fourth and final turn. That's when Kevin Harvick, who was getting a huge push from Matt Kenseth, pulled alongside Martin. The two drag raced to the checkered while a big wreck happened behind them.
Unfortunately for Martin, it was Harvick's time to shine as he claimed the Daytona 500 for his own. Martin was relegated to second, barely a fender's length behind.
4. 2000 Winston 500
With the addition of a new aerodynamic package used solely for restrictor plate races in order to bring some excitement to the racing, the 2000 Winston 500 was bound to please.
And it did. With 49 lead changes among 21 drivers, fans were treated to an excellent show. But perhaps the most exciting part was Dale Earnhardt's battle for his 76th career win.
In a performance that every NASCAR fan remembers as legendary, Earnhardt was in 18th with five laps to go. Although he looked like he did not have a chance, one thing that every veteran Earnhardt fan knew was that he could not be counted out, especially on tracks like Talladega.
Earnhardt charged to the front, taking the lead with two laps to go and proceeded to hold off Kenny Wallace to win the race and the million dollar bonus at the end of the race. It was to be Earnhardt's final win.
3. 2001 Cracker Barrel 500
Following Dale Earnhardt's untimely passing at the end of the 2001 Daytona 500, no one had expected his rookie replacement to get the job done so quickly.
Fans had tuned into the race for a few reasons. For one, Earnhardt had won this race thee year before, and many had hoped that Dale Earnhardt Jr. would provide the ultimate feel-good story in the sports world. Also, after Kevin Harvick had qualified so well, many wanted to see if he could make a good run of it.
The race became a five-car battle for the win with five laps to go, with Harvick, Junior, Jeff Gordon, Jerry Nadeau and Dale Jarrett. Junior would cut a tire and fall out of contention, but Harvick passed Nadeau and Jarrett for the lead in a three-wide pass on the frontstretch.
Gordon followed suit, and although he made a valiant go for the win, Harvick held him off by .006 of a second in only his third career start.
This was a day of healing for NASCAR.
2. 1984 Talladega 500
The 1984 Talladega 500 was one of the greatest NASCAR races of all time, at least until the 2010 Aaron's 499. But while the 2010 Aaron's 499 received more lead changes, this race was great not only for the 68 lead changes but for the heavyweights who finished at the front.
Dale Earnhardt won, but the second-place through seventh-place finishers read like a who's who of NASCAR legends: Buddy Baker, Terry Labonte, Bobby Allison, Cale Yarboroug, Darrell Waltrip and Harry Gant.
Several exciting moments would play out at Talladega in the years to come, but this one was one of the greatest.
1. 2003 Carolina Dodge Dealers 400
This is what NASCAR racing is all about. This is what puts the fans in the stands. The finish of the 2003 Carolina Dodge Dealers 400 was a shout-out to the wild days of yore, and how fitting it was that it occurred at Darlington Raceway no less.
Ricky Craven was never going to contend for the championship, let alone a top-10 points run. Kurt Busch, on the other hand was going far in the sport. He drove for Jack Roush, which usually automatically elevates young drivers to contender status.
Yet Darlington was always a strong place for Craven, and late in the going on that day in March 2003, He was running in second behind Busch. What followed was a scintillating series of bumps and nudges as they took turns moving each other out of the lead.
Craven, who only had one other win (Martinsville, October 2001), went low coming to the checkered flag while Busch, who had lost his power steering, went high. The two slammed, bumped, and banged their way to the finish line in a smoking finish.
Who won? Craven,by .002 of a second.
The margin of victory would be repeated at the 2011 Aaron's 499 where Jimmie Johnson would win, but that race, or any other race for that matter, could never hold a candle to this race.
Keep Reading