Indianapolis Colts Training Camp Photo Gallery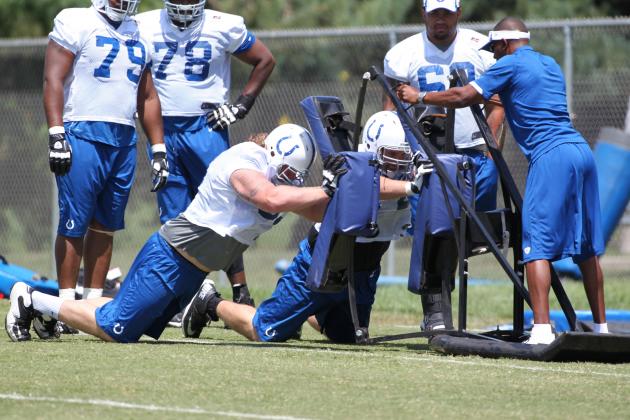 Brian Spurlock-USA TODAY Sports

This past Sunday, the Colts finally started their 2013 training camp, officially kicking off their 2013 campaign.
Training camp is a time to compare lower-tier players, install schemes and build camaraderie. From a marketing standpoint, training camps are the perfect opportunity to present the team, individuals and merchandise to fans in a fun but controlled setting.
With the growth of social media and instant news access, fans are pining for every bit of the latest news and notes. We'll have more of those as the week goes on, but for now, let's take a look at some of the snapshots from the Colts' first two days at camp.
Begin Slideshow

»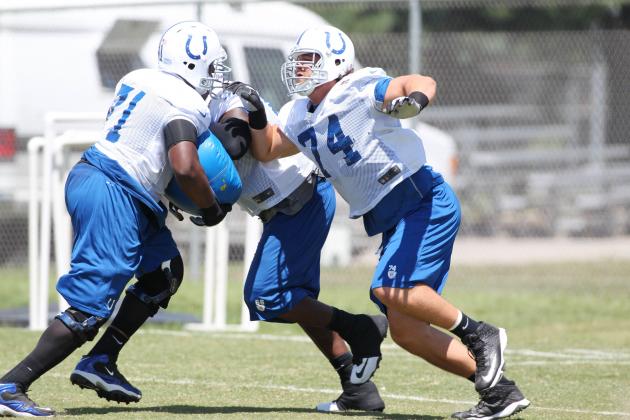 Brian Spurlock-USA TODAY Sports

One of the Colts' most intriguing camp battles is occurring at the tackle position.
While Anthony Castonzo and Gosder Cherilus have the left and right tackle starting positions (respectively) locked up, the backup slots will be decided by camp. Ijalana has been running with the third team on the left side, with 2012 seventh-round draft pick Justin Anderson manning the right tackle spot. Bradley Sowell and Emmett Cleary have been on the second team.
However, all four tackles will likely be considered for what very well could be two spots on the final roster.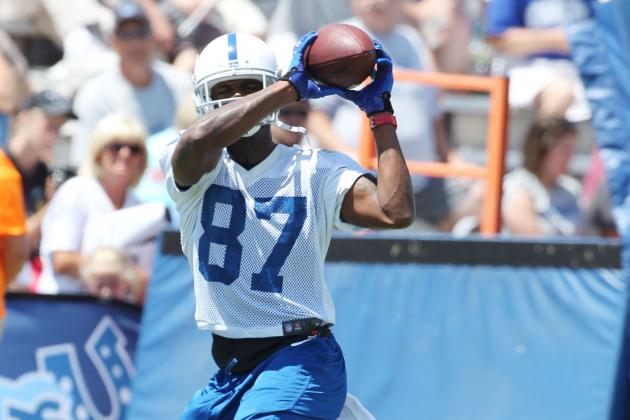 Brian Spurlock-USA TODAY Sports

The Colts' veteran presence at wide receiver, Reggie Wayne, is a fan favorite in Indianapolis due to both his play on the field as well as his off-the-field contributions.
After his 106-reception, 1,355-yard year, Wayne is just a season (or two) removed from being in the top 10 all-time in several traditional career statistical achievements. Career receptions (10th overall all-time), yards (14th overall) and touchdowns (24th overall) are all sitting well as the team looks forward, but Wayne could still have one of the league's top seasons in 2013.
Meanwhile Wayne's leadership and personality round out his figure as the face of the Colts, best exemplified by his unique arrival at training camp.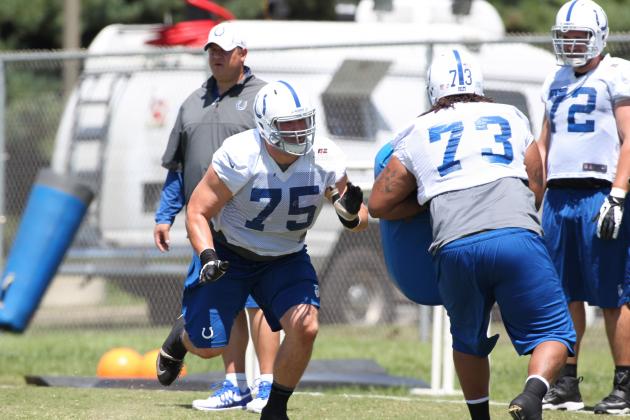 Brian Spurlock-USA TODAY Sports

While tackle includes one of the more interesting camp battles, I find the guard position to be fairly certain as we preview the position.
Donald Thomas and Joe Reitz should man left guard while Samson Satele and Khaled Holmes compete at center. Right guard should be Mike McGlynn and Hugh Thornton, in some order.
Those six players should be the interior linemen on the roster in 2013, although the starting spots are up for grabs. Unless a player is a combo player like Jeff Linkenbach or Ben Ijalana, I don't expect to see any other interior linemen on the roster come September.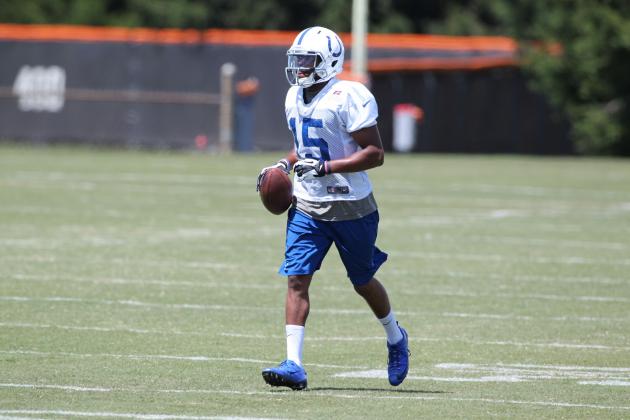 Brian Spurlock-USA TODAY Sports

After being suspended for the first four games of the 2013 season, second-year wideout LaVon Brazill has been put into the doghouse. Fans want to see somebody take Brazill's spot in training camp, justifying their ire after the offseason suspension.
Fortunately for Brazill, the Colts' long-term deep receiving options start and end with Brazill. Brazill looked good in short stints as a rookie, showing a commendable ability to separate, even if his hands were as inconsistent as any other receiver on the roster.
Somebody like Griff Whalen may play their way into a significant role as a wide receiver, but Brazill has a spot on this team as long as he stays out of trouble.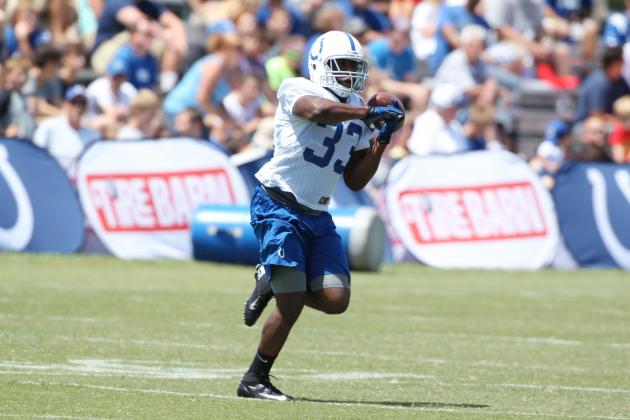 Brian Spurlock-USA TODAY Sports

With Ahmad Bradshaw on the PUP list indefinitely, the Colts' No. 1 running back designation belongs solely to second-year back Vick Ballard. Ballard may not be the most electric back (and he may have trouble catching passes out of the backfield, if you believe the above photo at all), but he's consistent and will give the Colts a feasible between-the-tackles runner.
Bradshaw is a bit more naturally talented than Ballard, but if injuries continue to sideline him, Ballard's role may go back to a lead back role. This is the role Ballard found himself in last season, and it was not a great fit. The Colts can survive with Ballard as the lead back, but the running game won't excel.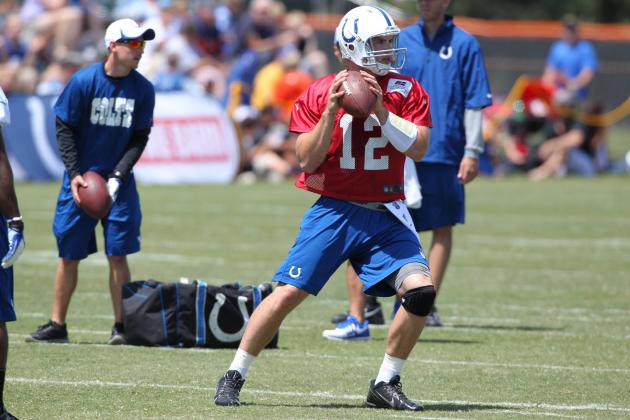 Brian Spurlock-USA TODAY Sports

Make no mistake, the 2013 Colts are once again all about Andrew Luck. The team will spout nonsense about football being won in the trenches and adding balance, but the Colts will only go as far as their superstar quarterback can bring them.
Luck needs to improve his accuracy and efficiency in 2013 while still maintaining the downfield elements that made him so dangerous in two-minute drives in 2012. It's not an easy task, but it should be doable under Pep Hamilton in the Colts' new offense.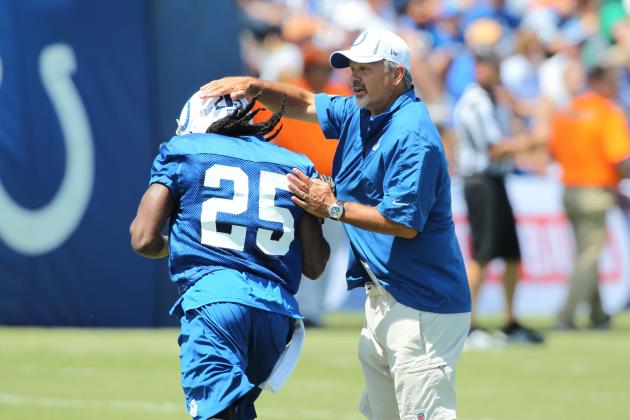 Brian Spurlock-USA TODAY Sports

Cornerback Marshay Green is one of the many competitors in the battle for the final cornerback spot. Green has bounced around practice squads and the bottom of rosters since 2010 after coming out of Ole Miss, and he's looking to land his first consistent spot on a roster this year in Indianapolis.
Green has great speed and is a serious contender for the spot. His ability to return punts should only help his bid, and getting some personal attention from head coach Chuck Pagano certainly can't hurt. As a former defensive backs coach, one has to imagine that Pagano is taking a special interest in this battle.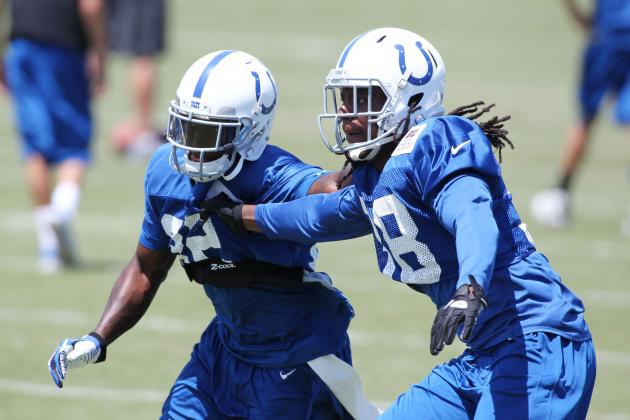 Brian Spurlock-USA TODAY Sports

While both Sergio Brown and Cassius Vaughn had roster spots last season in Indianapolis, neither is guaranteed a spot on the 2013 club.
Vaughn has the best chance of making the roster and currently sits as the fourth cornerback behind Vontae Davis, Greg Toler and Darius Butler. Vaughn was tendered this offseason and should make the team in a reserve role at the very least. Vaughn can also return kicks.
Brown's most notable moment in 2012 was allowing Cecil Shorts to score the game-winning touchdown in the Colts' third game of the season. The Colts looked to improve on Brown by drafting John Boyett in the sixth round of the draft and could bring in UDFA Daxton Swanson to compete at safety as well. Brown's ability to contribute as a gunner on special teams may end up being his most valued role.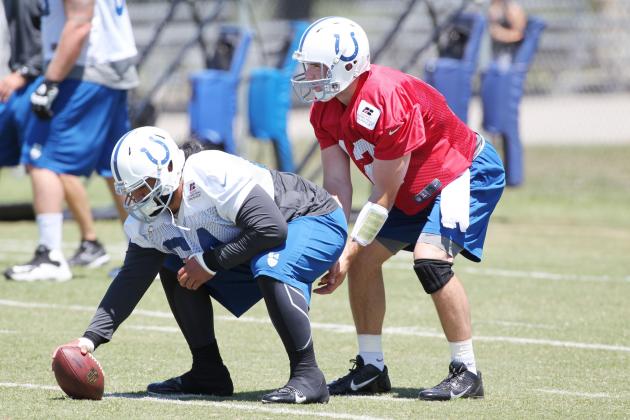 Brian Spurlock-USA TODAY Sports

As much as fans may want to see rookie center Khaled Holmes take over for Samson Satele as the starting center, the chances of that happening before the season starts are slim at best.
The Colts are going to give Satele every chance to prove that 2012 was an exception rather than the rule while grooming Holmes to step up in the future. While Satele was an awful pass-protector in 2012, throwing a rookie in at center (especially one who has struggled to anchor in pass protection like Holmes has) would likely be even worse.
Sorry, fans, but you'll see more of Satele as the season gets closer (barring injury, of course).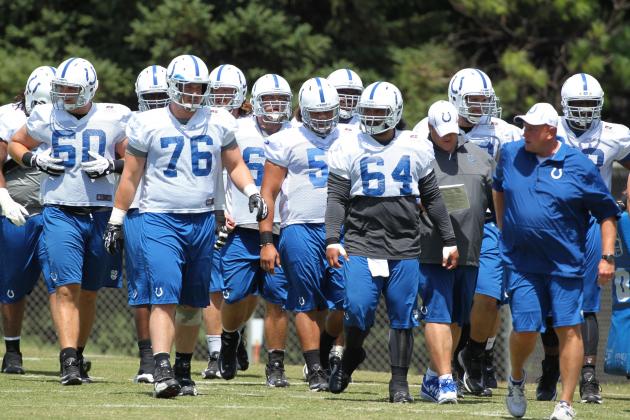 Brian Spurlock-USA TODAY Sports

One of the most important parts of training camp is the chemistry that comes out of spending three weeks together in college dorms. While not everybody likes the rigor of training camp, the fact is that it's an invaluable time together.
Last season, the team bought into "Building the Monster" during training camp, as last-place power rankings and a team-centric philosophy motivated the team beyond a usual training camp feel. After Chuck Pagano's bout with cancer began, those philosophies carried through the regular season and gave the team something to grasp on to.
Now, with Pagano back and healthy, the question is whether or not the team will buy in with such fervor to the team philosophies. Training camp is the petri dish of team philosophies and where the foundation of the team's off-field chemistry is built. Can the Colts hold on to the passion that gripped them last year, or will they get complacent?