New York Yankees Midseason Player Grades
Drew Hallowell/Getty Images
The Great Mariano shines bright for the Yankees in 2013.
Somehow—through 95 games played—the New York Yankees, with all of their troubles, are only three games behind in the chase for one of two AL Wild Card spots. It might be one of the most incredible storylines of the season.
How can that be, you say? Allow me to explain.
The Yankees have played all but one game this season without Derek Jeter, who was one of the best shortstops in all of baseball last season. The one game he came back for, he had to leave early with a strain in his quad.
Alex Rodriguez has not yet graced us with his presence though he could be back next week. Mark Teixeira has played in only 15 games and hit a dismal .151.
Oh, there's more, as you may know. Kevin Youkilis, supposed to be the Yankees fill in at third base this season, played in only 28 games and hit a heinous .219 with only nine extra base hits. Curtis Granderson returned for eight games in May before encountering some extraordinary bad luck, getting hit by a pitch yet again.
Granderson may not return now until August; a season virtually lost.
We're almost there. Francisco Cervelli started the season with a .877 OPS through 17 games and played with an exuberance and passion that seemed uplifting to the Yankee spirits for most of April. He hasn't played since April 26th after fracturing his right hand on a hit by pitch.
Even the Yankees' versatile utility man Jayson Nix, who has not performed nearly as bad as the numbers indicate given the circumstances, is now on the disabled list. Incredibly, Robinson Cano, the Yankees' best everyday player, was beaned on Tuesday night in the All Star Game by Matt Harvey and had to leave.
Every Yankees fan had to wonder right then and there what they did to deserve this kind of punishment in 2013. By the grace of God, Cano only has a mild contusion and should be good to go this weekend in Boston.
It's absolutely mind blowing how many injuries the Yankees have had to deal with. The injuries have affected their lineup, which ranks as one of the worst in all of baseball, immensely. Yet the Bombers have the third best pitching staff by ERA in the junior circuit.
They're aided in that department by one of the game's finest pitchers, Hiroki Kuroda, who holds the second lowest ERA in the AL.
The Yankees do have something of an uphill climb if they want to make the playoffs for an 18th time in 19 seasons come October.
But in a year where hard to believe injuries and travails have been all too real, help is on the way through players coming back from injury. And it's always possible Brian Cashman could make a big deal at the trade deadline to bring in some help.
For now, please enjoy these Yankees' midseason grades for the 2013 season.
Begin Slideshow

»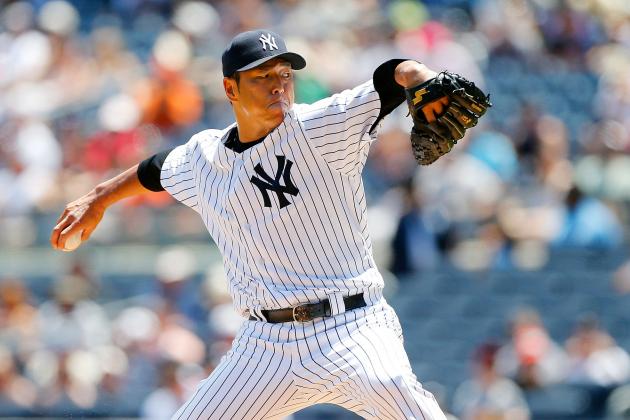 Jim McIsaac/Getty Images
Even playing for the Yankees under the bright lights of New York, Hiroki Kuroda is not often given the credit he deserves.
P Hiroki Kuroda: A+
P Mariano Rivera: A+
2B Robinson Cano: A
P David Robertson: A-
There are only four Bombers that earn A grades through the season's first half. The Yankees' best starting pitcher, Hiroki Kuroda, did not make the All Star team despite having the second-best ERA in the league and being one of the game's most reliable pitchers.
Make no mistake, Kuroda has been one of the top-10 pitchers in baseball over the last two seasons, whether going by WAR, ERA or just plain durability. The man shows up every five days, pitches brilliantly and is as professional as they come.
The Yankees haven't quite had a transcendent starter over the last 20 years, but Kuroda is now pitching as well as almost any Yankee has over a two-year stretch over that same time span.
The Great Mariano Rivera remains the most reliable closer in all of baseball. Rivera has blown only two saves and continues to bedazzle opponents with his cutter and two-seam fastball. I've waxed poetic many times about Rivera in this space. I will again in the future.
For now, I encourage you to watch with joy in your heart as he finishes out one of the greatest careers of any pitcher in baseball history.
Robinson Cano is only slightly off the pace of his excellent 2012 season, but he is projected to hit the most home runs of his big-league career this season. Not bad timing at all as he enters into free agency.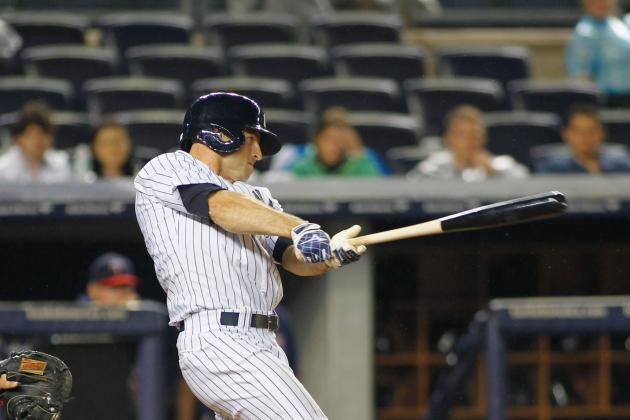 Andy Marlin/Getty Images
Brett Gardner has been one of the few productive bats.
C Chris Stewart: B
OF Brett Gardner: B
1B Lyle Overbay: B
OF Ichiro Suzuki: B-
P Boone Logan: B+
P Preston Claiborne: B+
P Shawn Kelley: B
P Adam Warren: B
P Vidal Nuno: B/Incomplete
C Francisco Cervelli: B+/Incomplete
P CC Sabathia: B-
For 17 games, Francisco Cervelli was giving the Yankees a performance worthy of an All-Star catcher. Alas, it was only 17 games. Heck, if you do a fool's errand and prorate out Cervelli's numbers over roughly 65 games played, you'll see that he would have considerably outperformed Royals All-Star catcher, Salvador Perez.
Cervelli got hurt, which opened the door for Chris Stewart, who has done admirably, all things considered. Stewart will never be mistaken for an All Star, but he's already been pressed into seven more games than he played in all of 2012. Stewart has an opportunity to finish the year at one win above replacement.
Not bad for a guy who came into the season with very small expectations.
CC Sabathia hasn't been a disappointment, but he hasn't been great either. Especially not by his standards. In fact, the loss to Minnesota right before the break was a real kick in the pants to a Yankees team who had no business dropping a series to the Twins.
Sabathia has the opportunity to right the ship this weekend in Boston and help propel the Yankees pitching rotation as we get closer to the dog days.
Relievers Shawn Kelley and Boone Logan have helped form one of the best bullpens in baseball, along with David Robertson and Mariano Rivera. Logan and Kelley deserve far more credit than they've received, as each are pitching to the highest strikeouts per nine inning ratios of their careers.
Brett Gardner and Lyle Overbay are two lefties that have provided a substantial amount of pop to a Yankees lineup that has reminded many of the horrendous late '80s-early '90s Yankee squads. Or, as we long time Bombers fans refer to that period, "The Dark Ages."
Overbay has the second highest slugging percentage on the Yankees and while his numbers will hardly blow you away, Yankee fans will gladly take his .745 OPS. Gardner may never develop into an All Star as he continues on through his peak years, but his defense is invaluable and his .338 on base percentage puts him at 36th in the AL.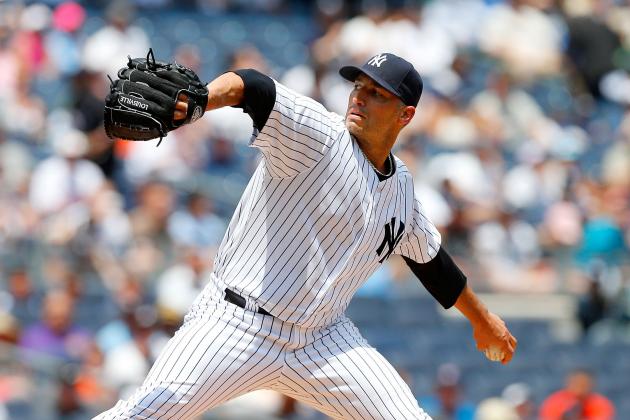 Jim McIsaac/Getty Images
Andy Pettitte hasn't been reliable since an early injury.
OF Zoilo Almonte: C+
OF Brennan Boesch: C+/Incomplete
SS/IF Jayson Nix: C
OF Vernon Wells: C-
P Ivan Nova: C+/Incomplete
P Andy Pettitte: C
P David Phelps: C
P Phil Hughes: C-
Zoilo Almonte has emerged as a starting outfielder for the Yankees at the age of 24 and is hitting .267 through 86 at bats. It will be very interesting to see how the league adjusts to him and of course, how he adjusts to AL pitching as the summer moves along.
Jayson Nix's numbers look positively atrocious. Yet, look again and you see a player who has been pressed into the most action he's had through 95 games in his big league career. Nix is hitting .236 but is actually sixth on the Yankees in hits.
Most importantly, he's done everything asked of him, and he's played very strong defense on the left side of the infield. Sometimes, the statistics don't tell the whole story. Plug in another Alberto Gonzalez for Jayson Nix and we'd have a full blown catastrophe on our hands.
Instead, we just have the beginnings of a catastrophe. Perspective, folks, perspective.
Andy Pettitte is having a sub-par season in what might be his last in pinstripes. It's been tough to watch the possible future Hall of Famer struggle at times against some very pedestrian lineups. In fact, there's a belief among some fans and media that Pettitte is playing hurt.
After four superb starts in April, Pettitte has been shaky more often than not and did miss some time due to injury in May. Phil Hughes has been healthy but has shown himself to be as inconsistent as ever. Hughes can at times look like one of the best pitchers in the AL.
At times, he can look like one of the worst pitchers in the AL. He may be on the trade block, and whether or not he departs in the next two weeks, we're almost certainly seeing the last days of Phil Hughes in the Bronx.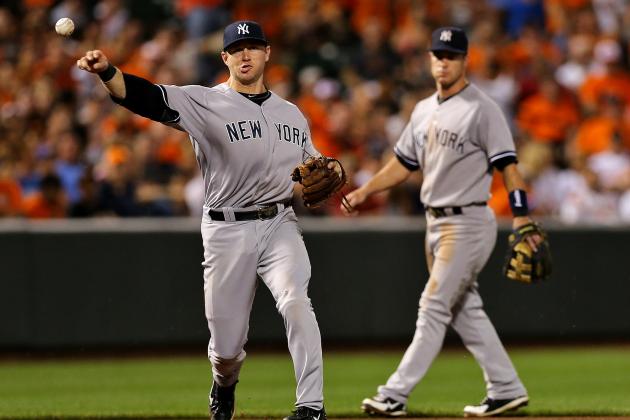 Patrick Smith/Getty Images
David Adams has struggled at the plate.
3B David Adams: D
DH Travis Hafner: D
3B/1B Kevin Youkilis: D
1B Mark Teixeira: D/Incomplete
SS Eduardo Nunez: D/Incomplete
P Joba Chamberlain: D
The Yankees would be golden, like the pot at the end of the rainbow, if Travis Hafner could have sustained his performance from the season's first month. You see, Hafner had a 1.104 OPS through roughly 80 plate appearances during April.
Then came a .584 OPS for the month of May. It's only gotten worse from there. So bad that the Yankees are only playing Hafner at this point and—(gasp)—batting him fourth because there really isn't anyone else to substitute in the clean-up spot.
Manager Joe Girardi is taking the chance that Hafner will somehow recapture some of the brilliance of baseball's first month. While Yankee fans wait, they're finding very little offense from the likes of Eduardo Nunez and other assorted bench players like Luis Cruz.
David Adams came, saw and did quite well in his first 10 games in the majors. Then, he fell off a cliff and has since been demoted to the minors. Injuries to Kevin Youkilis and Mark Teixeira's re-injury have been huge blows that the team has staggered to recover from.
Wait, Joba Chamberlain is still on the team?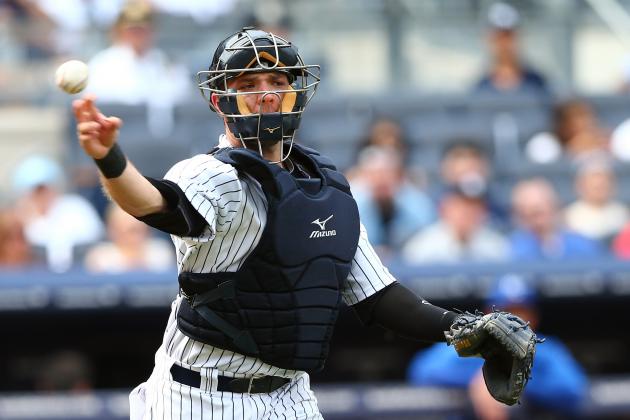 Elsa/Getty Images
Austin Romine hasn't developed the way the Yankees had hoped.
OF Ben Francisco: F
SS Reid Brignac: F
SS Alberto Gonzalez: F
C Austin Romine: F
3B Luis Cruz: Incomplete
OF Thomas Neal: Incomplete
3B Chris Nelson: Incomplete
SS Derek Jeter: Incomplete
2B Corban Joseph: Incomplete
OF Curtis Granderson: Incomplete
The big focus here is on stars Derek Jeter and Curtis Granderson, who have only been able to impact the fortunes of the 2013 Yankees in such a minimal amount that it's barely worth mentioning. What's of more significance is their absence, and how it's opened doors to the likes of Alberto Gonzalez and Ben Francisco.
Two players who worked hard to earn their Fs.
Austin Romine has been nothing more than a warm body behind the plate and his hitting has been so bad, it's actually surprising the Yankees haven't given minor leaguer J.R. Murphy an opportunity behind the plate.
The Yankees are hoping that Jeter can return right after the All Star break and be able to play most of the final 67 games, either as a designated hitter or in the field. Granderson could be back in a few weeks, but either way, this has been a lost season for both players.
Players like Cruz, Nelson and Neal simply haven't registered enough at bats yet with the Yanks to warrant a grade. The latter two were already shown the door, and it's entirely possible Cruz may be walking right through the same one soon.