2013 NBA Summer League: Behind the Scenes in Las Vegas, Day 6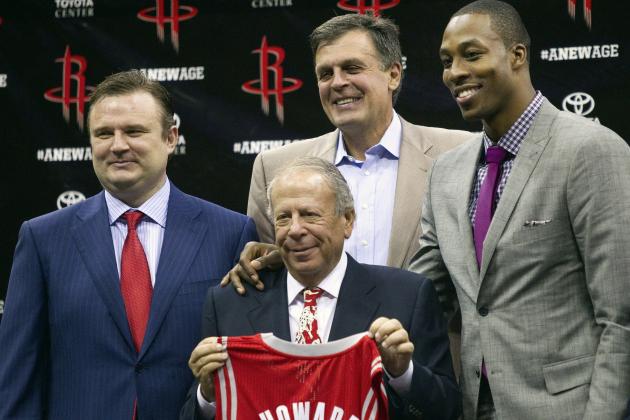 Bob Levey/Getty Images

Welcome back to day 6 of NBA heaven: The Vegas Summer League.
In the past, the Summer League was a bunch of exhibition games. At the beginning there was big excitement, but as the 10 days wore on, VIP's went home and good players were rested by their teams. By the end it is almost sad, a shell of its former self.
This year they flipped the script by making it tournament based and creating the first ever NBA Summer League Championship. Today was the first day of the tournament and I couldn't wait to see the escalation in intensity in the play and in the crowd.
Games mean something now.
Begin Slideshow

»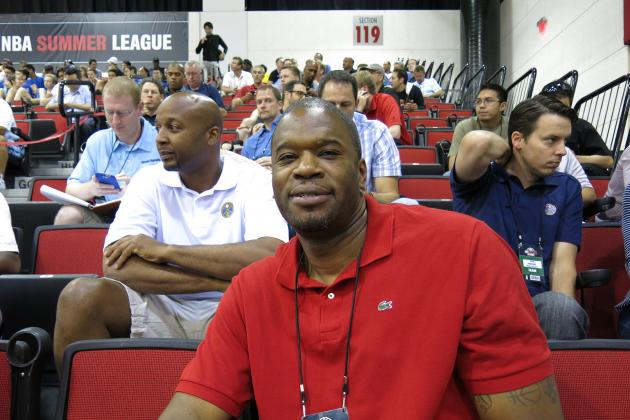 One half of the Davis Brothers, Antonio Davis. He's a hardened veteran of those Knicks/Pacers bloodbaths that captivated me in the nineties, it was great to see him out.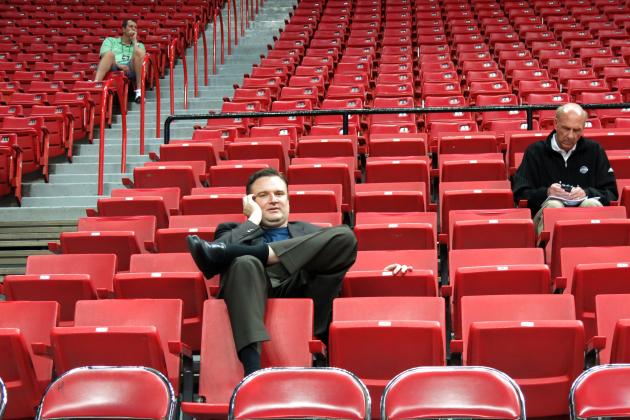 Daryl Morey, or as I like to call him, my choice for 2013 Executive of the Year.
Daryl was able to turn around a middling Houston Rockets team into a contender in the West. He did this through patiently stockpiling assets and then he finally pounced this year, stealing James Harden form the Thunder and Omer Asik from the Bulls.
He's already the king of this off season, having peeled Dwight Howard from the groveling Los Angeles Lakers.
I'm not sure who he's on the phone with, but I'm sure he's working on some amazing deal. As a Nets fan, I just pray that Billy King isn't on the other end of that phone.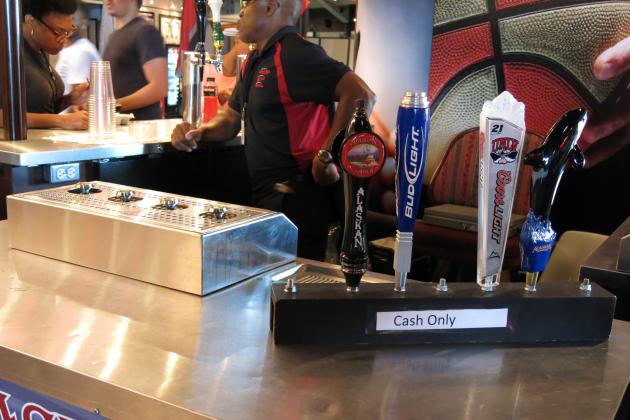 For adult refreshment, the Thomas and Mack Center offers a good array of "bottoms up" beers.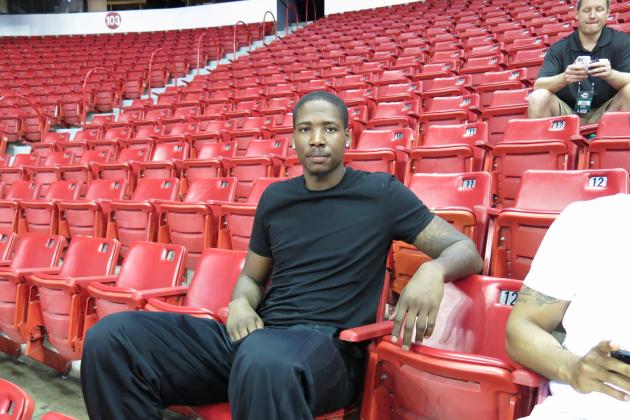 Memphis Grizzlies big man Ed Davis took in their game. Ed is very talented, but a trade deadline deal left him buried behind the best front line in the league: Marc Gasol and Zach Randolph.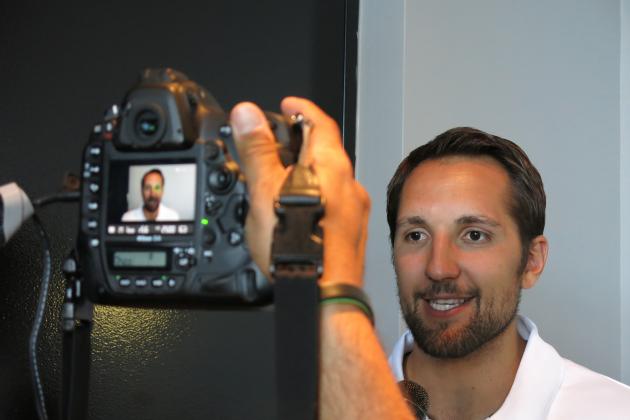 The New Orleans Pelicans' Ryan Anderson made an appearance. Last time we saw him, he was leading the NBA in three point field goals.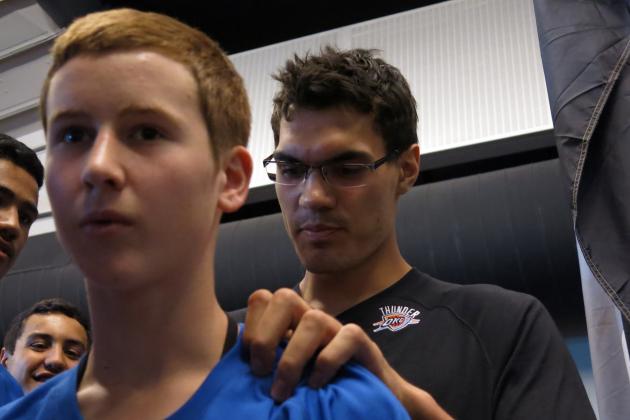 James Harden....I mean Steven Adams signs the back of a fan's shirt. Since he was the last piece of the James Harden deal, he will unfairly be linked to The Bearded One for the rest of his career.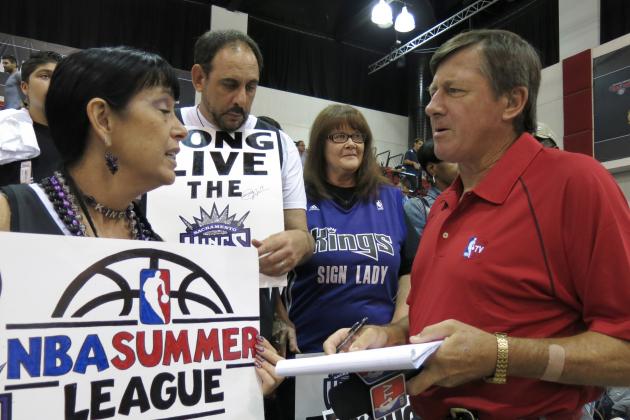 I can't stress enough about how strong the Sacramento Kings fans support is here. Fans of both LA teams and Phoenix are both geographically closer, but no one is close to the level of organized support as these guys.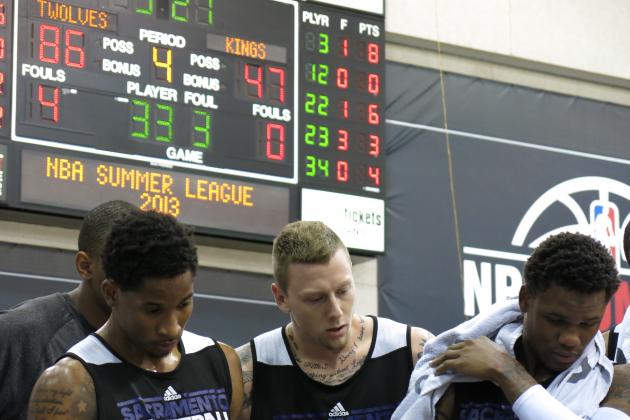 Unfortunately for those die hard Kings fans, their team committed an atrocity against the game of basketball by being beaten 92-54 by the Minnesota Timberwolves. Their prized rookie, Ben McLemore was 0-8 from the field. The only King that's had a worse time than these guys recently was Robb Stark.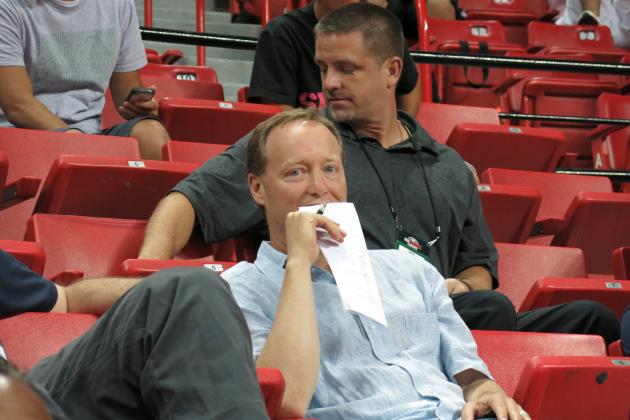 New Hawks coach Mike Budenholzer seems a little camera shy.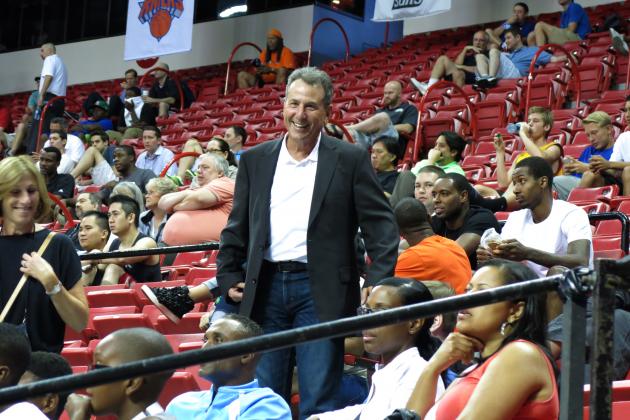 Hawks owner Bruce Levenson was in attendance. All levels of the Hawks management (Danny Ferry and the whole coaching staff) were present for the game today.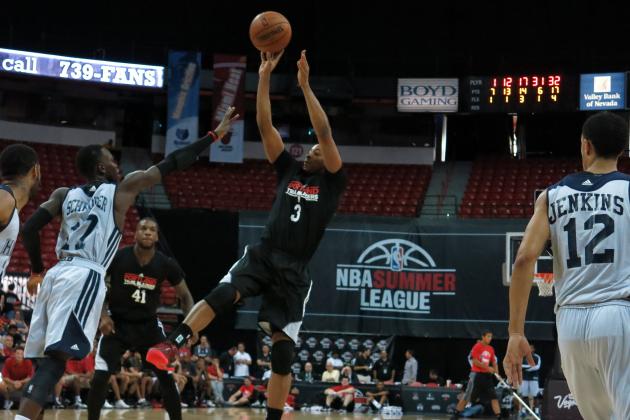 The Atlanta vs Portland game featured a matchup of the two best rookies in the Vegas Summer League, Dennis Schroeder and C.J. McCollum.
If you watch a lot of college basketball, you missed these guys because Dennis was playing in Germany and C.J. was playing at Lehigh. Now they are running circles around their big school contemporaries.
Schroeder(who I'm on record saying he's my favorite guy in the draft) leads the Summer League in assists and McCollum is third in scoring despite playing a facilitator role at times.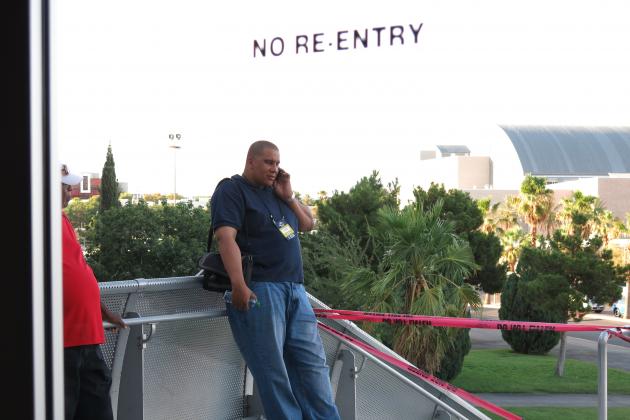 Yahoo's Marc J. Spears steps out to make a phone call. With his reputation as a new breaker, you can assume he's talking business.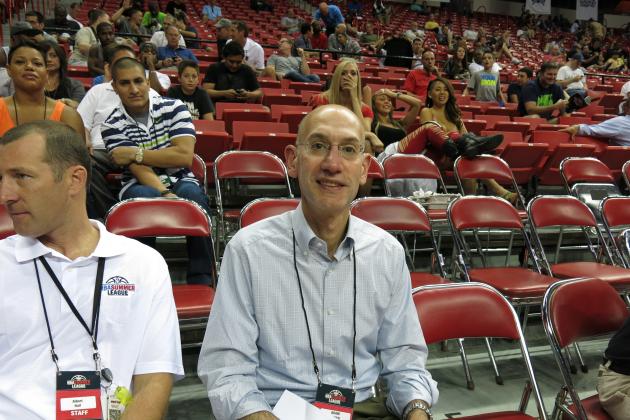 The first new NBA Commissioner in thirty years, Adam Silver, made an appearance. As you can see, the Las Vegas Summer League attracts the heaviest of hitter in the NBA.
Boo birds will have to can it because Silver is incredibly affable, unlike his predecessor who was pretty much a WWE heel by the end of his career.
Silver will officially become commissioner in February of 2014.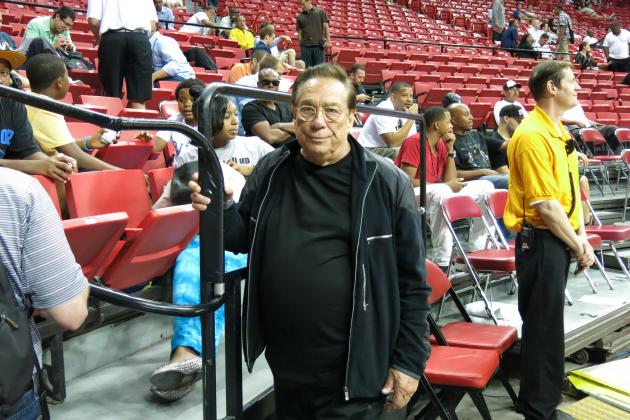 Controversial Los Angeles Clippers owner Donald Sterling made the trip to watch his team play. I wish he would have came two days earlier to the Clippers vs Lakers game when Jim Buss was there because that would have been amazing.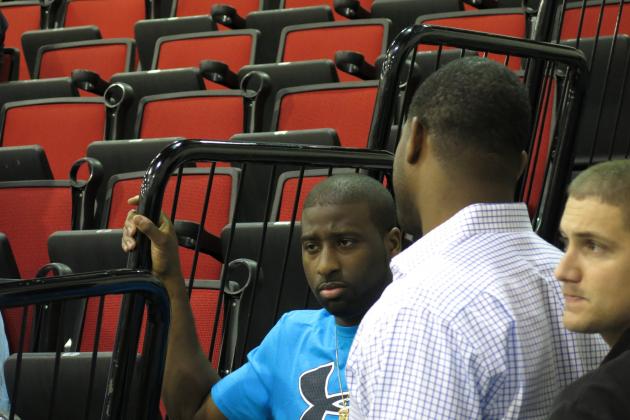 Raymond Felton stopped by to see the New York Knicks get eviscerated 113-66 by the Miami Heat.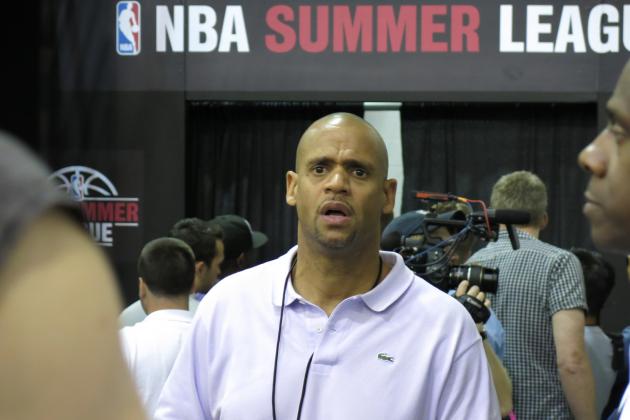 Agent Chris Luchey, who reps Wilson Chandler, Donte Greene and Ekpe Udoh, was milling around Cox Pavilion during the Knicks game. Every facet of the NBA world is there, agents included.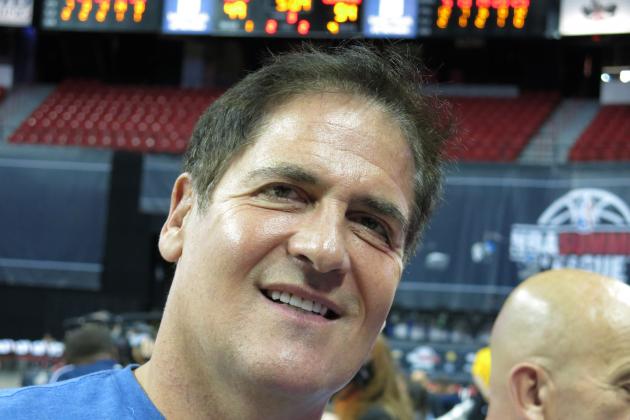 Dallas Mavericks owner Mark Cuban is one of the more hands on owners in the NBA. And I mean that in a good way.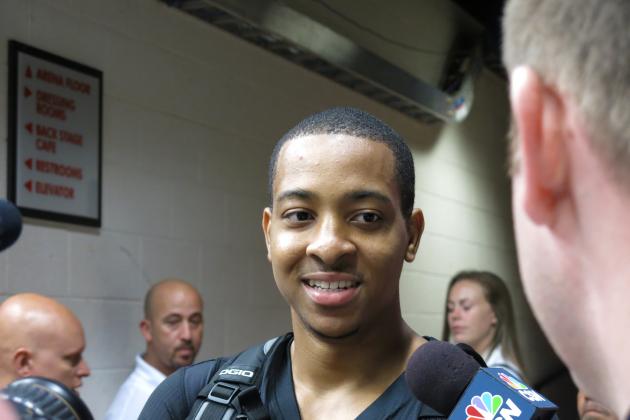 The Portland vs Atlanta game was the most exciting game I had seen so far in Vegas.
The one on one war between Schroeder and McCollum ended in a draw, but Portland's supporting cast, namely Thomas Robinson (13 points, 17 rebounds) and Meyers Leonard (hit a late 3) helped secure the one point, overtime victory. I implore you to watch the highlights.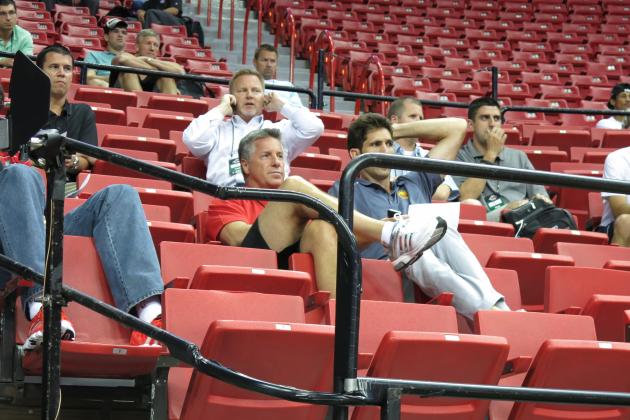 Watching the Portland Trail Blazers games so closely in the Summer League has really opened my eyes to what a great job their GM Neil Olshey has done.
You can see all that he accomplished since he was hired right here (plus add drafting McCollum and trading for Thomas Robinson to that), more people should talk about him as a high-ranking executive.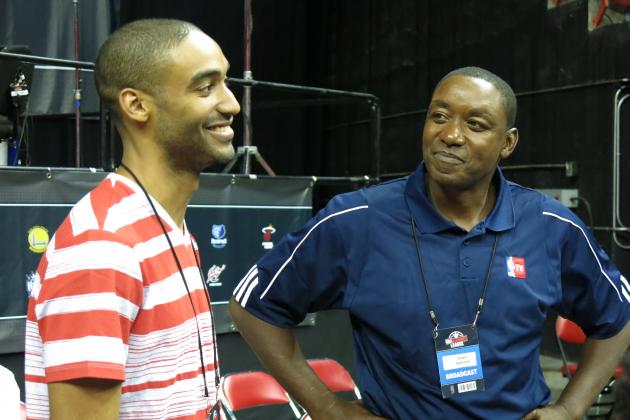 At the end of the night, the games were over and everyone was trying to get out of there. I have been watching Isiah the last few days, literally all day he is a commentator for the games, smiling, interviewing guests, calling the game. I thought my job at the Summer League was tough, but after seeing him work day in and day out, I don't know how he does it.
The game had been over for a half hour but he wasn't in a rush to leave, he was taking time to take photos with a handicapped New York Knicks fan and his family. Then he introduced everyone to his son (the one former NBA player's son who actual wasn't playing in the Summer League). He and his son cracked jokes and overall it was really just touching.
Isiah has taken a lot of fire over the years, some of it deserved, but on a human level, he is just really a nice person. As a player he was amazing too, I don't care what he traded for Eddy Curry.
I'll be back at the Summer League tomorrow. I'm absolutely loving the intensity of these tournament matches, but it's starting to seep into my mind that the Summer League is going to end in the near future.
The oasis is going to dry up and I'm going to be without basketball until the end of October. Even worse, I'm not going to get to randomly hang out with and photograph the NBA's elite for another year.
I'm going to savor it.