5 Baltimore Ravens Players Facing Make-or-Break Training Camps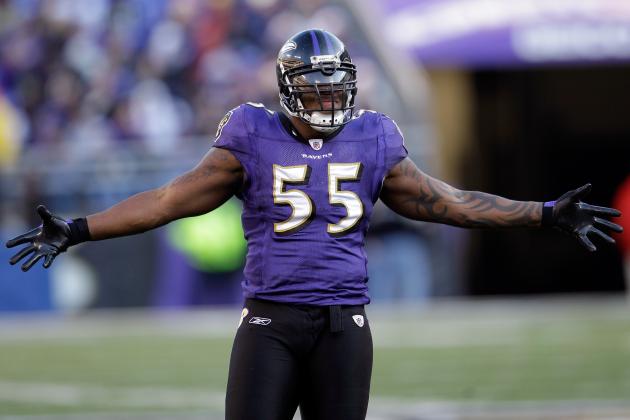 Rob Carr/Getty Images

The Baltimore Ravens' Terrell Suggs is on the books for more than $10 million each of the next two years, and he's coming off of a major injury that sapped him of all of his explosiveness last season. Think he has something to prove in training camp?
He and several others are facing a crucial period in their NFL careers. For some, training camp will be a chance to make a statement heading into the season. For others, it could be their only chance to make a statement at all.
Whatever the circumstances, these players are facing make-or-break training camps that will directly affect their future with the team.
Begin Slideshow

»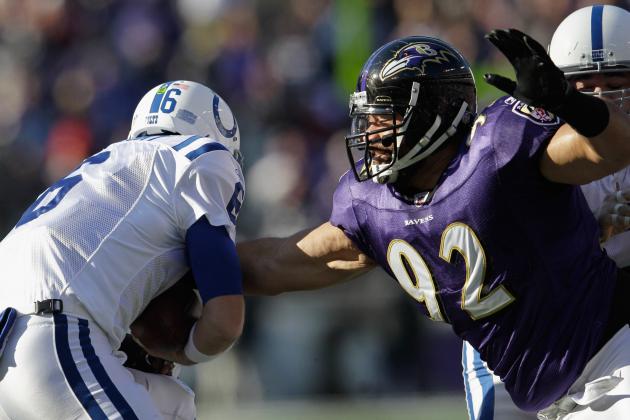 Rob Carr/Getty Images

Like Suggs, Haloti Ngata is on the books for well over $10 million every year for the remainder of his contract. Unlike Suggs, Ngata is probably not at any risk to be released at the end of the season. Still, he will need to prove worthy of his massive contract after an injury-hampered 2012 campaign. Training camp is his place to do it.
The most important thing for Ngata to prove is that he's healthy and as prepared as possible for the season. Ngata won't need to see a lot of reps in camp, but how his conditioning holds up will be important.
Again, he isn't going anywhere. But the Ravens, always looking forward, will really start to evaluate Ngata to see if he's worth his massive cap figure.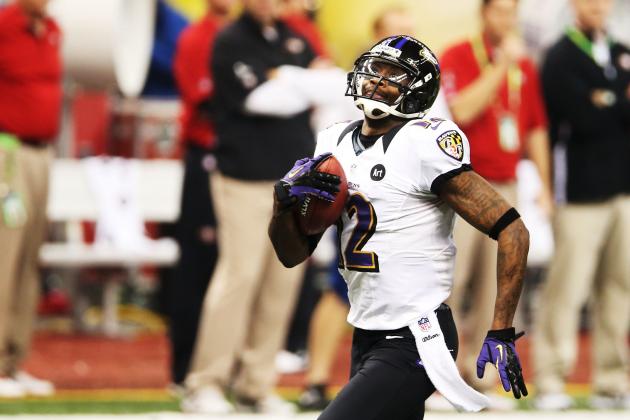 Ronald Martinez/Getty Images

Jacoby Jones has been given numerous chances to seize a starting job in the NFL, only to falter under the glare of starting reps. The Ravens are giving him another chance in an offense perfectly suited for his talents. Should he fail to hold down a starting spot, he will never get another chance.
Behind Jones, waiting for reps, are Deonte Thompson, Tandon Doss and a variety of other young targets. Thompson is a more polished route-runner, Doss more physical and the other guys younger. The only advantage Jones really has is experience.
Still, there is little doubt that Jones found a nice niche in Baltimore last season. He clicked with Joe Flacco, excelled on special teams and had a flare for the dramatic. Jones really is a nice fit with the Ravens, but he needs to demonstrate consistent hands and routes to maintain the starting role.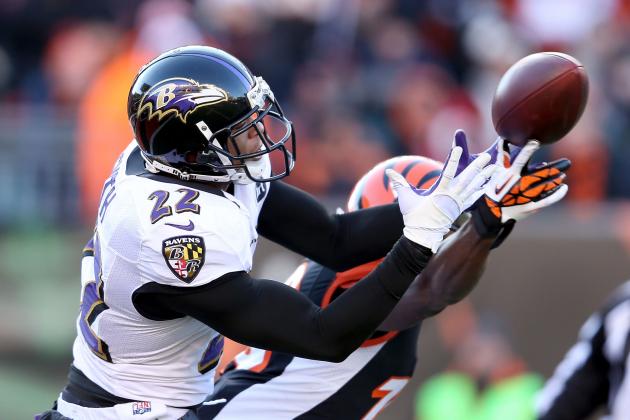 Andy Lyons/Getty Images

Like Jones, Jimmy Smith is competing for a starting job, and like Jones, this could be Smith's last shot to earn one. The former first-round pick has struggled with consistency, penalties and man coverage in his two years in the NFL. While Smith has the physical ability to succeed in the right system, his stiff hips have proven to be a major liability.
The Ravens can help him by letting him play closer to the line of scrimmage, where he can use his strength to throw off routes and his speed to make up for mistakes. He would play much better setting the tone, rather than being forced to react to the opponent's route.
Smith has already proven his physical ability and conditioning. Now, he needs to show he has the mental side of the game down, or else he will go down as a rare Ravens bust.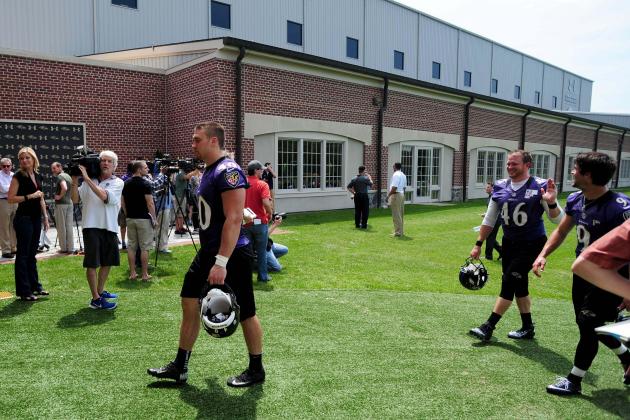 Evan Habeeb-USA TODAY Sports

Kyle Juszczyk is just one of many new additions trying to fill the shoes of a departed veteran. In Juszczyk's case, though, that departed veteran is still available in free agency. That means if he struggles early in camp, Vonta Leach may be getting a phone call with a nice offer from the Ravens.
While Jim Caldwell won't use a fullback the way Cam Cameron did, the Ravens will still need a lead blocker in short-yardage situations, and they also appreciate the way a fullback can set the tone with a hard catch-and-run in the flat. Those are pretty simple tasks, but it takes a special player to do them consistently well. Is Juszczyk that guy?
Juszczyk is one of the bigger boom-or-bust players on the Ravens' roster this year. If he excels early, he could see time all over the field: at fullback, tight end, H-back and even in the slot. But if he struggles, Juszczyk could be replaced.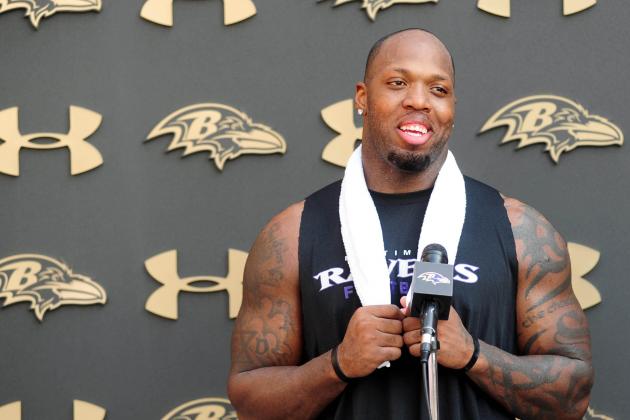 Evan Habeeb-USA TODAY Sports

Terrell Suggs' contract is worded so that this season could very well be his last in Baltimore. The Ravens would save nearly $8 million by releasing him next season, so the time has already come for Suggs to start proving his worth.
Training camp will be his first chance to show he can regain the explosiveness that helped him earn Defensive Player of the Year honors in 2011. If Suggs remains sluggish like he was last year, the Ravens will certainly not be getting their money's worth. Sure, he will always be a solid run defender, but that's not worth an eight-figure salary.
Keep an eye on Suggs' pass-rushing ability this season, starting from the very first practice. It will be the deciding factor between whether or not he is a Raven in 2014.