Texas A&M quarterback Johnny Manziel is the reigning Heisman Trophy winner, the favorite to win it again this upcoming college football season and the potential No. 1 overall pick whenever he decides to make the jump to the NFL. Still, he has found himself mixed in a bit of controversy after leaving the Manning Camp early.
UPDATE: Wednesday, July 17, at 12:37 p.m. ET by Tom Kinslow
Campbell Abbott of the New York Daily News has an update about Manziel's departure from the Manning Passing Academy.
According to a source, Manziel was a problem for Archie, Peyton and Eli Manning from the moment he arrived at the Louisiana passing camp until the second his parents called in sick for him.

The source told the Daily News that Manziel's troubles started way before he went out partying into the early hours on Friday morning.
---End of update---
UPDATE: Wednesday, July 17, at 9:18 a.m. ET by Brandon Galvin
Johnny Manziel spoke about the Manning Camp situation at today. ESPN's Brett McMurphy documented the interview:
Johnny Manziel "a lot of rumors out there, a lot of talk, I missed a meeting, phone died, I overslept."

— Brett McMurphy (@McMurphyESPN) July 17, 2013
Johnny Manziel "absolutely not" hungover, won't answer if he was drinking while at the Manning Camp

— Brett McMurphy (@McMurphyESPN) July 17, 2013
Johnny Manziel: "For me not to fulfill my obligations, there's no excuse. It's my responsibility." Was mutual decision for him to leave camp

— Brett McMurphy (@McMurphyESPN) July 17, 2013
Manziel wouldn't answer Tessitore question if he was drinking at camp but just said "there was no going out night before"

— Brett McMurphy (@McMurphyESPN) July 17, 2013
CBS Sports' Will Brinson has more:
"It was more mutual decision ... between me and the whole camp." - Manziel, who says he's talked to Eli/Peyton since

— Will Brinson (@WillBrinson) July 17, 2013
"I'm 20 years old. I'm still a sophomore in college. Still gonna do things that everybody in college does." - Manziel

— Will Brinson (@WillBrinson) July 17, 2013
ESPN's Joe Schad followed with the latest:
Johnny Manziel: I plan to return to Manning camp next year.

— Joe Schad (@schadjoe) July 17, 2013
CBS Sports' Bruce Feldman documents how Manziel plans to move forward from this situation:
Johnny Manziel "I've made mistakes. I try not to make the same one twice. I'm ready to do my talking on the field."

— Bruce Feldman (@BFeldmanCBS) July 17, 2013
McMurphy followed with the latest from Texas A&M head coach Kevin Sumlin
Sumlin on Manziel: "We've had some discussions about (the mistakes). It's like having kids. Our discipline policy is in house."

— Brett McMurphy (@McMurphyESPN) July 17, 2013
CBS Sports' Dennis Dodd has more from Manziel and how the young quarterback is trying to cope with the pressure of his new stardom:
Manziel says he has "met with a couple if counselors" to deal with "stress".

— Dennis Dodd (@dennisdoddcbs) July 17, 2013
---End of update---
UPDATE: Monday, July 15, at 5:25 p.m. ET by Tom Kinslow
Joe Schad of ESPN has an update on Johnny Manziel and the reports surrounding his departure from the Manning Passing Academy.
Johnny Manziel was "very upset" leaving Manning Academy & has apologized to Texas A&M staff for his behavior this weekend (via @schadjoe).

— SportsCenter (@SportsCenter) July 15, 2013
---End of update---
---Original text---
Manziel couldn't make it through the 2013 Manning Passing Academy in Thibodaux, La., as he was reportedly sent home due to illness, according to Chris Mortensen of ESPN.com.

Many of the best quarterbacks that college football has to offer were in Thibodaux for the camp, run by Denver Broncos quarterback Peyton Manning, New York Giants quarterback Eli Manning and their father, Archie Manning. Manziel, however, didn't complete the camp.
Manziel reportedly missed some assigned meetings and practice sessions as a college coach and counselor. According to Mortensen, the Manning Academy released a statement explaining the situation:
Johnny Manziel did participate in some activities in the 2013 Manning Passing Academy as a college counselor/coach. After missing and being late for practice assignments, Johnny explained that he had been feeling ill. Consequently, we agreed that it was in everyone's best interest for him to go home a day early.
This statement comes on the heels of rumors that Manziel was actually sent home for staying out late the night before and showing up tardy to practice sessions.
Rumors and Rants originally reported Manziel's rumored debauchery, as a source with supposed knowledge of the situation told the site that Archie Manning was the one who sent Manziel home. The Aggies star was supposed to participate in the "Air It Out" skills challenge, but he didn't show up until noon and was reportedly asked to leave.
According to Northwestern State Demons play-by-play announcer and CBS Sports personality Patrick Netherton, the rumors appear to have some credibility, although Manning Academy officials have since denied them.
Checked with some sources in Thibodaux...turns out the Johnny Manziel rumors are likely true. Out late, showed up late, asked to leave

— Patrick Netherton (@PTNetherton) July 14, 2013
Manziel's father, Paul, has also denied the reports, per Kate Hairopoulos of the Dallas Morning-News.
Texas A&M QB Johnny Manziel is "resting and recuperating from dehydration," according to his father, Paul Manziel. (Continued..)

— Kate Hairopoulos (@khairopoulos) July 14, 2013
Hairopoulos also confirmed that the Heisman winner is still slated to appear at SEC media days on Wednesday.
Texas A&M confirms Johnny Manziel will still attend SEC media days on Wednesday in Hoover, Ala. as scheduled. (cue the circus...)

— Kate Hairopoulos (@khairopoulos) July 14, 2013
Joe Kinsey of Busted Coverage provided photos of Manziel and Alabama signal-caller AJ McCarron hanging out at a Thibodaux bar known as Bubba's. Peyton and Eli were also there, so it may have been a team-building outing of sorts, but what happened that night has led to plenty of speculation regarding Manziel's status.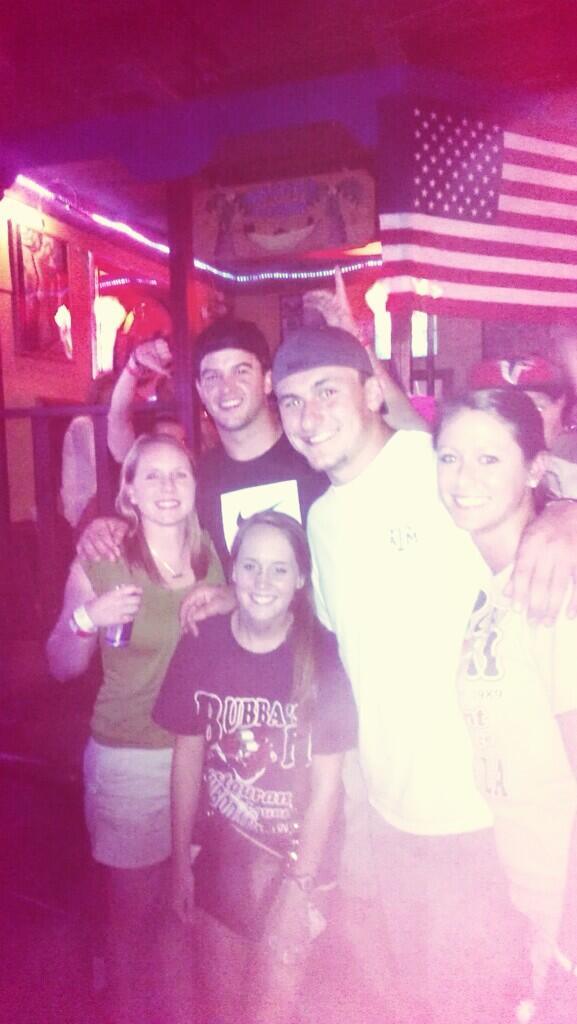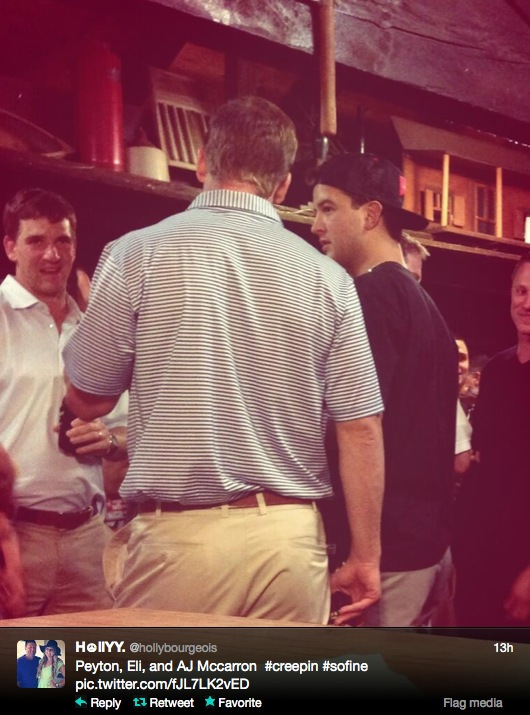 Despite the turn of events, Peyton Manning had nothing but good things to say about Manziel, according to Mortensen:
I enjoyed meeting Johnny. I can remember a 20-year-old Eli [Manning] missing a meeting and catching some flak. We always have counselors who leave early. Johnny was great with the campers for the time he was here. He had to leave early. I wish him the best, and I want him to come back as a counselor next year.
This offseason hasn't exactly been a great one for Manziel, especially when you consider the fact that he was the toast of college football last season. As noted by David Climer of USA Today (via the Dallas Morning-News), Manziel has made plenty of headlines in recent months, the most notable of which was a tweet back in June saying that he can't wait to leave College Station.
While Manziel deleted the tweet, it certainly hasn't been forgotten by fans of the Aggies, nor by a growing legion of the quarterback's detractors. There is no question that Manziel is one of the most talented college football players in recent memory, but his reputation has taken serious hits as negative stories have surfaced.
What's your take on Manziel's early departure from Manning camp?
At the same time, things tend to get blown out of proportion when it comes to players with the star power of Johnny Football. Assuming the Manning Academy officials are being forthcoming, this entire situation was nothing more than a big misunderstanding.
Regardless of what's true and what's hearsay, it's clear that Manziel can stand to mature a bit. Even without the Manning Passing Academy situation hanging over his head, he has made some questionable decisions this offseason.
If he is going to be a successful NFL player in the near future, Manziel needs to learn how to appropriately conduct himself off the field.
Follow @MikeChiari on Twitter