The Detroit Pistons managed to land one of the 2013 NBA offseason's most coveted free agents in Josh Smith to the tune of four years and $56 million on Saturday.
Yahoo! Sports insider Adrian Wojnarowski broke news of the acquisition:
Josh Smith has agreed to a four year, $56 million deal with the Detroit Pistons, league sources tell Y! Sports.

— Adrian Wojnarowski (@WojYahooNBA) July 6, 2013
Although the former Atlanta Hawks forward has never been selected to an All-Star team, Smith's skill set and experience significantly enhances his new team's chances of making the postseason.
Smith stands at 6'9" and possesses immense strength, making him an imposing presence on both ends of the court. His unique athleticism allows him to play both the 3 and the 4, and it's likely he'll play the former position with the Pistons.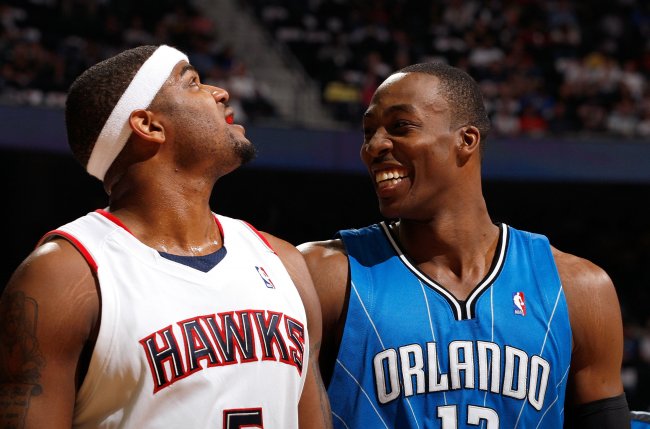 Kevin C. Cox/Getty Images
Last year's first-round pick, Andre Drummond, is the center of the future, while Greg Monroe has settled into the starting five at power forward. That leaves Smith to operate as the squad's small forward, which makes the most of his unique abilities and also helps Detroit set up multiple mismatches with such a lineup.
In addition to being the Hawks' leading scorer in 2012-13 with an average of 17.5 points per game, Smith matched his career best with an average of 4.2 assists, pulled down 8.5 rebounds and blocked 1.8 shots.
Such versatility has Smith in elite statistical company over the course of his nine-year career, per ESPN Stats & Info:
Josh Smith: 1 of 4 players with at least 10,000 points, 5,000 rebounds, and 2,000 assists since 2004-05 (LeBron, Pau Gasol, Garnett)

— ESPN Stats & Info (@ESPNStatsInfo) July 6, 2013
The sheer length Smith brings to the position will make his counterparts have to work on each possession, while Drummond and Monroe themselves present problems for opponents in the paint.
Having another player capable of distributing on the court will help the Pistons offense flow better, too—especially since it's a relatively young team.
Brandon Knight isn't exactly a pass-first point guard, but having someone like Smith to make ball movement crisper should allow Knight to work off the ball more effectively.
How will the Detroit Pistons fare with the addition of Josh Smith in 2013-14?
Recently drafted first-rounder Kentavious Caldwell-Pope provides prototypical size at shooting guard, making the Pistons' future starting five flat-out scary.
What has to be most exciting for Smith is that he will have the opportunity to be the team's unquestioned leader—something he never got to establish himself as in Atlanta.
Smith has winning playoff experience under his belt and a projected slew of fellow starters who have no more than three years in the league to date (that is, unless the Pistons go with Rodney Stuckey at the 2 over Caldwell-Pope initially).
It may sound unrealistic, but a Detroit Pistons team led by Josh Smith has a legitimate chance to make the NBA playoffs in 2013-14. With a relatively weak Eastern Conference, it may not even take a winning record to qualify.
Any talk of a championship is still several years off, but Smith can immediately help the Pistons return to relevance in the East while growing alongside the promising young cornerstones GM Joe Dumars has put in place.