The Los Angeles Lakers have been fighting tooth and nail to keep free agent center Dwight Howard in L.A. next season, most notably with billboards throughout Hollywood prompting him to stay.
On Tuesday, the Lakers will dispatch the next phase of their plan to woo D12.
As noted by ESPN's Marc Stein, the Lakers will get the last of the five face-to-face meetings Howard had scheduled beginning at 12:01 a.m. ET on Monday, a group that also includes the Houston Rockets, Golden State Warriors, Atlanta Hawks and Dallas Mavericks, in that order:
Mavs up first TUES. Then it's Lakers. And then Dwight, wooed by five teams face-to-face, will deliberate for ... we'll just have to wait/see

— Marc Stein (@ESPNSteinLine) July 2, 2013
If you buy into the rumor mill surrounding Howard's thought process, ESPN's Chris Palmer posted this tweet on Tuesday morning to give Lakers fans some momentum before their in-person meeting takes place:
Just got back to LA. Everything I'm hearing is Lakers are the leader.

— chris palmer (@ESPNChrisPalmer) July 2, 2013
According to ESPN's Dave McMenamin and Ramona Shelburne, both Kobe Bryant and Steve Nash will be part of the contingency that meets with Howard on Tuesday in L.A., and the duo note that the roster of individuals to pitch to D12 is still being finalized for when the Mavs are done with their Tuesday sit-down with the All-Star center.
Per the report, the Lakers will use their relationship with Time Warner Cable as a potential talking point for the meeting. The NBA league office reportedly ruled that talking point as acceptable on Monday, and McMenamin had these two Twitter posts to clear up any confusion about potentially breaking league rules:
League source: The NBA has no problem w/ TWC being part of the LAL's pitch for Dwight, so long as no extra compensation is promised

— Dave McMenamin (@mcten) July 1, 2013
According to a source familiar with Dwight's meeting w/ HOU, the Rockets discussed TV opportunities for DH on Comcast SportsNet Houston

— Dave McMenamin (@mcten) July 2, 2013
While the Lakers wait, they'll have to face the fact that Howard has a number of options on the table and will continue to have those options after L.A.'s meeting with the 27-year-old is over on Tuesday afternoon.
One of those options is the Mavericks, who are sending Dirk Nowitzki and Mark Cuban to headline their pitch during the second full day of the pitches to Howard.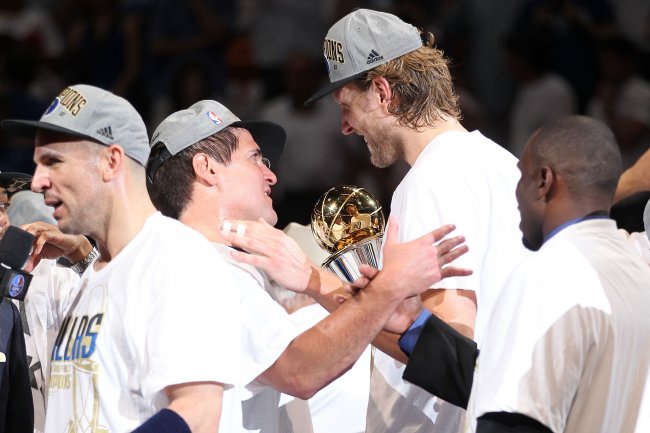 Mike Ehrmann/Getty Images
As noted in the McMenamin/Shelburne piece, the Mavs have a strong relationship with Howard's agent, Dan Fegan. They also have cap space to build around Howard for the future and the ability for him to become the unquestioned face of the franchise in Dallas.
All three teams that have met with Howard so far have expressed positive feedback in their pursuit. Yahoo! Sports' Adrian Wojnarowski reported on Monday morning that the Rockets were the new frontrunner after sending James Harden, general manager Daryl Morey and three Rockets legends (one via Skype) to sell D12 on a move to Houston.
Golden State and Atlanta can also hold out hope, as this tweet from Wojnarowski would suggest:
In Atlanta and Golden State presentations today, Dwight Howard camp considered both coaches, Mike Budenholzer and Mark Jackson, impressive.

— Adrian Wojnarowski (@WojYahooNBA) July 2, 2013
The Warriors are the biggest long-shot of the mix to sign Howard, largely because they would need to execute a sign-and-trade to make it happen in order to avoid the luxury tax hit that would come with a max contract on their current books.
According to CBS Sports (via Ken Berger), no offers have been put on the table between the Warriors and the Lakers for any such deal:
Reports say GSW willing to part with Bogut/Klay in S&T for Dwight, but @KBergCBS reports no offers on table http://t.co/jsBHsSVoGw

— Eye on Basketball (@EyeOnBasketball) July 1, 2013
Along those same lines, Los Angeles makes the most sense from a dollar standpoint, largely because the Lakers can offer an extra contract year and roughly $30 million more in overall salary in a max contract than any other team in the NBA can offer.
While the Lakers are prepping for the Howard meeting, they are also actively looking to upgrade the roster to pitch Howard on the idea that Mike D'Antoni is the right man for the head coaching job.
His up-tempo, high-octane offense struggled during its first year in L.A., largely because the personnel in town was there because of the Mike Brown/Phil Jackson influence on previous roster decisions.
However, as Kurt Helin of Pro Basketball Talk mentioned on Tuesday morning, the Lakers are chasing a large contingency of players who would be a better fit to the D'Antoni offense. That list includes names like former Laker Matt Barnes (a Howard teammate in Orlando), Chase Budinger, Carlos Delfino and Nick Young.
The Lakers are at the mercy of Howard and his extremely unpredictable thought process at this stage in the game, but GM Mitch Kupchak wanted to meet with Howard last for a reason.
L.A. will have one final chance to pitch Howard on a future in purple and gold, and after that, it will be up to the league's most in-demand center to weigh the options and make a decision—hopefully one that sticks for the next few years.
Follow B/R's Ethan Grant (@DowntownEG) on Twitter.