Andy Pettitte has his name all over the New York Yankees history books, but on Monday night against the Minnesota Twins, he took the top spot in one of the organization's most notable categories.
With a strikeout of Justin Morneau in the fifth inning, Pettitte passed Whitey Ford and became the all-time Yankees leader in the category with 1,958 strikeouts.
New York's official Twitter account congratulated Pettitte with this post following his fifth-inning K:
Congrats, Andy! By striking out Justin Morneau, Pettitte surpasses Whitey Ford on #Yankees all-time Ks list (1,958). pic.twitter.com/z8uRu52aIW

— New York Yankees (@Yankees) July 2, 2013
ESPN New York's Ryan Ruocco also tipped his cap to the franchise great:
Congratulations to the new all-time strikeout leader in Yankees history: Andrew Eugene Pettitte.

— Ryan Ruocco (@RyanRuocco) July 2, 2013
Bryan Hoch of MLB.com had this post to confirm the official number:
Andy Pettitte is the Yankees' new all-time strikeout leader (1,958).

— Bryan Hoch (@BryanHoch) July 2, 2013
Pettitte, who needs just 11 strikeouts to pass Sandy Koufax for 40th place on MLB's all-time list, has long been one of New York's legendary pitchers.
But he got off to a rough start against the Twins on Monday, giving up three runs and committing an error on a throw to first before he could get out of the first inning. The struggle prompted Rich Eisen to take a moment to ponder what he felt was one of Pettitte's more forgettable performances:
I love Andy Pettitte. This was the toughest inning I've watched his entire career.

— Rich Eisen (@richeisen) July 2, 2013
Luckily, redemption was swift.
He settled down in the second, striking out Clete Thomas during the course of the frame to tie Ford's record. The Yankees' official Twitter account had the post as Pettitte assured himself of at least a tie atop the all-time leaderboard:
Whitey's got company! Andy Pettitte matches the Chairman of the Board atop #Yankees all-time strikeouts list with No. 1,957.

— New York Yankees (@Yankees) July 2, 2013
Pettitte retired eight of the next 11 Twins after Thomas struck out in the second. He was on a roll of sorts when Morneau stepped to the plate in the fifth. Pettitte got behind in the count, 1-0, before getting Morneau to foul one off, and then alternated balls and strikes again to bring the count to 2-2.
Morneau fouled off one more Pettitte pitch before the record-breaker crossed the plate. The lefty couldn't get the bat on the ball and will go down as the at-bat that helped Pettitte add to his impressive Yankees resume.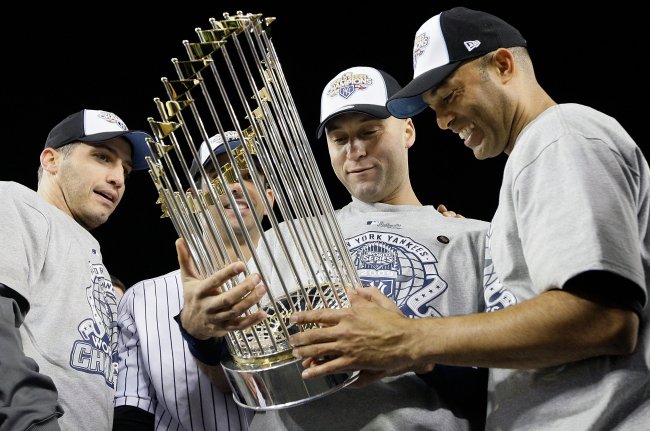 Pool/Getty Images
A five-time World Series champion with the Bronx Bombers, Pettitte has obtained 213—and counting—of his 250 career wins with the Yankees and is in the midst of his 15th season with the franchise.
Drafted by New York in the 22nd round of the 1990 MLB draft, Pettitte made his first appearance for the Yankees in 1995. He would spend his first nine MLB seasons in the Bronx before a three-year stint with the Houston Astros. He then returned to New York prior to the start of the 2007 campaign.
A bleak end to the 2010 season led to Pettitte being out of baseball in 2011, but he returned to start 12 games for the Yankees last season during an injury-riddled season.
He's exceeded that number already with 14, posting a 5-6 record with a 4.22 ERA prior to Monday night's showdown against Minnesota.
The 41-year-old Pettitte now tops a list headlined by Ford that also includes Ron Guidry, Lefty Gomez, Mel Stottlemyre and longtime teammates Mike Mussina and Mariano Rivera in the top 10.
Pitching on the road in Minnesota, he didn't have a chance to break the record in front of the fans who have followed and admired his career. But those same fans will be excited that Saturday's giveaway just got a little bit more special.
Image from Yankees PR Dept. on Vine via Twitter
As Mark Simon and Katie Sharp of ESPN New York noted, some of Pettitte's career highlights in terms of mowing down batters include getting one strikeout against every MLB franchise except the San Francisco Giants and having the second-most postseason K's behind John Smoltz.
Check out Simon and Sharp's full piece for a comprehensive look at some of Pettitte's other accomplishments with the third strike.
Andy Pettitte will go down as one of the greatest pitchers in Yankees history, and he also has a case as one of MLB's all-time greats. Monday night was just another chapter in what is an epic baseball story and should be celebrated as such by fans everywhere.