Burning Questions for Detroit Lions Training Camp
Leon Halip/Getty Images
The nature of any NFL offseason is that there are questions—lots of them.
The first question for teams after they have played their last game of the season is invariably about what the team will do in free agency.
After the rush of free agency has died down, questions immediately turn to the NFL draft.
Finally, once the picks are in and the players are signed, the question for 32 NFL teams is always the same: "Can any of these guys actually play?"
Training camp is when those questions finally start to get answered, and there are several such questions surrounding the Lions this year. There are battles for both starting positions and roster spots, questions about new players and questions about existing players. Those questions likely won't all be answered until training camp truly gets underway.
But don't let me spoil the answers to those questions here. That's what the rest of this article is for.
Is the Offensive Line Going to Be OK?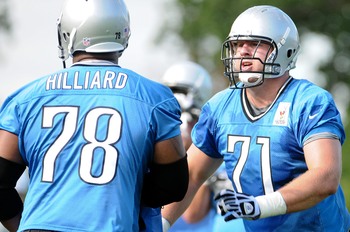 Tim Fuller-USA TODAY Sports
Perhaps the biggest question for the Lions this year is about the offensive line. Three of the five line positions are being turned over, and they could all be filled by players aged 25 or younger.
Larry Warford, the Lions' third-round pick out of Kentucky, seems like a lock to start at right guard, but he needs to fight through veteran Dylan Gandy in order to ensure his starting position.
Second-year player Riley Reiff seems almost uncontested at left tackle, but it remains to be seen whether he's a good fit there or not.
Meanwhile, longtime reserve players Corey Hilliard and Jason Fox will battle it out for the starting right tackle position in what may be the most evenly-matched roster battle this summer.
It will be interesting to see who wins the starting positions, but that doesn't address the core issue of whether the winners of those roster battles will actually form a coherent offensive line that does its job.
Will Louis Delmas Ever Be Healthy?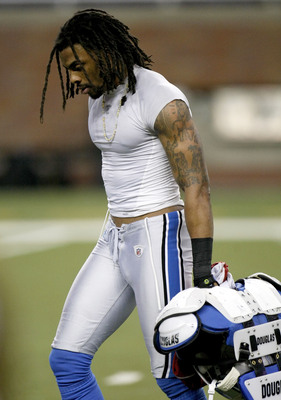 Gregory Shamus/Getty Images
This is a question not limited to only this season, much less this training camp.
Louis Delmas' defensive abilities are rarely questioned, but his body's ability to tap into them seems consistently in doubt.
To this point, Delmas has been unable to participate in OTAs and minicamps due to injuries he suffered throughout last season.
The next question is whether he'll heal up in time to participate in training camp. If not, then perhaps he'll be ready in time for the regular season. Or will he miss a few weeks of that, too?
Though the risk of re-injury is always looming, if Delmas can get healthy for training camp and stay that way, it would be a big step toward ensuring that his career doesn't go the Bob Sanders route.
Is Reggie Bush as Good as Advertised?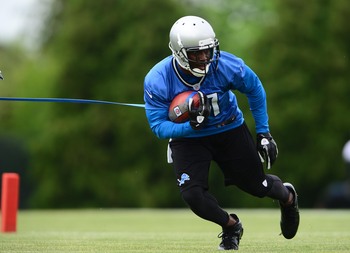 USA TODAY Sports
Undoubtedly the Lions' biggest free-agent prize, Reggie Bush is expected to add a completely new wrinkle to an already potent offense.
Naturally, as with anybody expected to single-handedly change an entire phase of a team's game, expectations are extremely high with Bush. Obviously, the expectations have nothing to do with Bush dominating the preseason, but it certainly wouldn't hurt.
People want to see that the Lions' biggest offseason addition will have an equally big impact on the team, and this will be the first time we get to see what the Lions offense looks like with Bush in the lineup.
It might be all hype until he proves himself in the regular season, but that doesn't change the fact that it's a real question, and one for which the answer will start to materialize starting with his first touch in the preseason.
Who Will Return Kicks and Punts?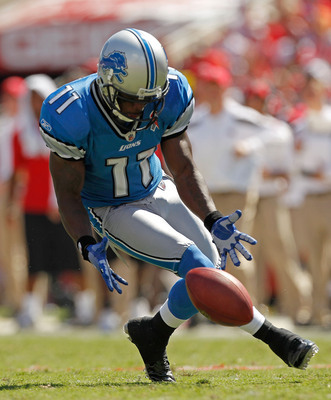 Mike Ehrmann/Getty Images
This is one of those questions that is difficult to even begin answering.
What you see in the above photo is the reason this question is being asked in the first place. Stefan Logan, the man who is pictured in the aforementioned photo, was bad in 2012, really bad—like kneel down with the ball at the four-yard line bad.
With Logan gone, there is no clear frontrunner at either kick or punt returner. There are any number of candidates for the role, not the least of whom are Joique Bell and Patrick Edwards. Even Reggie Bush has been mentioned as a potential return specialist, though his talents are probably best left to the offense.
Bell might have an inside edge at kick returner (he returned kicks in Week 17 last season after Stefan Logan was benched), but his powerful, tackle-breaking style isn't really in the mold of the typical kick returner.
The Lions don't appear have a player on the roster who fits the "high agility, high top-speed" style of the prototypical return man. More accurately, they don't have one who isn't already an integral part of the offense (i.e. Reggie Bush).
This will be as close to an open competition as you can get in training camp. When all is said and done, the Lions may end up running about a dozen players though return specialist duties before they find the right one.
Is Ziggy Ansah Ready to Start?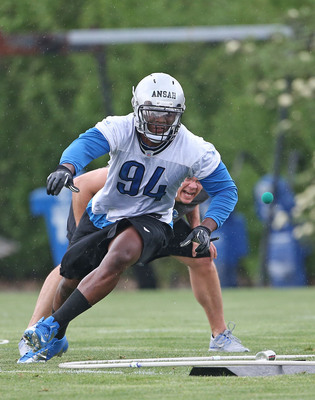 Leon Halip/Getty Images
Ziggy Ansah is extremely talented...physically.
The question for Ansah is now—and has always been—can he translate his immense physical talents to skill on the NFL playing field?
Until recently, Ansah landing a starting role this season was almost non-negotiable due simply to a lack of other options on the Lions' roster. However, the Lions' recent signing of Israel Idonije adds an interesting subplot. Idonije is a DT/DE hybrid who plays with equal effectiveness at both positions, and because of that, the Lions don't absolutely need to start Ansah if he hasn't developed enough to warrant it.
Of course, with the Lions' scheme the way it is, starting on the defensive line is an overrated honor. The Lions work with a rotation of defensive linemen, and the starters just happen to be the top two players in that rotation. Playing time tends to be spread relatively evenly across the rotation, so the difference in snaps between the second and third position in the rotation might be negligible.
Still, Ansah is hailed as a quick learner, so training camp will be a good opportunity to see if he has grown within his first three months as an NFL player.
Who Starts in Place of Justin Durant?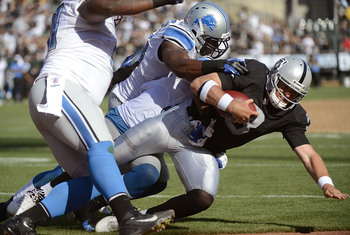 Thearon W. Henderson/Getty Images
The Lions have no shortage of players capable of starting at outside linebacker, but certainly, there is no actual starter in place at this point in time.
The position is currently in limbo between veteran Ashlee Palmer and second-year players Tahir Whitehead and Travis Lewis. It's hard to project anything here with the information we have, because none of them have hardly any NFL experience at linebacker.
Palmer is the frontrunner in terms of experience, but Lewis and Whitehead have youth and physical traits on their side. Palmer took first-team reps throughout most of minicamps and OTAs, but that was extended to all the veteran players at unsettled positions, so it's not saying much.
Because it's a three-person battle for one starting job, this will be one of the best roster battles to watch. Keep an eye on how the team distributes first-team reps in practice and preseason games. It might not be possible to discern a winner, but two frontrunners should emerge from the group of three fairly quickly, if only to distribute those reps more efficiently.
What Will Joique Bell's Role Be?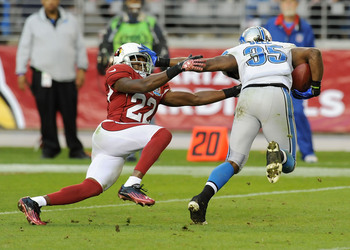 Norm Hall/Getty Images
Last season, Joique Bell was an integral part of the Lions' running game.
Last season, Reggie Bush was a Miami Dolphin.
The acquisition of a running back who naturally pairs with Mikel Leshoure would appear to put Bell's reps on the back burner.
But is that really the case? As noted by Chris McCosky of The Detroit News, Bell was lauded for his sustained work during the offseason, with head coach Jim Schwartz pointing out that only Matthew Stafford spent as much time studying in the team facility during the late winter months.
On top of that, Bell got a bunch of second-team reps in minicamp with Leshoure nursing a hamstring injury.
It seemed almost a foregone conclusion that Leshoure would be the Lions' secondary option to Bush, but Bell put together an impressive 2012 season, and Leshoure hasn't done enough for his position on the depth chart to be ensured.
It's too soon to suggest that there may be an unlikely roster battle brewing here, but given the way things are playing out, let's just say it's possible that the balance of touches between Leshoure and Bell might be balanced differently than previously thought.
Barring that, there's also the possibility that Bell returns kicks this season.
Where Will the Cornerbacks Fall?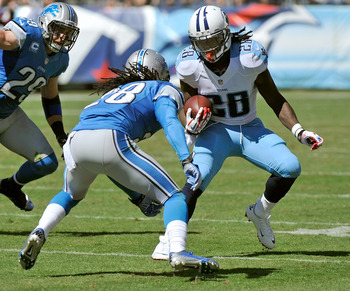 Frederick Breedon/Getty Images
The Lions have lots of young talent at cornerback and absolutely no idea who will play where, other than left corner, where Chris Houston has things locked down.
Aside from that? The Lions have Bill Bentley, Chris Greenwood, Jonte Green, Darius Slay and Ron Bartell all battling for precedence on the Lions' roster, and just about any of them could land in any position on the depth chart.
But the questions go beyond that.
Is Bentley a better option at right cornerback or in the slot?
Will Greenwood translate his skills as a workout warrior into great play at the NFL level?
Can Green build upon his experience and continue to improve like he did late in 2012?
Will Slay develop fast enough to be a big part of the defense as a rookie?
Is Bartell actually any good?
These are just a few of the questions surrounding the Lions' cornerbacks, which is what makes them one of the most intriguing units on the entire team. Every down with them is going to be an exploration.
Who Will Emerge as Matthew Stafford's No. 2 Target?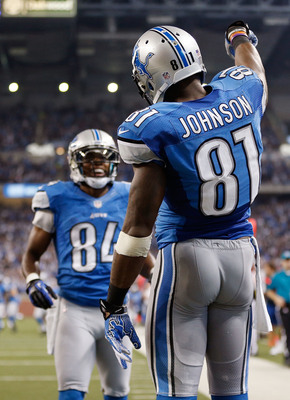 Gregory Shamus/Getty Images
This Lions offense has all the same key components as previous years—which is to say that they have Calvin Johnson catching passes from Matthew Stafford—but there are changes all around.
Stafford's second target on the field has always been an uncertain thing. Is it Brandon Pettigrew? Is it Nate Burleson?
The Lions passing attack has generally consisted of Johnson, with every other eligible receiver falling into the "other" category. That isn't to say that the team hasn't had decent production from other players, rather it is just that none of them have ever been consistent in that Johnnie Morton kind of way.
Opposing defenses are afraid of Calvin Johnson, but nobody else. For the passing game to reach the truly elite level, defenses have to respect more than just the one player.
So who will command that respect this year? Reggie Bush? Ryan Broyles? Somebody else? Nobody at all?
The sooner the Lions figure out who can best make defenses pay for triple-covering Johnson, the better off the entire team will be.
What Will the Tight End Situation Look Like?
Thearon W. Henderson/Getty Images
Considering the Lions added only a seventh-round pick and an undrafted free agent to the position, there seems to be a fair amount of buzz about the Lions' tight end situation.
While wholesale changes for the Lions' tight ends aren't likely until next year—when both Brandon Pettigrew and Tony Scheffler enter free agency—rookies Michael Williams of Alabama and Joseph Fauria of UCLA represent an interesting set of prospects.
Williams looks most immediately like a replacement for Will Heller: a diligent block-first tight end who could also play some H-back, if needed. Fauria looks to be more in the role of Scheffler: a tight end who is an effective receiver, but isn't known for blocking (to put it diplomatically).
Of course, given their draft statuses, the question should really be about whether either player makes the roster at all, not whether they supplant existing players on the roster.
Furthermore, Pettigrew and Scheffler both have a lot to prove after each going through disappointing 2012 campaigns. Regardless of whether they remain Lions after 2013, training camp is going to be their first step towards what they hope will be a season of redemption.
If not, neither will be looking forward to their 2014 contract negotiations.
Keep Reading

Detroit Lions: Like this team?