Numbers Behind the Boston Red Sox Revival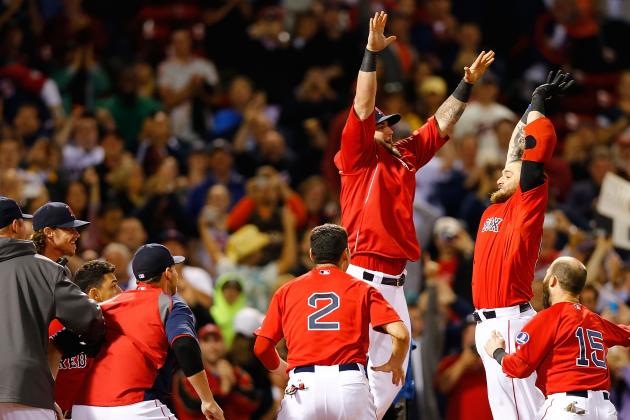 Jared Wickerham/Getty Images
The Red Sox have had plenty to celebrate this season.
Boston sports fans coming off their Stanley Cup hangovers are beginning to notice the Red Sox again, and what they are seeing is a team defying all expectations.
In fact, the Sox are on pace for one of the greatest single-season turnarounds in franchise history.
With exactly half the season (81 games) gone, the Red Sox entered last night's game against the Blue Jays with a record of 48-33. They then won again, and assuming they keep the same pace through the second half, they would wind up with a mark of 96-66—a 27-game improvement over the dreadful 69-93 season turned in by the last-place Boys of Bobby Valentine in 2012.
That dramatic of a win differential in back-to-back seasons has not occurred in Boston since the MLB schedule expanded to 162 games in 1961. The closest were the "Impossible Dream" Red Sox, who went from a 70-92, ninth-place finish in 1966 to, one year later, a 92-70 mark and the seventh game of the 1967 World Series.

As with all things baseball, numbers tell a big part of the story. Here are some that help define the Red Sox resurgence.
All stats are through Friday, June 28.
Begin Slideshow

»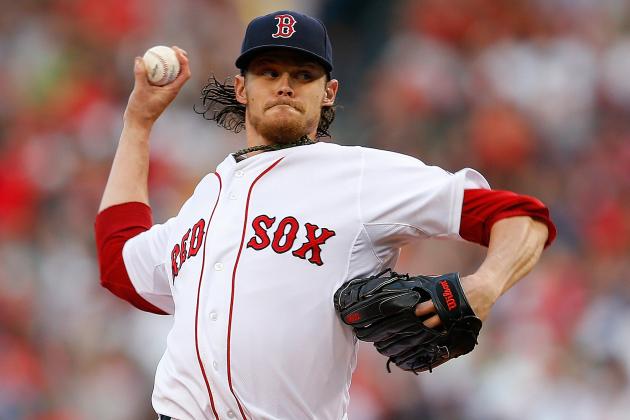 Jim Rogash/Getty Images
Buchholz is 9-0, but when will he pitch again?
Although Lester has struggled during much of the last month, and Buchholz has missed several starts while on the disabled list, Boston's two top starters have rebounded nicely from 2012, when the team was a combined 28-34 when they took the hill.
Buchholz has been particularly intriguing. Pitching before his neck injury better than any Red Sox ace since Pedro Martinez, the right-hander had posted a league-best 1.71 ERA and 81 strikeouts in 84 innings.
How quick and how well he comes back will be a huge factor in Boston's ability to stay atop the AL East.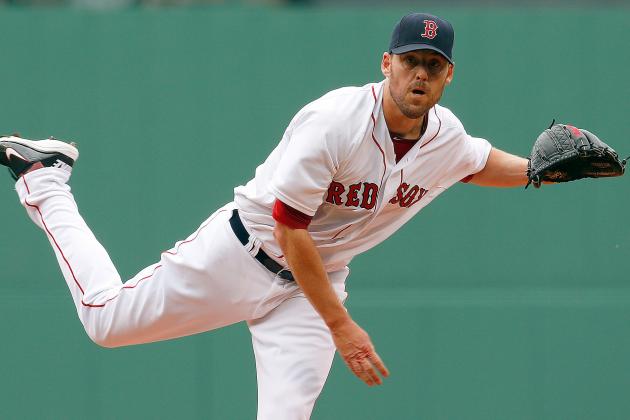 Jim Rogash/Getty Images
Lackey follows through with the Monster looming behind.
No misprint here. Lackey, who missed all of last season after Tommy John surgery, was the poster boy for bad performances in 2011 with a 6.41 ERA and 1.62 WHIP that had stat geeks scouring their record books to see how he ranked among the worst starting pitchers of all time.
Here's the funny thing; Lackey actually went 12-12 that year, and is currently just 5-5 after his best outing of this year—a seven-inning, 12-strikeout, zero-walk gem against Colorado.
He's throwing faster and smoother than he has since his glory days with the Los Angeles Angels, and if he keeps it up he won't stay at .500 for long.
Jim Rogash/Getty Images
Uehara channels Pap.
Relief pitching was expected to be a strength for Boston, and for the most part it has been, with Junichi Tazawa, Craig Breslow, and Koji Uehara providing an excellent bridge from starter to closer.
Unfortunately the end of the bridge—aka the closer—has been very treacherous.
Several pitchers have failed in the role, most recently Andrew Bailey. Uehara was given the job this week, and is a perfect 3-for-3 in save situations thus far. That, plus his 48 strikeouts in 33 innings and WHIP of 0.79, suggest Boston may have finally found the successor to Jonathan Papelbon.
Jared Wickerham/Getty Images
Daniel Nava—one of the surprise heroes of the season.
When introduced as the new Red Sox manager before this season, John Farrell promised that he would have a hustling ball club.
That has surely been the case, as Boston leads the American League in steals—paced by Jacoby Ellsbury's major-league best 32 swipes—and tops the majors in runs scored (by a huge gap over the second-place Baltimore Orioles).
The Sox also pace the AL in RBI (414), OBP (.350, tied with the Detroit Tigers) and OPS (.796). Throw in their league-leading 179 doubles and 23 triples and their 309 walks (second to only the Oakland A's), and it's pretty clear these guys know how to get on first and move their way around from there.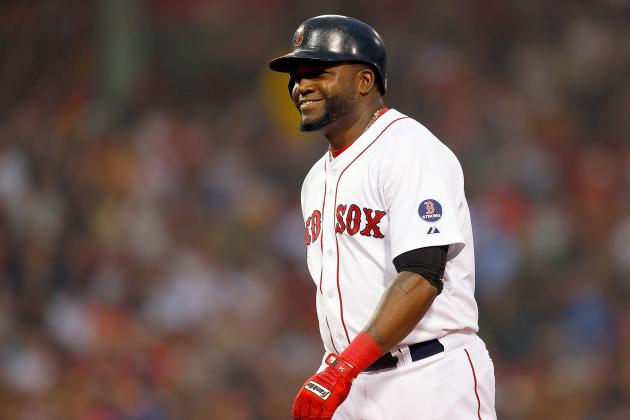 Jim Rogash/Getty Images
David Ortiz—plenty to smile about so far.
Nobody knew quite what to expect from Ortiz in 2013.
Big Papi missed all but one of the last 72 games last season with a right Achilles injury, and was out for all of spring training and the first 15 regular season contests this year.
The whispers were that age and his big physique were taking their toll.
What Ortiz has done to answer the critics is hit nearly as well as in his peak seasons of 2004-06. Visibly slimmer than he's been in years, he has 16 homers and 57 RBI in just 63 games, despite being intentionally walked 20 times already this year. His next double will be his 500th, and the way he is hitting now, 500 homers may not be out of the question (he has 417).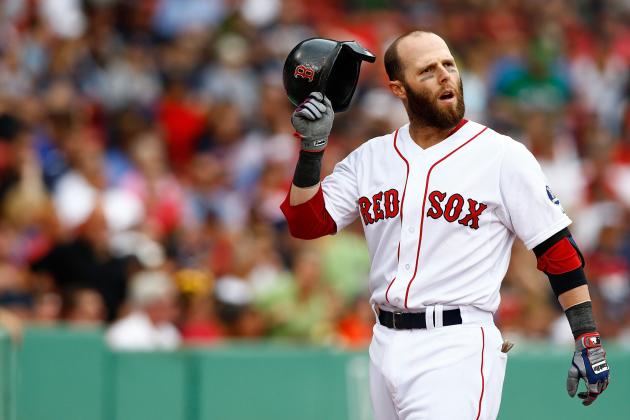 Jared Wickerham/Getty Images
Pedroia—Another MVP in his future?
Pedroia has always played hard, but his aggressive style has sent him to the disabled list on several occasions. This year the scrappy second baseman has been healthy all season, and is at the top of his game: He's playing better than ever defensively and performing like a true No. 3 hitter, boasting a .323 average and a 40-double, 90-RBI pace.
Pedroia was the American League MVP in 2008 but so far is having an even better year in 2013. Fans never know what great web gem or clutch hit they are going to get from the Laser Show, but the chances are they'll get at least one every game.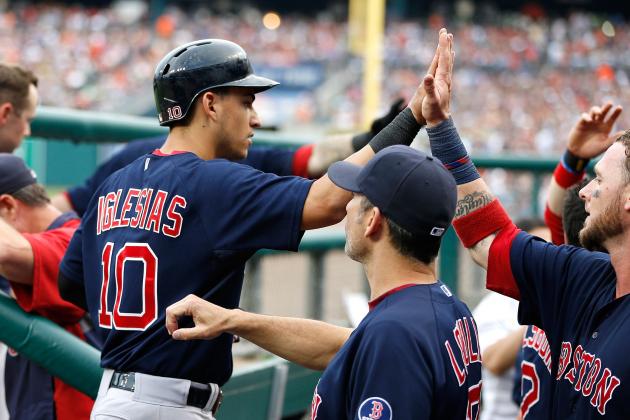 Gregory Shamus/Getty Images
Another welcome reception for the rookie.
These might be the most shocking numbers of all to emerge from the Red Sox box scores.
Iglesias was a slick-fielding shortstop but a .266 hitter (with no power) in the minors last year, and he was just above the Mendoza Line at .202 when recalled from AAA Pawtucket a month ago to fill in for an injured Stephen Drew.
Management hoped Iglesias could improve on his 8-for-68 stint in the majors last year, and it accepted that his glove would make up for a batting average expected to be sub-.250.
Instead, he has been spectacular at the plate, amassing an 18-game hitting streak and reaching base in 29 of 33 games. He's even added a bit of power.
Will Middlebrooks has slumped badly at third, so when Drew returned a few weeks back, Farrell decided to let Iglesias stay in the regular lineup by switching him over to the hot corner and sending Middlebrooks back to the minors.
Jose has adjusted immediately to the new position.
Can he stay above .400 for a full season? It's very doubtful, but if he can accumulate enough at-bats in the second half, he may make it a very interesting September in the AL batting race.