Ranking the 5 Best Draft Picks in Golden State Warriors History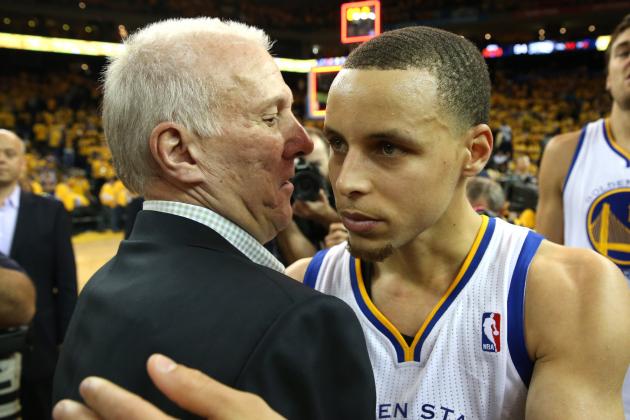 Stephen Dunn/Getty Images
Though not seen as a no-brainer pick, Curry has been one of the best in recent Warriors history
The Golden State Warriors have no draft picks in Thursday's NBA draft, but that shouldn't stop us from reminiscing about some of the selections the Dubs have made in the past.
Granted, it's been more bust than boom, as evidenced by the NBA Draft Lottery selections of Patrick O'Bryant, Ike Diogu, Ekpe Udoh or the reaches for Marco Belinelli and Mike Dunleavy.
However, the recent history has reflected well on the team's current success but we'd have to look further past to figure out which were the best draft picks in Warriors' history.
In order to do that, there are several factors we must take into account, including players' pedigree as a Warrior, where they were drafted and what they accomplished as an NBA player.
The Warriors technically drafted Vince Carter, but traded him to the Toronto Raptors so he isn't included. They also picked up steals in Monta Ellis and Gilbert Arenas, but I had to leave them off because of their lack of success on the Warriors.
Begin Slideshow

»
Stephen Curry has been a Warrior for only four seasons and ankle injuries have riddled some of the seasons, but the fanboy in yours truly, combined with the recency bias of their postseason run, has me slotting him here behind the other four Warriors mentioned.
Curry's potential remains somewhat limited because of his lack of athleticism, but his ability to create off the dribble, and on it, should help him evolve his game for the next 10 years.
He's shot over 44 percent in three-point attemps for his career while averaging 5.6 shots per game. Keep in mind that these aren't open jumpers the way Shane Battier and even Reggie Miller have had coming off screens.
Most of the time, Curry has had to create his shots for himself, as evidenced by his one-legged floater three-pointer against the San Antonio Spurs in the NBA semifinals.
Curry was drafted with the seventh overall pick after being passed over by David Kahn of the Minnesota Timberwolves and the Oklahoma City Thunder, who selected James Harden.
Though it appeared the Warriors might go with Jordan Hill, the Warriors can thank Kahn for drafting Jonny Flynn instead and handing the Warriors their franchise point guard for the next decade.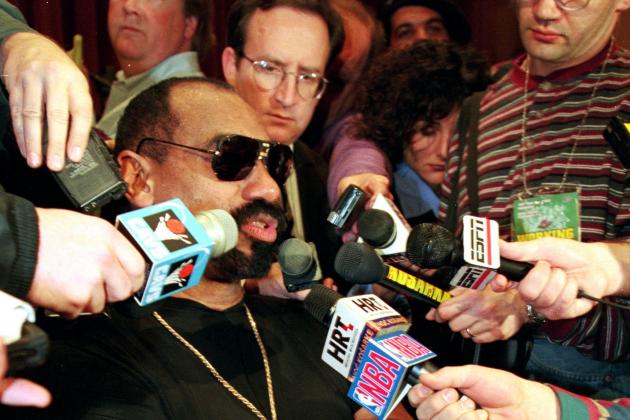 Brian Bahr/Getty Images
Wilt Chamberlain
The age-old Wilt Chamberlain vs. Bill Russell debate has no bearing here, although it appears Russell has gained quite the lead with his championships.
Wilt was a larger-than-life figure as a Warrior.
He was selected in 1959 as a territorial pick from the Philadelphia Warriors and averaged over 30 points and 20 rebounds for his career.
The team finally moved to San Francisco after it was sold, and although Wilt's team struggled to win, he posted great numbers regardless of the franchise's success.
Though there have been millions of words written about whether he should have passed more often, cared more, or even played to win, Wilt was a great basketball player who was ahead of his time.
The only knock on the seven-footer here comes from him only playing six seasons as a Warrior before being traded to the Philadelphia 76ers in 1965. He even contemplated retirement after his first season as a Warrior because of the pressure he was facing each game.
While Wilt's numbers rank him as one of the greatest players of all time, most of his success came after he was a Warrior so I can't justify putting him any higher than third on this list.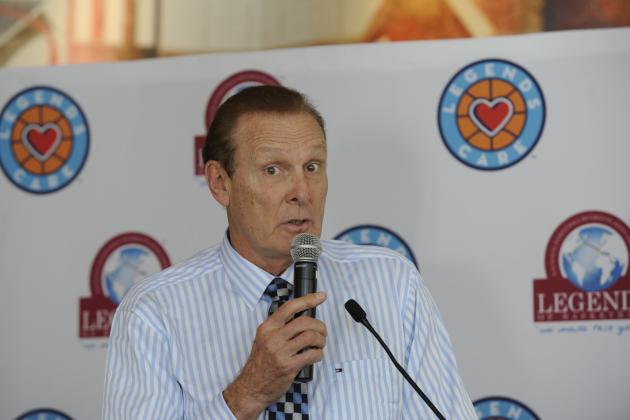 David Banks/Getty Images
Rick Barry
Perhaps best known for his underhand free throws, Rick Barry was drafted second overall by the Warriors and played eight of his 10 NBA season with the team.
The Warriors owned the first and second picks in the 1965 NBA draft so they couldn't really screw this one up, but they tried their best. They drafted Fred Hetzel with the first pick before selecting Barry with their second one.
In his first two seasons, he averaged over 24.8 and 31.6 points despite being a volume shooter in the majority of those games. After those two seasons, he jumped ship to the ABA where he also succeeded.
Barry came back to the newly named Golden State Warriors in 1972 and put up the same numbers despite battling knee injuries. That didn't stop him from averaging 30.6 points in the 1974-75 season and the Warriors swept the Wes Unseld-led Washington Bullets in the NBA Finals.
As the only player on this list to lead the Warriors to a title, Barry's accomplishments make him one of the greatest Warriors of all time.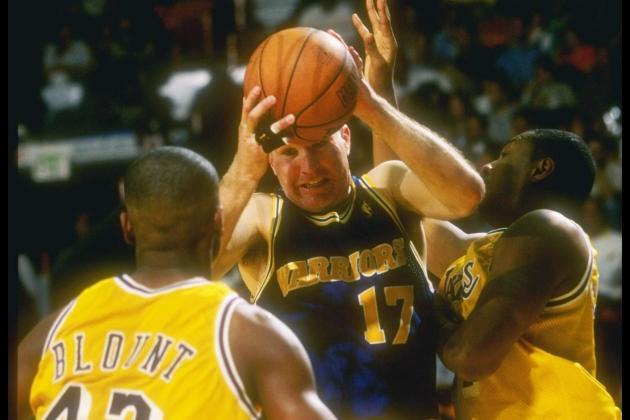 Todd Warshaw/Getty Images

Perhaps the most recognizable face of the Golden State Warriors, Chris Mullin was also a first-round draft pick in 1985, going seventh overall and playing 12 subsequent seasons in Oakland.
His sweet lefty jump shot became as synonymous to fans as the Stephen Curry stroke these days.
In becoming one of the greatest Warriors' players ever, Mullin not only accomplished regular season success, but won two Olympic gold medals, taking part in the famed U.S. Dream Team.
He was also a part of the "Run TMC" trio with Tim Hardaway and Mitch Richmond, whomade the postseason in five straight seasons spanning 1988-93, as Mullin averaged 25 or more points in every season along the way.
The up-and-down frenetic style fit the stretch-four type that Mullin represented. He was able to finish with both hands and could absolutely stroke the ball from long distance, shooting over 40 percent six times in his career.
Although we won't take into account that he became a team consultant for the Warriors and their executive vice president of operations in 2004, it certainly doesn't hurt his case.
His number was retired in 2012 in the infamous fan-booing jersey ceremony, but he should be remembered as perhaps the greatest shooter in Warriors' history—at least until Curry plays about another 10 years.
The third pick overall in the 1963 NBA draft, Nate Thurmond played the majority of his career as a Warrior, earning himself huge make-believe points on this list.
He served as the backup to Wilt Chamberlain, but also starred as the power forward and when Wilt left, he became a superstar by himself, averaging over 21 points and 20 rebounds over two seasons from 1966-68.
He holds the record for most rebounds in a single quarter with 18. The past era's Kevin Love, Thurmond was also known as the best screen-setter in his era and a great passer.
Though he was never able to surpass Wilt's standing, as evidenced by his runner-up finish to his MVP in 1967, he did finish among the league's top 10 in points (fifth), rebounds (first) and assists (eighth) as a Warrior.
He was elected to the Hall of Fame in 1985.
I'd say that made Thurmond not only a solid first-round selection, but the greatest Warriors' draft pick of all time.