Rookie, Undrafted Free Agent Watch for Patriots' Training Camp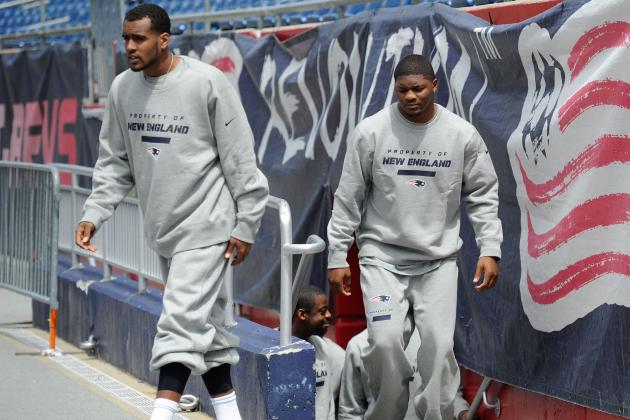 Bob DeChiara-USA TODAY Sports

The New England Patriots are always active on draft weekend, and this year was no exception. For the second year in a row, the theme was defense, but New England has taken targeted steps toward addressing the glaring hole on their depth chart at wide receiver.
The Pats' maneuvering didn't end when the draft did, and they once again added a solid roster of undrafted free agents. They always seem to have at least one make their roster and the same should be true this year.
Here's a closer look at the talented rookies the Pats brought in this season, how each projects onto the roster and in what role they might contribute.
Begin Slideshow

»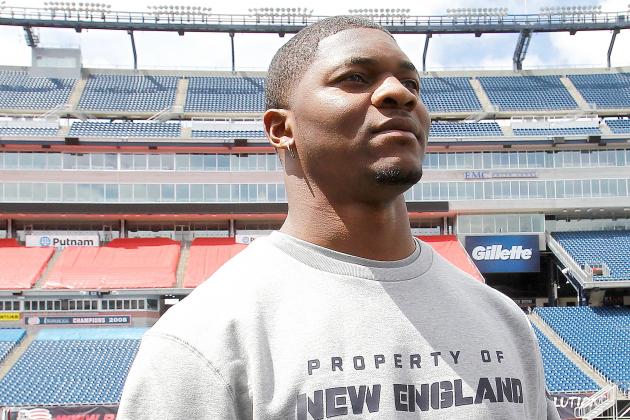 Jim Rogash/Getty Images

College: Southern Mississippi
Draft Status: Round Two (52nd overall)
Height: 6' 4"
Weight: 250 pounds
College Production: Four-year career, 196 tackles, 21 sacks, 45 tackles for loss, three interceptions, seven forced fumbles, two fumbles recovered.
The Patriots didn't make a selection until 52nd overall, and the choice was Collins, an explosive and versatile linebacker/defensive end hybrid who had flown under the radar through much of the draft process.
Collins' testing at the scouting combine was off the charts, finishing as a top performer in five of the seven main events, but how the Patriots will employ that explosive athleticism is one of the biggest questions of training camp.
After playing a range of positions, including safety, in college, no one knows for sure how Collins will project in the NFL. He worked as a linebacker in Patriots' OTAs, but which linebacker position he fits at best remains uncertain.
It's also possible that the Pats could simply employ him as a hand-down pass rusher with minimal responsibility on passing downs to get his feet wet.
One thing is certain, Bill Belichick will put Collins in the best position to be successful, but no one, including Belichick, knows for sure what that position might be just yet.
He'll be one of the main focuses at training camp, and should contribute in some capacity on passing downs immediately.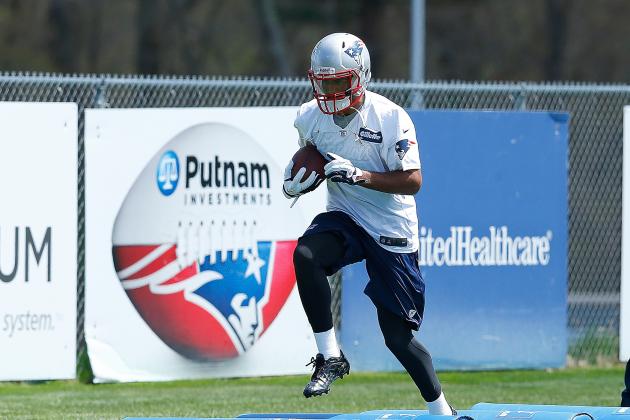 Jim Rogash/Getty Images

College: Marshall
Draft Status: Round Two (59th overall)
Height: 6'3"
Weight: 210 pounds
College Production: Four-year career, 165 catches, 2398 yards, 24 touchdowns (12 junior season).
The was little doubt that the Patriots would take a wide receiver in the draft, and Dobson was the choice to fill the hole at outside wide receiver.
Early indications are that Dobson has the necessary football IQ to execute the Pats' offensive system, along with the size, speed and hands to make him a vertical and red-zone threat.
However, he was nursing an injury during minicamp, and will continue to fall behind until he can get back on the field and start stringing successful practices together.
There is no other rookie the Pats need something out of in their rookie year as badly as they do from Dobson, so there is some pressure on the rookie from Marshall. He is surrounded by some other rookie receivers who will be given a fair chance to compete, regardless of who was drafted higher. They should all push each other and bring out the best.
But all eyes will be on Dobson, as it's generally assumed he should be the starting receiver opposite Danny Amendola at some point this season.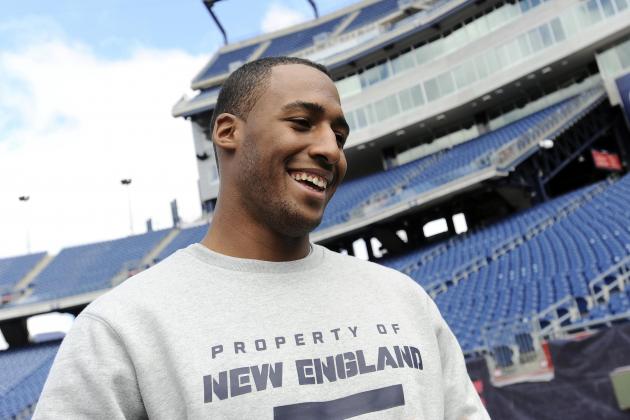 Bob DeChiara-USA TODAY Sports

College: Rutgers
Draft Status: Round Three (83rd overall)
Height: 5'11"
Weight: 191 pounds
College Production: Three-year career, 39 passes defensed, seven interception, one interception returned for TD, 11 tackles, 11.5 tackles for loss, two forced fumbles, one fumble recovery.
Logan Ryan is just the kind of football-savvy defensive back who always seem to find a role on the Patriots. Granted, the need at cornerback was not overwhelming this offseason. The Pats return their top four corners, including the oft-injured, yet still-promising Ras-I Dowling.
The knock on Ryan coming out of Rutgers was his average speed, but that is a classic knock on players who don't time well, yet always seem to be in the right spot on the field. At the start of camp, it's uncertain just how Ryan will fit into the secondary, but playing at a position where injuries always seem to mount, it's a good bet he'll be involved somehow this offseason.
Watch for him to make an impact in the slot as a dimeback to start, but by the end of the season, it wouldn't be surprising to seem him starting at any of the cornerback positions.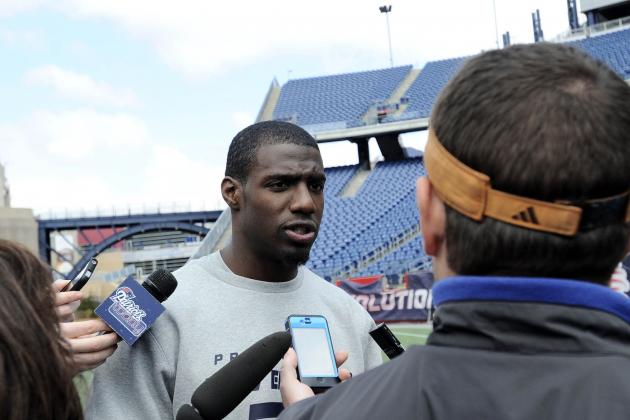 Bob DeChiara-USA TODAY Sports

College: Rutgers
Draft Status: Round Three (91st overall)
Height: 6'0"
Weight: 196 pounds
College Production: Four-year career, 14 passes defended, six interceptions, 83 tackles, one fumble recovery for a 73-yard touchdown.
No draft pick shocked Pats pundits more than Duron Harmon. Most had Harmon projected as a low-round selection at best, but the Pats pounced on him in the third round while other, more-celebrated safeties we available.
It seems clear that Bill Belichick wanted to address the middle of his pass defense this offseason. While Harmon is a similar player to Tavon Wilson, both are the kind of safeties you can never have too many of in the modern NFL. Stout, able to handle bigger receivers and tight ends and heady.
Harmon has some significant competition ahead of him at the safety spot, but injures could play a factor and he could see time at the dime linebacker spot to start. Otherwise, he'll have to be a core special teamer, and wait for an opportunity to open up on defense.
A long-term safety trio of Devin McCourty, Tavon Wilson and Harmon seems to be what the Patriots project down the road.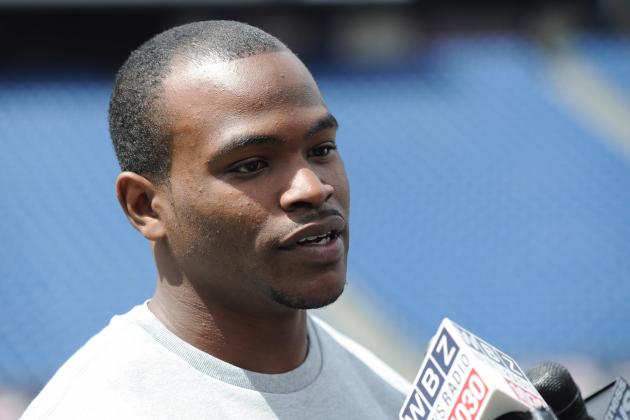 Bob DeChiara-USA TODAY Sports

College: Texas Christian
Draft Status: Round Four
Height: 5'11"
Weight: 206
College Production: Three-year career, 161 catches, 2,535 yards, 22 touchdowns.
For those lamenting the lack of deep speed on the Pats receiver roster, they should've loved the selection of Josh Boyce, who ran a 4.38 40-yard dash at the scouting combine on a broken pinkie toe.
Boyce might not have the ideal height for an outside receiver, but he's aggressive and heady, two qualities the Patriots love. Couple that with an already maxed-out frame, and Boyce seems like the kind of player who could contribute immediately.
He should have the chance to move all over the formation and play any receiver spot if he's able to gain Brady's trust. If Boyce does that, he could bring exactly the kind of dimension the offense has lacked since Randy Moss.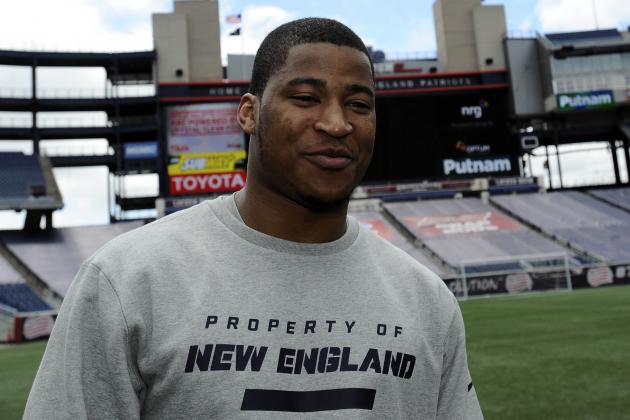 Bob DeChiara-USA TODAY Sports

College: Illinois
Draft Status: Round Seven
Height: 6'5"
Weight: 255
College Production: Four-year career, 161 tackles, 26 tackles for loss, 14 sacks, ten passes defended, one interception, one forced fumble.
Buchanan had a down year after breaking his jaw before the season and never getting back the strength and explosion he had prior. Now, fully recovered and back up to weight, Buchnanan is an intriguing defensive end prospect who the Pats took a seventh-round flyer on.
While Chandler Jones and Rob Ninkovich are likely to have the starting spots locked down, the need for a designated pass rusher and rotational players in the back of them is very important. There are a collection of young defensive ends on the roster, all trying to carve out a role for themselves, and it should make for a dazzling competition in camp.
Buchanan has the ideal size for an edge player in the Pats' system, but also good quickness for to mix in some coverage responsibility, as evidenced by his top performance in the combine's three-cone drill.
The rookie might be under the radar, but he's a real dark horse in what should be a heated positional battle in training camp.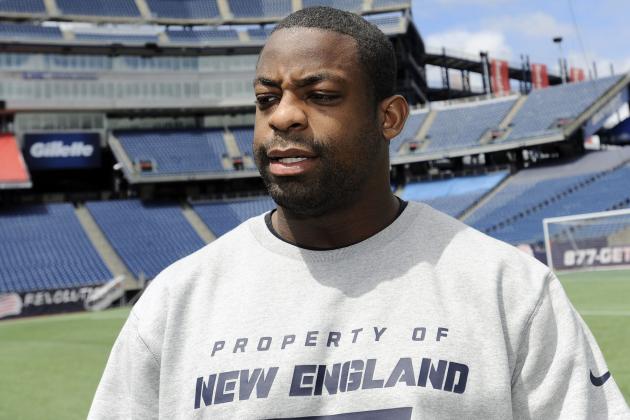 Bob DeChiara-USA TODAY Sports

College: Rutgers
Draft Status: Round Seven
Height: 6'1"
Weight: 240 pounds
College Production: Four-year career, 274 tackles, 35 tackles for loss, 12.5 sacks, four interceptions, eight passes defended, three forced fumbles, three fumble recoveries.
Beauharnais might be just a seventh-round pick, but his quickness could make him competitive for playing time on defense this year. Given how much the Patriots linebackers have struggled in coverage—and that includes all of them, not just Brandon Spikes—there's a role to be had for Beauharnais.
Ultimately, special teams is probably his best bet for making the roster, and he'll have some stiff veteran competition from Dane Fletcher, Niko Koutouvides, Mike Rivera and Jeff Tarpinian. But while those players have somewhat-known ceilings, Beauharnais remains a blank slate.
The Patriots must improve their linebacker coverage, and while Beauharnais is a bit undersized for what the Pats usually like in their 'backers, his smaller stature and speed could give him an advantage.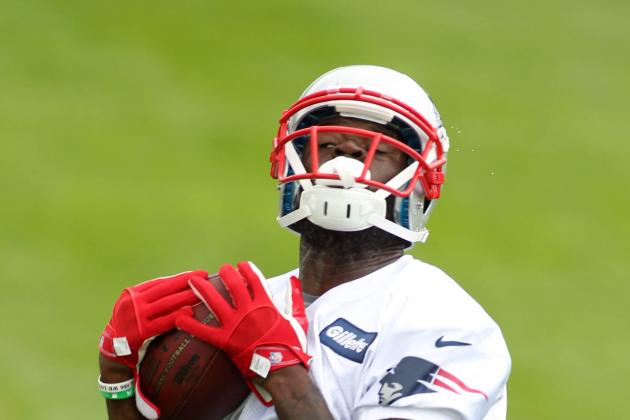 Stew Milne-USA TODAY Sports

Undrafted Free Agent List (courtesy of NEPatriotsDraft.com)
Mark Harrison, WR, Rutgers; Zach Sudfeld, TE, Nevada; Kenbrell Thompkins, WR, Cincinnati; Stephon Morris, CB, Penn State; Quentin Hines, RB, Akron (IR); Matt Stankiewitch, OL, Penn State; T.J. Moe, WR, Missouri (IR); Josh Kline, OL, Kent State; Brandon Jones, CB, Rutgers; Ben Bartholomew, FB, Tennessee; Kanorris Davis, SS, Troy; Elvis Fisher, OT, Missouri; Brandon Ford, TE, Clemson; Ryan Allen, P, La Tech; Cory Grissom, DT, South Florida; Chris McDonald, OL, Michigan State; Dwayne Cherrington, DT, Mississippi State; Mike Zupancic, LS, Eastern Michigan; Joe Vellano, DT, Maryland.
The Patriots once again assembled a strong rookie free agent class, led by receivers Kenbrell Thompkins, Mark Harrison and TJ Moe. Moe tore his Achilles in OTAs and has already been stashed on IR, but Harrison is a ridiculously talented player, with ideal size and speed, and Thompkins has already stood out in minicamp, getting a chance due to injuries to other wide receivers.
The Pats needed to rebuild their receiver group this year, and their throw-it-all-at-the-wall approach with both rookies and vets should prove fruitful.
Zach Sudfeld is another player who stood out in OTAs. He has Gronk-like size, and also Gronk-like injury concerns. If he can stay healthy, he might just find himself making the roster.
The rest of the undrafteds are a solid group, adding necessary depth at all the critical spots, and all will receive a fair chance at competing for a roster spot. It's almost assured that a couple of them will end up making the cut, for both the 53-man roster and the practice squad.