10 Early Winners and Losers of the Indianapolis Colts Offseason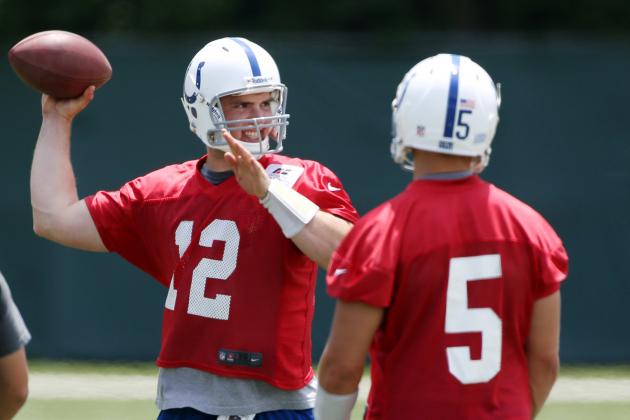 Brian Spurlock-USA TODAY Sports

The Indianapolis Colts have one of the busiest offseasons in the NFL. With a new offensive coordinator, a solid group of rookies and more than a few new faces via free agency, this team has been very busy the past few months.
Even after a 11-5 season, it was pretty clear that the Colts' front office wasn't satisfied with being just a playoff team. They've been aggressive throughout the entire offseason, trying to fix as many holes in the roster as possible.
With so much changing in so short of a time, there have definitely been some winners and losers. These are determined by whether they have proved themselves, how they now fit with this new group of players and if someone has come in at their position to potentially take their spot.
With that being said, here are the 10 total biggest winners and losers up to this point in the offseason.
Begin Slideshow

»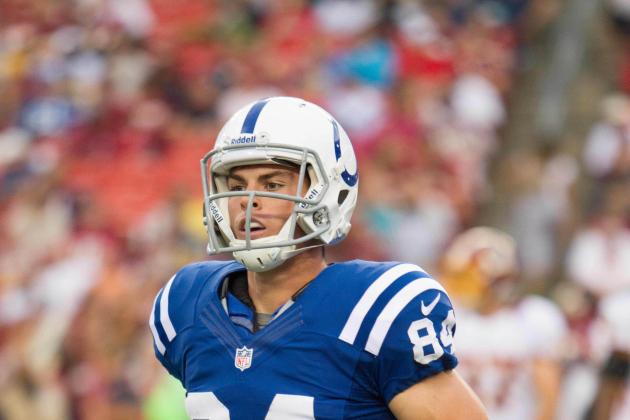 Paul Frederiksen-USA TODAY Sports

The former Stanford wide receiver impressed many during training camp last season, but injuries kept him from doing anything last season.
Now that he's healthy, Whalen appears to be impressing once again.
It certainly doesn't hurt that his former offensive coordinator in Pep Hamilton has joined the coaching staff. He has shown great chemistry with Andrew Luck and Coby Fleener, and things seem to be going well in every way for Whalen.
There's still a bit of competition to make the final roster at wide receiver, but Whalen is proving up to this point that he at least earns a good long look by the end of the preseason.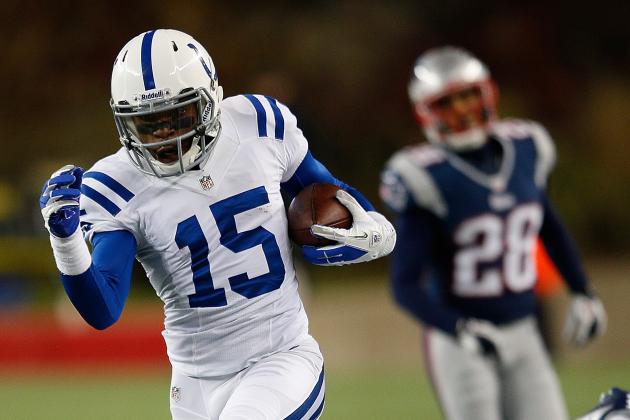 Jim Rogash/Getty Images

Even though Brazill was able to make a few plays on the field last season, his roster spot may be in jeopardy this offseason.
The Colts have brought in a couple of guys that have been impressing so far. Whalen has been in that discussion, but so have guys like Nathan Palmer, Jeremy Kelley and even Rodrick Rumble.
Brazill was able to grab 11 catches last year for 186 yards and a touchdown. Still, Brazill is 5'11'', and the Colts already have enough shorter wide receivers on the roster. What they don't have right now is a red-zone threat like Kelley at 6'6'' or even Rumble at 6'2''.
This isn't saying that Brazill is going to be gone before the start of the regular season, but he may have trouble getting on the field as often as he did last year with some of these guys impressing right now behind him.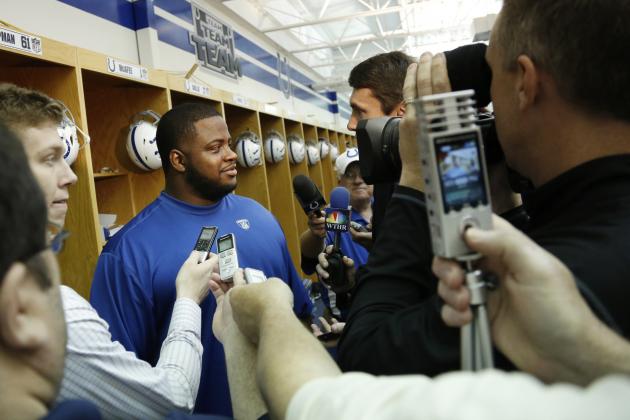 Joe Robbins/Getty Images

The Colts seemed to have big things in mind for their fifth-round pick of the 2012 NFL draft. Unfortunately, a knee injury kept him off of the field.
Now, the hype on this guy has reached ridiculous levels, and it appears that he is finally ready to play in the NFL.
According to Darin Gantt of ProFootballTalk.com, Chapman was working with the Colts starters during OTAs.
The coaching staff has been talking about Chapman for a long time now, and fans are anxiously awaiting his arrival. Regardless of if he excels at the pro level or not, Chapman is definitely a winner since all of the hype has earned him a shot at being the starter Week 1.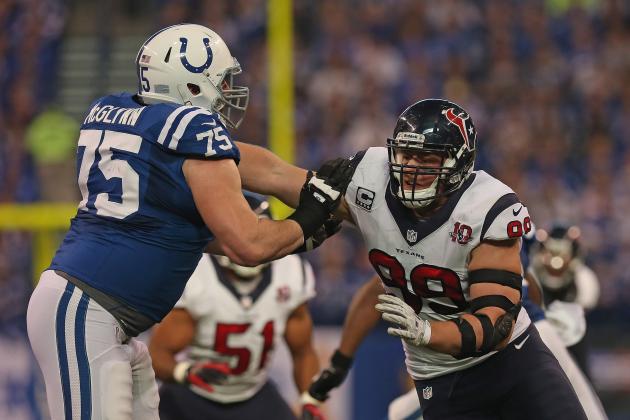 Jonathan Daniel/Getty Images

It's usually pretty hard to call an offensive guard a loser during the offseason, but McGlynn's starting job certainly is up for grabs right now.
According to ProFootballFocus.com, McGlynn had a rating of -25.1, one of the worst grades in the league. He was dominated most of the season, and it was pretty hard to watch.
Now, the Colts have brought in Donald Thomas via free agency and Hugh Thornton via the draft. Thomas likely already has a starting spot on the O-line already, and Thornton is looking to take the other guard spot before the start of the season.
It will be a tough couple of months for McGlynn to prove himself, and he will really need to impress if he wants to keep his starting job for 2013.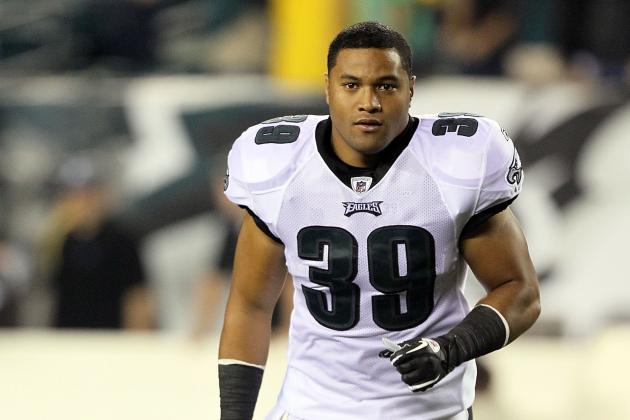 Jim McIsaac/Getty Images

After being traded to the Colts from the Philadelphia Eagles, Havili might have found the perfect situation for his particular set of skills.
Back at USC, Havili was an excellent receiver out of the backfield. He was able to make a number of big plays as a fullback, showing off impressive abilities in the open field.
With the "No Coast Offense" being implemented, one things is certain, and that's that the Colts plan on using fullbacks quite a bit.
It will be interesting to see what the Colts do with Havili this season, but it's quite clear that he's found a perfect landing spot to make a big impact in the offensive scheme.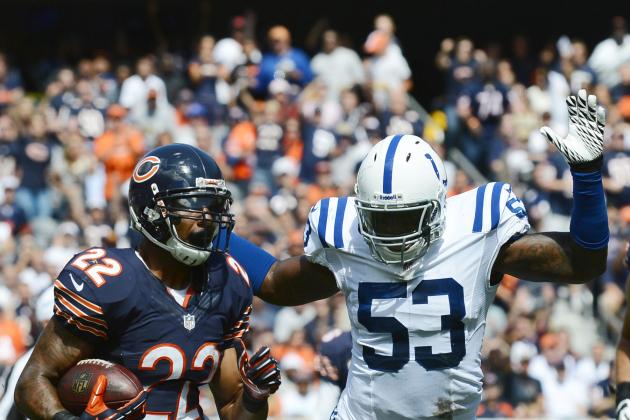 Mike DiNovo-USA TODAY Sports

Conner played pretty well when Pat Angerer was injured last season, but it doesn't appear that he will get the opportunity to get on the field much this season, at least to start the season.
A recent piece by Phillip B. Wilson of the Indianapolis Star mentioned that Kelvin Sheppard, not Conner, will start if Angerer's foot isn't healed by the start of the season.
That's a little surprising to hear considering how Conner played last season. Still, Sheppard is a decent starting linebacker that does deserve a look as the starter.
Sadly for Conner, that means that he's not going to be seeing as many snaps as he likely expected.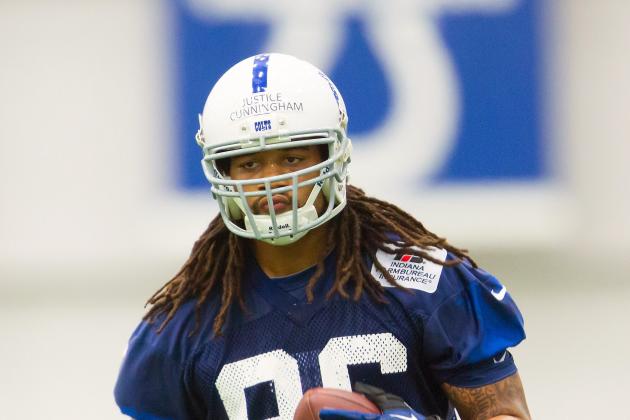 Michael Hickey/Getty Images

Despite being the Mr. Irrelevant pick, Cunningham might be a relevant player in the NFL this season.
It seems that Cunningham has continued to impress throughout offseason workouts. It all started after opening some eyes at the team's rookie minicamp, making some nice catches throughout (h/t George Bremer of the Herald Bulletin).
The original scouting reports claimed that Cunningham was a very solid blocker, but his hands were questionable. So far, he's appeared to prove that he's more than just an extra blocking tight end.
Who knows if Cunningham will make the final roster or find his way onto the field, but so far he has certainly been impressing.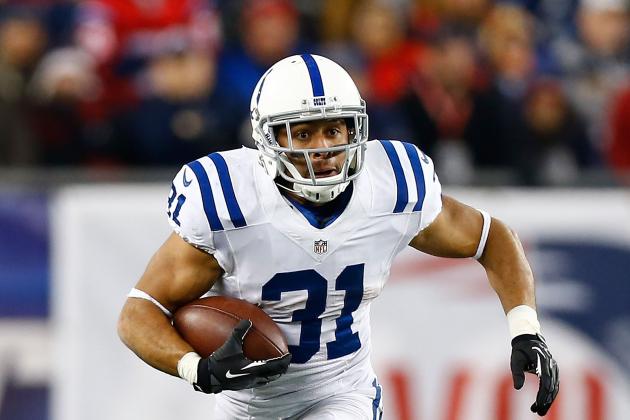 Jared Wickerham/Getty Images

Injury concerns for Brown had his role on the team in question already, but then the team signed Ahmad Bradshaw.
It appeared that the Colts were planning on using Vick Ballard and Brown in a bit of a rotation before the signing of Bradshaw. Now that the former back for the New York Giants is on the team, what does that mean for Brown and his role on this team?
It's very possible that Brown's spot on this team is in jeopardy. The Colts will likely either get rid of him or Delone Carter by the end of the preseason.
Even if Brown doesn't get cut, his role on this team is about to get a lot smaller.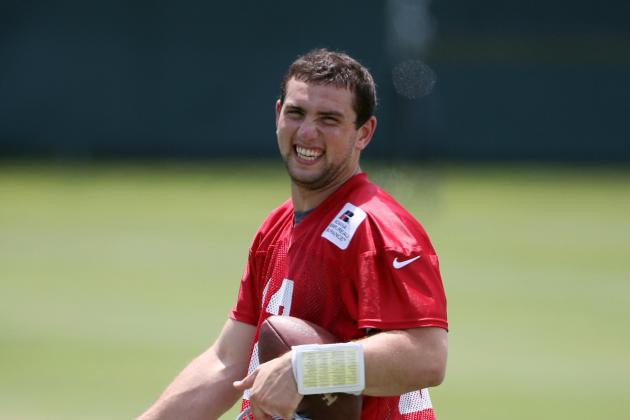 Brian Spurlock-USA TODAY Sports

Is there anyone else that's benefited more from the offseason on this team than Luck?
Just look at how happy he is in that picture.
But in all seriousness, the Colts' front office has done everything they can to make sure Luck has an even better season in 2013.
After being sacked 41 times last season, the Colts brought in almost an entire new offensive line with guys like Thomas, Thornton, Gosder Cherilus and even Khaled Holmes.
Not to mention the addition of Bradshaw, who's allowed only three sacks since 2008 (h/t ProFootballFocus.com).
A new weapon in Darrius Heyward-Bey and the arrival of his former OC makes this the best offseason imaginable for Luck.
Don't expect a sophomore slump from Luck in 2013.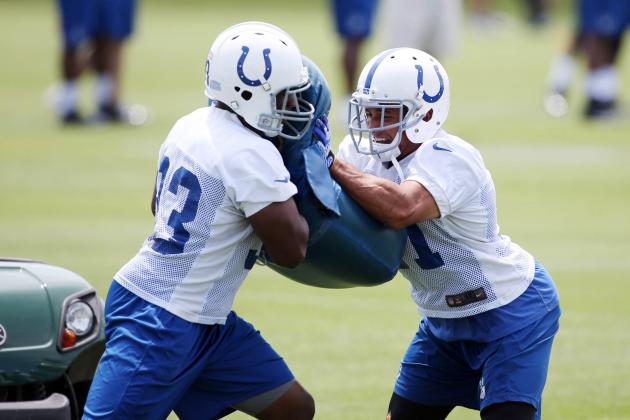 Brian Spurlock-USA TODAY Sports

The Colts made it clear that they weren't satisfied with an 11-5 season, and that should scare the Jacksonville Jaguars, Tennessee Titans and Houston Texans.
It seems that this team addressed every weakness on the depth chart and brought in new faces to strengthen this team. Addition to the offensive line, defensive line, secondary and even the backfield mean that they Colts are looking for a possible Super Bowl run.
There's a serious possibility that the Colts can retake the AFC South title this season. The Texans looked solid last season, but they likely won't be ready to handle a new offense that gets the ball out quickly and gives their receivers the opportunity to make big plays.
The 2013 season is fast approaching, and Colts fans are more excited than they have been in quite some time.