San Francisco Giants vs. Atlanta Braves: Live Score, Analysis and Reaction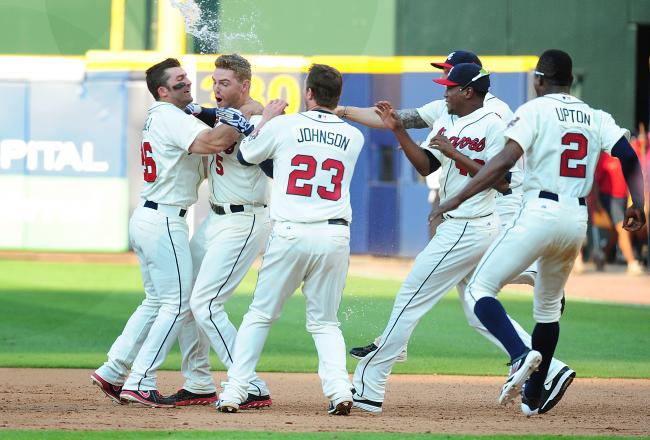 Scott Cunningham/Getty Images
The San Francisco Giants and Atlanta Braves square off tonight for what will be the rubber match of a three-game series between the two playoff hopefuls.
After being shut out by Madison Bumgarner and company on Friday night, the Braves got their revenge on Saturday, beating closer Sergio Romo in walk-off fashion.
B.J. Upton, who has struggled mightily thus far in the 2013 season, looks to have finally found his swing. He took Giants starter Chad Gaudin deep twice in Saturday's affair, and the Braves will hope that his resurgence continues tonight against former-ace Tim Lincecum.
The depleted Giants hope to close out a tough road swing with a win, which would give them an acceptable 5-4 record on the trip. Considering the fact that they are missing leadoff man Angel Pagan and slugger Pablo Sandoval, the Giants would be thrilled to return to the friendly confines of AT&T Park only trailing the first-place Diamondbacks by a half game.
Here are the lineups for tonight's showdown:
Giants:
Blanco CF
Crawford SS
Posey C
Pence RF
Belt 1B
Torres LF
Arias 3B
Noonan 2B
Lincecum RHP
Braves:
Simmons SS
Heyward RF
J. Upton LF
Freeman 1B
B.J. Upton CF
McCann C
Johnson 3B
Pena 2B
Teheran RHP
A fun fact via Alex Pavlovic of the San Jose Mercury News: If Tim Lincecum is victorious against the Braves tonight, he would be the second pitcher in the last 50 years to beat the same team on both Mother's and Father's Day. The other pitcher to do it was John Burkett, who did so in 2000 as a member of the Braves.
Hey, if Lincecum pitches well again tonight, he can probably get away with not buying his dad a Father's Day gift.
Thanks for tuning in for the action tonight. Hope you all had a happy Father's Day!
The Giants had their chances against rookie Julio Teheran, but they couldn't cash in, leaving the bases loaded twice. Tim Lincecum only allowed three runs (one was unearned thanks to Andres Torres' abysmal defense), but it could have been much worse, as he allowed 11 baserunners in six innings.
The Braves put up single runs in the first, third and sixth innings. After Teheran left the game, the bullpen retired all nine batters they faced.
After shutting out the Braves on Friday and carrying a one-run lead into the bottom of the ninth on Saturday, the Giants are certainly disappointed to be heading home with a losing record on the tough road trip. They will hope to get back on track at home against the surging Padres in a series that begins tomorrow night at 7:15 p.m. PT.
The Braves, on the other hand, are back to playing good baseball and will hope to carry the momentum into their series against the Mets, which begins tomorrow night at 7:15 p.m. ET.
Final: 3-0 Braves. Kimbrel shuts the door without allowing a baserunner.
Nick Noonan should at least get a prize for making decent contact.
Kimbrel is nasty. 99 at the knees. Unfair.
A forgettable night for Torres. 0-4 with 2 K and a couple horrible misplays in LF.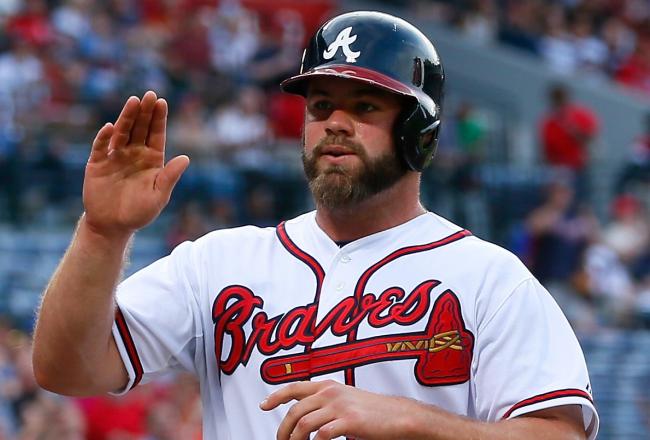 Well, even though the ESPN viewers didn't get a chance to see Evan Gattis hit tonight, they still got to hear about his cool story for the hundredth time. Braves need to do a better job getting him in the lineup. He didn't start any of the 3 games this series, not even against LHP Madison Bumgarner.
3-0 Braves after eight innings. A nice debut from Jake Dunning. Now the Giants have to pleasure of facing Craig Kimbrel. Need three to tie. Torres, Arias and Noonan due up. So.....yeah.
Braves showing that they are not just home runs and strikeouts. Their starting pitching is top notch. Teheran looks like a future ace. Their bullpen is very hard to score against. Barring a 2011-esque meltdown, the Braves should cruise to a division crown.
Hey, something exciting is finally happening for the Giants: Jake Dunning is making his MLB debut.
Three lifeless at-bats from the Giants' 3-4-5 hitters. Seems like the Giants' balloon has been deflated too many times now tonight. It's sitting almost lifeless on the floor right now, leaking out its last bit of air.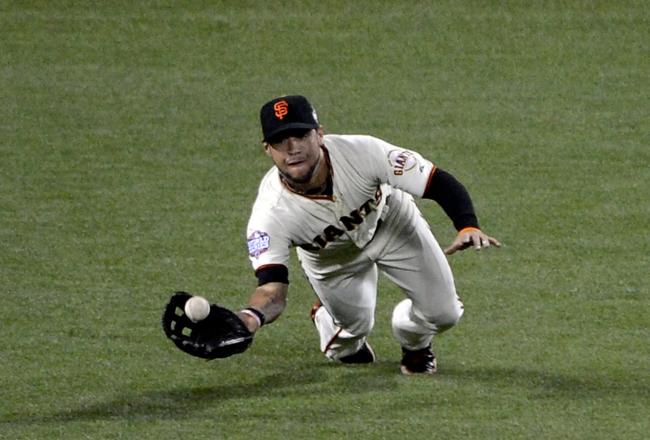 The Giants really need to think hard about putting Pagan in LF when he returns. Blanco is by far the best CF on the team. No way Pagan makes that catch. If the team is going to go with the defense-first approach and play Blanco, they might as well do it right.
Another great catch by Blanco. Meanwhile, Torres swats at a bug that's buzzing around his ear, totally unaware that a baseball game is going on.
Jason Heyward has been quite an enigma for the Braves. So much talent, but hasn't been able to put it all together. Still just 23 though.
Feel free to drop some Giants questions into the comment section. I'd be happy to answer them before the game is over, or after for that matter. Second half projections, possible trade targets, etc. But this game is not over yet. Let's see if the Giants bullpen can keep the deficit at three runs.
A lot *to make up. I'm going all Andres Torres with my typing. Hey, at least Boardwalk Empire and True Blood are back tonight.
Giants go down gently into this good night. Had their chances but couldn't cash in. Three runs is a lot to make up against any bullpen, let alone the Braves'. Hey, at least Boardwalk Empire and True Blood are back tonight.
Andres Torres' five errors are the most among all major league left fielders.

— Andrew Baggarly (@CSNBaggs) June 17, 2013
Giants need to consider calling up minor league outfielders such as Brooks Kieschnick or Francisco Peguero. Gary Brown has been heating up, too. Can't continue to let Torres kill you with errors.
6 innings, 6 hits, 5 BB, 3 K, 2 ER for Lincecum. Not bad considering how bad he looked at times. Still, hardly an encouraging outing for the righty.
The Giants have poorly represented themselves thus far on national TV. Bad pitching, bad defense, inability to get a hit with RISP. Barring a comeback against a tough bullpen, the Giants plane ride home will be a quiet one.
Jordan Schafer drops a beautiful bunt. 3-0 Braves on the suicide squeeze. Then Lincecum almost loses his head on a liner. Scary, considering what we've seen with Cobb and Happ this year. Nice play by Noonan to get the out and end the inning.
You have got to be kidding me Andres Torres. Something needs to be done about him in LF. He's made more boneheaded errors than anyone I've every seen. Crazy, considering how athletic he is.
Buster Posey takes a foul ball off his shoulder. It's really hard watching the franchise player get battered and bruised every night behind the plate. As soon as Susac is big league ready, Posey needs to be at 1B. Agree?
And the Giants leave the bases loaded again. I would have pinch-hit for Noonan there. Except the Giants couldn't, because Scutaro and Abreu are both unavailable. Lack of depth combined with an unwillingness to put players on the DL has really hurt the Giants this season.
Nice play by Simmons to keep that ball in the infield and save a run. Here comes Noonan, who will likely be looking for another first-pitch fastball.
This article is
What is the duplicate article?
Why is this article offensive?
Where is this article plagiarized from?
Why is this article poorly edited?

San Francisco Giants: Like this team?