San Francisco Giants: Stock Up, Stock Down for Top 10 Prospects for Week 10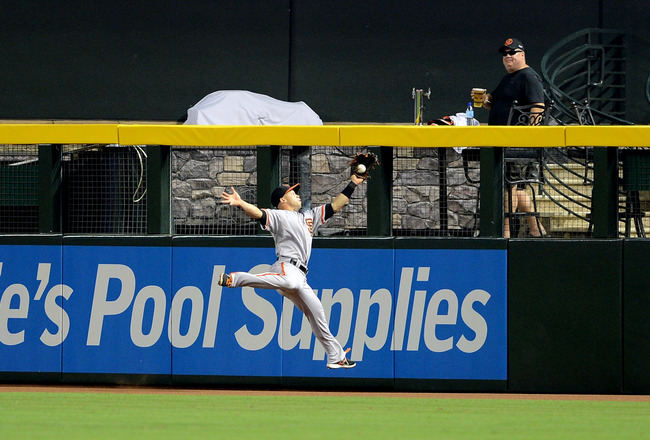 Juan Perez came up from the farm system and made a great catch for the Giants on Sunday.
Jennifer Stewart/Getty Images
The San Francisco Giants have turned to their farm system for contributions from journeyman reliever Jean Machi, utility players Brett Pill and Nick Noonan, and starting pitching prospect Michael Kickham this season.
Outfielder Juan Perez was the latest farmhand to come up and help the Giants. He made a sensational running catch and drove in a run to help the Giants defeat the first-place Arizona Diamondbacks on Sunday.
Machi has emerged as a primary setup man in the bullpen. Perez looks like he could be a contributor along with Pill off the bench. Sometimes, the less heralded minor league players are the ones who come from out of nowhere to make a major contribution to the big league squad.
The farm system is ultimately there to help the major league team, whether through promotions or trades to acquire professional talent. The Giants have been getting some help from the farm system already in 2013.
Let's dive and see how the top 10 prospects did during week 10 of the season.
All statistics in this article are courtesy of MiLB.com and Baseball-Reference.com.
1. Clayton Blackburn

Clayton Blackburn in action.

2013 Stats at High-A San Jose
11 GS, 3-3, 4.30 ERA, 18 BB, 69 K, 58.2 IP
Overview
Clayton Blackburn has had a solid season for San Jose. He's struck out 69 against only 18 walks in 58.2 innings of work. He doesn't have premium stuff, but his command and control are outstanding.
Blackburn had one of his best starts of the year last week. He allowed just three hits, one walk and one run over six innings of work. He struck out seven and induced seven ground-ball outs.
Blackburn does a good job of keeping the ball down in the zone to induce ground balls and to miss bats. His command of the bottom of the strike zone allows his stuff to play up.
Even though he doesn't throw in the mid-90s, he has an excellent chance to pitch successfully in the big leagues in the near future.
Last Week's Stats
1 GS, 6 IP, 3 H, 1 ER, 1 BB, 7 K
Stock
Up
2. Kyle Crick

Kyle Crick in action.

2013 Stats at High-A San Jose
3 GS, 0-1 W-L, 0.93 ERA, 9 BB, 12 K, 9.2 IP
Overview

Kyle Crick has missed most of the season with an oblique injury suffered in his third start. He's currently working his way back on a rehab assignment in Arizona, according to Joe Ritzo, the broadcaster for the San Jose Giants.
Stock
Even
3. Chris Stratton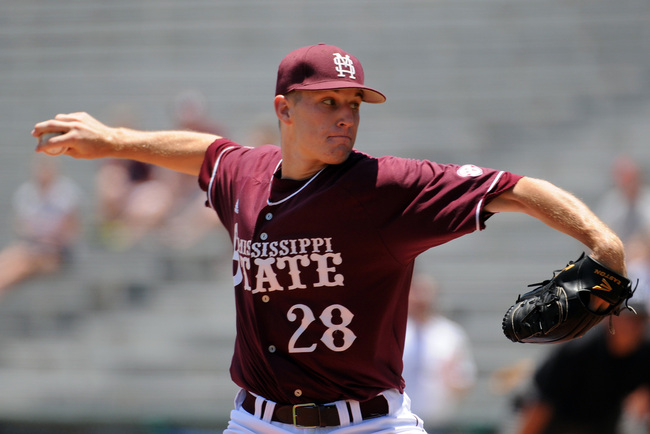 Chris Stratton pitching for Mississippi State last season.
Melina Vastola-USA TODAY Sports
2013 Stats at Low-A Augusta

10 GS, 6-3, 3.77 ERA, 21 BB, 63 K, 59.2 IP
Overview
Chris Stratton had his start washed away by rain on Sunday. He'll take the ball on Monday for Augusta.
The Giants used their first-round pick on Stratton last year. He went 11-2 with a 2.38 ERA and 128 strikeouts in 109.2 innings in his junior season at Mississippi State to earn the first-round selection.
Stratton has followed up his tremendous college season with a solid but unspectacular year at Augusta. He's struck out more than a batter per inning and allowed only three home runs. However, he's also walked 21 and allowed 52 hits over 59.2 innings, which is why his ERA is near 4.00.
Stratton has the tools to develop into a front-line starting pitcher. He just appears to need more time to develop than the typical former collegiate starter.
Stock
Even
4. Joe Panik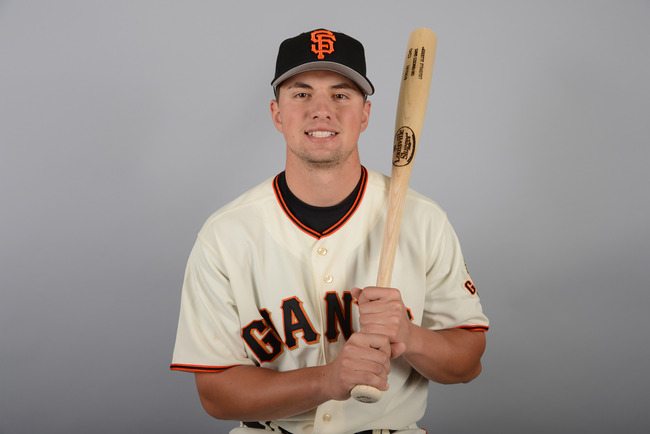 Joe Panik has the best plate discipline in the system.
Kyle Terada-USA TODAY Sports
2013 Stats at Double-A Richmond

.271/.359/.373, .732 OPS, 12 2B, 3 3B, 2 HR
Overview
Even though Joe Panik is mired in a slump, he continues to show very good bat control. Panik is currently in the midst of a 6-for-38 stretch over his past 10 games. During that span, he's only struck out twice.
In 236 at-bats this season, Panik has whiffed only 21 times. He's walked 33 times this season to boost his on-base percentage to .359.
He's also shown more power during his recent rough patch. Five of his last six hits have gone for extra bases and two have been home runs. Given that Panik has been hitting for power and avoiding strikeouts, his recent slump seems to be an anomaly.
Last Week's Stats
2-for-22, 2 BB, 1 HR
Stock
Even
5. Andrew Susac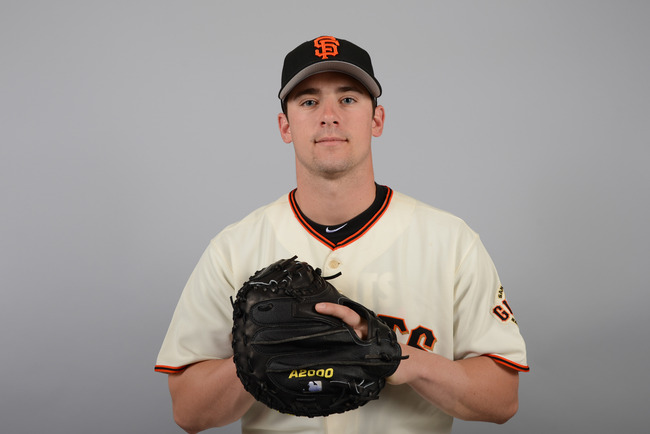 Andrew Susac has had a very good season.
Kyle Terada-USA TODAY Sports
2013 Stats at Double-A Richmond

.271/.387/.482, .870 OPS 15 2B, 7 HR
Overview
Andrew Susac is having an outstanding year at Double-A. After hitting just .244/.351/.380 with 28 extra-base hits last season, Susac is hitting .271/.387/.482 with 22 extra-base hits through two months in 2013.
He's walking more, striking out less and hitting for more power this year. With Buster Posey firmly entrenched at catcher for the Giants, it wouldn't be a surprise if other teams target Susac at the trading deadline. Last year, the Giants used their surplus at catcher to acquire Hunter Pence by dealing top catching prospect Tommy Joseph.
Catchers who can hit as well as Susac are in short supply around the game. Susac is a valuable commodity for the Giants. They can use him as a trade chip, or they can eventually promote him to the big leagues to spell Posey more often.
Last Week's Stats
4-for-16, 2B, HR, 2 BB
Stock
Up
6. Martin Agosta

Martin Agosta gets ready for an inning.

2013 Stats at Low-A Augusta

11 GS, 6-2, 2.19 ERA, 25 BB, 81 K, 61.2 IP
Overview
Martin Agosta had another stellar start last week. He struck out 10 over seven shutout innings. He ranks sixth in the South Atlantic League in ERA and second in strikeouts.
Agosta is proving to be too dominant for the Low-A level. He's allowed only two runs on nine hits and five walks during his last three starts. Over 21 innings in those three games, he's struck out 24 hitters.
If he keeps this up, the Giants are going to have to think about promoting him to San Jose soon.
Last Week's Stats
1 GS, 7 IP, 2 H, 0 ER, 2 BB, 10 K
Stock
Up
7. Michael Kickham
Michael Kickham is working on getting back to the big leagues.
Thearon W. Henderson/Getty Images
2013 Stats at Triple-A Fresno

12 GS, 3-5, 4.57 ERA, 28 BB, 61 K, 67 IP
2013 Stats with San Francisco
1 GS, 0-1, 15.43 ERA, 4 BB, 3 K, 2.1 IP
Overview
Michael Kickham struggled in his big league debut for the Giants two weeks ago. He was demoted to Fresno after allowing four walks and four runs in 2.1 innings pitched.
He's continued to struggle with his control since returning to Fresno. He's walked six and allowed eight runs in 13 innings since his demotion.
Meanwhile, Chad Gaudin has replaced Kickham in the rotation, and he could be there to stay. Gaudin has gone 2-0 while allowing nine hits, four runs and only one walk in 12 innings as a starter.
Kickham didn't appear ready for the show in his lone start for the Giants. With Gaudin pitching well, Kickham may not be needed again this year. Thus, he could have the rest of the season to work out the kinks in Fresno.
He'll need to improve his control to get another crack at the big leagues if he's needed later this season or in 2014.
Last Week's Stats
2 GS, 13 IP, 11 H, 8 ER, 6 BB, 7 K
Stock
Even
8. Heath Hembree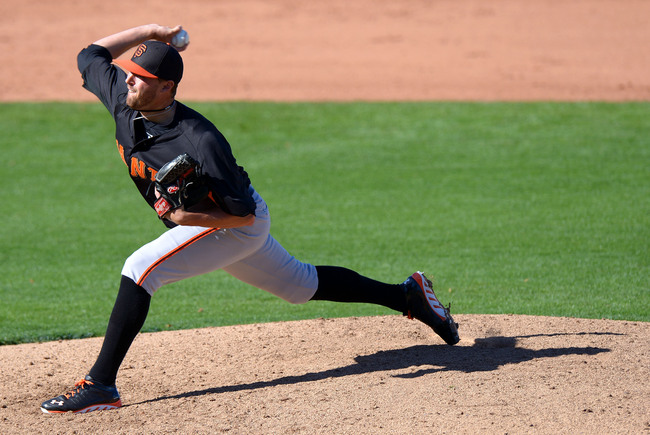 Heath Hembree is needed in the big leagues.
Jake Roth-USA TODAY Sports
2013 Stats at Triple-A Fresno (through Saturday)

25 GP, 1-2, 3.76 ERA, 8 BB, 29 K, 26.1 IP, 14 Saves
Overview
The bullpen was a strength for the Giants until recently. Santiago Casilla went down with a knee injury, and Chad Gaudin moved to the rotation. George Kontos and Ramon Ramirez have struggled to fill the void left by Casilla and Gaudin. That leaves Jean Machi as the only right-handed setup man pitching well for the Giants.
According to Baseball America, Heath Hembree features a 93 to 96 mph fastball and an 82 to 85 mph slider. The Giants could really use him in the late innings right now.
Unfortunately, Hembree hasn't pitching well of late. Over his last 10 games, he's gone 0-2 with a 6.10 ERA. He's allowed 16 hits and eight runs over 10.1 innings in those 10 games.
The Giants need right-handed relief help, but they also don't want to rush Hembree. If Hembree gets back on track at Fresno, it will be interesting to see if the Giants turn to him to add a power arm in the bullpen.
Last Week's Stats
2 GP, 3 IP, 4 H, 1 ER, 3 BB, 2 K
Stock
Even
9. Adam Duvall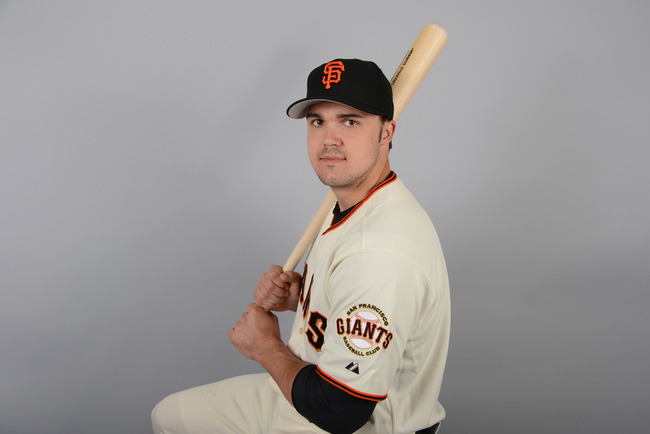 Adam Duvall has joined Panik and Susac as top prospects at Double-A.
Kyle Terada-USA TODAY Sports
2013 Stats at Double-A Richmond

.315/.382/.622, 1.004 OPS 10 2B, 3 3B, 6 HR
Overview
Adam Duvall might have the most power of any prospect in the system. He's slugging .622 with 19 extra-base hits this season after launching 30 home runs last year.
Marc Hulet—a prospect expert for FanGraphs—wrote of Duvall during the offseason:
Duvall was a little old for the league and will face a stiff test when he moves up to the double-A Eastern League; the league is much tougher on power hitters with only four batters hit more than 20 dingers in 2012. This could force Duvall to either improve upon other aspects of his game or wash out.
Thus far, Duvall has flourished against the stiffer competition at Double-A. He's improved his performance despite moving to a less hitter-friendly environment.
Instead of washing out, Duvall has emerged as a top power-hitting prospect for the Giants in 2013.
Last Week's Stats
7-for-23, 3 2B, 2 HR
Stock
Up
10. Gary Brown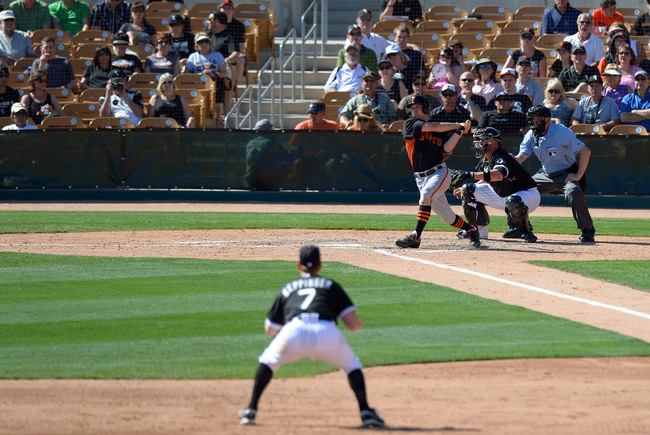 Gary Brown is striking out too much for Fresno.
Jake Roth-USA TODAY Sports
2013 Stats at Triple-A Fresno (through Saturday)

.209/.278/.321, 15 2B, 2 3B, 3 HR, 6/11 SB
Overview
Gary Brown has yet to catch fire for Fresno. He got off to a slow start last season but finished the year with a .279 batting average after hitting .336 the year before.
Brown's drop in batting average has been caused by his inability to make contact. After striking out 77 times two years ago and 87 times in 2012, Brown has already struck out in 62 of his 249 at-bats this season.
Brown isn't a power hitter. His game is built around speed. In order to reemerge as a top prospect and allow his speed to flourish, Brown needs to start getting the bat on the ball more often.
Last Week's Stats
5-for-28, 2 2B, 2BB
Stock
Even
Honorable Mention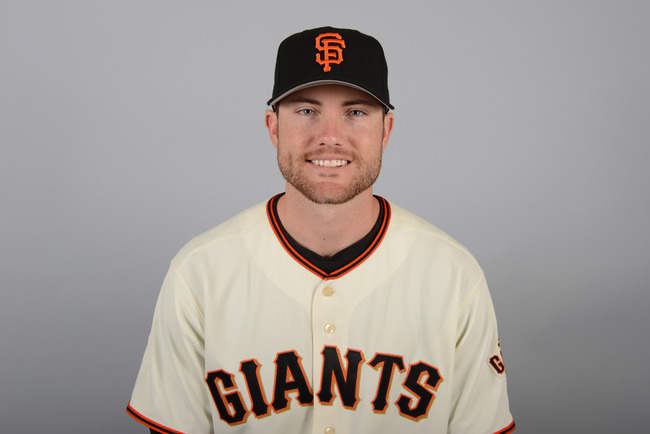 Roger Kieschnick is another name to watch in the farm system.
Kyle Terada-USA TODAY Sports
Here are some other notable prospects to keep an eye on:
Roger Kieschnick is hitting .292/.357/.569 with 10 home runs at Triple-A Fresno.
Francisco Peguero went just 3-for-16 with the Giants during his brief stint in the big leagues. He's currently hitting .309/.352/.408 with Fresno.
Hector Sanchez is hitting .289/.357/.368 since his demotion to Fresno.
Mac Williamson is hitting .255/.333/.442 with nine home runs for the San Jose Giants.
Edwin Escobar has a 3.62 ERA and 64 strikeouts in 49.2 innings at San Jose.
Ty Blach is 7-2 with a 2.70 ERA for San Jose. He has an incredible 57-6 strikeout-to-walk ratio in 66.2 innings.
Joan Gregorio has pitched effectively alongside Stratton and Agosta in the Augusta rotation. He's gone 2-0 with a 1.08 ERA and 33 strikeouts over 25 innings.
Keep Reading

San Francisco Giants: Like this team?