Power Ranking the 5 Greatest Centers in Vikings History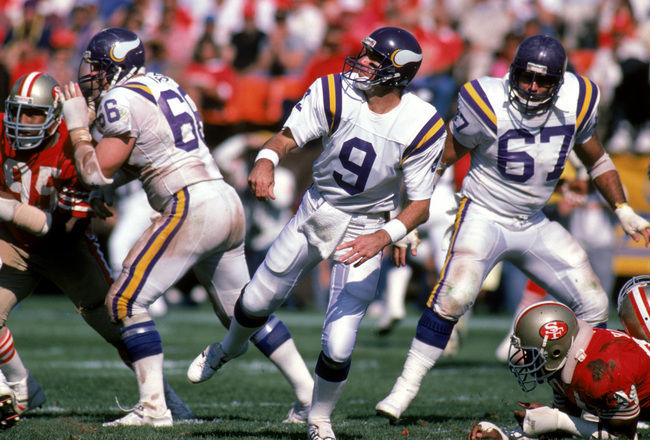 Dennis Swilley (#67)
George Rose/Getty Images
Welcome to the latest in a series of slideshows that power rank the greatest Minnesota Vikings of all time by position. Each week, a different position will be featured. The best Vikings to ever take the field at that position will be ranked from fifth to first.
How does a guy get on the list?
It's all about being a Viking. While stats will certainly be taken into account, there will be other, more subjective, criteria as well. There's a certain feel to those classic Vikings, standing on the sideline at Met Stadium in freezing conditions with steam roiling out of their face masks. Those are the quintessential Vikings to many fans.
There are certain players (Mike Morris, Scott Studwell) who would have fit perfectly in that era. Those are true Vikings. Other players (particularly Adrian Peterson) would have been fun in ANY era.
These lists are filled with players who simply epitomize what it means to be a Viking.
Last week, we covered punters. This week, we'll focus on centers. Most centers don't garner a lot of press, but the position is critical to the operation of any offensive line. Centers usually make the line calls for the offense, changing blocking schemes as the defense dictates. A good center is as smart as he is physical. Often the smallest members of the offensive line, centers need to use guile as much as brute force.
Click on as we power rank the top five centers in Minnesota Vikings history.
(All statistics courtesy of pro-football-reference.com)
Honorable Mention: Mike Morris

Mike Morris and Matt Birk

Mike Morris never started a game at center for the Minnesota Vikings. In fact, Morris never started an NFL game for any team over the course of his 13 NFL seasons.
How does a guy who never started an NFL game make an all-time list? Morris was a long snapper, and one of the best in NFL history. He makes the list because of his longevity, his proficiency on special teams and the fact that he remained connected to the Vikings for more than a decade after his playing career ended.
Morris was the Vikings long snapper from 1991-1999, and was on the field for the infamous Gary Anderson miss in 1998. There are those who blame Morris for the miss, claiming that the snap was high on the field goal attempt.
Most players would strive to forget a day like that. Morris parlayed his infamy into a 10-year radio career with sports talk station KFAN in Minneapolis. As the leader of the Power Trip Morning Show, Morris got the most out of his NFL experience, referring to himself as "The Superstar" and giving the radio station an insider's knowledge of pro football.
For his longevity in a specialty position, and his longtime connection to the Minnesota franchise, Mike "Superstar" Morris gets honorable mention on our list of the greatest Vikings centers of all time.
5. Jeff Christy

Christy was the Vikings center from 1994-1999

Jeff Christy played for the Vikings from 1993-1999. He took over as the team's starting center in 1994, and started over 90 consecutive games for Minnesota before leaving for Tampa Bay in 2000.
Christy was the Minnesota center for most of Robert Smith's career. Prior to the arrival of Adrian Peterson in Minnesota, Smith was the Vikings' career rushing leader. Christy, a premiere run blocker, was a big part of Smith's success in Minnesota.
Christy made the line calls for the 1998 Vikings. That team, featuring Smith, Cris Carter and rookie Randy Moss, became the most prolific scoring offense in the history of the NFL. (A record since eclipsed by the New England Patriots.)
Christy made three straight Pro-Bowls, beginning in 1998, and was second-team All-Pro in 1998 and 1999. For his consistent excellence and playing a part in some of the greatest offenses in NFL history, Christy makes it to No. 5 on the list.
4. Kirk Lowdermilk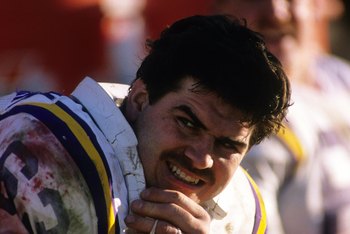 Lowdermilk
George Rose/Getty Images
Over the years, many Minnesota Vikings centers fell into the mold of the slightly undersized, cerebral captain of the offensive line. Kirk Lowdermilk didn't fit that description. Lowdermilk played a physical style, placing aggression and toughness ahead of pure mental acuity.
Though he wasn't bigger than most of his contemporaries at 6'3" and 269 pounds, Lowdermilk played as if he were a foot taller and 100 pounds heavier than he was. After coming to Minnesota in 1985, Lowdermilk took over as the starting center in 1987 and started 86 games before leaving for Indianapolis in 1993.
Lowdermilk moves to No. 4 on the list because his style was different than almost every other Vikings center. He was roughly the same size as the No. 5 choice, Jeff Christy, but dominated opponents in a way Christy never did. Lowdermilk also didn't have the stellar teammates that Christy enjoyed in the late 1990s. For being a standout on largely average teams, Lowdermilk edges Christy for the fourth spot on the list.
One of the biggest travesties of Lowdermilk's career is that he was never named to the Pro Bowl during his 12-year NFL career. His former teammates and long-time Vikings fans will attest that No. 63 should have been honored at least five times over the course of his career.
3. John Sullivan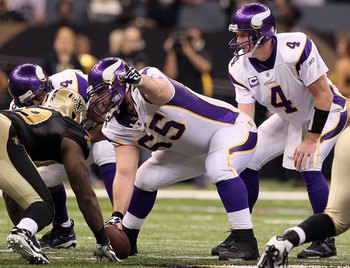 Sullivan in 2009
Jed Jacobsohn/Getty Images
Though John Sullivan has only been the Vikings starting center for four years, his accomplishments are enough to make him No. 3 on the all-time list of greatest Minnesota centers.
Sullivan is a smart player. While serving as a backup during his rookie year, Sullivan spent time learning from the incumbent Vikings center, Matt Birk. He used what he learned to go from a backup to one of the best centers in the NFL in the span of four years.
Sullivan makes the line calls for the Minnesota offense, and his intelligence is evident. The team is almost never in the wrong alignment, and he misses very few blocks. He's solid in the passing game, and one of the best run-blocking centers in the league.
Sullivan edges out Jeff Christy and Kirk Lowdermilk for No. 3 on the list because of his high ceiling. Already as good as Christy, and becoming as physical a force as Lowdermilk was, Sullivan will most likely only get better over time. His steadying influence in the huddle has assisted in the development of other offensive linemen and young quarterback Christian Ponder.
Sullivan's skill was recognized following the 2012 season, when he was named first-team All-Pro by both the Pro Football Writers' Association and Pro Football Focus. Time will tell if Sullivan will move up from No. 3 on the list.
2. Matt Birk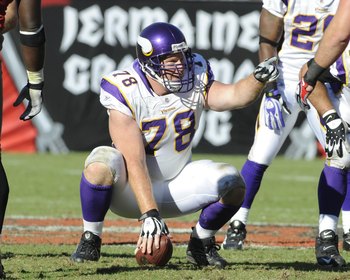 Matt Birk in 2008
Al Messerschmidt/Getty Images
Matt Birk recently retired from the NFL after a 14-year career with the Vikings and Baltimore Ravens. He finally earned a Super Bowl ring last year with Baltimore. Many Minnesota fans were happy to see Birk become a champion. They were only disappointed because he was wearing the wrong purple uniform when it happened.
Birk, a Harvard graduate, was the epitome of the cerebral center. He anchored the Vikings offensive line from 2000 to 2007, after learning on the job in 1998 and 1999. How smart is Birk? After starting zero games in his first two years with the team, he was a Pro-Bowl selection in 2000, his first year as the team's starter.
Birk was also a physical run blocker and strong pass blocker. He was selected to the Pro Bowl six times in his seven years as the Vikings center. For this consistent excellence, Burke edges out Sullivan for No. 2 on the list of best Minnesota centers of all time.
Birk was also a quintessential Viking. He was born in St. Paul, attended Cretin-Derham Hall High School and still resides in the state capital. He should end up in the Vikings Ring of Honor, and maybe even in the Hall of Fame someday.
1. Mick Tingelhoff

Tingelhoff anchored the line from 1963-1977

Virtually every Minnesota Vikings fan over the age of 30 would give the same answer to the question, "Who was the greatest center ever to play for the Vikings?" That answer would be Mick Tingelhoff. It is one of the few things that almost all Vikings fans can agree on.
Tingelhoff had longevity. He began his career in 1963. He retired in 1977. In between, he played (and started) all 240 Vikings regular season games. He also started all 19 Vikings playoff games during that span. There hasn't been a more durable center in the history of the league.
Tingelhoff also provided consistent excellence. Over the course of his career, he was named to six Pro Bowls and was first-team All-Pro five times. He was the anchor of the Minnesota Vikings offensive line during the glory years of the late 60s and early 70s.
There is no player that better represents the mystique of the Minnesota Vikings more than Tingelhoff. Picture him standing with hands on hips, steam blowing out of his facemask, with the frozen tundra of Metropolitan Stadium in the background. That's a Viking.
The biggest travesty of Tingelhoff's career is that he's not in the NFL Hall of Fame. It is one of the biggest omissions in the history of the Hall.
Check in next week for the next power ranking of all-time Vikings.
Is someone on the list that shouldn't be there? Have a player you'd like to nominate? Speak your mind in the comments section below.
Follow me on Twitter:
Keep Reading

Minnesota Vikings: Like this team?