New York Yankees MLB Draft Results: Scouting Profiles for 2013 Picks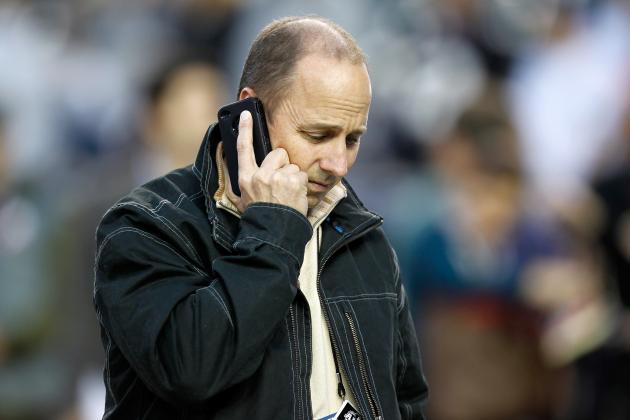 Gregory Shamus/Getty Images

The New York Yankees won another division crown in 2012, finishing 95-67 before being swept by the Detroit Tigers in the American League Championship Series. For their efforts, they get the 26th overall pick in the 2013 First-Year Player draft.
In addition, after years of losing draft picks when they signed free agents from other teams, the Yankees get two compensation picks for losing their own free agents to other teams. For losing Nick Swisher (to Cleveland) and Rafael Soriano (to Washington), they get the last two picks of the first round, Nos. 32 and 33.
With three picks in the first round of the draft on Thursday and another 39 rounds on Friday and Saturday, Brian Cashman and the team's front office will be busy.
Track each of the Yankees' picks here.
Begin Slideshow

»
The Yankees went with this year's Big East Player of the Year, who hit nine home runs with 53 RBI and a .388 average in 56 games for Notre Dame.
ESPN's Keith Law thinks the Yankees made a good pick, selecting his 26th player overall with the 26th overall pick, while MLB.com ranks Jagielo as the 37th best player.
He has a polished bat with good power and is an average fielder. Because he's already played three years of college and has an above-average bat, Jagielo might only need a couple of years of minor league seasoning before reaching the Bronx, which may be a sign of what the Yankees think about the future of Alex Rodriguez, who is under contract through 2017.
It remains to be seen whether Jagielo can be a third basemen long term or if he'll have to move to first base or the outfield, but as long as his bat continues to develop in the minor leagues the Yankees will find a place for him.
With the first of back-to-back compensation picks to close out the first round, the Yankees went with center fielder from Fresno State.
At 6'7" and 255 pounds, Judge would be one of the tallest outfielders in major league history but he's still very athletic with the potential to be a 30 homer bat. Because of his size, he'll likely end up a right fielder instead of center.
Keith Law ranked Judge as the 17th best player in this year's draft and MLB.com made him the 24th.
The minor cause for concern is Judge is that he didn't show a ton of power in college, but scouts think he'll develop a home run swing with his size to go along with his average speed and above average glove. Once his power develops he'll be a top prospect.
The Yankees finally went with a pitcher with their third and last first round pick, selecting high school pitcher Ian Clarkin from James Madison High School in San Diego, CA.
Having grown up in Arizona around 2001, Clarkin grew up hating the New York Yankees. He'll have to get over that.
While Keith Law had Clarkin as the 43rd best player in the draft, MLB.com liked him much more, listing him as the 18th best player.
The southpaw mixes a 90-93 mph fastball with an above-average curveball and average changeup that gives him a good repertoire to develop in the minor leagues.
Clarkin's had trouble with the command on his fastball and his unorthodox mechanics, but his stuff is better right now than a typical high school pitcher. If he can improve his changeup, he projects as a major league starting pitcher.
The Yankees took the first second baseman in the draft, selecting Gosuke Katoh out of San Diego, CA.
Katoh is committed to play at UCLA and may decide to go to college.
He's quick on his feet and solid with the glove but his arm probably isn't strong enough to play shortstop, the more valuable middle infield position.
It was a surprise that Katoh was taken so early but perhaps the Yankees see a contact hitter, an excellent defender and a useful utility player as his ceiling.
The Yankees took their second center fielder in their first five picks when they selected Michael O'Neill from the University of Michigan. They also picked O'Neill for the second time, having taken him in the 42nd round of the 2010 draft.
O'Neill, the nephew of former Yankee outfielder Paul O'Neill, may have trouble finding a position in the major leagues but his bat made him worthy of a third round pick. He has good line drive power but not much home run ability yet (he hit .356 at Michigan this year in 239 at bats with five home runs and 17 doubles).
He is a good runner (he stole 23 bases this season for the Wolverines) but has struggled with plate discipline (40 strikeouts, 11 walks in 2013). ESPN's Keith Law thinks he's either going to have to become a more patient hitter or be a good defensive outfielder in order to make the big leagues in his uncle's footsteps (Insider required).
The Yankees went with another high school infielder in the fourth round, selecting shortstop Tyler Wade from California.
Wade is committed to San Diego State and may decide to try and boost his draft stock by going to college, but if he signs with the Yankees the club gets a 6'2" line drive hitter who may never develop much power; he hit .524 this season for Murrieta Valley HS with just one home run in 84 at bats.
Where he excels most is in the field, where he has the range and arm strength to stay at shortstop long term, and with his speed.
If Wade signs, he'll likely need several years to add strength and power before he's ready to advance to the big leagues, but his ceiling is a top of the order hitter who can win Gold Gloves at shortstop.
The Yankees selected 6'9" pitcher David Palladino with their fifth round pick. A second year junior college player, Palladino is committed to play next year at LSU if he chooses not to sign.
He throws a 92-93 mile per hour fastball that can get up to 95-96 and can look even faster to hitters because of his height. He struck out 99 in 70.1 innings for Howard with a 2.18 ERA.
Palladino also boasts a changeup, curveball and slider, but my guess is that if he can make at least one of those a plus pitch, he can end up a solid reliever for the Yankees in the future, even if he fails as a starter.
Round 6, Pick 194: John Murphy, SS, Sacred Heart University
Round 7, Pick 224: Nick Rumbelow, RHP, LSU
Round 8, Pick 254: Brandon Thomas, CF, Georgia Tech
Round 9, Pick 284: Conner Kendrick, LHP, Auburn
Round 10, Pick 314: Tyler Webb, LHP, South Carolina
Round 11, Pick 344: Kendall Coleman, RF, Rockwall HS (TX)
Round 12, Pick 374: Philip Walby, RHP, San Diego State
Round 13, Pick 404: Cale Coshow, RHP, Oklahoma Christian University
Round 14, Pick 434: Caleb Smith, LHP, Sam Houston State
Round 15, Pick 464: Jordan Barnes, OF, Northwest Mississippi CC
Round 16, Pick 494: Ryan Butler, RHP, Central Piedmont CC
Round 17, Pick 524: Hever Bueno, RHP, Westwood HS (AZ)
Round 18, Pick 554: Dustin Fowler, CF, West Laurens HS (GA)
Round 19, Pick 584: Andrew Beresford, RHP, UNLV
Round 20, Pick 614: Drew Bridges, 3B, Carthage HS (MO)
Round 21, Pick 644: Ethan Carnes, LHP, Oklahoma
Round 22, Pick 674: Derek Toadvine, 2B, Kent State
Round 23, Pick 704: Alex Polanco, RHP, Western Oklahoma St.
Round 24, Pick 734: Sam Agnew-Wieland, RHP, Appalachian St.
Round 25, Pick 764: Jordan Floyd, LHP, Shawnee Heights HS (KS)
Round 26, Pick 794: Cal Quantrill, RHP, Trinity College School (Canada) (Note: Son of former Yankee pitcher Paul Quantrill)
Round 27, Pick 824: Dillon McNamara, RHP, Adelphi
Round 28, Pick 854: Trent Garrison, C, Fresno St.
Round 29, Pick 884: Charles White, CF, Maryland
Round 30, Pick 914: Cody Thomas, CF, Heritage HS (TX)
Round 31, Pick 944: Kevin Cornelius, SS, Grayson CC
Round 32, Pick 974: Chaunsey Sumner, 3B, Hawaii Pacific
Round 33, Pick 1,004: Shane McCarley, RHP, Manvel HS (TX)
Round 34, Pick 1,034: Hector Crespo, 2B, Appalachian St.
Round 35, Pick 1,064: Nick Green, RHP, Fountain-Ft. Carson HS (CO)
Round 36, Pick 1,094: Nestor Cortes, LHP, Hieleah HS (FL)
Round 37, Pick 1,124: Josh Pettitte, RHP, Deer Park HS (TX) (Note: Son of Yankee pitcher Andy Pettitte)
Round 38, Pick 1,154: Andrew Schmidt, LF, Regis Jesuit HS (CO)
Round 39, Pick 1,184: Ty Afenir, SS, Washington St.
Round 40, Pick 1,214: Kyle Buchanan, CF, Florida Gulf Coast