Jacoby Ellsbury really put his foot on the gas in the finale of a four-game set against the Philadelphia Phillies on Thursday, but can his speed keep him in Boston?
Ellsbury went 3-for-4 with a walk in the Red Sox's 9-2 victory over the Phillies. Nearly every time he got on base, he was off and running and finished the game with five swipes.
Ellsbury's five steals give him 21 on the season, which now leads the major leagues. But aside from having more stolen bases than anyone else in baseball, he set a club record for the most steals in a game.
Jacoby Ellsbury: sets Red Sox single-game record with 5 stolen bases in game

— ESPN Stats & Info (@ESPNStatsInfo) May 31, 2013
In the second inning after walking, Ellsbury stole second base. He stole second base again in the fourth after singling to center.
After he was hit by a pitch in the sixth, he continued the trend, but didn't just steal second—he stole third too. He took exception to getting hit, as John Tomase of the Boston Herald noted after the game:
Ellsbury admitted that the moment he got hit, he decided he was stealing second and third. Smiled when asked about taking home, too.

— John Tomase (@jtomase) May 31, 2013
As if four steals on the night wasn't enough, he stole second base successfully again in the eighth, which broke the record.
Ellsbury won't leave Citizens Bank Park empty-handed after setting the record, as Peter Abraham of the Boston Globe points out:
The #Phillies, in a class move, gave Ellsbury a base to take home as a souvenir of his team record. #redsox

— Pete Abraham (@PeteAbe) May 31, 2013
What's somewhat interesting, as Gordon Edes of ESPN Boston notes, is that the last time a player stole five bases in a game, it came against the Red Sox. Ellsbury was in the lineup that game and was caught stealing the one time he reached base.
Last player to steal at least 5 bases in a game? Carl Crawford, who stole 6 against the Red Sox on May 3, 2009 at Trop. CC had 4 H and a BB

— Gordon Edes (@GordonEdes) May 31, 2013
Boston's center fielder has always been known for his speed. In 2008, his first full season in the big leagues, he stole 50 bases, which led the league. He set a new career high the following year, swiping 70 bags. Constantly battling injuries, however, he only stole 60 bases combined the next three seasons.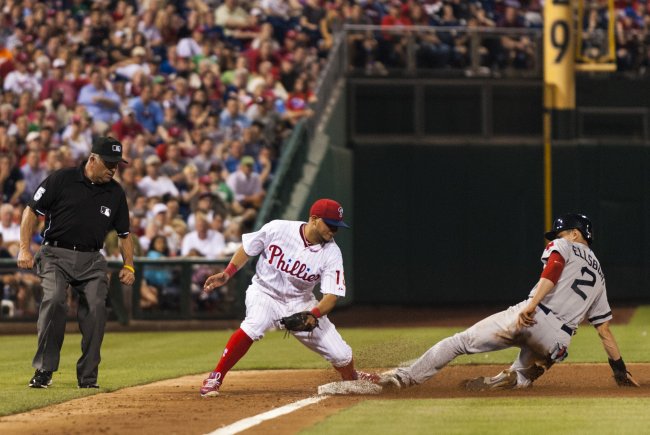 Howard Smith-USA TODAY Sports
The Red Sox have been very successful to start the season and enter a three-game series against the New York Yankees with a two-game lead in the AL East.
How many steals will Ellsbury finish 2013 with?
Ellsbury has played a big role in the team's success. On top of his stellar defense, through 53 games, Ellsbury is hitting .260/.325/.366 with one home run, 20 RBI and 29 runs.
Playing well this season is especially important for the 29-year-old outfielder, considering he's in the final year of his contract with Boston. Alex Speier of WEEI reports the sides haven't talked about a new deal this year, but have in the past.
As Speier points out, Red Sox general manager Ben Cherington believes that a deal will be discussed after the season comes to a close.
If Jacoby Ellsbury continues to run like he did on Thursday, he's sure to earn a sizable deal come the winter months.