San Francisco Giants: Grades for Every Player Through the Month of May
Christopher Hanewinckel-USA TODA
Bruce Bochy is in his seventh season as Giants' manager.
The San Francisco Giants near the end of May with a 28-25 record, two-and-a-half games behind the Arizona Diamondbacks in the NL West.
Although they have a winning record, the Giants have struggled at times, particularly on the road. With 17 of their 26 games on the road in June, the Giants need to straighten out this issue immediately.
Injuries to Ryan Vogelsong and Santiago Casilla have put their pitching staff on thin ice. The starting pitching has been especially shaky on the road, with an ERA over six away from AT&T Park.
Manager Bruce Bochy continues to maintain a steady hand in guiding the team, which has been his approach as the Giants' manager. Bochy realizes the baseball season is a marathon, not a sprint, and his solid leadership has proven to be successful.
After two months of the season, let's take a look at the first trimester grades for each player on the team.
All stats are courtesy of Baseball-Reference.com
Begin Slideshow

»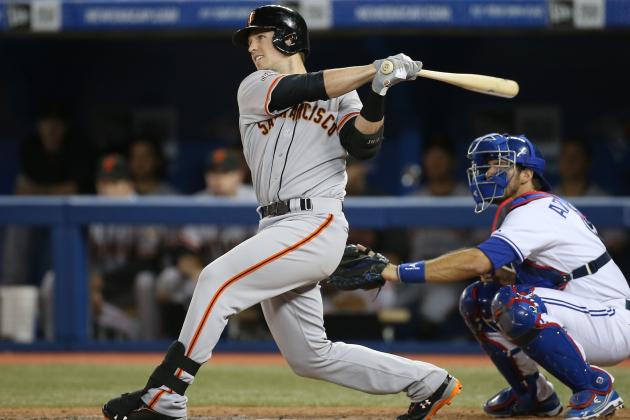 Tom Szczerbowski/Getty Images
Buster Posey is the reigning NL MVP.
Buster Posey is the reigning NL MVP and one of the Giants' team leaders. Although Posey has been solid, he has not been spectacular, save for a few occasions.
Posey is currently hitting .304 with seven home runs and 31 RBI. His OBP of .394 and OPS of .906 both lead the Giants.
Posey has been catching more games than ever, due to the relative ineffectiveness of Hector Sanchez and Guillermo Quiroz. Sanchez was slumping so badly, he was sent down to the minors.
Posey has the responsibility of handling the Giants pitching staff, and because of their struggles, Posey gets downgraded a bit here. He has also only thrown out 21 percent of runners attempting to steal.
Buster Posey Grade: B+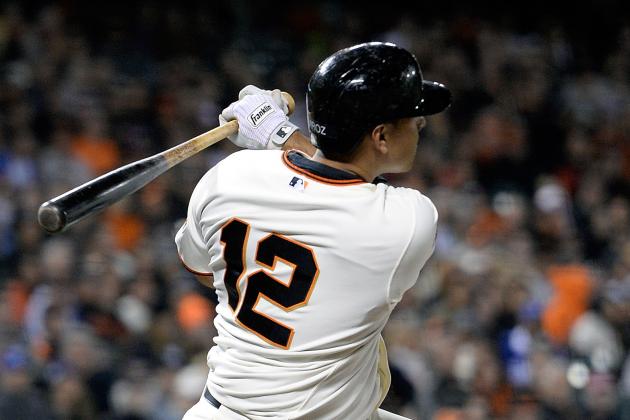 Thearon W. Henderson/Getty Images
Guillermo Quiroz has settled in as the Giants' backup.
Guillermo Quiroz is a journeyman catcher who got his chance when Hector Sanchez came to training camp out of shape and proceeded to get injured.
When the regular season began, Sanchez's poor defense and struggles at the plate earned him a demotion to Fresno, and Quiroz was named the Giants' backup.
Quiroz has played parts of nine seasons in the majors and accumulated a total of 288 at-bats. He has a career average of .205.
In the 2013 season, Quiroz's one shining moment was when he hit a walk-off home run to beat the Los Angeles Dodgers in early May. Outside of that, Quiroz has done little offensively.
Quiroz is currently hitting .194 with the one home run and three RBI. His OBP of .286 and OPS of .673 leave a lot to be desired.
Quiroz is a solid defensive catcher. He handles pitchers well, calls a good game and is a solid receiver.
Guillermo Quiroz Grade: C-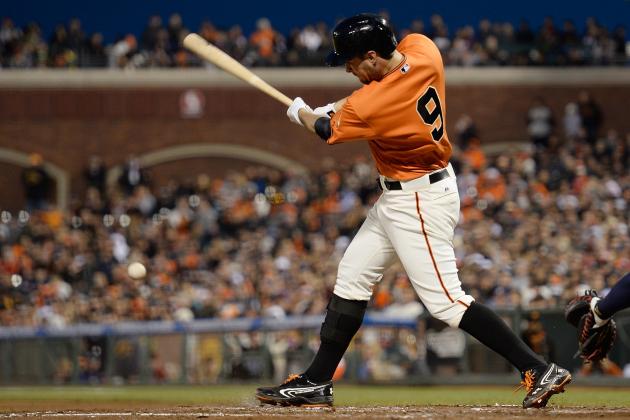 Thearon W. Henderson/Getty Images
Brandon Belt has shown improved consistency at the plate.
Brandon Belt got off to a dismal start in April. He has been picking things up in May and does not have the bewildered look that he frequently had in 2012.
As a first baseman, the Giants want production from Belt, and he has begun to deliver.
Belt is currently hitting .250 with six home runs and 24 RBI. These are not great numbers, but Belt has improved significantly in May.
Defensively, Belt is one of the best in the league. He fields well and has a strong and accurate arm, especially for a first baseman.
At the age of 25, the Giants are hoping that Belt continues to find himself offensively.
Brandon Belt Grade: B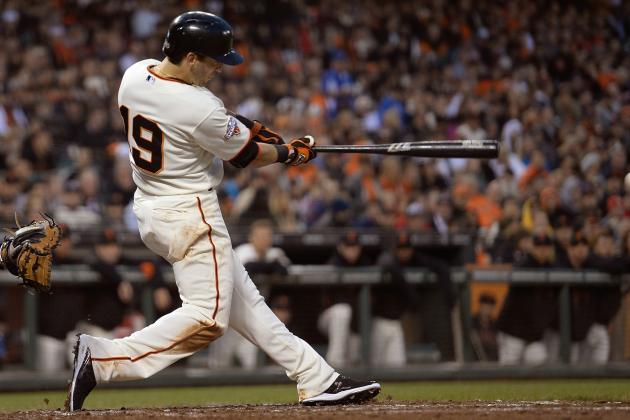 Thearon W. Henderson/Getty Images
Marco Scutaro was the MVP of the 2012 NLCS.
Marco Scutaro got off to a slow start this year but has hit well over the past month. He had a 19-game hitting streak in May which raised his average.
Scutaro is currently hitting .327, which leads the Giants. He has an OBP of .376, and although he has minimal power, a very good OPS of .799.
One area where Scutaro is lacking is with his RBI total of only 12. The Giants need more production from him.
In 61 games with the Giants in 2012, Scutaro drove in 44 runs. Although that level of production is unrealistic, he still should have more than 12 RBI at this stage of the season.
Scutaro has also not played well defensively. He has nine errors, which leads the team.
Marco Scutaro Grade: B
Denis Poroy/Getty Images
Pablo Sandoval was the 2012 World Series MVP.
Perhaps the biggest question for fans of the Kung Fu Panda is whether his batting average will exceed his ever-increasing weight.
Sandoval has been in a recent slump, and his lack of productivity has hurt the Giants offense. In his last six games, Sandoval has gone without a hit in five of those six games. He has just two hits in his last 20 at-bats.
Sandoval's overall numbers are strong. He has a batting average of .286 with eight home runs and 34 RBI. His RBI total leads the team.
Sandoval's OBP of .327 and OPS of .766 are below each of the past two seasons.
Defensively, Sandoval has been solid. He is amazingly nimble around third base, even with his weight approaching 250 pounds.
Pablo Sandoval Grade: B+
Dustin Bradford/Getty Images
Brandon Crawford is maturing as a hitter.
Brandon Crawford has been one of the pleasant surprises for the Giants this year. The Giants had low expectations for Crawford offensively, but he has easily exceeded those expectations.
Crawford is only 26 years of age and developing as an offensive player. He is currently hitting .287 with five home runs and 25 RBI. Crawford's RBI total is significant, especially since he typically bats in the eighth spot in the order.
Defensively, Crawford is outstanding. He is a future Gold Glove winner, and that could even happen after this season.
Brandon Crawford Grade: A-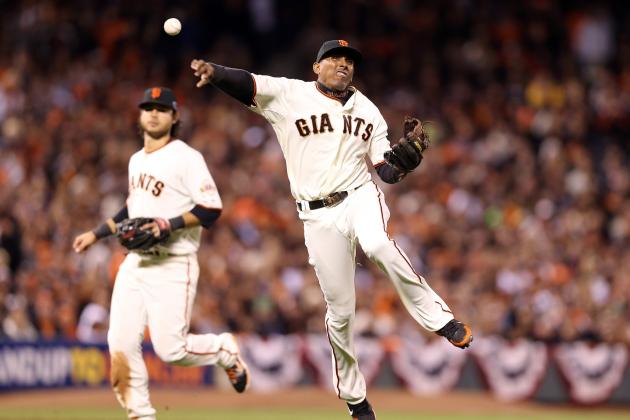 Christian Petersen/Getty Images
Joaquin Arias is a solid utility infielder.
Joaquin Arias got a lot of playing time in the 2012 season as he filled in second, short and third. He got 319 at-bats and hit a very respectable .270.
This season, Arias has appeared in 35 games, but most of those have been as a defensive replacement at third base in the late innings.
Arias has only has 40 at-bats for the season and is hitting .200 with three RBI on the year.
Arias has played well defensively, making no errors on the season in 62 fielding chances. He has played first, third and shortstop this year.
Joaquin Arias Grade: C-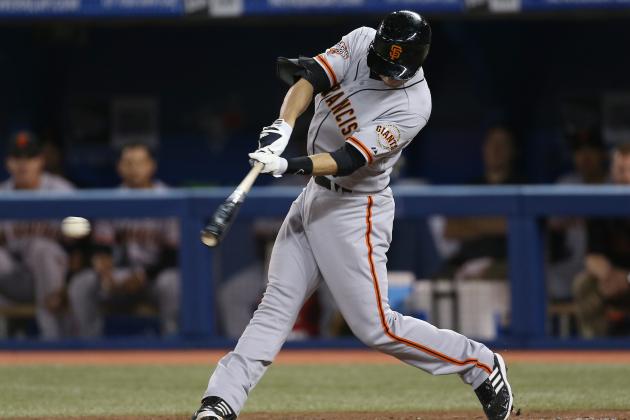 Tom Szczerbowski/Getty Images
Nick Noonan won a utility job out of spring training.
Nick Noonan won the final utility job on the Giants roster. He got off to a good start but has slumped lately. Noonan typically plays second base, and with Marco Scutaro playing well, his playing time has become very sporadic.
Noonan, in 48 at-bats, is hitting .208 with three RBI. His OBP of .255 and OPS of .484 are too low. Noonan is a player that needs to be playing every day in order to be sharp.
Nick Noonan Grade: D+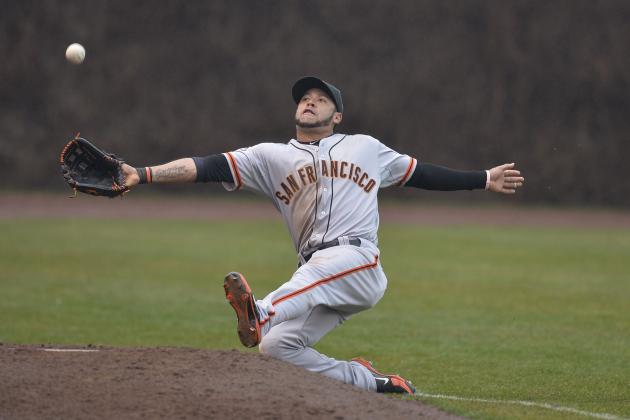 Brian Kersey/Getty Images
Gregor Blanco is an outstanding defensive player.
When the season started, Gregor Blanco was the left-handed platoon option in left field. Facing right-handed pitching, Blanco got the majority of the playing time over Andres Torres.
Blanco has played well, but a 1-19 slump has dropped his batting average down to .259. He has yet to hit a home run and has tallied 16 RBI. His OBP is .320, and he has an OPS of .653.
One area that Blanco could improve on is his steals. Blanco has excellent speed but has only stolen five bases on the year.
Blanco is an excellent defensive player, and his play in the field has helped the Giants win several ball games.
Gregor Blanco Grade: C+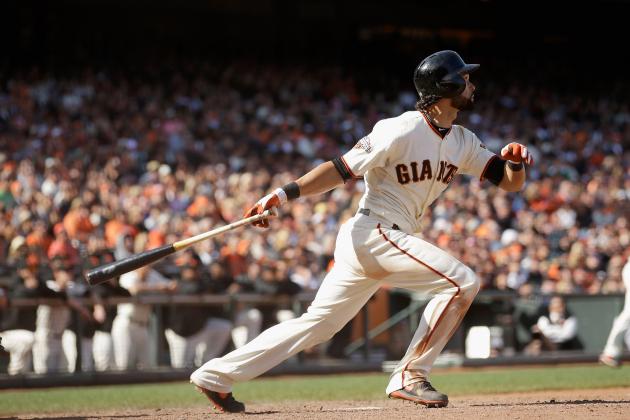 Ezra Shaw/Getty Images
A hamstring strain has put Pagan on the shelf for the past four games.
Angel Pagan was playing well for the Giants when a hamstring strain put him on the shelf. He is considered day-to-day, and the Giants are hoping for his return shortly.
Pagan was one of the offensive catalysts on the Giants' 2012 world championship team. This year, he has not found a consistent groove, but he is the type of player that can get hot very quickly.
Pagan is currently hitting .262 with three home runs, 24 RBI and 30 runs scored. Pagan is also off to a slow start on the bases with six steals, but he has been thrown out four times.
Defensively, Pagan has made some mistakes in the field. His four errors at this point in the season are too many for an outfielder.
Angel Pagan Grade: C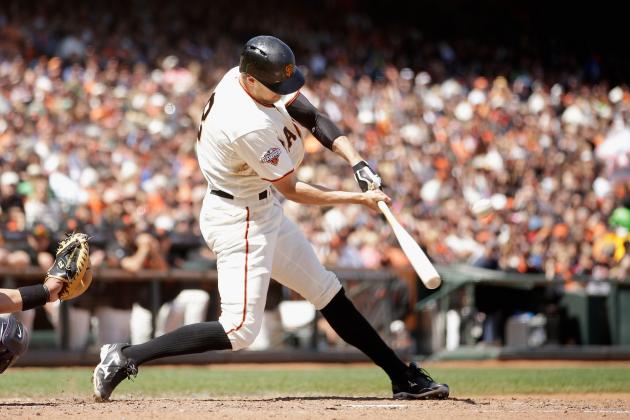 Ezra Shaw/Getty Images
Hunter Pence leads the Giants with nine home runs.
Hunter Pence came to the Giants from the Phillies in a trade deadline deal last year. Although he only hit .219 as a Giant, Pence still drove in 45 runs in 59 games.
Pence became a key man for the Giants in their postseason run. His motivational speeches were legendary and helped to rally the Giants.
This year, Pence has settled in very nicely and leads the Giants with nine home runs. He also has 29 RBI and is hitting .277. Pence has an OBP of .321 and an OPS of .807.
Pence is the only Giant to have played in every game, and his constant hustle and intensity have made him a fan favorite.
Hunter Pence Grade: A-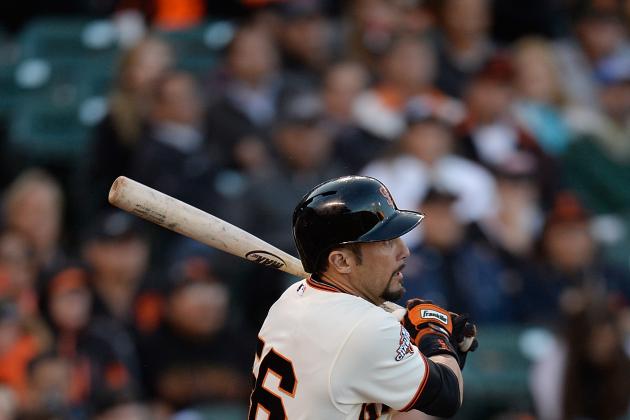 Thearon W. Henderson/Getty Images
Andres Torres was a key player on the Giants' 2010 world championship team.
Andres Torres returned to the Giants after spending one season in New York with the Mets. Torres came into the season as the right-handed batting platoon option in left field.
Torres has 98 at-bats on the season and is hitting .276 with one home run and seven RBI. He has done an adequate job, but the combined production from Torres and Gregor Blanco needs to be better.
With Angel Pagan injured, Torres has seen more playing time and has responded.
Defensively, Torres has made three costly errors that have hurt the Giants, but he is generally regarded as a good defensive outfielder.
Andres Torres Grade: C+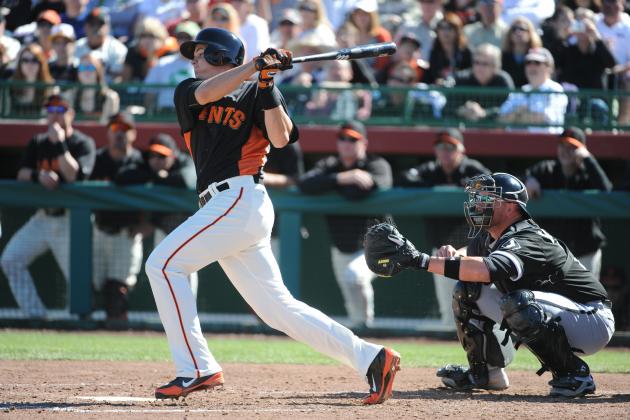 Rich Pilling/Getty Images
Brett Pill has always hit in the minors.
The Giants recently promoted Brett Pill from their Triple-A team in Fresno. He was on fire in the Pacific Coast League, hitting .365 with nine home runs and 47 RBI in 137 at-bats.
Pill has 3 hits in only 15 at-bats heading into Thursday's play.
Brett Pill Grade: Incomplete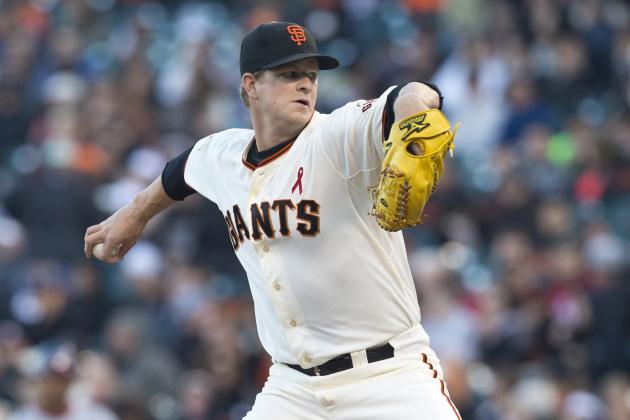 Jason O. Watson/Getty Images
Matt Cain brushed off a shaky start and is pitching well.
Matt Cain is the leader of the Giants starting rotation and the most consistent starter on the team. After some rough outings early on, Cain has settled in quite nicely.
Cain is 4-2 on the year with an ERA of 5.00 and WHIP of 1.185. His ERA inflated when he allowed nine earned runs in a start against St. Louis in early April.
Cain has won his last four decisions, and the Giants have won six straight games that he has started.
In 68.1 innings of work, Cain has allowed 57 hits and 24 walks while striking out 62. He has allowed 13 home runs, which leads the league.
Matt Cain Grade: B+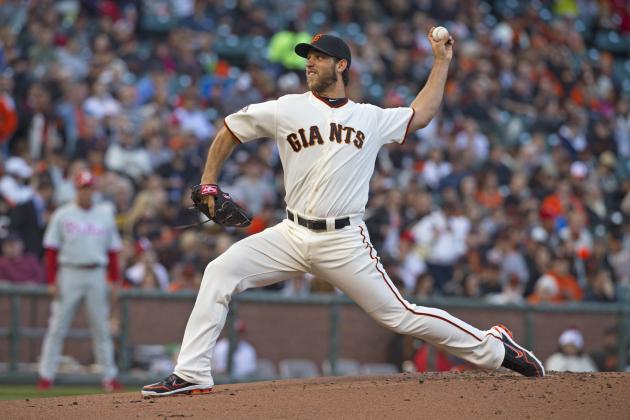 Jason O. Watson/Getty Images
Madison Bumgarner is still only 23 years of age.
On the season, Madison Bumgarner has a record of 4-3 with an ERA of 3.13 and WHIP of 1.042.
However, it has been a tale of two separate months for Bumgarner. He started the season in outstanding fashion, going 3-0 in April with an ERA of 1.55.
However, Bumgarner struggled in May. He allowed 18 earned runs in 31.1 innings. His next start will be on June 1, and he's probably very happy to see the calendar turn.
Bumgarner has an excellent strikeout-to-walk ratio, having struck out 69 batters in his 72 innings while walking just 22.
Madison Bumgarner Grade: B+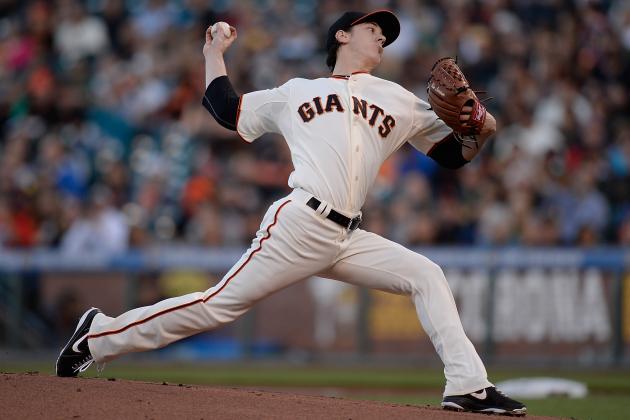 Thearon W. Henderson/Getty Images
Tim Lincecum has pitched marginally better than in 2012.
Tim Lincecum has pitched better this year than last, although he still has had his difficulties. Lincecum has only three quality starts out of 11, and he has not consistently pitched deep into games.
Lincecum has a penchant for throwing a lot of pitches early in games, and that often results in early exits.
Including his start on May 29, Lincecum has thrown 65 innings, allowing 65 hits and 31 walks. Lincecum has struck out 68, but his ERA of 5.12 and WHIP of 1.477 are too high.
Lincecum has won three games, while losing five.
Tim Lincecum Grade: D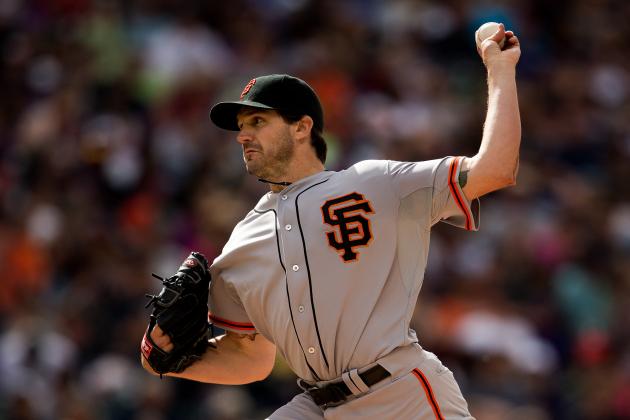 Justin Edmonds/Getty Images
Barry Zito has pitched much better at home than on the road.
Barry Zito has a record of 3-3, but his last three outings have been poor. In those three starts, Zito has thrown 17.1 innings and allowed 30 hits and 14 earned runs.
Zito has pitched well at home, sporting an ERA of 1.38. However, he has been abysmal in his road starts, with an ERA of 10.19.
Overall, Zito has an ERA of 4.13 with a WHIP of 1.518 in 56.2 innings of work. He has kept his walks down, which is essential to his success. Zito has allowed 17 walks while striking out 34.
Barry Zito Grade: C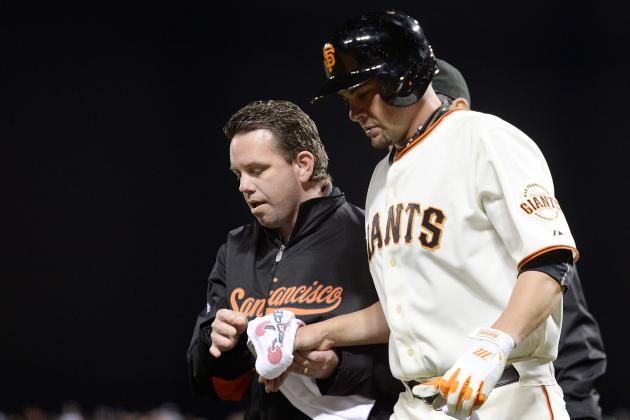 Thearon W. Henderson/Getty Images
Ryan Vogelsong broke his pinky finger and will be out for several weeks.
Ryan Vogelsong was having his best start of the season against the Washington Nationals on May 20, when he broke his pinky finger swinging at a pitch. He had pitched five innings, and for the first time this year, had not allowed a run.
Vogelsong has worked 46.1 innings, allowing 62 hits and 18 walks while striking out 40. He has lost four of his six decisions, with an ERA of 7.19 and WHIP of 1.727.
Vogelsong will be 36 years of age in July and pitched a career-high in innings last year. Including the postseason, Vogelsong threw 214.1 innings, over 34 innings greater than he had ever thrown in any year of his career.
Vogelsong pitched in the World Baseball Classic, which required him to get ready about a month ahead of the other Giants pitchers.
Coupled with the fact that the Giants played until late October in the World Series, Vogelsong did not have the customary downtime that other pitchers enjoyed.
One has to question if this had any effect on Vogelsong's poor start to the season. Vogelsong stresses that his mechanics were off and it had nothing to do with the workload, but still one has to wonder.
Vogelsong is a true grinder and will work extremely hard to get back in the groove when he returns. Expect him back in late June or early July.
Although he is downgraded now, he will have every chance to turn his season around when he returns.
Ryan Vogelsong Grade: F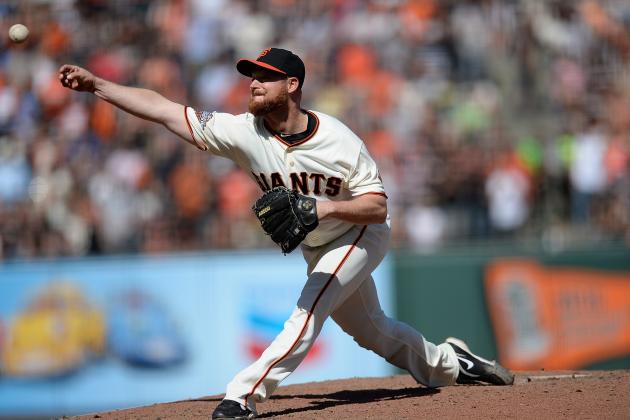 Thearon W. Henderson/Getty Images
Chad Gaudin has done a great job for the Giants.
Chad Gaudin is a 30-year-old journeyman pitcher. In his career, he has pitched for nine different organizations in the big leagues.
He came to the Giants this spring as a non-roster invitee and threw the ball extremely well. The Giants were looking for a long reliever that could give them as many as three innings in an outing. Gaudin has done a tremendous job for the Giants.
In 30.2 innings of work, Gaudin has allowed 24 hits and walked 14 while striking out 28. He has an ERA of 2.05 and WHIP of 1.239.
Gaudin may get his first start of the season against St. Louis on Sunday.
Chad Gaudin Grade: A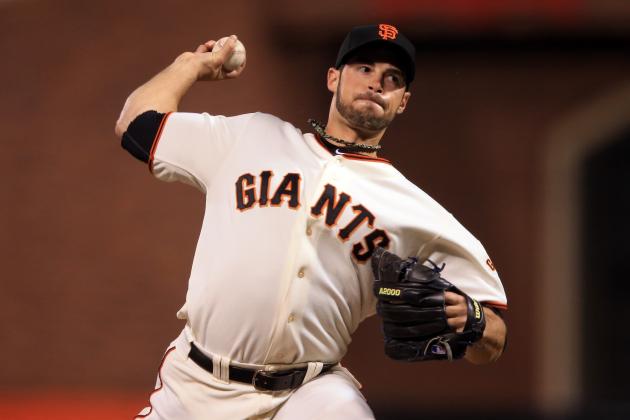 Doug Pensinger/Getty Images
George Kontos was a pleasant surprise for the Giants in 2012.
George Kontos was acquired in a trade with the New York Yankees for backup catcher Chris Stewart prior to the beginning of the 2012 season.
Kontos pitched well last year and was a very pleasant surprise for the Giants. 2013 has not been as favorable for Kontos.
Although Kontos has a record of 2-1, he has been very inconsistent. In 26 innings of work, Kontos has allowed 26 hits and eight walks to go along with 23 strikeouts.
Kontos' ERA is 5.19, and he has a WHIP of 1.308.
With the injury to Santiago Casilla, Kontos can give the Giants a big lift if he can start throwing well.
George Kontos Grade: D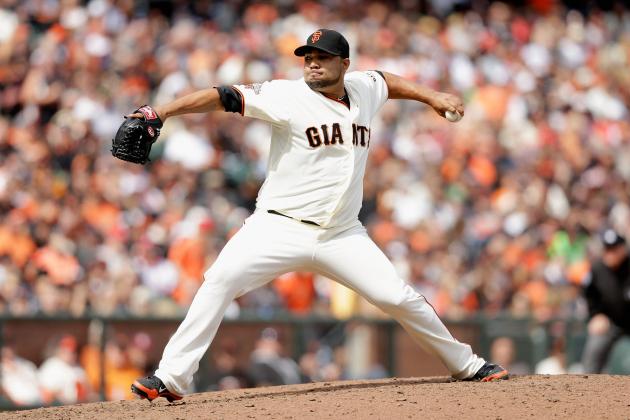 Ezra Shaw/Getty Images
Jose Mijares gives the Giants three quality lefties in their bullpen.
Jose Mijares gives manager Bruce Bochy three left-handed relief pitchers out of his bullpen. In 17 innings of work, Mijares has allowed 23 hits and walked seven while striking out 17.
Mijares has pitched around trouble more often than not, as his WHIP is a very high 1.765, but his ERA is a very respectable 2.12.
Jose Mijares Grade: B-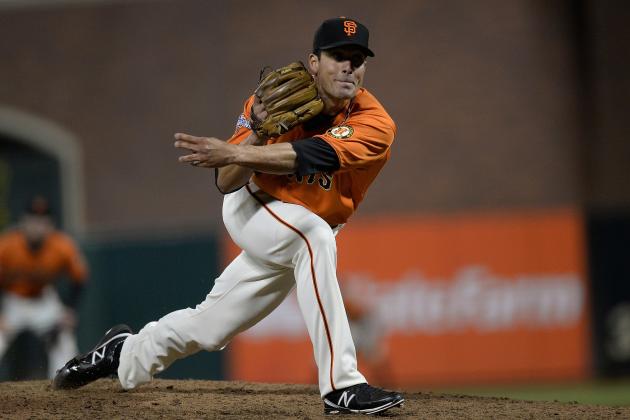 Thearon W. Henderson/Getty Images
Javier Lopez is called upon to get the tough left-handed batters out.
Javier Lopez is your classic lefty specialist. He is typically brought in to get one or two tough left-handed batters out.
Lopez will look at an opposing roster and know that he will be called upon to face hitters like Carlos Gonzalez, Ryan Howard, Andre Ethier and Joey Votto.
Facing some of the toughest left-handed hitters in baseball, Lopez has done a tremendous job more often than not.
In 15 innings this year, Lopez has allowed 14 hits and walked four while striking out 17. His ERA is a very low 1.80, and his WHIP is 1.200.
Javier Lopez Grade: A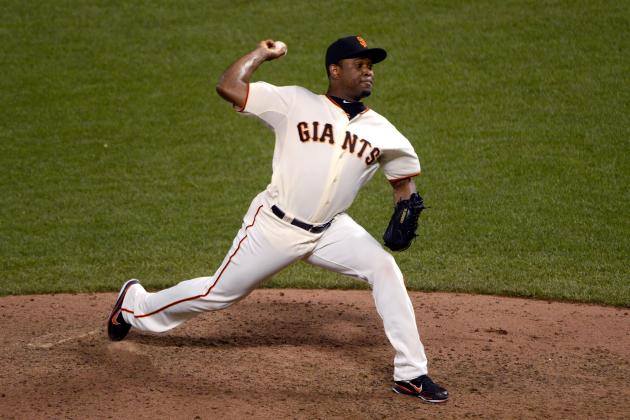 Thearon W. Henderson/Getty Images
Santiago Casilla is on the disabled list.
Santiago Casilla was having a good year when a cyst in his knee flared up, requiring surgery. Casilla is currently on the 15-day disabled list, and his absence has hurt the Giants bullpen.
Prior to his injury, Casilla had thrown 19 innings and allowed only 10 hits. He has walked an alarming 13 batters, while striking out 16. He has three wins to go along with two losses.
Casilla's ERA is a very low 1.89, and his WHIP is 1.211. He will likely return from his DL stint in mid-June.
Santiago Casilla Grade: A-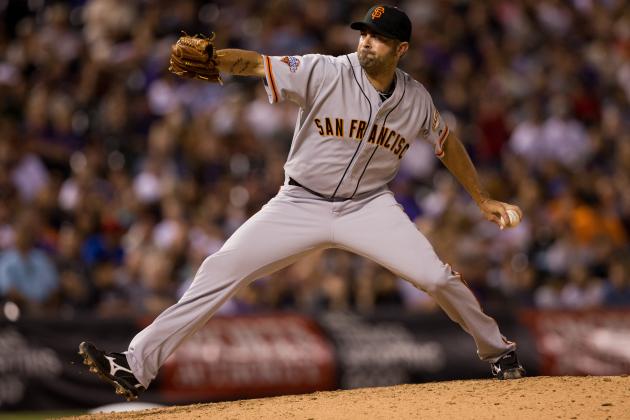 Justin Edmonds/Getty Images
Jeremy Affeldt has thrown well for the Giants.
Jeremy Affeldt has been one of the most consistent relievers for the Giants this season. In 15.1 innings of work, Affeldt has allowed 13 hits and eight walks, while striking out nine.
His ERA is a very solid 2.35 to go along with a WHIP of 1.370.
With the injury to Casilla, Affeldt is usually the setup man for closer Sergio Romo.
Jeremy Affeldt Grade: B+
Ezra Shaw/Getty Images
Sergio Romo has embraced the role as the Giants' closer.
Sergio Romo has converted 13 of his 15 save opportunities. In 21 innings, Romo has allowed 17 hits and walked three while striking out 24.
Romo has an ERA of 3.00 and WHIP of 0.952. Many were concerned whether Romo could handle the closer's job from a physical standpoint, and so far the Giants have been pleased with his durability.
Sergio Romo Grade: A-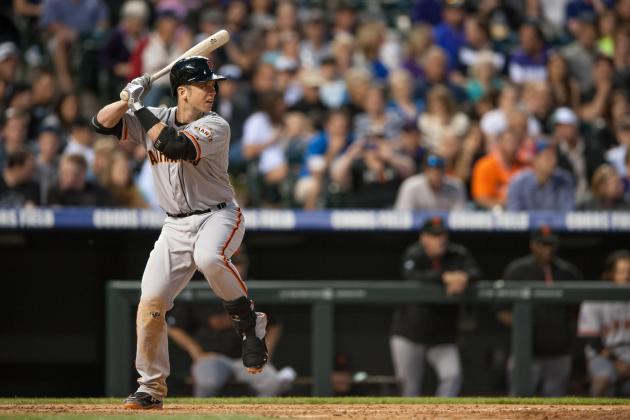 Dustin Bradford/Getty Images
Buster Posey will lead the Giants in the playoff chase.
The San Francisco Giants have lost 10 of their last 15 games and five of their last seven. The starting pitching has been the main culprit, as the Giants pitchers are not getting deep into games. This taxes the bullpen, and the overworked relief corps has started to fade.
With very few grades at the A or A- level, the fact that the Giants are only two-and-a-half games out of first place in the NL West gives them a lot of reason for optimism.
Offensively, the Giants lead the league in batting average and are fourth in total runs scored. This is a major shift from the team that has always relied on its pitching to win games. Now, it is the pitching that has been letting the Giants down.
Injuries to Ryan Vogelsong and Santiago Casilla put more pressure on the Giants pitching staff. With a very tough month of June on the horizon, the Giants have to hold their own as they wait to get healthy.
The good news is nobody is running away with the NL West, so look for the Giants to be in the playoff hunt over the course of the season.
If the pitching improves, the Giants will have the inside track at a playoff berth as they try to defend their World Series title.