And so it begins. Another offseason, another period of intense speculation over where Dwight Howard will play basketball in the coming year.
This wasn't supposed to happen this year. When Howard was dealt to the L.A. Lakers from the Orlando Magic, it felt safe to assume that the star center would ink a long-term deal and become Tinsletown's new darling.
However, no deal was reached during a tumultuous season in Los Angeles, and it's open season on the league's best center. James Harden is going hunting.
HOOPSWORLD's Alex Kennedy shares this information:
James Harden has already been recruiting free agents, including Dwight Howard, to the Houston Rockets. Story: tinyurl.com/pq5eo6s

— Alex Kennedy (@AlexKennedyNBA) May 22, 2013
Where will Dwight Howard play next season?
In his article on the subject, Kennedy does not list any of the other players Harden is recruiting, but he does say that, while the start of free agency is still six weeks away, Harden is calling and texting certain players.
He also adds that, "Most free agents, including Howard, are big fans of Harden's game and have a lot of respect for the up-and-coming shooting guard."
Now, I could sit here and tell you that Harden's recruitment of Howard will be enough to sway the big man to Houston, but I'm not going to speculate on what Howard is thinking. I have no hints at the inner workings of what Dwight is thinking, and I doubt anyone else does. Shoot, Howard might not even know himself.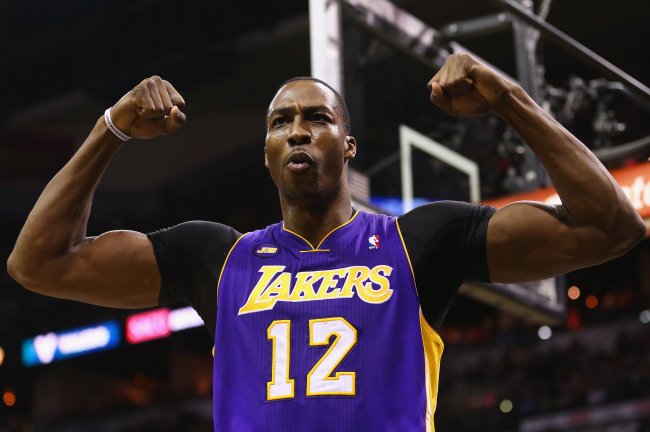 Ronald Martinez/Getty Images
However, no matter what happens with Howard, this is all a tremendous sign for the Houston Rockets.
After signing Harden to a max deal, Harden rewarded the Rockets with a strong season that led him to the All-Star Game, and his team to the postseason.
At 26.3 points per game, Harden was third in the league in scoring.
Now, instead of resting on his accomplishments accrued during his first season as the top dog in a franchise, Harden is already hard at work trying to get his team better.
Harden could easily pass the buck on this job by relying on the front office to improve the roster. Or, he could just complain to the front office that the team is not good enough and make demands.
Instead, he is taking an active role in the process and doing his part.
This is not only a great sign pointing towards the hope that Harden will help the Rockets land an elite talent, but also that the shooting guard is completely invested in this Houston franchise.
It is essential that the star and a leader of the team sells out to win. It sets an example for everyone else in the organization, and it establishes an environment that makes it nearly impossible for anyone else to give less than full effort.
Whether or not the Rockets are able to land Dwight Howard, Houston fans should be excited about a bright future.