Frank Beamer's 4 Biggest Challenges for the Hokies in 2013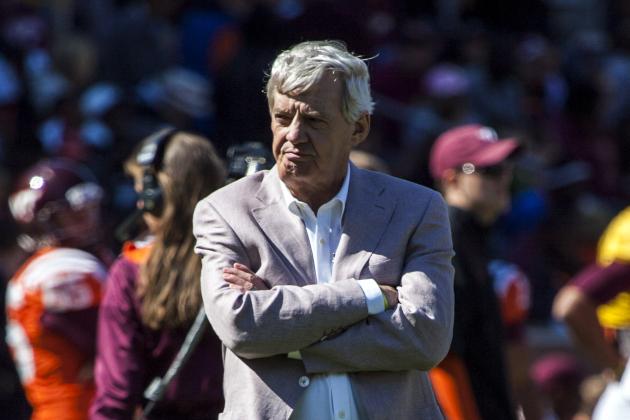 USA TODAY Sports

The Virginia Tech Hokies are coming off an embarrassing 2012. The Hokies finished their worst season in 20 years with a 7-6 record.
The Hokies' biggest issue last season was an offense which finished No. 81 in total offense. As a result, Hokies head coach Frank Beamer reassigned former coordinator Bryan Stinespring and hired Scot Loeffler, who spent last season at Auburn, as the team's new leader on offense.
The Hokies have failed to solve Clemson recently, losing the last three meetings, and in order for them to compete with the Tigers and Florida State, Beamer knew he had put more points on the board. Virginia Tech fans hope Loeffler is the guy to take the Hokies to the next level.
Since entering the ACC in 2004, the Hokies have won the league four times and competed in the conference championship on two other occasions. However, in order to get there in 2013, the Hokies must improve.
Here are four areas that should concern Beamer the most as we stand just over three months away from the season opener against Alabama.
Begin Slideshow

»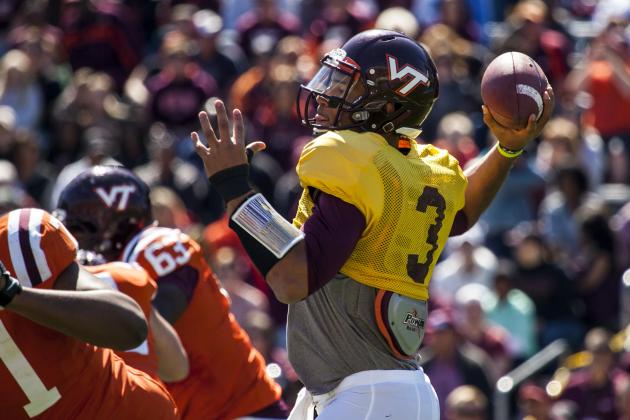 USA TODAY Sports

Senior quarterback Logan Thomas' return to Blacksburg was a big lift for the new offensive coaching staff. Thomas, entering his third year as the starter, had his share of struggles in 2012. He accounted for 27 total touchdowns, but he threw 16 interceptions.
Loeffler has spent the offseason with Thomas working on the quarterback's mechanics. Early returns were not good, however, as Thomas threw for three interceptions in the spring game, two of which were returned for touchdowns.
But it was just a spring game against an excellent defense.
It is time for Thomas to take over the offense and become a more polished passer. His future and the Hokies' season depend on it.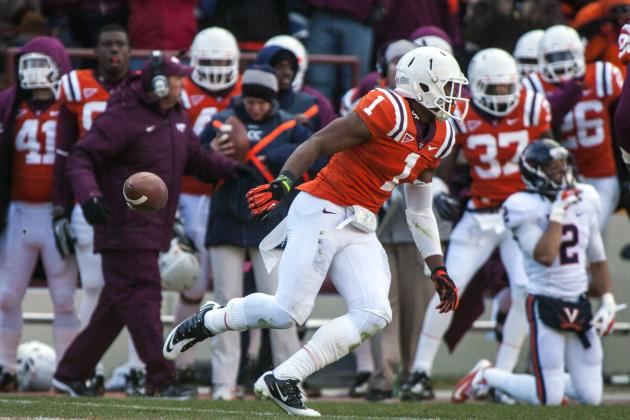 Peter Casey-USA TODAY Sports

Senior cornerback Antone Exum is a great player. Exum was named All-ACC at cornerback in 2012, his first season at the position. Exum spent his first two seasons playing safety, earning honorable mention All-ACC in 2011 as a sophomore.
On January 27, Exum tore his right ACL playing pickup basketball on campus. The early diagnosis for Exum's return was six to nine months. The short end of that would have Exum returning around the first of August.
Did I mention the Hokies play Alabama in late August?
A pair of sophomores, Donovan Riley and Donaldven Manning, received the first chances to step up in Exum's absence. Riley had an interception in the spring game.
Even if Exum plays against Alabama, he won't be at full strength. Fortunately for the Hokies, super freshman Kendall Fuller will be on campus by that time.
Can Beamer trust a true freshman playing in his first game against a two-time national championship quarterback?
By all accounts, the Hokies will have a terrific defense in 2013. But this is one area Beamer will worry about for much of the season.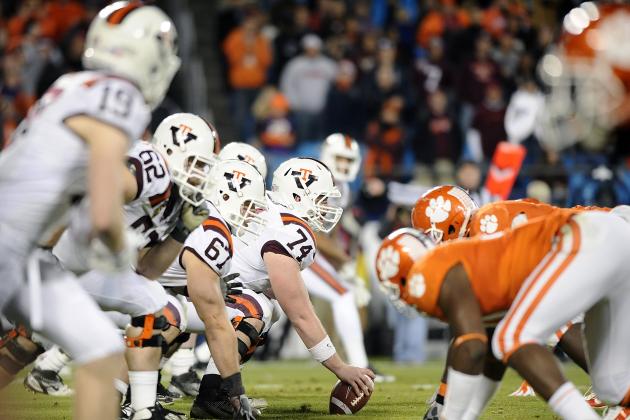 Jared C. Tilton/Getty Images

Beamer's once-proud running game suffered mightily in 2012. The Hokies finished No. 79 in rushing offense last season.
The biggest reason for this was a lack of continuity and consistency from the offensive line. Senior offensive tackles Vinston Painter and Nick Becton were the only constants last season—and now they're gone.
Former offensive line coach Curt Newsome inexplicably rotated the three interior offensive linemen throughout the season and the team could never find the best five. Offensive line play relies on cohesion.
Newsome is gone and Jeff Grimes is the team's new offensive line coach.
Grimes made Hokie fans happy in January when he said this: "What I'm worried about is developing the toughest line in the ACC."
Grimes has made it clear he won't choose his five best linemen based on star rankings, but by who works the hardest. This proved to be a fact when true freshman and early enrollee Jonathan McLaughlin worked with the first team at left tackle this spring.
If the Hokies cannot run the ball in 2013, then it will look a lot like 2012.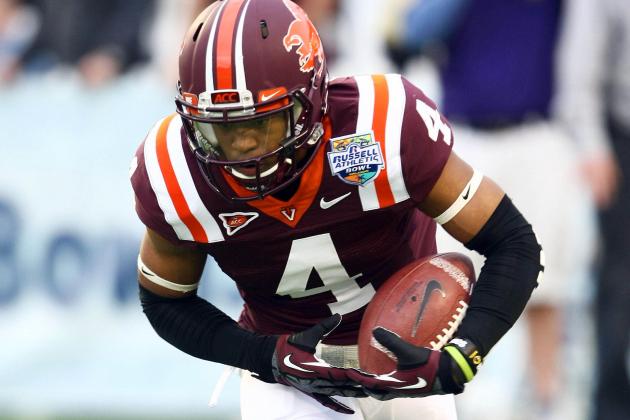 Douglas Jones-USA TODAY Sports

In 2012, the Hokies lost the top two wide receivers in school history. Now, the Hokies must replace the top three pass-catchers from last season.
Freshman wide receiver Joshua Stanford looked like a capable replacement in the spring game. Stanford appeared to have the trust of Thomas both on short routes and down the field.
Senior D.J. Coles, all 6'4", 238 pounds of him, is atop the team's depth chart at wide receiver for the moment. Coles has struggled with injuries throughout his career. He is a big, reliable target who runs crisp routes. Can he stay on the field in 2013?
Sophomore Demitri Knowles had a promising freshman campaign. He caught 19 passes for 240 yards, including a big 42-yard touchdown reception against Georgia Tech. Knowles has blazing speed and is an asset in the return game, but he did not stand out in the spring.
The door is open for several young players at wide receiver. This has to concern Beamer with a questionable running game.
Look for sophomore running back J.C. Coleman, the team's top offensive weapon, to be featured prominently in the passing game. The coaches would be wise to get Coleman in space with one-on-one matchups.
With juniors Ryan Malleck and Zack McCray at tight end, the Hokies appear to be in a good position here. Will Loeffler feature them? Thomas threw to them often in the spring game, and both could be in for big seasons in 2013.