Virginia Tech Football: Ranking the 5 Best Offensive Weapons for the Hokies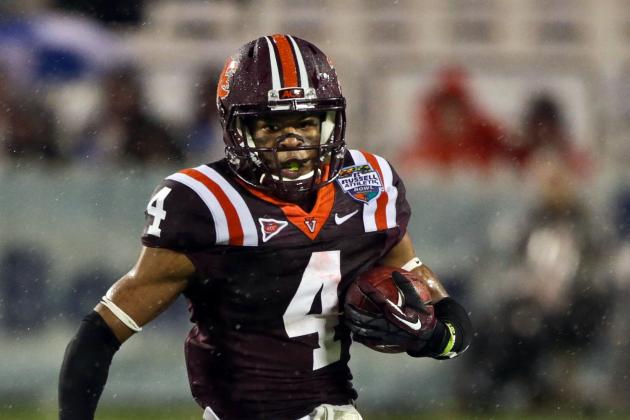 Rob Foldy-USA TODAY Sports

The Virginia Tech Hokies were terrible on offense in 2012, finishing No. 81 nationally. Head coach Frank Beamer's once-vaunted rushing attack was ranked No. 79 and averaged only 3.7 yards per carry.
Clearly, something had to change.
Beamer appointed former Auburn and Temple offensive coordinator Scot Loeffler as the man to replace longtime OC Bryan Stinespring, and though he has his work cut out for him, Loeffler doesn't have to start anew at quarterback with Logan Thomas returning for his final season in Blacksburg.
Despite the widespread struggles of 2012, the Hokies do have talent on the offensive side of the ball. But is Loeffler and Thomas the right combination to make it work?
More importantly, will new offensive line coach Jeff Grimes lift his unit's play and make room for a talented group of running backs?
Here are the Hokies' top-five weapons on offense for the 2013 season.
Begin Slideshow

»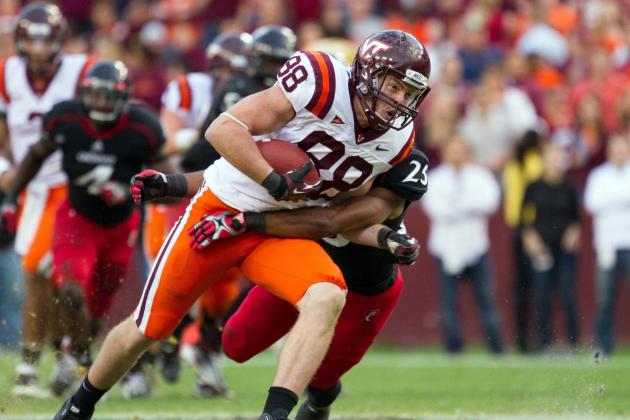 Paul Frederiksen-USA TODAY Sports

Ryan Malleck, the incumbent starter at tight end, shares this spot with his backup, Zack McCray. Both juniors were extremely impressive in the spring game, combining for seven catches and 110 yards. McCray finished with four receptions for 65 yards, while Malleck hauled in an impressive 30-yard touchdown reception.
McCray, Logan Thomas' first cousin, is in his first season at tight end after having been a defensive end previously.
The Hokies haven't always been known as a school that features tight ends prominently, but that might change with so many question marks at receiver. Malleck and McCray are different types of players that feature diverse skill-sets.
Thomas needs to find players he can trust. If the spring game is an indication, he believes in both Malleck and McCray, and that should pay dividends come August.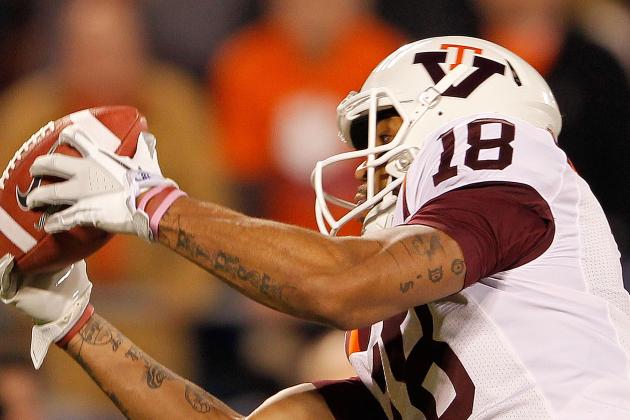 Mike Ehrmann/Getty Images

Senior receiver D.J. Coles is entering his fifth season as a Hokie. Coles was expected to be a starter in 2012, but suffered a season-ending injury in the Georgia Tech game.
He will be counted on again in 2013 as the Hokies' lost their top three receivers from last season to graduation.
At 6'4" and 238 pounds, Coles looks the part of a tight end (even though he looked a bit too big this spring), and the Hokies are moving him around on offense in order to create mismatches with his size.
Thomas trusts Coles, and he'll have a big season in 2013 if he can stay healthy.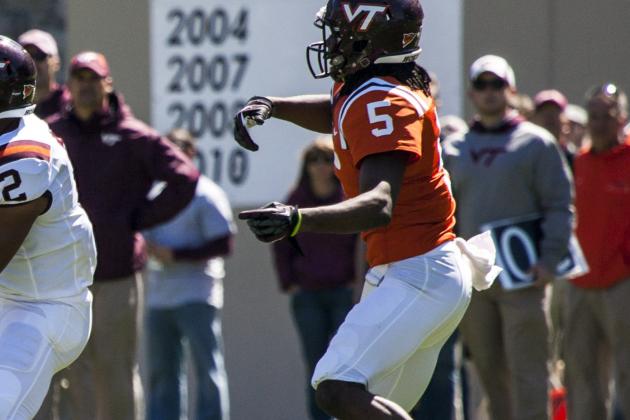 USA TODAY Sports

Redshirt freshman receiver, Joshua Stanford, has enjoyed a successful spring with the Hokies. He capped it off with a good performance in the spring game, leading the team with 86 yards receiving, and appeared to have emerged as Logan Thomas' favorite target.
Sophomore Demitri Knowles had a very promising freshman campaign in 2012 and looked like the team's top playmaker. However, with an opportunity to start opposite of Coles at wide receiver, Knowles hasn't been able to unseat Stanford.
By the time August comes around, either of these two could be starting at wideout. Stanford's recent work indicates that he is firmly in the lead, as he shows the ability to be a reliable possession receiver in addition to making plays down the field.
Stanford has a nice future for the Hokies and it begins in 2013.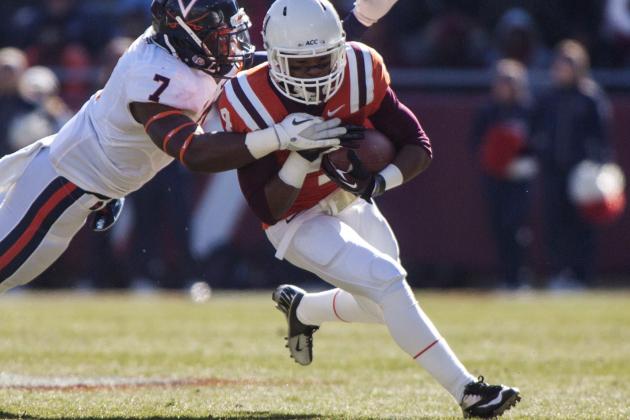 Peter Casey-USA TODAY Sports

Sophomore running back, J.C. Coleman, has had an impressive freshman season. Coleman led all Hokie running backs with 492 yards rushing and also caught 21 passes for 132 yards.
Despite his size (5'8", 177 pounds), Coleman is a very physical runner. Most young runners want to bounce everything to the outside, but J.C. showed a knack for running between the tackles. The only problem, there weren't many holes to run through in 2012.
Coleman has blinding speed, and is best served being a change-of-pace runner where fewer snaps could create more opportunities for bigger plays.
Redshirt freshman, Trey Edmunds, is the perfect complement to Coleman. He is much bigger at 6'1", 212 pounds, but equally as fast. The two could become an excellent duo, something Hokies fans are accustomed to seeing in the backfield. Remember, Darren Evans, Ryan Williams and David Wilson were all in the same backfield at one time.
Don't be surprised if Coleman leads the team in all rushing categories in 2013. He's that good. J.C. may be the most important player on offense besides Logan Thomas.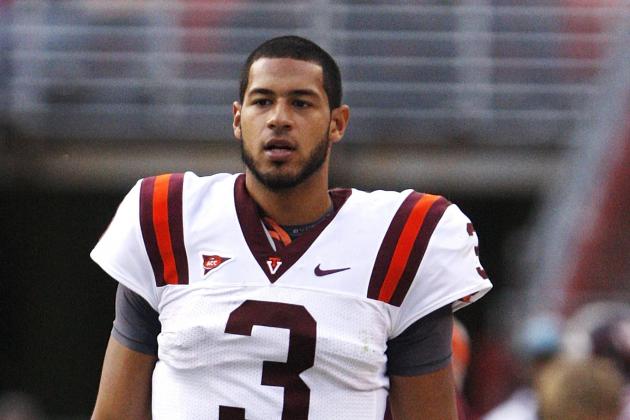 Jonathan Ernst/Getty Images

Plain and simple, the Hokies' 2013 season hinges on Thomas and how he bounces back from an uneven 2012.
Sure, Thomas led the team in rushing last season. But, he also threw 16 interceptions. He broke his own school record (set in 2011) for total offense; however, you never want your quarterback leading the team in rushing.
Part of the reason Scot Loeffler was brought in as offensive coordinator was to get the best out of Thomas. At 6'6", 257 pounds, he is everything the NFL wants in a quarterback. In addition to his outstanding size, Thomas possesses tremendous athleticism and a rifle of an arm. When you have the type of size/speed combination that Thomas does, it's hard not to be your team's top weapon.
In two years as the team's starter at quarterback, Thomas has 20 rushing touchdowns. That trend will likely continue. A quarterback with the ability to throw and run inside the red zone is a luxury many teams don't have. Thomas just needs to improve his accuracy, and the Hokies will see a lot more of the red zone.