Projecting Indianapolis Colts' Most Heated Roster Battles This Offseason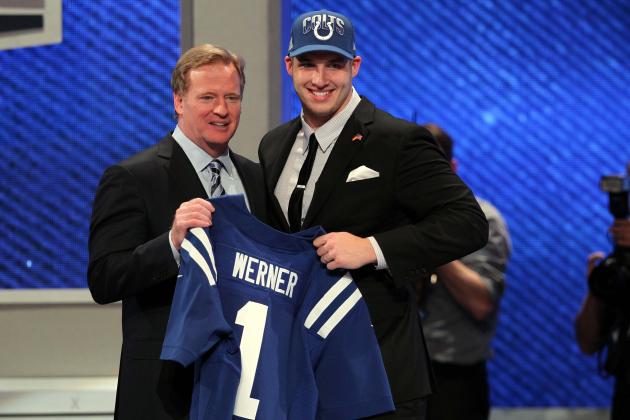 Brad Penner-USA TODAY Sports

The Indianapolis Colts will head into the 2013 season with a few spots on the depth chart that will be up for grabs. The big question that fans will be asking before the season begins is: "Who will win these spots on the roster?"
The Colts brought in plenty of new faces to compete for these spots on the depth chart. They were able to recognize their weaknesses from 2012 and came out aggressively this offseason in order to try and address them. It will be interesting to see which new players will come in and take starting jobs, and which ones will be sitting on the sidelines.
The biggest roster battles are based off of talent along with a specific player's potential to make an impact during the 2013 season. For players that are not new to the team, projecting the winner is also based off of their previous performances with the team.
Begin Slideshow

»
Thomas J. Russo-USA TODAY Sports

The Colts are in an interesting position by having two potential starting running backs. Both Donald Brown and Vick Ballard could potentially start in Week 1.
The concern with Brown is all of the injuries that he has had. He played in only 10 games last season, and an injury to his ankle led to the team putting him on IR. Before the injury, he was able to make some plays, but his tendency to try and break a lot of runs to the outside led to some bad plays.
On the other hand, Ballard began to develop nicely in 2012. He found his groove in the middle of the season, and began making some big runs. Even as a rookie, Ballard showed a lot of maturity and could become a long-term option for the Colts.
There's too much to like about Ballard, and there are more concerns for Brown. It will be a tough battle, but Ballard has the potential to become a big name in this offense.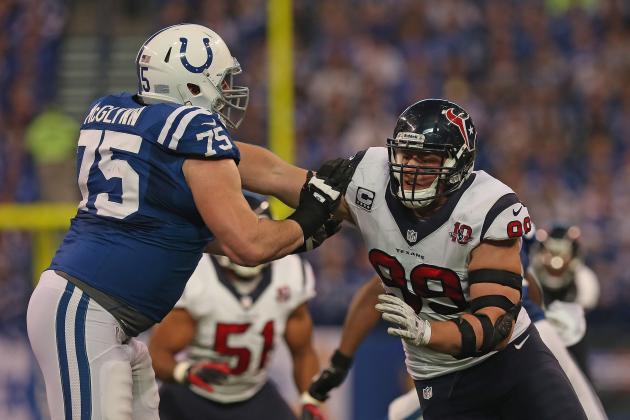 Jonathan Daniel/Getty Images

The addition of Donald Thomas means that at least one of the starting jobs at the offensive guard position is already filled. The other offensive guard spot will be up for grabs between Mike McGlynn, Joe Reitz and Hugh Thornton.
The offensive line was in shambles last season, with Andrew Luck being sacked 51 times and pressured even more. McGlynn started all 16 games, but he struggled mightily the whole season. According to Pro Football Focus, McGlynn had an awful grade of -25.1. He was dominated in both the running game and the passing game. For Reitz, he started eight games, but he was pushed around as well.
The unknown heading into camp will be Thornton. The Colts selected him in the third round out of Illinois this year, and he showed promise in college. He was an aggressive blocker in the Big Ten last season, and he showed promise in the Senior Bowl.
This will be a tough battle, but Thornton should get the other starting job at guard. He hasn't been tested at the pro level yet, but it's unlikely that he could get pushed around as much as McGlynn and Reitz did in 2012.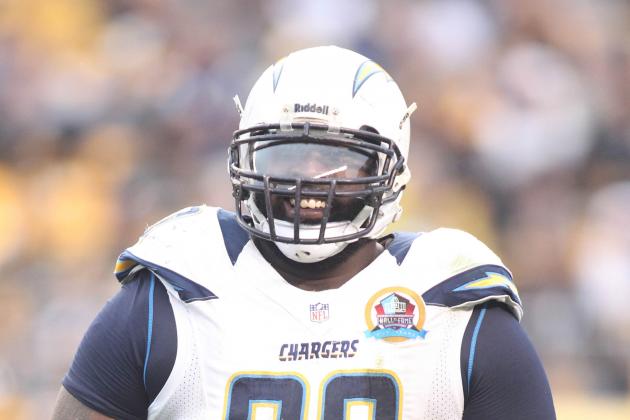 USA TODAY Sports

Having a 3-4 defense makes for an interesting situation along the defensive line this offseason. An interior presence is needed, and the Colts have a number of guys that could start at nose tackle.
Aubrayo Franklin is an established veteran in the NFL. He was recently with the San Diego Chargers, and he was a solid player against the run. He was able to fill running lanes and give his linebackers the opportunity to make plays.
Josh Chapman was unable to play in his rookie season last year due to injuries after a successful college career at Alabama. Assuming he's healthy and ready to go in 2013, there will be high expectations for the young player. After missing all of 2012, the hype surrounding Chapman has become quite overwhelming.
The Colts brought in another defensive lineman in Montori Hughes via the draft this offseason. He had a mean streak and played with a lot of intensity at Tennessee-Martin, but his attitude and work ethic have been called into question.
The Chapman hype will likely make the Colts give him a shot. This might be the biggest battle of the offseason, but Chapman will likely be the most motivated to win the starting job.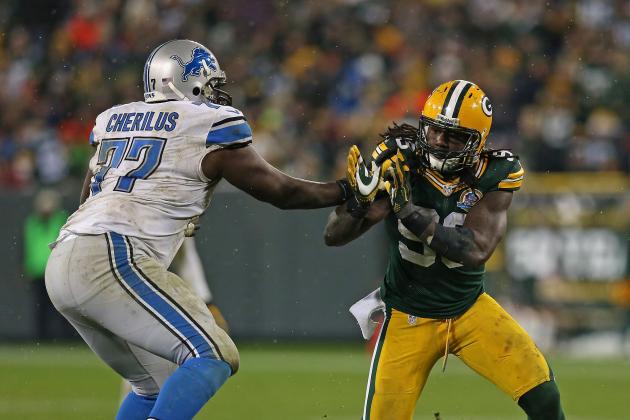 Jonathan Daniel/Getty Images

Robert Mathis is going to start as one of the outside linebackers in this 3-4 defense; just hearing that still sounds strange after years of Mathis dominating as a defensive end. What will be interesting to see is who the Colts start opposite of Mathis.
Erik Walden was brought in to set the edge and be a solid contributor for the Colts defense. He struggled in 2012 with the Green Bay Packers, but he showed flashes at times over his career. The biggest problem with Walden is consistency, but if he can become a more consistent player, he could be very good.
The big name heading into 2013 for the Colts is Bjoern Werner, and he will be challenging Walden for a starting spot. He is still a raw prospect, but he is a very impressive pass-rusher. He will need time to develop, but he has the upside to be a Pro Bowl-caliber player in the NFL.
For now, it feels like Walden will be the starter, but Werner will come in on passing situations. Expect Werner to be on the field, but Walden to be on defense for the majority of the snaps.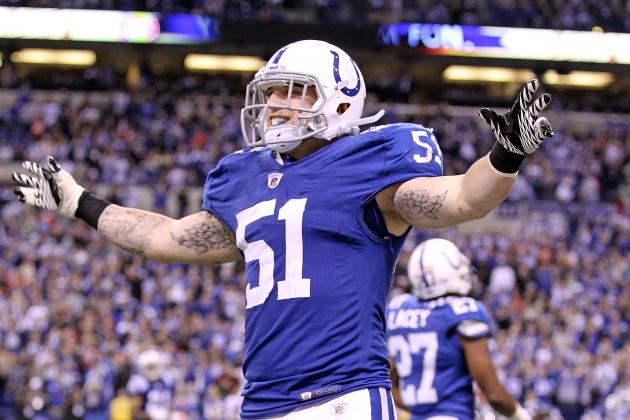 Andy Lyons/Getty Images

The addition of Kelvin Sheppard will provide even more competition for the inside linebacker position, and the starters will have to really earn the job in 2013.
The Colts acquired Sheppard from the Buffalo Bills on April 29. He certainly is good in coverage, but he has struggled against the run during his career. In a 3-4 defense, it's hard to like Sheppard as a starter on the inside.
Things get interesting when looking at Jerrell Freeman, Pat Angerer and Kavell Conner.
Freeman became a big name, being a former CFL player before joining the Colts. He made plenty of plays in 2012, including a pick-six against the Chicago Bears in Week 1. With 145 total tackles last season, it's safe to say that he had a nose for the ball.
After a big season in 2011, Angerer missed time due to injury last season. Once he came back, he wasn't quite the same, and he didn't make as big of an impact. Hopefully, he can be fully healthy and ready to compete to start the season.
While Angerer was out, Conner did a good job starting with Freeman on the inside. He was pretty solid against the run last season, too, and he could develop further this year.
As far as the two starters go, it could be a repeat of 2012 with Conner and Freeman. Angerer will have to prove that he can make an impact like he did in 2011 in order to win the starting job. All three of these guys can make plays, so they will all likely see action.