Keys for Golden State Warriors to Beat San Antonio Spurs in Second Round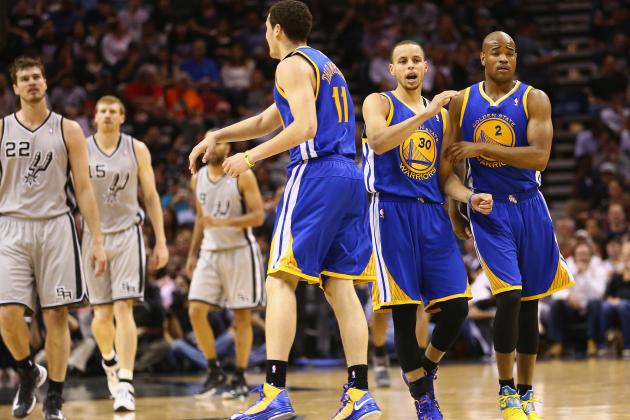 Ronald Martinez/Getty Images

After knocking out the Denver Nuggets in six games, the Golden State Warriors have split the first two against the San Antonio Spurs in Round 2.
While the Nuggets and Spurs are vastly different teams, the first two games against San Antonio have been surprisingly similar to the first two against Denver.
In both Game 1's, the Warriors lost a heartbreaker on a last-second shot. Both shots were hit by aging guards (Andre Miller and Manu Ginobili), and both old men used their experience to get wide open at the expense of a rookie defender (Draymond Green and Harrison Barnes).
In both Game 2's, Golden State responded to the adversity and the notion that they may have blown their best chance to "steal" a road game by seizing the next one. No steal was necessary; the Warriors were the better team and knocked off an incredibly tough home team.
Now the series shifts back to Oakland. While this was enough to lead the Warriors past Denver—the Nuggets lost all three times in Oakland—the Warriors cannot rely on their home-court advantage to carry them past the Spurs.
Here is what Golden State must do in order to beat the Spurs in what is now a five-game series.
Begin Slideshow

»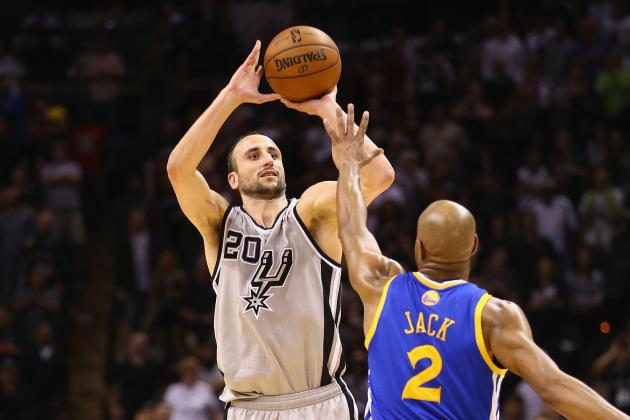 Ronald Martinez/Getty Images

In Game 1, San Antonio shot 50 percent from three-point range, draining 13-of-26 shots. They hit 5-of-6 late in the fourth quarter and in both overtime periods, including Manu Ginobili's game-winner.
Had the Spurs been held to their average of 37.6 percent, the Spurs would have come up short.
In Game 2, the Spurs dropped off to 23.8 percent, knocking down only five of their 21 attempts. The Warriors won the game 100-91, but had San Antonio shot their average percentage, they'd have made eight and the game would have gone into overtime.
Of course, these "what-ifs" are not how the game works, but moving forward, it appears as though San Antonio's three-point shooting will play a huge role in this series.
A big part of this is luck. Denying any NBA team perimeter shots for four quarters is difficult, and denying these looks to Gregg Popovich's offense is impossible. Some nights deep shots will tingle twine, some nights these heaves will bang iron. The latter was the case for San Antonio in Game 2.
Still, the Spurs have gotten too many good looks at threes through two games. If it holds that the Spurs go as their shooting goes, an improved defensive effort on the perimeter will go great lengths to help Golden State advance.
Ezra Shaw/Getty Images

The Spurs are a deep, cohesive unit, but Tony Parker, Tim Duncan and Manu Ginobili are the three vital cogs.
If the Warriors can limit the impact these three make, they have an excellent chance to win the series. As good as Kawhi Leonard, Danny Green and Tiago Splitter are, San Antonio has no one past their big three who can create their own offense or facilitate.
Golden State, on the other hand, has several facilitators. After Stephen Curry, they have Klay Thompson, Jarrett Jack and Harrison Barnes, all capable of getting to the rim, stopping and popping and collapsing the defense. Jack and Thompson are far better secondary facilitators than anyone on the Spurs.
Still, Parker, Duncan and Ginobili are all so good and so experienced that they can overpower the Warriors by themselves.
The Warriors have done a great job neutralizing Parker so far. They've put their best defenders on him, holding him to his average on below-average shooting.
They've also attacked the undersized Parker at the other end. San Antonio cannot hide Parker defensively because of the Warriors' aforementioned plethora of ball-handlers and penetrators.
Duncan and Ginobili have not been dealt with as soundly. Each has been using their savvy and skill to dominate their defenders.
Luckily for Golden State, neither has been knocking down their shot with consistency, and thus the Warriors got out of San Antonio with a split and nearly a 2-0 series lead.
Figuring out how to deny these two looks needs to be a central focus moving forward, because Popovich is sure to go to them more frequently the more he sees Golden State giving them open looks.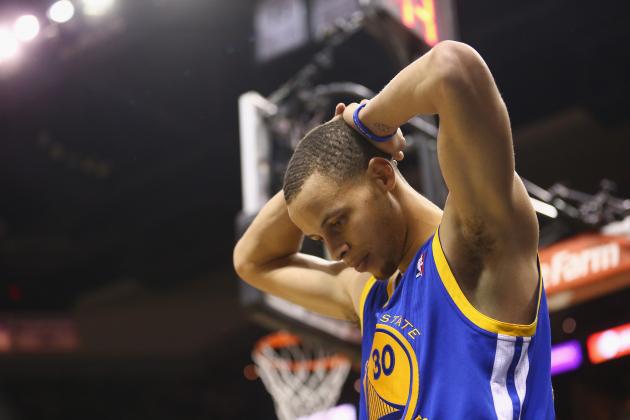 Ronald Martinez/Getty Images

The Warriors have been very good this postseason. In many phases of the game, they've been great. So great, in fact, that they've managed to go 5-3 in eight games against 57- and 58-win teams despite their apparent inability to maintain possession at critical times within a game.
The Warriors committed 17.8 turnovers per game in Round 1. It's almost impossible to understand how a team turns the ball over 18 times a night and wins a playoff series, especially when the opponent is arguably the league's most deadly team in transition.
But Denver had deep flaws of their own. They were mediocre defensively, terrible from three-point range and a sub-par road team.
San Antonio doesn't have these issues. The Spurs can score inside and outside. They can defend the paint and the perimeter. They can win at home and on the road.
If the Warriors give away 18 extra possessions a game to a team that is tough enough to beat as is, this series will become an incredibly steep uphill climb.
In Game 1, Stephen Curry went for 44 points, the Warriors had six players score in double figures and out-rebounded the Spurs by 10, but lost. In Game 2, Curry went for 22, only four players scored in double figures and the rebounding battle was almost even. Yet Golden State won handily.
In Game 2, the Spurs made strong adjustments to their defense and to their effort level as the game went on, just as they did in Game 1. Yet they were able to erase a 16-point lead during a four-minute span in Game 1, and never made it within five during the entire second half of Game 2.
The reason? Golden State committed 21 turnovers in Game 1 and nine in Game 2.
Stephen Curry is at the top of the NBA these days. The Warriors have the offense, defense, depth, size, talent, hustle, heart and chemistry to get past the Spurs. Mark Jackson is arguably the most effective coach in the league right now.
Turnovers—possessions in which the offensive team has a zero-percent chance at scoring—negate all of this.