Projecting the 2013 Impact for Each Philadelphia Eagles 2013 Draft Pick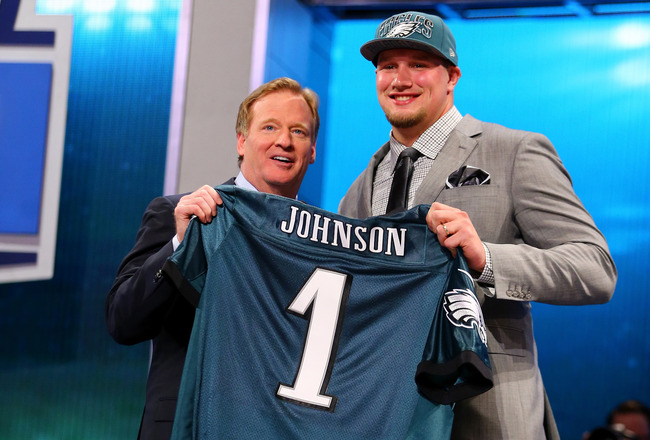 Al Bello/Getty Images
Chip Kelly's first draft as the head coach of the Philadelphia Eagles is complete. The Eagles made eight selections, including the fourth overall pick in the first round.
The goal for the 2013 season is simple. The Eagles need to show some sign of improvement over the disastrous 2012 year that saw the team lose 11 of its final 12 games, including eight in a row.
A strong free-agency period and a relatively solid draft class should help the Eagles return to at least mediocrity next season. With the NFC East now one of the league's weakest divisions, don't be at all surprised to see the Eagles compete for a playoff spot.
The following slides will highlight the expected production by the team's eight draft picks.
Round 1: Lane Johnson, Offensive Tackle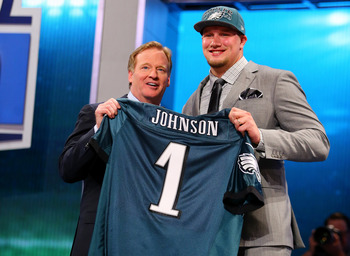 Al Bello/Getty Images
To describe Lane Johnson as a gamble is an accurate statement. Just two months ago, nobody would have given the Oklahoma tackle a chance at landing with the Eagles in the top of the first round. But Johnson's stock value quickly rose, and the Eagles grabbed the athletic lineman to bolster their offensive line.
Johnson will likely be plugged in immediately at right tackle, allowing veteran Todd Herremans to slide in to right guard. Expect Johnson to play well enough in training camp and the preseason to actually keep the job, unlike Danny Watkins two summers ago (and Danny Watkins last season).
Johnson will likely experience some of the usual growing pains for a rookie, especially against a team with a dominant pass-rusher like the Giants and Cowboys, but he'll improve as the season goes on.
Prediction: 16 games, 3 sacks allowed, 1 tackle-eligible touchdown
Round 2: Zach Ertz, Tight End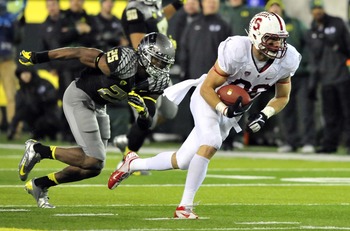 Steve Dykes/Getty Images
Zach Ertz was a surprise choice at the top of the second round. I love it though. Brent Celek has disappointed over the past three seasons, and he appears to be on the decline, even though he's just 28.
Ertz is a big, physical mauler who has been compared to Jason Witten. He'll excel in the red zone, which has been a major weakness for the Eagles in the past few seasons. He's also skilled enough to line up at tight end, receiver or even in the backfield. He's not your typical tight end.
I expect Ertz to take the starting job away from Celek early in the season. But with at least three tight ends, and possibly four, on the roster, don't expect any one of the four to catch 75 passes.
Ertz should post solid numbers but it'll be lower than many expect.
Prediction: 34 catches, 389 yards, 5 TDs
Round 3: Bennie Logan, Defensive Lineman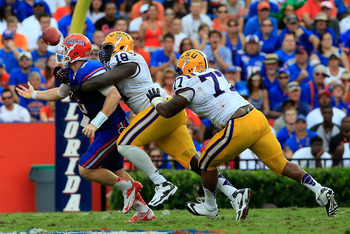 Sam Greenwood/Getty Images
Bennie Logan seems like a classic Chip Kelly type of player. I don't expect him to play just defensive tackle or defensive end. He's a hybrid player and I expect him to rotate between the two positions.
He does have a chance to start opposite Fletcher Cox at defensive end if he impresses in the preseason. If he can see the field for 25 snaps per game, he's having a productive rookie season.
Prediction: 16 games, 31 tackles, 4 sacks
Round 4: Matt Barkley, Quarterback
Harry How/Getty Images
I think the former USC superstar beats out veteran Michael Vick and last year's rookie Nick Foles for the starting job in training camp. In fact, I think Kelly trades Vick to the Jets in the preseason, making the quarterback competition essentially a two-person race. I'll put my money on the player specifically chosen by the new head coach, despite Foles' solid performance with limited surrounding talent last season.
Barkley starting in Week 1 makes sense in this generation, where rookie quarterbacks take the field immediately instead of riding the bench for two or three seasons.
If he manages to win the starting job by Week 1, I don't expect him to last the full season without getting injured or benched. I think there will be some growing pains.
Prediction: 12 games, 171-303 (56.4 percent), 2,214 yards, 13 TDs, 11 INT, 78.7 passer rating
Round 5: Earl Wolff, Safety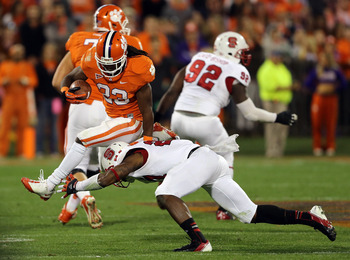 Streeter Lecka/Getty Images
The Eagles are due to have a safety pan out through the draft. I think Earl Wolff will show signs of being that guy with a stellar rookie season.
Winning the starting job won't be as hard as it would be for your typical fifth-round pick. Wolff likely already has an edge over Nate Allen and Kurt Coleman, meaning he is competing with Kenny Phillips and Patrick Chung. I think he sends Chung to the bench by Week 1.
Prediction: 78 tackles, 3 interceptions, 1 touchdown
Round 7: Joe Kruger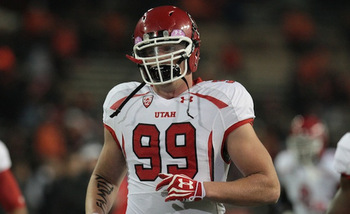 Expect the younger brother of Cleveland Browns linebacker Paul Kruger to earn a spot on the 53-man roster by the start of the season.
Although only a seventh-round pick, Kruger has the skill set to make an immediate impact as a situational pass-rusher.
Prediction: 13 games, 17 tackles, 4 sacks
Round 7: Jordan Poyer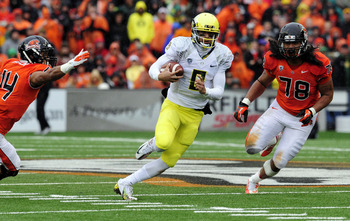 Steve Dykes/Getty Images
The Eagles' selection of cornerback Jordan Poyer in the seventh round of the draft was described by some experts as the steal of the draft, as the former Oregon State star was expected to go in the second or third round.
Poyer will compete with last year's rookie Brandon Boykin for the nickel corner job, but Boykin's experience should give him an edge. Poyer should be able to hold off Curtis Marsh, Brandon Hughes and Trevard Lindley for the final spot at cornerback, however.
Prediction: 11 games, 11 tackles, 1 interception, 4 passes defensed
Round 7: David King, Defensive Lineman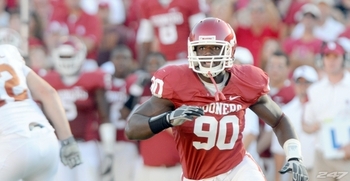 Just like Logan, David King has the versatility to succeed at both defensive tackle and defensive end. I expect him to win a roster spot and earn anywhere from five to 20 snaps per game on defense.
He has the potential to become a talented backup like Darryl Tapp.
Projection: 8 games, 7 tackles, 2 sacks
Keep Reading

Philadelphia Eagles: Like this team?