San Francisco Giants: Stock Up, Stock Down for Top 10 Prospects for Week 3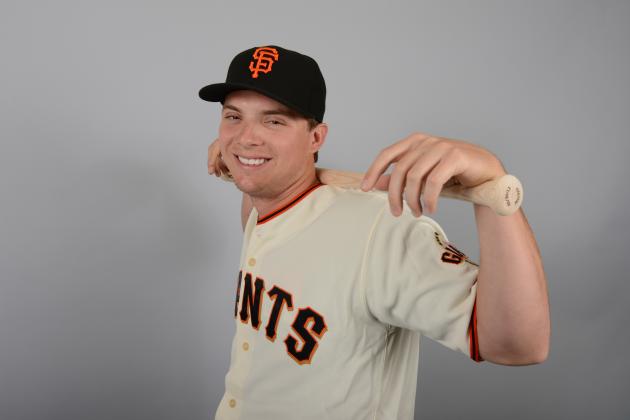 Kyle Terada-USA TODAY Sports
Top prospect Gary Brown has continued to struggle for Fresno this season.
After getting swept in Milwaukee during the week, the San Francisco Giants came home and returned the favor with a sweep of the Padres this weekend. Three weeks in to the season, the Giants are 12-7 and just 1.5 games back in the NL West.
The Giants rotation looked to be in shambles heading in to the weekend. However, Madison Bumgarner, Tim Lincecum and Barry Zito calmed the storm by allowing only two runs over 19.2 combined innings against the Padres.
The strength of the Giants team over the past four seasons has been the starting rotation. The current strength of the farm system is also starting pitching. The organization has a plethora of outstanding pitching prospects in the lower minor leagues.
Let's check in on the performance of those arms and the rest of the Giants' top 10 prospects during the third week of the season.
All statistics in this article are courtesy of Baseball-Reference.com and MiLB.com.
Begin Slideshow

»
2013 Stats: 3 GS, 2-0 W-L, 1.06 ERA, 17.0 IP, 9 H, 2 W, 21 K
Clayton Blackburn continued to prove his worth as the top prospect in the Giants' system with another gem this week. He went six more innings, allowed only four hits, one walk, one run and struck out nine.
Blackburn is now 2-0 over three starts with a 1.06 ERA for the High-A San Jose Giants. Fans of the Giants in the Bay Area should get out to San Jose to see Blackburn soon because he might not be there much longer. If he keeps mowing down California League hitters at this rate, the Giants are going to eventually have to promote him to Double-A to face stiffer competition.
Blackburn is only 20 years old, but that doesn't mean he can't advance to the big leagues quickly. The Miami Marlins already have a 20-year-old phenom in their rotation in Jose Fernandez. Blackburn may not get that far this year, but he could force the Giants' hand as soon as 2014.
Stock Watch: Up
2013 Stats: 3 GS, 0-1 W-L, 0.93 ERA, 9.2 IP, 10 H, 9 W, 12 K
Kyle Crick continued to have problems with San Jose this week. He was placed on the disabled list after straining his oblique after just two innings of work in his latest start.
In those two innings, he walked two more hitters to run up his 2013 total to nine in just 9.2 innings. Crick will have to start showing better control when he returns to action from the oblique injury.
Stock Watch: Down
2013 Stats: 3 GS, 2-0 W-L, 1.08 ERA, 16.2 IP, 11 H, 5 W, 17 K
Chris Stratton had another outstanding start in his third turn through the rotation at Low-A Augusta. Stratton went 6.2 in his latest outing and allowed just four hits, two walks and one run while striking out seven.
If Blackburn and Stratton continue to dominate at their respective levels, it would make sense for the Giants to promote both of them up a level. Stratton isn't quite as advanced as the typical collegiate starter because he was originally a reliever in college and his 2012 season was cut short by injury. However, he still appears to be too advanced for Low-A ball right now.
His stock is on the rise after another quality outing. It will be interesting to see how long the Giants keep their 2012 first-round pick in Augusta this season.
Stock Watch: Up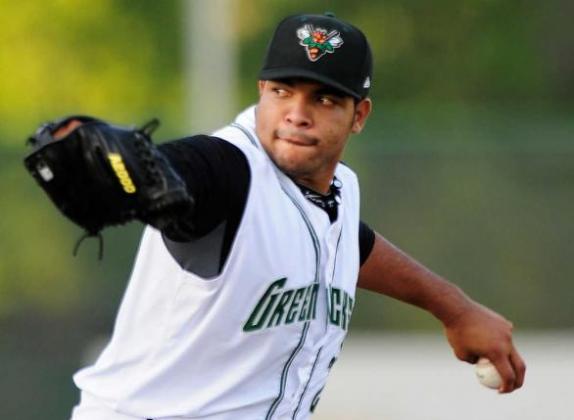 Photo courtesy of the Augusta Chronicle.
2013 Stats: 3 GS, 0-0 W-L, 1.84 ERA, 14.2 IP, 10 H, 2 W, 20 K
Edwin Escobar has been the fastest riser in the Giants' system over the last two years. Acquired in a minor trade for non-prospect Ben Snyder in 2010, Escobar has suddenly taken off.
He put up a 2.96 ERA and struck out 122 against only 32 walks in 130.2 innings last year for Augusta. He's picked up right where he left off with San Jose so far this year.
In his latest start, Escobar struck out nine in 4.1 innings of work. According to San Jose play-by-play announcer Joe Ritzo, Escobar's velocity sat in the low 90s and got all the way up to 95 in his last start.
Escobar's combination of impressive control and velocity has turned him into one of the best prospects in the system. When the trade deadline rolls around, don't be surprised if he's an arm a lot of teams try to pry away from the Giants.
Stock: Up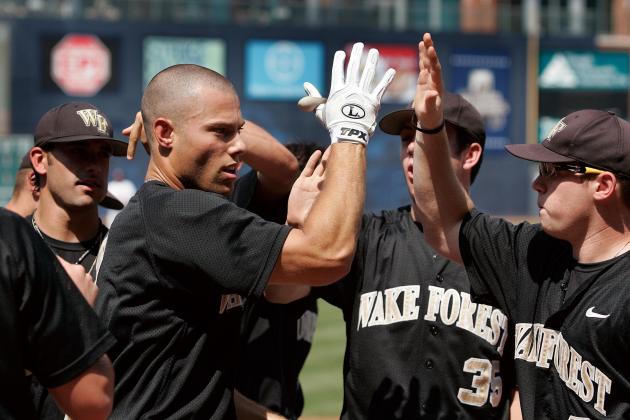 Mark Dolejs-USA TODAY Sports
Williamson in his college days at Wake Forest.
2013 Stats: .217/.319/.400 (BA/OBP/SLG), .719 OPS, 2 HR, 3 2B
After a hot start, Mac Williamson has hit a wall at San Jose. He had a particularly rough weekend, going just 1-for-10 with five strikeouts—including a hat trick on Sunday.
Even with his recent struggles, Williamson remains the hitting prospect with the most upside in the system. His stock is down right now, but the bet here is that he'll turn it back around soon. A power bat as lethal as his can't be silenced for long.
Stock: Down
2013 Stats: 3 GS, 2-1 W-L, 1.84 ERA, 14.2 IP, 11 H, 7 W, 18 K
Martin Agosta—the Giants' second-round pick last year—has had two dominant starts and one awful one for Augusta.
He shot up these rankings in the first week of the season by striking out nine in his first start, but was left off last week when he was knocked out in the fourth inning of his next start. This week, Agosta has put himself back on the map by allowing just one hit and one run over six innings in his latest outing.
On the year, Agosta has struck out 18 in 14.2 innings of work. If he continues to miss bats at that rate, he's going to stay high on this list throughout the year.
Stock Watch: Up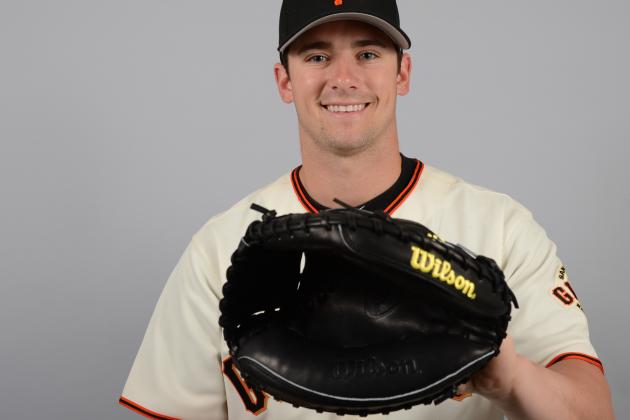 Kyle Terada-USA TODAY Sports

2013 Stats: .234/.321/.447, .768 OPS, 2 HR, 4 2B
Andrew Susac shot up the rankings after getting off to a hot start at Double-A Richmond. However, he's currently in a bit of slump.
Susac went just 2-for-21 with a walk last week. He's now struck out 19 times in 47 at-bats this season after striking out 100 times in 361 at-bats last year. He'll have to cut down on the whiffs to improve his prospect status as well as his low batting average.
Susac has above-average patience and power for a catcher, but his ongoing contact issue is what's setting him back.
Stock Watch: Down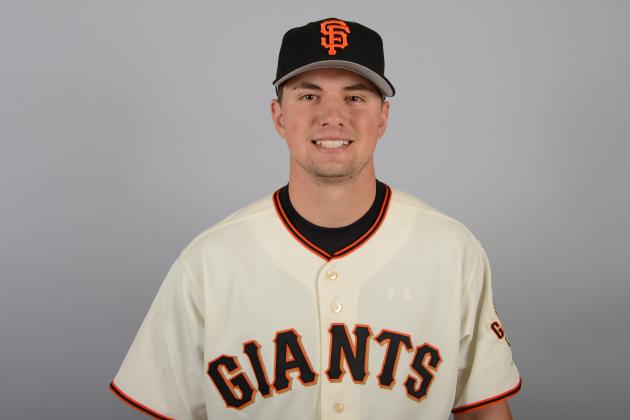 Kyle Terada-USA TODAY Sports

2013 Stats: .268/.333/.352, .685 OPS, 4 2B
Joe Panik had a solid week at Double-A Richmond to boost his stock after a slow start to the season. He had three multiple-hit games last week to improve his average to .268.
Panik has three things working in his favor: He can handle shortstop and second base well defensively, he draws walks and he hardly ever strikes out. So far this season, he's struck out just four times in 71 at-bats.
On the negative side, Panik doesn't offer much power at this point in his career. He's slugging just .352 this year after slugging .402 at San Jose last season.
Even with the lack of pop in his bat, Panik still profiles as the Giants' second baseman of the future. It's fitting that Panik should eventually take over for Marco Scutaro—another guy who almost never strikes out.
Stock Watch: Up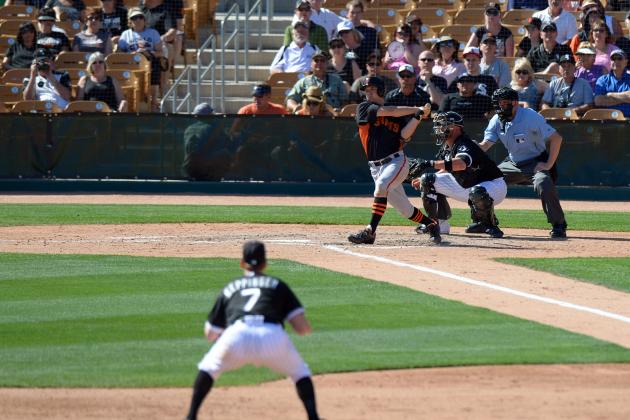 Jake Roth-USA TODAY Sports

2013 Stats: .197/.269/.324, .593 OPS, 2 2B, 2 3B, 1 HR
Gary Brown entered this season as the Giants' top prospect among position players. However, he's off to a troubling start for Fresno—hitting just .197 thus far.
Brown had a three-hit game including a double and a triple last Monday, but managed only two hits the rest of the week. Brown has struck out 16 times in 70 at-bats this year. Given that he's a leadoff hitter without much power or patience, he's going to have start putting the ball in play more.
The season is only 18 games old, so it's too early to write Brown off. However, he's going to have to show more to reclaim his status as the top hitter in the system. Getting the bat on the ball more often to utilize his speed is the key to unlocking his potential.
Stock Watch: Down
Jake Roth-USA TODAY Sports

Heath Hembree 2013 Stats: 1-0 W-L, 1.29 ERA, 7.0 IP, 5 H, 2 W, 7 K, 4 Saves
Heath Hembree was surprisingly passed over for Jean Machi this week when the Giants needed a reliever to replace the injured Jeremy Affeldt. Alex Pavlovic of the San Jose Mercury News wrote of Hembree,
Bochy reiterated that it was a tough call between Machi and Hembree and Runzler. Of Hembree, he said he's throwing well but 'this just gives him a little more time, which is what we want.'

When Hembree gets here, I think the Giants want him to be here for good.
If Hembree keeps racking up saves for Fresno, he could be in San Francisco for good sooner rather than later.
Stock Watch: Up
Chris Heston 2013 Stats: 2-1 W-L, 6.86 ERA, 21 IP, 33 H, 5 W, 22 K
Chris Heston looked like he could be headed for San Francisco as well until he was shelled in both of his starts last week. He gave up 11 hits and seven runs in just three innings last Monday. On Saturday, he followed that up by allowing nine hits and four runs over six innings.
Heston has allowed 33 hits and 17 runs in only 21 innings of work this season. If the Giants needed a spot starter right now, they probably wouldn't turn to the struggling Heston. He's going to have to start pitching the way he did last year at Richmond, when he put up a 2.24 ERA, if he wants to get to the big leagues this year.
Stock Watch: Down