Khaled Holmes: Video Highlights for Former USC C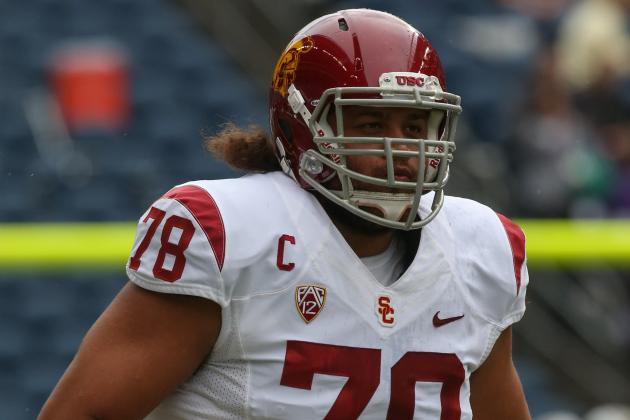 Otto Greule Jr/Getty Images

USC center Khaled Holmes protected quarterback Matt Barkley and paved the way for running back Silas Redd during his high-profile time with the team.
As a result, Holmes is one of the bigger names entering the draft at the position (CBS has him ranked as the No. 4 overall center) and looks to make a big splash when he enters the NFL.
Holmes is stout in both pass protection and run-blocking, so he'll have somewhat of a smooth transition to the NFL, especially coming out of a pro-style offense such as USC's.
Offensive linemen do not typically get their own highlight reel, but Holmes is the caliber of player who deserves one thanks to his impressive work in the trenches.
Let's take a look.
Begin Slideshow

»
You know Khaled Holmes has some serious talent as a pass protector and a high football IQ when he shoves off an opposing defensive tackle, runs over his teammate of equal size and shoves away another pass-rusher in the span of a few seconds.
The above play is an impressive feat, to say the least. Holmes holds strong at the point of attack, recognizes what the defense is doing and adapts.
Perhaps most impressive is the face Holmes was not even the closest to the incoming pass-rusher, yet he's the fastest to react and neutralize the threat thanks to his nimble feet.
It's just one play out of many, but it shows Holmes has the ability to fend off multiple players, not to mention the awareness to know where they are coming from.
This may not be the biggest offensive play in the grand scheme of things, but the above highlight shows that Khaled Holmes is no slouch when it comes to run-blocking either.
Holmes snaps the ball, holds up his point of attack and then is quick enough to weave through the hole before his running back can.
In a perfect world, the back would have been more patient and allowed Holmes to set up his block down field. Still, it's impressive to see a man of Holmes' stature outrun his own back into the second level to make a block.
As we have hinted at, Khaled Holmes is stout at the point of attack and can neutralize most in his way when run-blocking.
That even goes for Utah defensive tackle Star Lotulelei, a man who is billed as a top-five selection in the upcoming draft (CBS' Pete Prisco has him going No. 4 overall).
This means that the above play should stand out. Holmes brings Lotulelei down to the turf with relative ease and brings down another defensive player with him. It's a stunning effort that helps contribute to the touchdown on a run that was actually designed to go to the outside.
The battles between Khaled Holmes and Star Lotulelei were infamous if you were a fan of either USC or Utah.
Let's just say Holmes gets the better of this snap.
Holmes snaps the ball and then creates a massive hole for his running back to dart through as he takes Lotulelei down to the ground with aggression.
Holmes did not face NFL-level competition often during his time at USC, but he certainly did here. How he performed could be a good indicator how how he will do in the pros.
Once again we have a case of Khaled Holmes being ridiculously strong, fast and aware while helping to maintain the pocket around the quarterback.
On this snap he takes his assignment out of the equation quickly, realizes where the pressure is going to be coming from and expertly slides into a position to give the quarterback an extra half-second to unload the ball for a big gain.
Not only is Holmes good in his own right, it's plays like these that make the jobs of everyone around him much easier.
At the NFL level, a center or guard who can help out a struggling teammate or adapt on the fly to a stunt or blitz is the most invaluable of them all.
Follow me on Twitter for more NFL news and analysis.