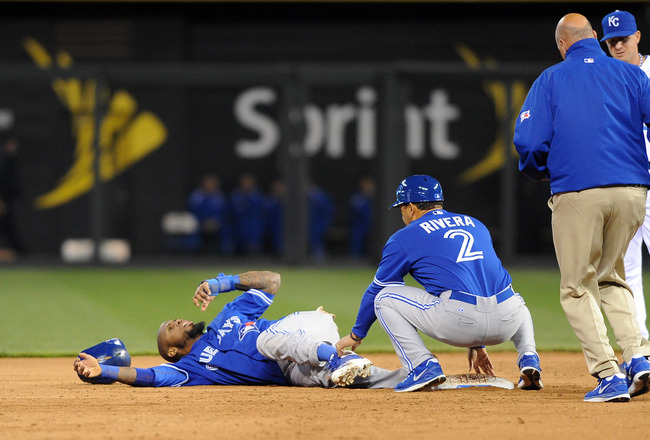 Reyes was in obvious pain following an awkward slide into second base.
USA TODAY Sports
The Toronto Blue Jays' hopes for a postseason run in 2013 appeared to take a major hit Friday night when shortstop Jose Reyes left the game with an apparently serious ankle injury. As team officials wait to find out the extent of his situation, they should start considering possible replacements if it turns out to be a long-term absence.
MLB.com's video showed that Reyes hurt his ankle while attempting a stolen base and sliding into second in the sixth inning of a game against the Kansas City Royals:
MLB Network analyst Dan Plesac indicated in a tweet his belief that the injury was serious:
#BlueJays Jose Reyes leaves on stretcher.... Looks like left foot/ankle area... Late slide into 2nd base bag. Not good. Looks serious.

— Dan Plesac (@Plesac19) April 13, 2013
Losing Reyes for any length of time would be a huge blow to Toronto. Despite the team's 4-6 start, he had led the team with a .395 batting average and an American League-leading five stolen bases.
While the Blue Jays wait to find out about Reyes, who was a centerpiece acquisition this past offseason, they must start looking ahead in the event of a lengthy absence.
Click through to see three possible replacements for Reyes if he is forced to miss extensive time this season.
Maicer Izturis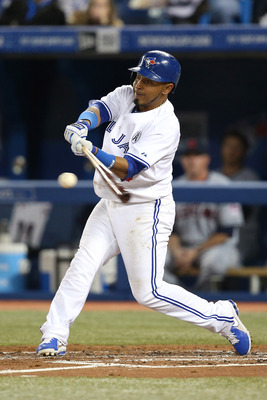 Izturis can play all over the infield and may find himself starting at shortstop soon.
Tom Szczerbowski/Getty Images
The most obvious candidate is usually the primary backup, which in this case would be Izturis.
He was signed by Toronto this past offseason to a three-year, $10 million contract. Despite the long-term deal, he opened this season as a utility man off the bench.
If Reyes has a serious injury, Izturis may be bumped into the starting lineup.
He has never been a full-time starter during his 10-year major league career, but has extensive experience at second and third base, with 195 games at shortstop.
The 32-year-old switch-hitter has never had a big bat, possessing a .273 batting average with 162-game averages of seven home runs, 61 RBI and 18 stolen bases.
MLB.com's Robert Falkoff reported that Izturis is recovering from a bruised foot after being hit by a pitch during a recent game. However, the injury doesn't sound serious, so he could be ready to step in soon if needed.
Emilio Bonifacio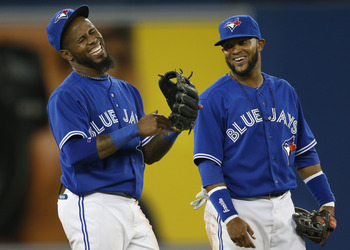 The speedy Bonifacio may be the player most similar to Reyes already on Toronto's roster.
Tom Szczerbowski/Getty Images
Like Izturis, Bonifacio is another in-house candidate who could be under consideration if a long-term shortstop is needed.
He has acted as the team's primary second baseman thus far this season, but does have 96 games of major league experience under his belt at shortstop during a seven-year major league career.
The 27-year-old switch-hitter doesn't have Reyes' pop at the plate, hitting a combined .266 in his career with seven home runs and 101 RBI in 485 games. However, he can match Reyes' speed, as he has averaged 37 stolen bases per 162 games during his career.
Although Bonifacio has limited experience at shortstop, he played there some during spring training, according to MLB.com's Gregor Chisholm. Shifting him to short could clear the way for veteran Mark DeRosa to take over at second base, if needed.
Bonifacio last played shortstop in a major league game in 2011 for the Florida Marlins. Advanced fielding metrics provided by FanGraphs.com show he has been a below-average fielder during his career at the position. Regardless, his game-changing speed could make that an acceptable trade-off.
Mike Aviles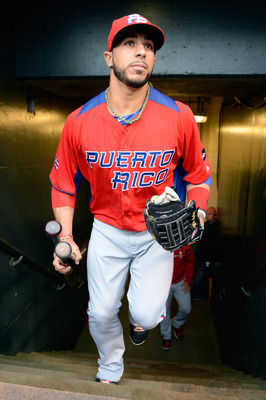 Currently a reserve, Aviles might appreciate a chance to start if Toronto were to explore a trade for him.
Thearon W. Henderson/Getty Images
Exploring a trade is another option the Blue Jays may choose if they get bad news on the extent of Reyes' injury.
One player they could target is Cleveland Indians' infielder Mike Aviles.
Although he has never played a game for the Blue Jays, he was actually on their roster briefly this past offseason. He was part of the compensation from the Boston Red Sox that allowed John Farrell to switch managerial jobs.
Aviles was traded to the Indians two weeks later and has settled into a utility role in Cleveland.
The 32-year-old has received just 13 at-bats during the team's first nine games, blocked from more playing time by shortstop Asdrubal Cabrera and second baseman Jason Kipnis.
Aviles is a career .277 hitter with 162-game averages of 14 home runs, 65 RBI and 17 stolen bases. He is also an adequate defender (career dWAR of 3.3), who was most recently a starting shortstop for the Red Sox last year.
The Blue Jays sent away a lot of their young talent in the Reyes trade, but still have prospect depth if they wanted to pursue a possible deal with Cleveland.
Aviles is signed to a modest two-year, $6 million deal that runs through 2014, so going after him wouldn't break the bank.
If the Blue Jays need a shortstop and want to maintain their current starters, pursuing a veteran like Aviles could make sense.
Statistics via Baseball-Reference.com
Keep Reading

Toronto Blue Jays: Like this team?
Load More Stories