Everything You Need to Know About Metta World Peace's Knee Injury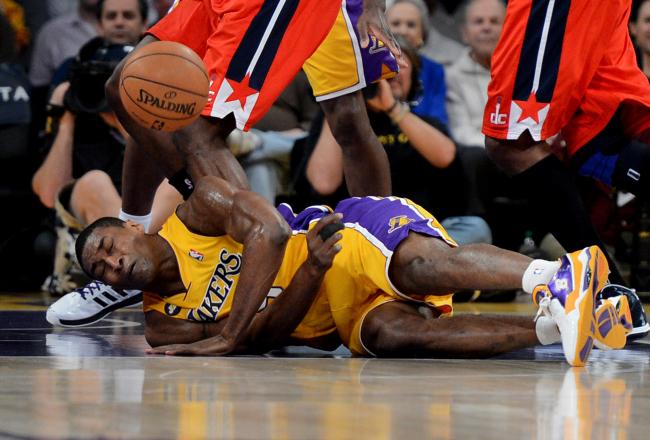 Jayne Kamin-Oncea-USA TODAY Spor
Los Angeles Lakers small forward Metta World Peace will be forced to miss around six weeks after tearing the lateral meniscus in his left knee. He injured his knee Monday during the Lakers' 109-103 road loss against the Golden State Warriors.
Read on to find out what exactly happened, and what can be expected of the defensive enigma when he makes his return.
Is Surgery Necessary?
The Lakers medical staff determining that the meniscus was damaged to the point where World Peace couldn't play leaves doctors with two courses, both of which are surgical.
The first and most common procedure is called a meniscectomy. In this surgery, the damaged meniscus—there are two in each knee, the lateral and medial—is removed. In many cases, it is only a portion of the meniscus that is removed, such as a flap that has been created by a tear.
In the second type, the tearing and fraying is repaired. This is done using burrs and microstitches. While the results tend to hold up better in the long term, the healing period is significantly longer.
Both procedures can be done arthroscopically, meaning there is limited external damage and swelling in the knee. Rehab begins almost immediately.
Many doctors and medical staffs will do "prehab," which is physical therapy and strengthening exercises done prior to surgery. Since there was no real delay for Peace's surgery, it is less likely that he had any of this.
Lateral Meniscus; Better or Worse?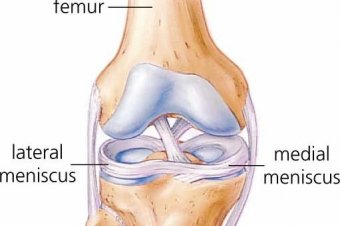 It's neither better nor worse than if the medial meniscus were damaged. Both are desirable, if not necessary.
The knee certainly functions better with undamaged meniscuses, but surgeons have learned over the course of the last three decades that removing all or part can create a quick return to function. Some physicians and athletic trainers say that it is better to have the lateral meniscus, but there are mixed scientific studies.
The meniscus functions as a "shock absorber" between the tibia and the femur, the two largest and most weight-bearing bones of the legs. Just as a car without shock absorbers can drive down the road, so can a meniscus-free knee drive the lane.
It's just not comfortable for anyone.
Down the line, there are some consequences. Many believe that the rash of microfracture surgeries are the result of surgeons doing meniscectomies on young, developing athletes.
The length of time they play without the cushioning effects of the meniscus leads to damage and arthritis inside the knee. It is believed that many players may need knee replacement, though that is well down the line.
At age 33, Peace is not likely to have any of these issues while he is an active player. Getting back on the court quickly and effectively is the more important concern for both team and player.
Why Six Weeks?
Six weeks is actually at the long end of the normal recovery period.
Some athletes are able to come back to activity in as little as two weeks, but this is extreme. The normal time period quoted by surgeons for this type of arthroscopic surgery is four-to-six weeks.
The surgical portals need to heal, as does the interior of the knee. At that point, the athlete will begin an aggressive rehab in order to restore function as quickly as possible.
The Lakers could be quoting the long end of the rehab timeline due to individual factors.
There may be associated damage to cartilage or bone inside the knee, or weakness in the muscles of the leg that led the Lakers to go long here. Let's face it, predicting anything about World Peace is tough.
Could He Be Back Sooner?
It is certainly possible, but not probable, that Peace could come back early. The surgery and rehab could go perfectly, and he could feel comfortable and functional early.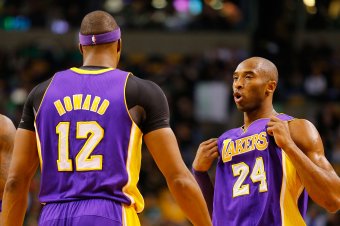 Jared Wickerham/Getty Images
There's also the chance that Kobe Bryant forces the issue, as he has with players before, such as Dwight Howard this season. It's very unlikely that Peace could be ready to contribute by even the last regular-season game, scheduled for April 17.
What Is the Rehab Like?
The rehab is relatively straightforward for an arthroscopic meniscectomy. The early focus is on getting range of motion back as inflammation is reduced.
There are lots of passive and light motions, as well as enough ice to keep Kobe in the tub for weeks. Weight bearing begins earlier, as quickly as a few days, with some surgeons allowing light weight bearing as quickly as the same day as the surgery.
Once the range of motion is established, the physical therapists and athletic trainers will focus on strength and function. Range of motion will go from passive to active, while there will be a renewed focus on making sure the muscles are in balance compared to the non-affected side.
Finally, the athlete will work on sport-specific skills and movements.
This is usually handled in combination between the medical staff and the coaching staff. It is usually tailored to an athlete's specific skills and/or deficits. At the end, there will be a final check by all parties, including the surgeon, to clear the athlete back to full activity.
If you're interested in more details, here is a standard rehab protocol from Brigham and Women's Hospital in Boston.
Why Come Back at All?
The Lakers are currently in the eighth and final playoff position in the Western Conference with just a game lead over Utah and a game-and-a-half lead over Dallas.
If the Lakers collapse without Peace's production, they could essentially shut him down.
The rehab would be the same and as necessary in either case. There's not a significant difference to the process whether he comes back to play games in April or next October.
What Can Lakers Expect?
I asked Jeff Stotts of Rotowire, a practicing athletic trainer who maintains a database of NBA injuries, for comparable players with similar injuries. I wanted to gauge both the return time and how they functioned upon their return.
Here's what he found:
"For comparison's sake, there are several players with similar injuries. Jameer Nelson missed 16 games during the 09-10 season, and Tyrus Thomas missed 24 games during the 10-11 season recovering from lateral meniscus repairs. Blake Griffin missed the Olympics with the same injury but was back for training camp after having surgery in mid-July."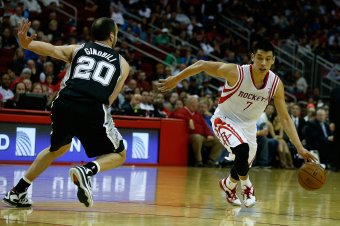 Scott Halleran/Getty Images
"The best comparison could be Houston's Jeremy Lin, who suffered a torn lateral meniscus at this point last season. He underwent surgery on April 4, 2012, and missed New York's final 17 games of the regular season and its five postseason games."
That might be the only time Word Peace and Lin are compared for anything, but it's a pretty apt one. The Griffin comparison is also solid, given that he lost no quickness or explosiveness after his surgery.
The Lakers can only hope World Peace's surgery and rehab go so well.
This article is
What is the duplicate article?
Why is this article offensive?
Where is this article plagiarized from?
Why is this article poorly edited?