Angels Opening Day Roster: Who's In, Who's out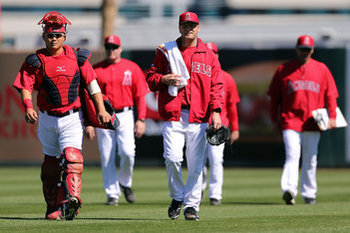 With the start of the 2013 MLB season just a week away, the Los Angeles Angels will be required to reduce their 40-man expanded roster to a 25-man active roster.
On Opening Day, the team's active roster will most likely consist of five starting pitchers, six infielders, five outfielders, two catchers and seven relief pitchers.
With the Angels batting lineup and starting pitching already secured in the offseason, the team was faced with the task of determining its bullpen and bench players during spring training.
The following slides reveal who's in and who's out in regards to the team's remaining roster spots.
*All projections are based off of the Los Angeles Angels team page on baseballprospectus.com
In: Kole Calhoun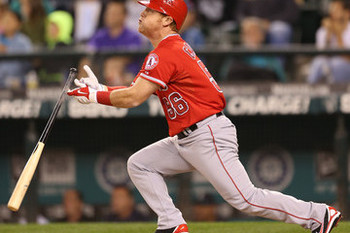 Calhoun's left-handed bat will help break the monotony of a heavily right-handed Angel lineup.
Position: Right/Center Fielder
Bats/Throws: Left/Left
Drafted: 2010, Eighth Round, Pick 264
Age: 25
Analysis: With the recent departure of Vernon Wells to the New York Yankees, 25-year-old Kole Calhoun will be the first outfielder off the bench for the Angels in 2013.
Calhoun's left-handed bat will help balance the lineup when considering Josh Hamilton is the only natural lefty remaining in the starting lineup after the offseason exit of Kendrys Morales.
In 105 games with the Angels' Salt Lake minor league affiliate last year, Calhoun batted .298 with 73 RBI and 14 home runs. On defense, his versatility was apparent; Calhoun played 41 games in right field, 52 games in center and 10 games in left.
According to baseball-reference.com, Calhoun recorded 11 outfield assists in 93 games while patrolling both right and center field.
In spring training, however, Calhoun's numbers have not been as impressive. In 18 games, the lefty batted a measly .211. His slugging percentage at .395 stands more than one hundred points below his .507 number in the minors.
Despite a rough spring, Calhoun is projected to be on the 2013 Opening Day roster for the Angels. He beat out outfield contenders Scott Cousins and Travis Witherspoon, who were both optioned by the club back to the minor leagues.
Out: Hank Conger
The Angels would like to see Conger's arm catch up to his bat.
Position: Catcher
Bats/Throws: Switch/Right
Drafted: 2006, First Round, Pick 25
Age: 25
Analysis: Hank Conger's career with the Halos is beginning to feel like the old saying "always the bridesmaid, never the bride."
The former first-round pick and perennial catching prospect has once again been passed over on the depth chart with the acquisition of former Washington Nationals catcher Chris Snyder.
What's worse, the move back to the minors comes on the heels of Conger's productive spring training at the plate. In 14 games, the switch-hitter batted .387 with a team-best 15 RBI.
Conger also drew praise from manager Mike Scioscia this spring for his improvement in blocking balls and working with pitchers.
However, a weakness is a weakness and Hank Conger definitely has one.
His inability to throw out would-be base stealers has been a major thorn in his side. Conger made four errors in Cactus League games this spring and added another three errors in a Triple-A game last week.
Per Jeff Fletcher of the Orange County Register, Conger admitted that some of his recent throwing woes have become mental and that his frustration level is high.
Look for Conger to be back-and-forth between the major league club in Anaheim and the Triple-A affiliate in Salt Lake City for much of the season.
In: Andrew Romine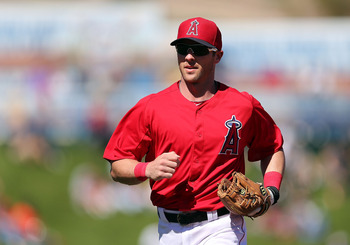 Infielder Andrew Romine will make the Opening Day roster.
Christian Petersen/Getty Images
Position: Shortstop, Second Base, Third Base
Bats/Throws: Left/Right
Drafted: 2007, Fifth Round, Pick 178
Age: 27
Analysis: Desperate for another left-handed bat off the bench, the Angels will add 24-year-old Andrew Romine to the Opening Day roster.
Although he, like Kole Calhoun, will be a bench player for the team, his left-handed bat will come in handy this season.
Romine played in 12 games for the Angels last season, batting .412 with an impressive on-base percentage of .500.
His numbers in 19 spring training games this year were not as good. He hit .250 with an on-base percentage of .333.
In the field, Romine has experience playing shortstop, second base and third base. His ability to cover three of the four infield positions will prove valuable on days when Erick Aybar, Howie Kendrick and Alberto Callaspo need rest.
Romine's addition to the Opening Day roster left infielders Thomas Field, Brendan Harris and Luis Rodriguez on the outside looking in.
Out: Nick Maronde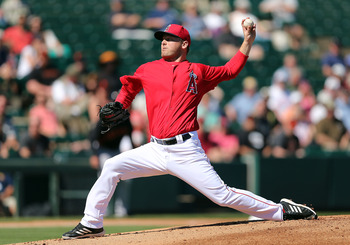 Nick Maronde's miserable spring training cost him his spot in the bullpen.
Christian Petersen/Getty Images
Position: Pitcher
Throws: Left
Drafted: 2011, Third Round, Pick 104
Age: 23
Analysis: Coming into this season, left-handed pitcher Nick Maronde was widely considered one of the best minor league prospects within the Angels organization.
But his poor spring training performances left much to be desired.
Maronde sported an abysmal 11.17 ERA with a 2.27 WHIP in eight appearances.
The left-hander's disappointing spring comes as a blow to the team as they were hoping he would help bolster their bullpen in 2013. As a unit, Angels relievers blew 22 saves and had a collective ERA of 3.97 in 2012, ranking third worst in the AL.
Like last year, Maronde will begin the season in the minor leagues. In 10 games as a starter for the Inland Empire 66'ers last season, Maronde went 3-1 with a 1.82 ERA. In seven games as a starter at Double-A Arkansas, he had a 3-2 record with a 3.34 ERA.
If he can duplicate the success he had in the minor leagues last year, Maronde will most likely find his way back to the majors at some point during the upcoming season.
In: David Carpenter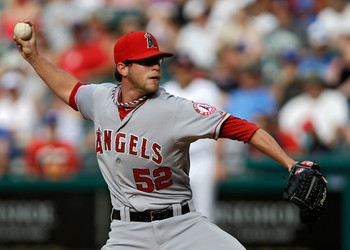 David Carpenter will look to help the bullpen rebound from a disastrous 2012 season.
Position: Pitcher
Throws: Right
Drafted: 2009, Ninth Round, Pick 291
Age: 25
Analysis: Right-handed relief pitcher David Carpenter is projected to make the 25-man active roster. His performance in spring training was good enough to take a spot away from Nick Maronde in the bullpen.
In 10 exhibition appearances, Carpenter had a 3.86 ERA with a 1.50 WHIP.
Although these numbers are not necessarily eye-popping, his stats in four minor league seasons certainly are. In 2011, Carpenter sported a combined ERA of 0.57 in 44 games for the Inland Empire 66'ers and Double-A Arkansas.
In 2012, he played for the Triple-A Salt Lake Bees, posting a respectable 2.75 ERA in 15 appearances.
Carpenter will enter the season with five primary pitches. He throws a four-seam fastball, a two-seam fastball, a sinker, a slider and a changeup.
Last year, Carpenter pitched in the Angel bullpen at the end of the season. He played 28 games for the major league club and posted an ERA of 4.76. With a spot on the roster secured, Carpenter has some adjustments to make this season if he plans on staying there.
Keep Reading

Los Angeles Angels: Like this team?