TNA Impact Wrestling: Complete Preview, Rumors, News and More for March 21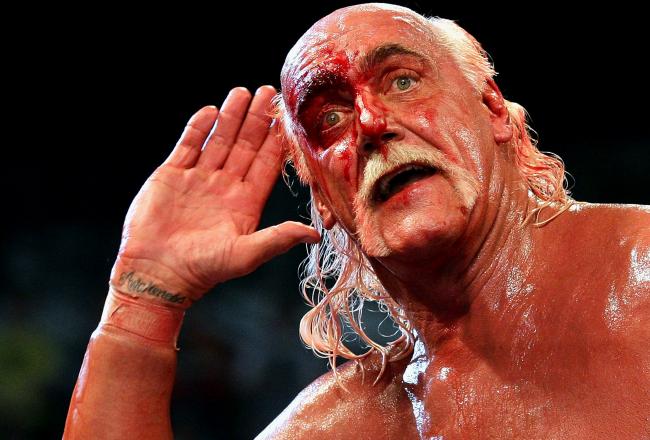 Mark Dadswell/Getty Images
Last week's episode of Impact Wrestling ended with a huge battle between the Aces & Eights and the TNA locker room, but for once, the heels finally got the upper hand over the faces to close the show.
Will Bully Ray save the Aces & Eights angle?
The addition of Bully Ray and his
TNA
World Heavyweight Championship is already turning the tide of the heel stable's direction. As former
WWE
announcer Jim Ross used to say, business is about to pick up.
Not only will Bully Ray once again invade Chicago to further explain his reasoning behind joining the Aces & Eights and turning on Hulk Hogan, there will be two championship matches Thursday—the tag team titles and the X Division title.
With so much action, this is an episode of Impact Wrestling that TNA fans cannot afford to miss.
Where: Sears Centre Arena, Chicago (Pre-Taped)
When: Thursday, March 21, at 8 p.m. ET
Watch: Spike TV
Bully Ray Leads Aces & Eights Back into Chicago
After challenging general manager Hulk Hogan to fire him last week and beating up half the locker room, Bully Ray will likely march his troops back to the ring in Chicago and hold the show hostage once again. If the TNA champion has a plan to take over the company, expect the groundwork to be laid in the promos we see Thursday.
Question on Everybody's Mind: Will Bully Ray Save This Storyline?
Besides CM Punk in WWE, there was no better heel in 2012 than Bully Ray. While there is no questioning just how off the tracks the Aces & Eights storyline was, a heel the magnitude of Bully Ray joining and cutting legitimate promos week after week is what the gang needed to legitimize itself.
The world champ is in Aces & Eights; that's a big deal.
Hype Meter: 4 out of 5 Guarded Optimisms
As mush potential as Bully Ray has as the TNA world champ and the leader of Aces & Eights, the fans cannot get too excited yet because of the way the angle has played out thus far. With months of lackluster reveals and a group full of jobbers, each episode of Impact Wrestling must focus on rebuilding the credibility of each member of the gang.
TNA Rumors: Backstage Reaction to Chicago Crowd (PWInsider h/t Wrestling Inc.)
Championship Thursday
TNA's decision to go on the road instead of staying in Orlando should result in more exciting matches on television every week, and this Thursday's edition of Impact Wrestling will feature two title bouts in front of the Sears Centre crowd.
Question on Everybody's Mind: Will Bobby Roode and Austin Aries Get More TV Time?
As much as Bad Influence (Kazarian and Daniels) has been a great part of the show over the last year, the best storyline the company has going right now is the tag team of Austin Aries and Bobby Roode. While they will be involved in a title match with Chavo and Hernandez Thursday—Aries and Roode should retain—TNA must feature them on the mic more starting this week.
The duo is by far the most interesting aspect of every episode of Impact Wrestling.
Hype Meter: 4 out of 5 X Division Title Matches
Not only are the tag straps up for grabs, the always-exciting X Division Championship will be on the line as current champion Kenny King defends his title against Zema Ion and Sonjay Dutt. The in-ring prowess of all three men should result in an amazing PPV-quality title match on free TV, and you cannot beat that on a Thursday night!
TNA News: Last Week's Impact Ratings (PWTorch)
For more wrestling talk, listen to Ring Rust Radio for all of the hot topics or catch the latest episode in the player below (some language NSFW.)
This article is
What is the duplicate article?
Why is this article offensive?
Where is this article plagiarized from?
Why is this article poorly edited?