Prospect Rankings: 10 Hottest Prospects at Spring Training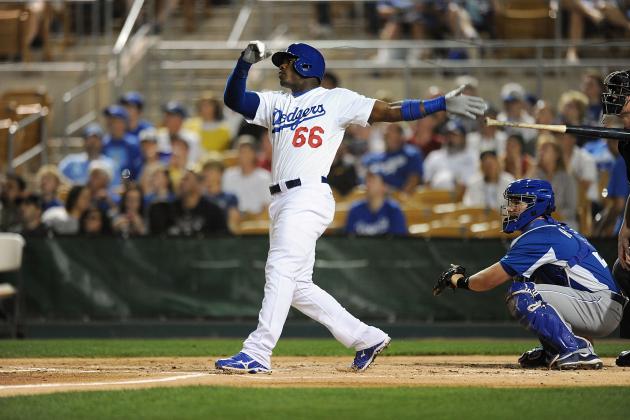 Norm Hall/Getty Images
OF Yasiel Puig (Dodgers) is on an absolute tear this spring.
With spring training slowly winding down, prospects continue to be cut from big league camp on seemingly a daily basis. While players already on their teams' 40-man rosters have been optioned to a specific level, a majority of prospects have received an assignment to minor league spring training.

However, there's still a large contingent of young talent still active in major league spring training. Although only a select few of them will crack their teams' Opening Day rosters, it seems as though they will at least force their respective organizations to make a difficult decision.
Here's a look at the 10 hottest prospects at spring training.
*All stats courtesy of MLB.com and reflect all games through March 18, 2012.
Begin Slideshow

»
Jake Roth-USA TODAY Sports

Aaron Hicks, OF, Minnesota Twins
Spring Stats: .306/.352/.633, 13 R, 4 2B, 4 HR, 13 RBI, 3 SB, 14/4 K/BB (15 G)
He still appears to be the favorite to break camp as the team's Opening Day center fielder, but Hicks has cooled off since his monster three-homer game on March 7. Since then, the toolsy switch-hitter has gone 4-for-22 with eight strikeouts over eight games.
Jedd Gyorko, 2B-3B, San Diego Padres
Spring Stats: .298/.327/.596, 5 2B, 3 HR, 10 RBI, 10/2 K/BB (17 G)
Already engaged in a battle to win the second base job, Gyorko's chances of making the Opening Day roster drastically improved with the recent news that Chase Headley (broken thumb) will open the season on the disabled list.
After launching three home runs in his first four spring contests, Gyorko's bat has cooled off. However, he's picked it up as of late, and he'll need a strong finish to secure a spot on the 25-man roster.
Joey Gallo, 3B, Texas Rangers
Spring Stats: 2-for-3, 2B, HR, 3 RBI, 2 BB (2 G)
Promoted to major league camp for last weekend's series in his hometown of Las Vegas, Gallo showed off his prodigious 80-grade power in both contests.
On Saturday, the 6'5" left-hander launched a slightly wind-aided double halfway up the outfield wall to dead center field—a modest 433-foot poke. The wall didn't stand in his way the following day, as the 19-year-old blasted a towering home run to right-center field in front of his family and friends in attendance.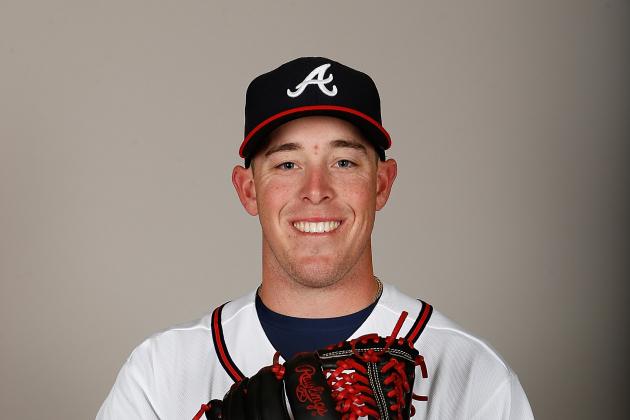 J. Meric/Getty Images

Spring Stats: 9 IP, 2 SV, 0 ER, 6 H, 5/3 K/BB (5 G)

Because he hasn't been starting games like Julio Teheran, J.R. Graham's excellent spring has flown under the radar. However, the hard-throwing right-hander has been impressive in several multiple-inning appearances to close out games.
Just as he did last season, he's showcased a heavy, plus fastball in the mid-to-high 90s that's difficult for opposing hitters to lift. It's unlikely, but Graham has been so good as a reliever this spring that he may receive consideration for a spot in the Braves' Opening Day bullpen.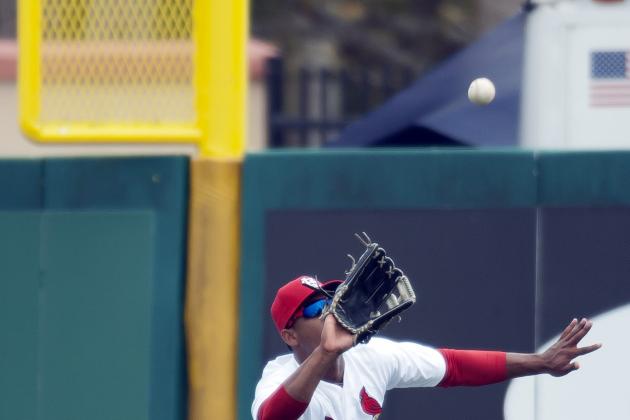 Steve Mitchell-USA TODAY Sports

Spring Stats: .296/.333/.481, 4 2B, 2 HR, 10 RBI, 6/3 K/BB (16 G)
Due to the success of Puerto Rico in the World Baseball Classic, Carlos Beltran remains absent from Cardinals camp. As a result, top prospect Oscar Taveras has received the bulk of his playing time and continues to make the most of his opportunities.
The 20-year-old outfielder continues to impress on both sides of the ball, showcasing the ability to hit for average and power while flashing some leather and showing a strong arm.
Like so many other names on this list, it's only a matter of time until Taveras makes an impact in the major leagues.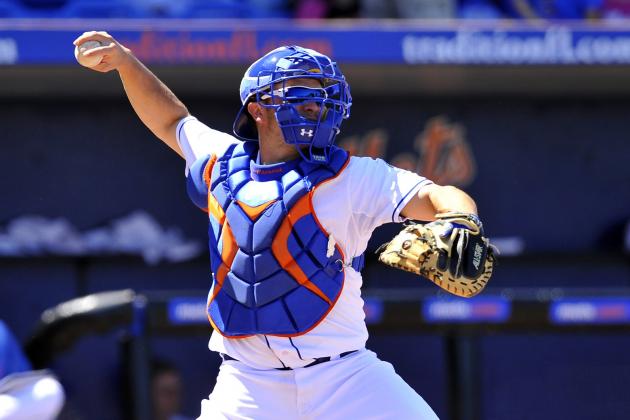 Brad Barr-USA TODAY Sports

Spring Stats: .345/.412/.483, 4 2B, 6/3 K/BB (13 G)

Although he's expected to be cut from major league camp any day now, Travis d'Arnaud has made the most of his increased playing time over the last week. After swinging through and chasing too many pitches early in the spring, the 24-year-old has clearly settled in at the dish, as he's 4-for-7 with three runs scored and two doubles over the last three games.
He's capping his already impressive spring with a strong finish, which will only help him get back to the major leagues sooner rather than later.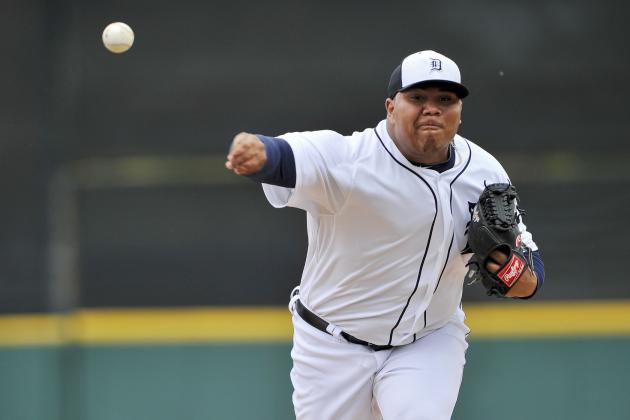 Jerome Miron-USA TODAY Sports

Spring Stats: 8.2 IP, 3.12 ERA, .265 BAA, 15/7 K/BB (9 G)
Ever since making a mechanical adjustment following a series of scuffles at the turn of the month, Bruce Rondon has been pitching like he's ready to open the season as the Tigers closer.
Over his last three appearances, the hard-throwing right-hander has not allowed a hit while tallying six strikeouts. Meanwhile, his streak of consecutive scoreless appearances is up to five.
Jake Roth-USA TODAY Sports

Spring Stats: .382/.397/.545, 11 R, 2 HR, 10 RBI, 2 SB (4 CS), 5/1 K/BB (18 G)
Tabbed as the Diamondbacks' Opening Day leadoff hitter and center fielder, Adam Eaton seemingly never stops hitting. He has his off-days like any hitter, but his quick bat, advanced plate discipline and plus speed make him a candidate to flirt with 200 total hits over the course of a full season. And for those who have yet to see him play, he's a lot of fun to watch in center field.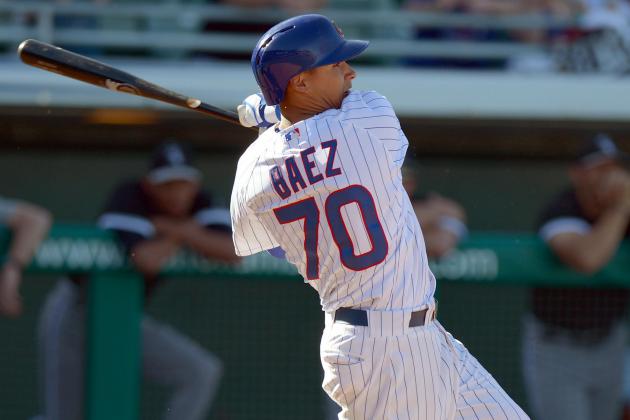 Jake Roth-USA TODAY Sports

Spring Stats: .302/.318/.628, 2 2B, (6 HR) 4 HR, 10 RBI, 11/1 K/BB (16 G)
Javier Baez was reassigned to minor league camp following Monday's exhibition game, but his week was so incredible that I'm including him anyway. In an exhibition game against Team Japan on Friday, Baez launched a pair of home runs, including a walk-off two-run shot in the ninth.
And then, the following day, Baez jumped the yard twice more, the second of which was an absolute bomb to straightaway left field.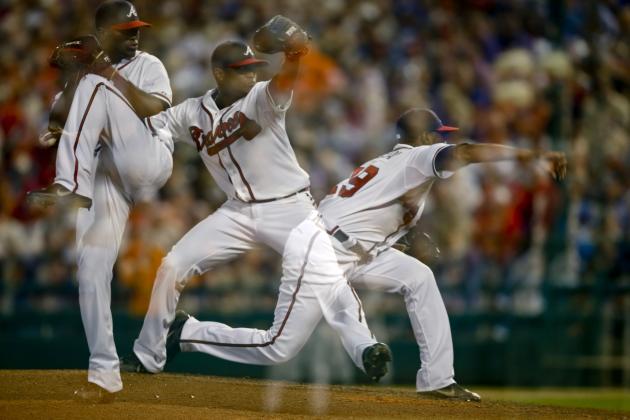 Derick Hingle-USA TODAY Sports

Spring Stats: 20 IP, 1.35 ERA, .104 BAA, 25/6 K/BB (5 GS)
Julio Teheran shot into the rankings last week after tossing five no-hit innings against the Cardinals. Although he allowed a hit in his latest start (three, actually) against the Mets, the 22-year-old right-hander was outstanding once again, this time striking out seven batters over six innings. At this point, it's safe to say that Teheran is a lock to open the season as the Braves' fifth starter.
His fastball-changeup command is as sharp as ever, while his breaking ball is vastly improved and now serves as a third potential weapon. After failed stints in the majors in each of the last two seasons, Teheran is finally ready to break through at the highest level.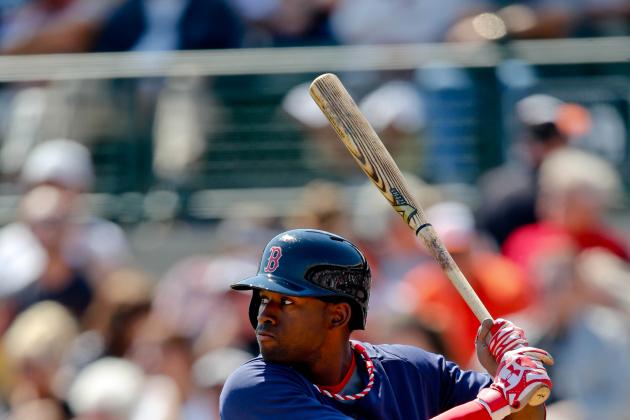 Derick Hingle-USA TODAY Sports

Spring Stats: .436/.551/.564, 9 R, 2 2B, HR, 5/8 K/BB (18 G)

Though his batting average now sits below .500 for the first time in, well, a while, Jackie Bradley Jr. continues to make it difficult for the Red Sox to cut him due to his impressive on-base skills and outstanding outfield defense.
The safe bet is that the 22-year-old opens the 2013 season in either Double-A or Triple-A, though at this point, there's a decent chance he cracks the Opening Day roster. Stay tuned, folks.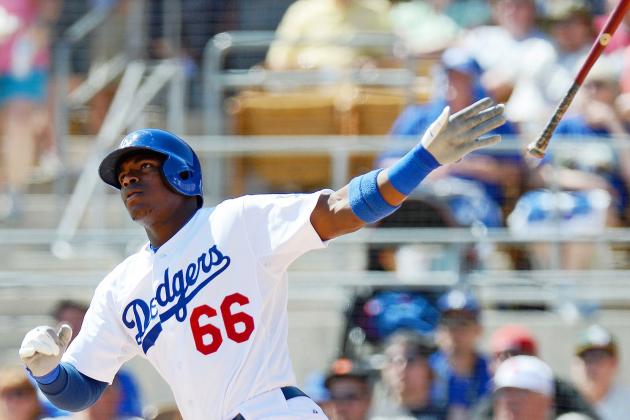 Jake Roth-USA TODAY Sports

Spring Stats: .452/.442/.667, 3 2B, 2 HR, 8 RBI, 3 SB, 10/0 K/BB (20 G)
Although manager Don Mattingly has already stated that Yasiel Puig will open the 2013 season in the minor leagues, it's impossible to completely discount his chances of making the 25-man roster, especially if Carl Crawford (elbow) isn't ready by Opening Day.
One thing is certain: Puig can hit. However, he's already proven to be more than the one-dimensional player some people expected; he's showcased impressive athleticism, a plus arm in the outfield and solid instincts on the bases.
If he does start the season in the minors, it may not be long until the 22-year-old hits his way into the Dodgers' everyday lineup. However, it may come at the cost of dealing Andre Either.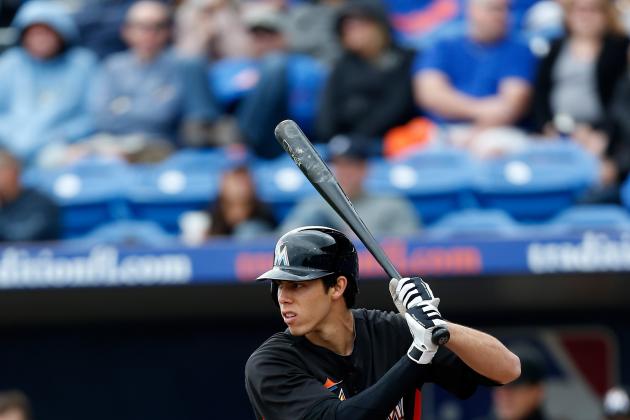 Chris Trotman/Getty Images

Spring Stats: .381/.469/.857, 13 R, 3 2B, 5 HR, 13 RBI, 7/6 K/BB (20 G)
For the second straight week, Marlins outfielder Christian Yelich is the hottest prospect in spring training, not to mention the most impressive.
Despite having never played a game above High-A, the 21-year-old continues to put up monster numbers this spring. In addition to showcasing mature plate discipline and top-of-the-order potential, Yelich has also flashed considerable power to all fields.
He's still likely to be a late-spring cut and open the year in Double-A, but at this rate, the kid could get to the major leagues in a hurry this season.