New York Giants: The Biggest Busts in Free Agency History for Big Blue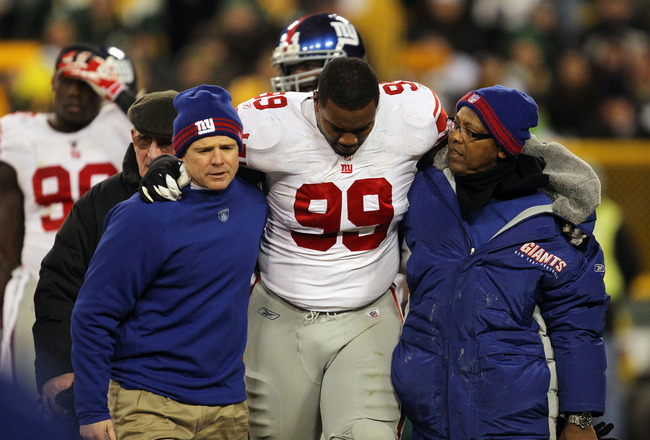 Jonathan Daniel/Getty Images
Free agency is always a hot topic among football fans.
On Tuesday, the NFL kicked off the period for the upcoming 2013 season, and there was no shortage of signings and moves.
The New York Giants are hard to figure out sometimes when it comes to their activity in free agency.
You will have some years where they are very active and give out some big-time contracts, and then, there are years where you won't hear a peep out of them.
Some of those moves have worked out well for the Giants, and some have backfired.
Badly.
In this two-part series that is centered around free agency in the NFL, we will look at the 10 biggest busts in free agency for the Giants.
10. Dorsey Levens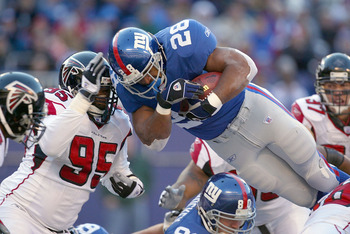 Ezra Shaw/Getty Images
Signed on April 5, 2003; three years, $2.5 million
The Giants were looking for a running back to replace the disappointing Ron Dayne.
So the Giants brought in long-time Green Bay Packers running back Dorsey Levens on a three-year deal.
Levens was supposed to form a solid one-two punch with Tiki Barber, but Levens wasn't the player that the team expected.
In 11 games, Levens had 68 carries for 197 yards and three touchdowns for the Giants in 2003.
After the season, Levens was released, played one more season with the Philadelphia Eagles and then retired from the NFL.
9. C.C. Brown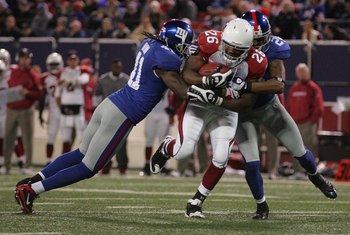 Jared Wickerham/Getty Images
Signed on March 6, 2009; one year, $1.6 million
When Kenny Phillips went down with a season-ending knee injury, the Giants had to turn to C.C. Brown to be the starting safety.
And let me tell you, it was an utter disaster.
Brown was a horrible tackler, couldn't cover anyone downfield and, at times, just didn't look like he belonged on an NFL field, let alone starting for the Giants.
During the 2009 season, I used to wonder why the Giants and then-defensive coordinator Bill Sheridan let Brown continue to play.
In the season, Brown played all 16 games, starting in seven of them, and had 59 total tackles with no interceptions and three forced fumbles.
After 2009, Brown was released from the Giants, and Phillips took back his starting job on the defense.
8. Dave Thomas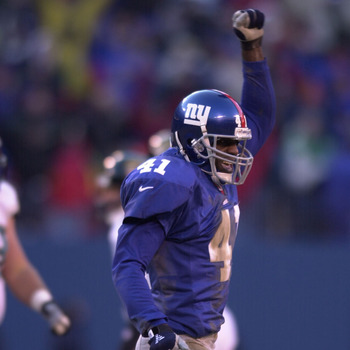 Ezra Shaw/Getty Images
Signed on April 11, 2000; one year, $440,000
I remember not being too crazy about the Giants signing Dave Thomas to start opposite Jason Sehorn as the team's cornerback.
In his first season with the Giants, Thomas had 61 total tackles with one interception and started all 16 games for the team.
Teams used to target Thomas' way because most quarterbacks didn't want to throw it to Sehorn's side.
In Thomas' second season with the team, he ended up losing his starting spot to rookies Will Allen and Will James.
Thomas ended up retiring from the NFL after 2001.
7. Jay Feely
Brian Killian/Getty Images
Signed on March 7, 2005; two years, $4 million
I remember liking that the Giants had brought in Jay Feely to be the team's new kicker.
And then the game against the Seattle Seahawks happened.
On Nov. 27, 2005, the 7-3 Giants traveled to face the 8-2 Seahawks in a battle of top NFC teams.
The Giants had plenty of chances to win the game and improve to 8-3 on the season, but Feely kept missing important kicks.
Feely was wide left from 40 yards out on the final play of regulation, short from 54 yards and short and wide right from 45 yards in overtime.
The Giants ended up losing the game 24-21.
From that point on, Feely earned a reputation with Giants fans as a kicker who would crumble under pressure in a big spot.
6. Kenny Holmes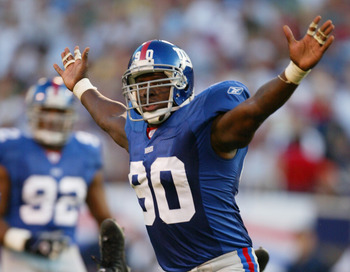 Al Bello/Getty Images
Signed on March 15, 2001; five years, $20 million
The Giants were looking for a replacement for Cedric Jones, who never really lived up to expectations as a first-round pick.
So the Giants had a choice of either going after Simeon Rice or Kenny Holmes.
Because Rice was looking for a $100 million deal in free agency, the Giants passed on him and signed Holmes to a $20 million deal.
Holmes was decent with the Giants, but worth $20 million? Not exactly.
His best season was in 2002 when he had eight sacks, 47 tackles and two fumble recoveries.
What makes this a bust is that Rice ended up having double-digit sacks with the Tampa Bay Buccaneers over the next five seasons and helped Tampa win Super Bowl XXXVII.
And on the other side, Holmes didn't play past 2003. Rice would have looked much better playing on the other side of Michael Strahan.
5. Barrett Green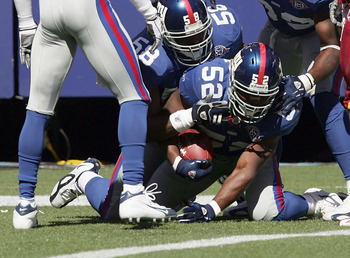 Al Bello/Getty Images
Signed on March 8, 2004; five years, $13.25 million
I had a lot of trouble finding an image of Barrett Green in a Giants uniform but somehow managed to get one for this story.
Why? He barely played.
When the Giants brought him over from the Detroit Lions on a five-year deal, they thought they were getting a playmaker on the outside.
Green's time with the Giants was filled with injuries; he played in just 10 games and had 38 tackles for Big Blue in 2004.
In 2005, Green played in just one game and had one tackle and ended up being released after the season.
4. Brian Mitchell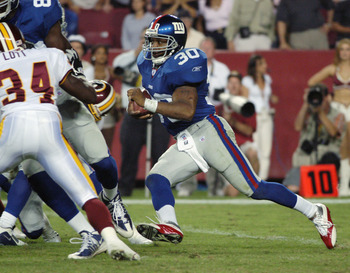 Jamie Squire/Getty Images
Signed on March 4, 2003; four years, $3.35 million
With the Washington Redskins and Philadelphia Eagles, Brian Mitchell was one of the league's very best punt and kick returners.
So before 2003, the Giants decided to bring in the veteran to boost their special teams and gave the 35-year-old a four-year deal.
The only problem? Mitchell looked and played like a 35-year-old and was a shell of his former self.
Mitchell averaged just 5.9 yards on punt returns when he normally averaged 12-14 yards on returns.
Mitchell also didn't have a single touchdown return on a punt or kickoff, either, for the Giants.
Mitchell retired from the NFL after 2003.
3. Carlos Emmons
Brian Killian/Getty Images
Signed on March 6, 2004; five years, $16.5 million
Carlos Emmons signed with the Giants with the chance to play against his former team, the Philadelphia Eagles.
The Giants were hoping to get a pass-rushing outside linebacker who made plays all over the field, just like he did in Philadelphia and against them for four seasons.
In Emmons' first season, he was decent, but didn't live up to the hype of his contract.
In 2004, Emmons had 97 total tackles and one sack for the Giants.
After his first season, Emmons had a tough time staying on the field and was hampered by injuries.
He missed seven games in 2005 and four games in 2006, and his tackle totals really went down.
Injuries and age definitely caught up with Emmons, and he retired from the NFL after 2006.
2. Chris Canty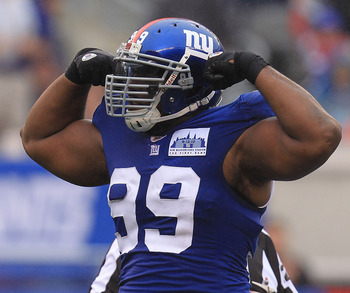 Chris McGrath/Getty Images
Signed on March 1, 2009; six years, $42 million
When the Giants lured Chris Canty away from the Dallas Cowboys in 2009, I was sure the Giants had just landed another top pass-rusher who was going to add double-digit sacks alongside Justin Tuck and Osi Umenyiora.
The Giants decided to put Canty at defensive tackle instead of end, where he played at Dallas, and hoped he would apply pressure up the middle in getting to the quarterback.
Now, Canty was a pretty decent player in his time.
But $42 million to be a decent defensive tackle? Not exactly.
In Jerry Reese's time as the general manager, I would have to rank Canty as his worst signing in free agency because he never lived up to the kind of deal the Giants gave him.
Canty missed a lot of time in 2012 and ended up being released in February.
1. LaVar Arrington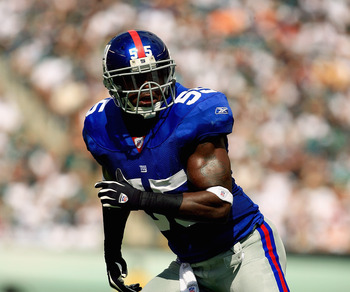 Jamie Squire/Getty Images
Signed on April 22, 2006; seven years, $49 million
I remember this signing like it was yesterday.
At the time of his signing, LaVar Arrington was deciding between playing for the Green Bay Packers or the Giants, and decided to take the Giants' offer because he had a chance to play twice a year against his old team, the Washington Redskins.
I was working at a sporting goods store at the time and got his blue No. 55 jersey the first day it came out; I was that pumped up for Arrington becoming a Giant in 2006.
Arrington was a former first-round pick who had fell out of favor in Washington and was looking for an opportunity to shine in a new home.
And a lot of fans thought he was going to be something similar to Lawrence Taylor at outside linebacker, making plays all over the field, bringing pressure from the outside and sacking the quarterback.
Instead, Arrington played in just six games had 16 total tackles with one sack.
In Week 7 against the Dallas Cowboys on Monday Night Football, Arrington ruptured his Achilles tendon and would be forced to miss the remainder of the 2006 season.
In 2007, Arrington was released and eventually had to retire from the NFL.
Keep Reading

New York Giants: Like this team?