The Undertaker: 7 Fun Facts About WWE's Phenom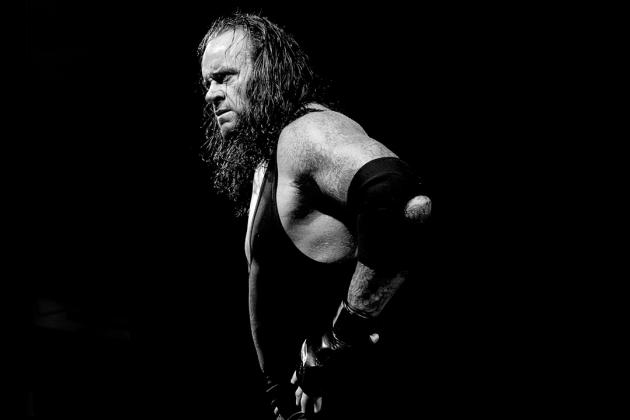 The Undertaker has made his return just in time for WrestleMania 29. Photo Courtesy of WWE.com
It's finally official. The Undertaker announced that he will indeed participate in WrestleMania 29 against former WWE champion CM Punk.
Undertaker has become a living legend in the WWE, wrestling well into his 40s and only appearing once or twice a year. Over the last few years Taker has made himself available just for WrestleMania, giving fans little time to really think much about the character and, more importantly, the man behind the character.
That's what I'm here for.
As you watch The Phenom take on CM Punk at WrestleMania 29 this April keep some of these fun facts in mind.
Here are seven fun facts about The Undertaker.
Begin Slideshow

»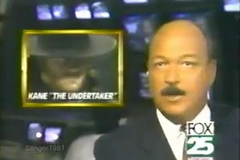 Mean Gene introduced Kane The Undertaker on WWE programming a long long time ago. Photo Courtesy of flickr.com
Most professional wrestlers go through a few different ring names throughout their career. Undertaker has gone through eight. EIGHT.
When he first entered the business he was known simply as "The Master of Pain." He then became Texas Red, The Punisher, Punisher Dice Morgan, Commando, Mean Mark Callous and, my personal favorite, Kane The Undertaker. Yes, you read that correctly, Kane The Undertaker.
As seen on this WWF Update, before Undertaker became...well, The Undertaker, he was Kane The Undertaker. He was given the first name to make it easier on announcers who just didn't really use it for his first few matches.
The WWF then dropped Kane from his name and would eventually give it to Undertaker's "brother."
Undertaker has had some epic matches against incredible opponents. At WrestleMania alone he's beaten the likes of Jimmy Snuka, Jake Roberts, Ric Flair, Triple H, HBK and Edge, among others. Taker has also beaten some impressive opponents at SummerSlam, included on that list: himself?
In the early 1990s Undertaker was dealing with some back injuries which led to a new Undertaker being introduced to the WWE audience by Ted DiBiase after WrestleMania X. The fake Undertaker, Brian Lee, was referred to by the WWE Universe as the "Underfaker" during Taker's absence.
Eventually the real Undertaker would come back to feud with himself which led to the SummerSlam match seen above.
Not many men have beaten themselves in a match...pretty solid.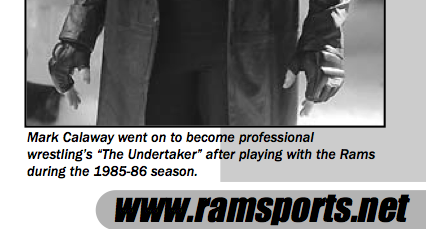 Undertaker played basketball for Texas Wesleyan University. Photo Courtesy of ramsports.net
The Undertaker isn't just a talented professional wrestler, oh no, he's a solid all-around athlete. After high school Taker took his talents to Texas Wesleyan University.
Taker was a talented basketball player and spent a couple of years playing at a two-year college in Texas before heading to Texas Wesleyan for the 1985-86 basketball season with the Rams of TWU.
Unfortunately for TWU Rams fans he found professional wrestling shortly after coming to school and from there, it was all history.

Imagine if he made it to the NBA. Mark Calaway going up against David Robinson or Hakeem Olajuwan.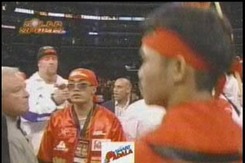 Taker was part of Manny Pacquiao's entourage before his fight with Velazquez in 2005. Photo Courtesy of photobucket.com
Taker's basketball skills aren't his only extracurricular sports interests. It's also well-known that Taker likes to get away from the world of fake fighting with a night of real brawls.
Taker is a huge fan of boxing and even carried the US flag for Manny Pacquiao's team before Pac's 2005 fight against Velazquez. Taker also attended the 2002 battle between Lennox Lewis and Mike Tyson.
The Phenom's love for fighting doesn't end there. He was also part of an infamous encounter with recently-renewed WWE Superstar Brock Lesnar at UFC 121 after one of Lesnar's fights. Taker says in the interview that he's a huge fan of UFC and MMA overall.
Most WWE Superstars have won a title at some point in their career. Maybe in the lower organizations, maybe they've even found WWE gold, but few WWE Superstars win their first professional title against a living legend.
Undertaker did just that. During his time as the "Master of Pain" in the USWA Taker won the USWA Unified World Heavyweight Championship against none other than Jerry "The King" Lawler.
King may just be a WWE announcer now, but he was one of the most important people in the history of professional wrestling in the south. He has done just about everything in the business and on that fateful day in 1989 he put over a young man who would go on to have one of the most impressive streaks in WWE history.
This one brings a little speculation with it, but the story is too awesome to pass up.
Everyone remember Hulk Hogan's cinematic masterpiece "Suburban Commando?"
You don't? It's cool, it probably just took you too long to think through Hogan's endless list of amazing films.
Well, Suburban Commando was a winner. Hogan is a space commando. After an epic space battle, Hogan's ship has to stop on Earth. As he waits for his ship to recharge he finds himself getting into all sorts of wacky hijinx and hilarious situations.
Hogan wasn't the only professional wrestler in the film, however.
Undertaker was signed on for the illustrious role of Hutch, a super-strong bad guy bent on destroying Hogan.
The story goes that Hogan started to become close to Taker and found out he was a professional wrestler. After seeing his impressive acting skills (because the Hulkster knows so much about acting) Hogan called up Vince McMahon who gave Taker a shot.
Can you imagine what the WWE would be like if Vince didn't take a shot on the youngster in the video above? Could you really blame him if he didn't?
This was the most surprising piece of info I found while digging through the deep and dark catacombs of Undertaker's long career. One of Taker's Mania victories was won on a technicality.
During WrestleMania IX Taker took on the man with the most unsettling attire in the WWE, Giant Gonzalez. During the match Gonzalez acquired a cloth with chloroform and knocked Taker out, giving The Phenom his third consecutive WrestleMania victory.
It's the only one of Taker's Mania matches that was decided by disqualification and is an outcome that isn't talked about often when WWE historians discuss Taker's impressive 20-0 streak.
To be fair, he did return and clear Gonzalez from the ring.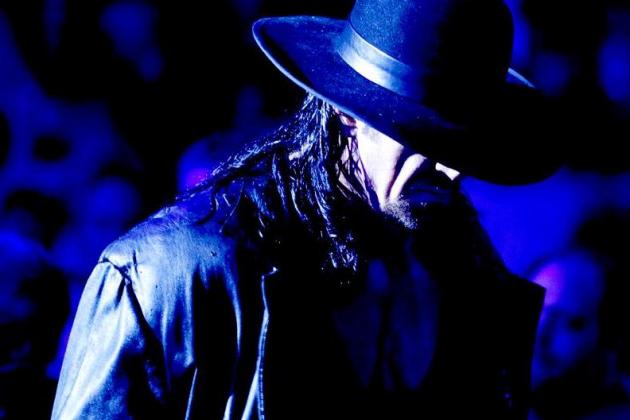 The Undertaker will put his WrestleMania streak on the line this April against CM Punk. Photo Courtesy of WWE.com
There you have it, seven curious facts about WWE's Undertaker.
WWE's living legend has seen and done it all. He's gone through a laundry list of ring names, he fought himself at SummerSlam, he played a little hoop in college, he loves real fighting as much as he likes fake fighting, he took down Jerry "The King" Lawler for his first ever championship, Suburban Commando earned him his WWE contract and one of his WrestleMania victories came from him being knocked out.
Taker is one of the biggest names in all of professional wrestling and he's still not done making history. He'll take on CM Punk at WrestleMania 29 on April 7.
Enjoy fun facts about your favorite WWE Superstars? Check out the rest of the WWE Curious Facts series: Randy Orton, Brock Lesnar, The Rock, CM Punk, John Cena, The Big Show, Dolph Ziggler, Daniel Bryan, Wade Barrett, Damien Sandow, Ryback, Antonio Cesaro