In an NBA trade deadline that came and went without many big names changing teams, the Houston Rockets made a smart move to acquire Thomas Robinson from the Sacramento Kings.
According to ESPN, the Rockets acquired Robinson, along with Francisco Garcia and Tyler Honeycutt. In return, the Kings will get Patrick Patterson, Cole Aldrich and Toney Douglas.
Additionally, Houston sent Marcus Morris to the Phoenix Suns for a second-round pick.
At first glance, this move does not make a whole lot of sense. The Rockets had a good enough first part of the season to be in position to reach the playoffs with the No. 8 seed. Trading most of the frontcourt rotation for a player who averages fewer than five points per game is certainly risky.
However, Robinson has loads of potential. It is not an accident that he was the No. 5 pick in the NBA draft last summer.
Despite the fact that the rookie has not gotten onto the court much for one of the worst teams in the league, he has shown a lot in his limited minutes. He even showed off his athleticism in the preseason with a dunk over Dwight Howard.
Robinson has also been a very efficient rebounder, currently tied for 20th in the league in rebounds per 48 minutes. If he can improve his shooting touch, he could be a very good player.
It is absolutely ridiculous that the Kings would give up on a player of this caliber this early in his career. However, their loss is the Rockets' gain.
What grade would you give this trade for Houston?
With a ceiling higher than either Patterson or Morris, Robinson can slide into the power forward position and be yet another young stud in the Rockets' starting lineup. Even if he is not a superstar, he will grow alongside James Harden, Jeremy Lin, Chandler Parsons and Omer Asik to make a very formidable lineup for years to come.
While this is thinking long term, it does not mean that this deal causes the team to give up on the present season.
The Rockets did not need any help scoring, but they did need help on defense and rebounding. Robinson already averages as many boards as Patterson despite playing 10 fewer minutes per game.
In addition, the new acquisition is slightly taller and stronger, making him more of a true 4 than Patterson ever was. This will help defend the bigger opponents that come through on the schedule.
With the trade, the team will also get a chance to see what first-round pick Terrence Jones is capable of after dominating the D-League all season.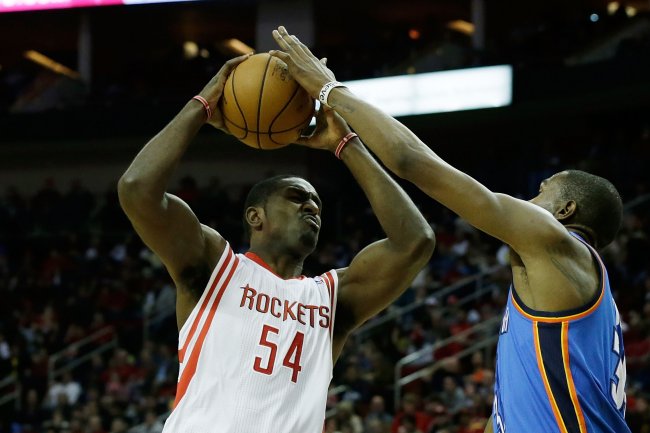 Scott Halleran/Getty Images
Finally, Francisco Garcia is more than just a throw-in part of the deal as someone who can shoot well from three as well as providing a much-needed veteran presence in the locker room.
Sacramento was a desperate team looking to slash payroll. Fortunately for the Rockets, they were the team ready to take advantage of this fact.
This will end up being a major trade for the Rockets in the future, and it might be what was needed to keep the squad in position to make the postseason this year.