10 NFL Combine Prospects That Oakland Raiders Must Closely Watch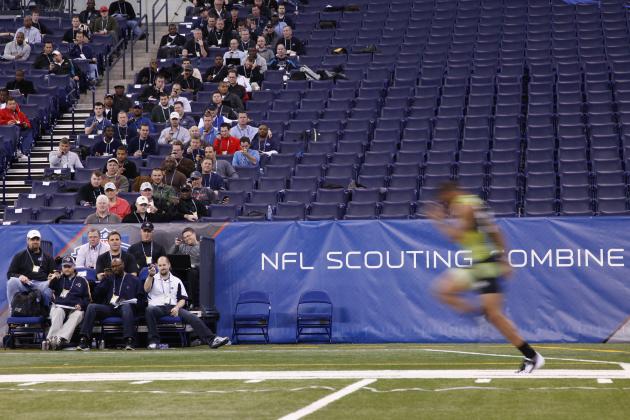 Joe Robbins/Getty Images

With the 2013 NFL Scouting Combine getting underway on Wednesday, the Oakland Raiders begin the first of several key phases leading up to the draft.
Like they did at the Senior Bowl, the Raiders' coaching staff will once again have the advantage of being on the field with the prospects, leading them through their drills and workouts.
With those advantages, and the necessity to build this team the right way, it is imperative for the Raiders to come away from this draft with a solid group to build a foundation upon.
With many needs to fill, here are 10 NFL Combine prospects that the Raiders must closely watch this week.
Begin Slideshow

»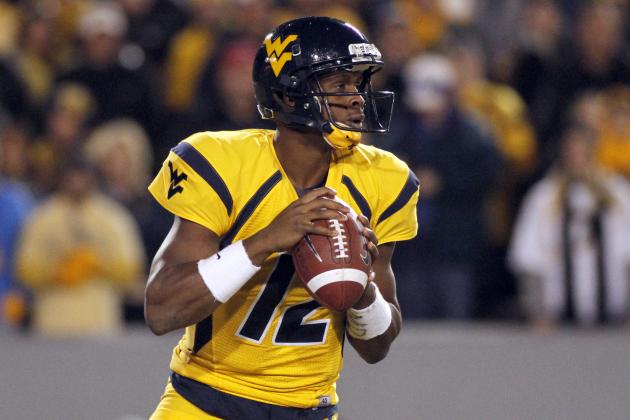 Justin K. Aller/Getty Images

Much of whether or not the Raiders draft a quarterback will depend on what they decide to do with the big contract of Carson Palmer.
The popular opinion around the league, and certainly within fan bases as well, is that this draft does not have a top-10 talent at quarterback. With Geno Smith being the closest resemblance, the combine is the first chance for him to establish that.
Smith, followed by the other quarterbacks in the draft, has made this process all the more interesting by deciding to throw at the combine. Most years, the top quarterbacks don't do so, and we don't get to see them throw until the friendly environment of their own pro days.
If Geno Smith has an impressive showing in throwing drills this week, it could go a long way to him legitimizing himself as a top-10 capable quarterback, and thus a possible target for the Raiders at third overall.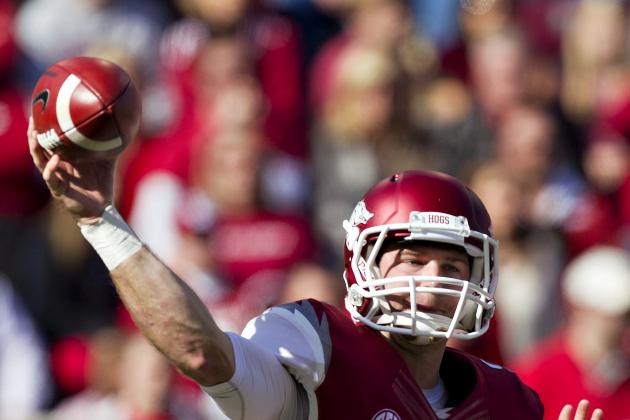 Wesley Hitt/Getty Images

Again, as much as the popular opinion expresses that there is not a top-10 worthy quarterback in this draft, it remains possible that the Raiders opt to select one if their evaluations are strong enough.
Tyler Wilson's pre-draft process, and starting here at the combine, will be extremely interesting for teams like the Raiders to follow. Prior to the 2012 college season, he was an early favorite to be the first quarterback taken in the 2013 NFL Draft. When head coach Bobby Petrino was fired in April, a tough season followed for the Razorbacks as a whole.
Were a lot of Wilson's senior-season struggles due to the unexpected change at head coach? That's what teams will look to find out.
It all starts this week at the combine where he, like Geno Smith, has opted to throw. The Raiders, still not set on their quarterback of the future, would be wise to keep a close eye on how Wilson performs.
Derick E. Hingle-USA TODAY Sports

The most glaring need on the Raiders defensive side of the ball is for a pass rusher. Lucky for them, there are several players projected to come off the board in the top 10 that could have an immediate impact in that area.
There is no denying the speed and quickness that LSU's Barkevious Mingo has coming off the ball. At the same time, questions will remain about his size and resultant strength.
As he said in an NFL AM interview, Mingo played most of the 2012 season weighing in at 230 pounds, and has now bulked up to 245 in advance of the combine. He will look to use this week as his first step in proving that his added size will be enough and that he hasn't lost any of his rare speed and quickness in the process.
Should he succeed, Barkevious Mingo could very well continue to rise up the boards right into the Raiders range in the first round.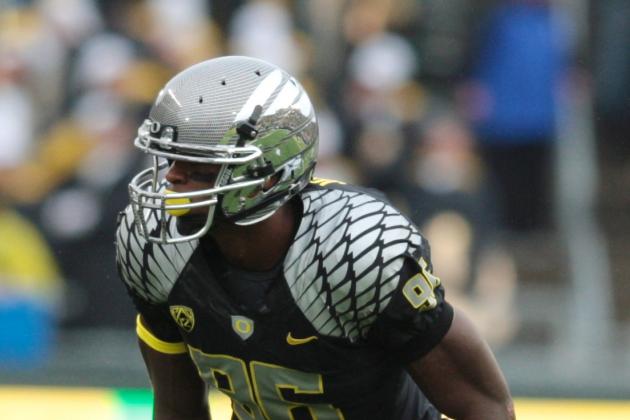 Scott Olmos-USA TODAY Sports

We still don't know what defensive scheme the Raiders will employ moving forward, but if nothing else, it will be multiple. In light of which Dion Jordan, the draft's most versatile pass rusher, becomes all the more interesting.
Jordan projects as either a 3-4 or 4-3 outside linebacker, so his showing in coverage drills will be key. If the Raiders come away impressed with his ability to cover in space, to go along with his pass rush production, he could become one of their top targets in the first round.
At Oregon, there were many times when Jordan would find himself lined up in coverage across from the offense's slot receiver. If his coaches' confidence in him is any indication, Jordan's coverage ability should shine this week and help his draft stock in a big way.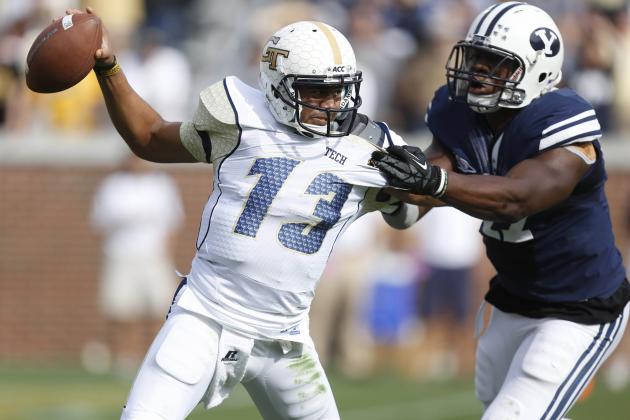 Josh D. Weiss-USA TODAY Sports

Every year, it seems, there is at least one combine prospect that utilizes his "freak" athletic ability to put on a show for all those in attendance. This year, that could be BYU defensive end Ezekiel Ansah.
Thus far in the draft process, opinions vary on Ansah. Is he too raw? Is he a defensive end? Is he an outside linebacker?
Ansah has an opportunity to answer all of those questions this week, and the Raiders will be watching. His pass rush ability and extremely high ceiling make him an intriguing possibility for them as early as third overall.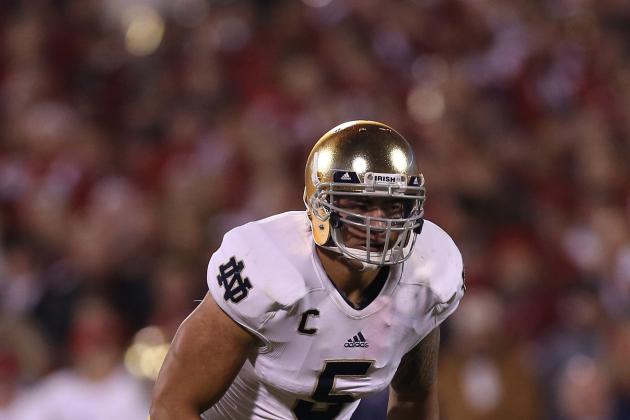 Matthew Emmons-USA TODAY Sports

Manti Te'o is the one prospect that every team and member of the media will have their eye on this week.
Te'o likely isn't a possibility for the Raiders where they are in the first round right now, but should they manage to find what would be an ideal trade-down scenario, he surely would be.
His ability in the running game, outside of the National Championship performance, hasn't really been questioned. Instead, the questions more so surround how he will succeed in coverage at the NFL level and especially so as an inside linebacker. To quiet those concerns, Te'o will have to show that he is fluid in coverage drills and post a solid 40-time as well.
With Rolando McClain's Raiders career likely coming to an end sooner than later, inside linebacker is an immediate need. Like everyone else, the Raiders will have a close eye on Manti Te'o this week.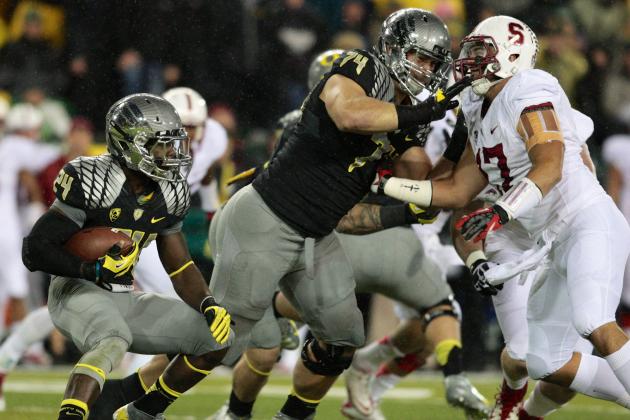 Scott Olmos-USA TODAY Sports

By now, the Raider Nation is well aware of Kyle Long's presence in this draft, being yet another son of Hall of Famer Howie Long to follow in his father's footsteps.
The combine marks the beginning of Long's process in solidifying his draft stock, as his experience and playing time at Oregon were limited. To this point, his athletic ability and potential have allowed many to over look that, and a solid performance this week could continue that trend.
The Raiders need help on the offensive line, as they are once again transition to a new blocking scheme. Kyle Long would certainly be a much-welcomed addition, but a dominant showing this week could bump his stock safely into the second round, where the Raiders currently do not have a pick.
If the Raiders somehow do have a chance to draft him anytime after the first round, it would be a great fit. Either way, Kyle Long will be a player that they must keep an eye on this week and throughout the rest of the pre-draft process.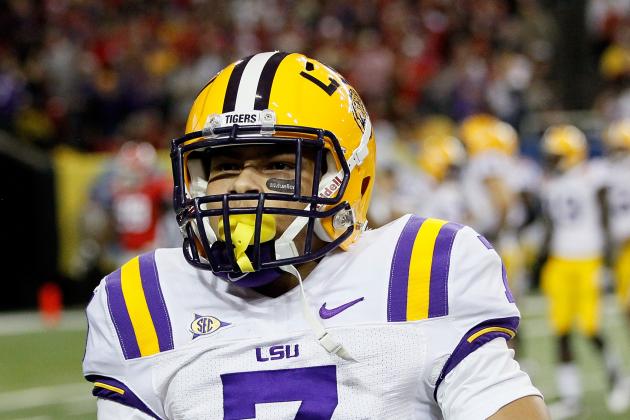 Kevin C. Cox/Getty Images

Just like Manti Te'o, Tyrann Mathieu is a prospect that everyone will have some sort of interest in watching this week at the combine.
The Raiders have a significant need at cornerback, and with Mathieu currently projected as a mid-late round selection, he could be well worth the risk.
Yes, there will be some off-field concerns for any team with Mathieu, but that is one of the things for them to address this week. The interview process will be as big of a key for him as for anyone in the draft.
If Tyrann Mathieu can have an impressive week both on the field and in the meeting rooms, he could give his draft stock a big boost. With the need that the Raiders have for playmakers on defense, Mathieu's proven ability on the football field makes certain that he will be watched closely.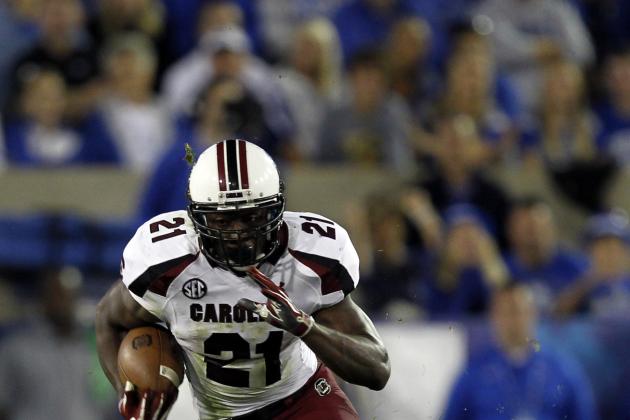 John Sommers II/Getty Images

South Carolina's Marcus Lattimore is an interesting candidate on this list, solely because he won't even be participating in on-field drills.
Heading into the combine, the buzz surrounding Lattimore is in regards to his ongoing recovery from a second season-ending knee injury. Lattimore has said that he will shock doctors at the combine, and is way ahead of schedule in his rehab process.
This should catch the Raiders interest as they could certainly use a running back to pair with Darren McFadden. With McFadden's injury history, such depth becomes all the more imperative, and a mid-round pick is quite justifiable for the talent that Lattimore brings.
Again, while the combine won't involve physical drills for Marcus Lattimore, it is significant in its own right. His evaluation on the part of team doctors will be huge for his draft stock in April.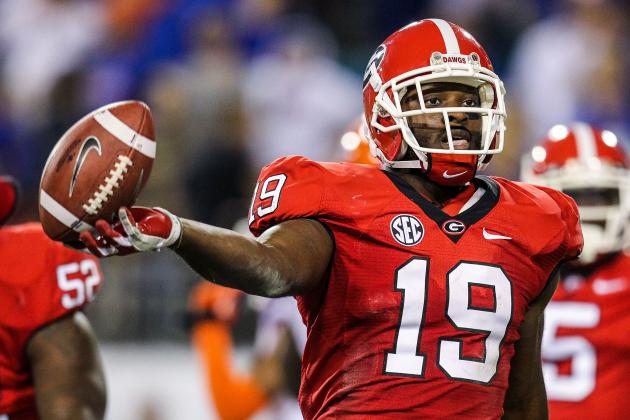 Daniel Shirey-USA TODAY Sports

In what is an impressive cornerback class, Georgia's Sanders Commings may be overlooked a little bit. If that is indeed the case, he could change that in a big way this week at the combine.
Again, the Raiders have a glaring need at cornerback, and it wouldn't be out of the question to see them spend several picks on the position in April's draft. Commings is a player who showcased his ability to make plays on the football in his time at Georgia, which is something that Raiders cornerbacks have had problems doing for several years now.
Posting a solid 40-time and performing well in agility drills could do a lot to answer lingering questions about whether or not he has the speed and quickness to succeed at the NFL level.
Should he be able to do so, expect the Raiders to take notice if they haven't already.