Why Both Ed Reed and Charles Woodson Would Be Perfect Fits for Patriots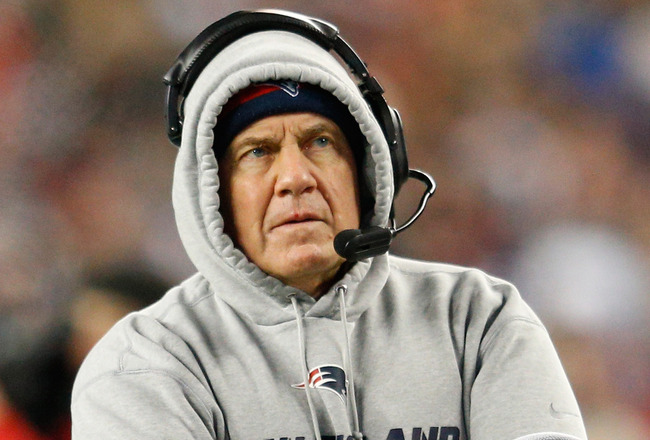 Head coach Bill Belichick needs the final piece to get this team its first Super Bowl since 2004.
Jim Rogash/Getty Images
The New England Patriots' season ended in disappointment yet again after a loss in the AFC championship game to the Baltimore Ravens.
While injuries and a hot Ravens team factored into the loss, one thing became clear.
The Patriots need to boost the secondary in some way.
Midseason acquisition cornerback, Aqib Talib, provided a talented defender who could match up with opposing No. 1 wide receivers. But Talib's status is up in the air, seeing as how the Patriots might not want to dish out top-market cash for a player whose character and focus are constantly under scrutiny.
The Patriots' Super Bowl teams consisted of Bill Belichick type players. Hard hitters, intelligent position players and veterans were the backbone of the Patriots winning defenses.
New England is hungry for a Super Bowl victory before Tom Brady's career is over with the Patriots.
A strong, smart and hard-hitting safety or cornerback could be the missing piece.
Luckily for the Patriots, two of the best secondary players of the last decade are on the free agency market.
Ed Reed and Charles Woodson would be perfect fits for the New England Patriots.
1. Leadership
If Ed Reed winds up on the Patriots, he could hoist another Super Bowl trophy at the season's end.
Mike Ehrmann/Getty Images
The Patriots' defense is on the younger side and lacks a veteran leader outside of star defensive tackle Vince Wilfork.
Leadership plays a major role in the fluidity and motivation of a defense.
In the past, the Patriots had players like Tedy Bruschi, Mike Vrabel, Ty Law and Rodney Harrison to lead the defense. But since then, the team, and especially the secondary, have become a group of very young players who lack the motivational leader or on-field coach that many defenses thrive under.
Ed Reed did have to play on the same field as one of the greatest linebackers in NFL history, Ray Lewis. Yet, Reed carried his own silent leadership with stellar play, and just his presence can alter a team's defensive mindset.
Reed is a fantastic on-field coach, which is something that the young group of talented Patriots players in the secondary need.
He is a bit quiet and aging, but Reed is still one of the league's best safeties who is also one of the hungriest players on the field.
The Patriots' younger players can learn under Reed's leadership and thrive in an environment committed to success in the secondary.
Charles Woodson is also a natural leader that the Patriots could utilize.
The Green Bay Packers' defense struggled immensely when Woodson went down with a broken collarbone, but Woodson was a difference maker when he was on the field in the playoffs.
Woodson is a former Heisman winner at Michigan in 1997 and also won Defensive Player of the Year back in 2009.
Packers GM Ted Thompson described why Woodson is such an important player to USA Today, "A once-in-a-generation talent as a player, he is also a great leader and ambassador for the organization off the field."
Woodson truly is a "once-in-a-generation talent" and his leadership backs that up.
If the Patriots are willing to dish out the money for a proven winner and leader, then Woodson would be a perfect fit.
2. Hard Hitters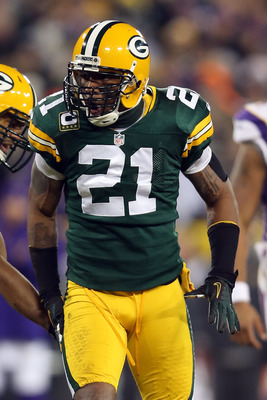 Charles Woodson is not afraid to play up in the box and rush the quarterback, too.
Andy Lyons/Getty Images
The Patriots have lacked one key piece since Rodney Harrison retired.
They need a hard hitting safety who can strike fear into opposing wide receivers over the top.
New England had players like Harrison, Eugene Wilson and Lawyer Milloy in the past, but they have not had a game-changing safety in recent years.
A high-caliber safety at the level of Reed or Woodson would alter the landscape of the defense.
Ed Reed can be a ball-hawking safety, but he is also known as a hard hitter who sometimes stretches that label too far and gets fined by the league for his hits.
Reed is a hard-hitter nonetheless, and that can limit opposing wide receivers.
When a receiver knows that there is a chance of getting clocked by a guy like Reed, they think twice and can make mistakes.
Safety Patrick Chung has been plagued by injuries throughout most of his career, so his impact as a hard hitter has not really been felt.
Woodson is a hard-hitter who is also extremely versatile as a safety or cornerback.
He can line up in the box and make the tackles in the running game, blitz and rush the quarterback, and light up opposing wide receivers over the top.
Woodson may be 36 and lack the outside speed to cover wide receivers, but as a safety in help coverages or a player in the box, he can make the difference.
He will be able to cover tight ends and make strong tackles.
Woodson is not the same sort of enforcer that Ed Reed is, but the two of them will also contribute interceptions to a team that already ranked second in takeaways with 41.
Rodney Harrison was the Patriots' enforcer in the secondary for a few years with his hard hits and intense defense. Reed and Woodson might not be on that level of ruthless defensive play at this point in their careers, but they are hard hitters who can change the game and outlook of this secondary.
3. The Missing Piece
Ed Reed may not want to leave Baltimore, but if he does, the Patriots' Bill Belichick wants him.
Christian Petersen/Getty Images
Ed Reed and Charles Woodson are New England's missing pieces right now.
The Patriots need to act now to win a Super Bowl because this team is extremely talented.
New England has bright spots in the secondary with Devin McCourty, Alfonzo Dennard, Kyle Arrington and the return of Ras-I Dowling from injury.
Reed and Woodson provide depth for a Patriots' secondary that could seriously use some help.
Until Talib got to New England, the Patriots lacked a true top cover corner and could not throw Dennard, as a seventh-rounder rookie, in that role.
Reed and Woodson allow the Patriots to move players around and put McCourty back into the cornerback role where he has struggled at times or keep him at safety, but either way he should have an easier time with Reed or Woodson backing him up.
According to Greg A. Bedard of the Boston Globe:
What we know right now is that Woodson is an unrestricted free agent and has indicated that he wants to continue playing with a contender to win his second Super Bowl title. The Patriots are certainly a contender, and need help in the secondary. Also, Woodson and Brady are friends, and Belichick has been a longtime admirer.
Belichick is a very smart coach who will only pull the trigger in free agency if the team really needs the help at a certain position.
Over the last two years, the Patriots' secondary has struggled and factored in as a major reason for the team's exits from the playoffs.
New England has the highest of expectations.
If the Patriots do not win a Super Bowl every season, it is considered a disappointment.
New England has the potential to make a huge acquisition that takes away from a conference rival and boost their own team's weakness, the secondary.
K.C. Joyner of ESPN.com says about Ed Reed,
When a team can take away a pillar of one of its top conference rivals and use that player in a way that positively impacts nearly every facet of the club, it is the kind of move that has the potential to go down in football history as one of the most impactful free agent signings ever. As long as Reed is willing to leave Baltimore, Belichick and the New England front office should do everything they can to make sure he is wearing a Patriots uniform in 2013.
It is time to make the move in free agency and use the extra salary cap space.
Woodson and Reed are out on the market and could be wooed to New England because both of these guys want a true contender and have connections to the team. Reed likes Belichick and Woodson played with Brady at Michigan.
It is rare to see two elite secondary players available at the same time in free agency.
Reed and Woodson are perfect for the Patriots and they should be sought after in the free agency period.
Keep Reading

New England Patriots: Like this team?