South Carolina Football: Way Too Early Game-by-Game Predictions for 2013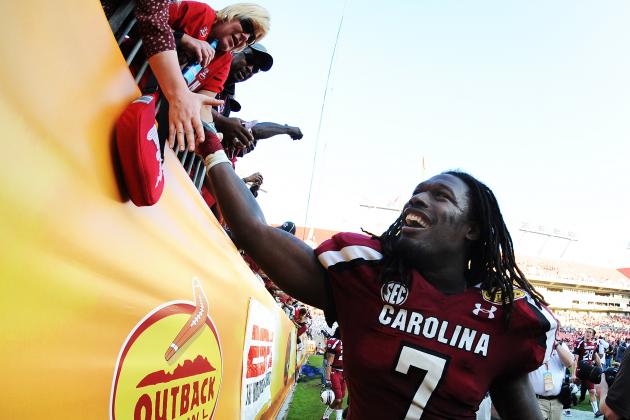 Al Messerschmidt/Getty Images

So, as of the date of this publication, there are 192 days until South Carolina kicks off its 2013 football season. It will be a season that is full of hope, as the Gamecocks are as talented as they have ever been.
They are led by a Heisman candidate defensive end and two spectacular quarterbacks. They were also able to bring in an excellent recruiting class this year, and perhaps most importantly, they have one of the greatest coaches of all-time roaming the sidelines in Steve Spurrier. He's hungry for an SEC championship.
The 2013 schedule also sets up nicely for the Gamecocks to completely run the table.
A lot can happen between now and Aug. 31, though. Suspensions, injuries and surprise freshmen could all affect what kind of team the Gamecocks will eventually become next season.
However, here is a way too early, game-by-game prediction as to how the 2013 season will unfold.
Begin Slideshow

»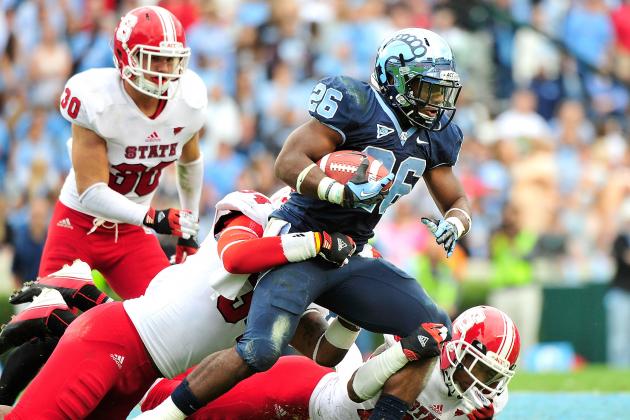 Grant Halverson/Getty Images

North Carolina fans seem to be very confident about their chances in this game. Truthfully, they should feel this way, as the Tarheels are not a terrible team.
They finished 8-4 last season and had the 14th-ranked offense in the nation. They are a team that will score a lot of points next season, but a great deal of their potential success rides on the continued success of quarterback Bryn Renner.
However, the Gamecocks have the better defense, and it isn't even close. This unit will make the plays when it counts. The Gamecocks will shut down the notion that the first game of the year is always bad for them, and they'll announce to the world that the mentality in Columbia is right for a run at it a national championship.
Prediction: Gamecocks win by 10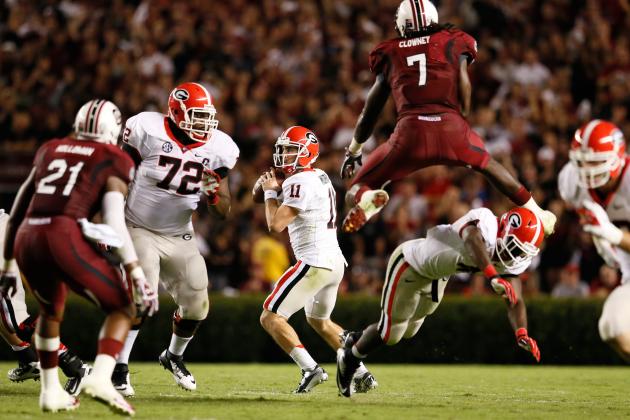 Kevin C. Cox/Getty Images

Georgia lost a great deal of talent on defense this year, and will be returning most of the players from a usually explosive offense that struggled to move the ball against the South Carolina defense last season.
A motivated Aaron Murray, the Bulldog's renowned quarterback, may make for an interesting game, though. Still, the Bulldogs lost 35-7 last year in a nationally-televised embarrassment against the Gamecocks, and it seems like Steve Spurrier just has Mark Richts' number right now.
Expect more of the same this year, with the Gamecocks having an improved offense. The Gamecocks will go into Georgia and roll the Bulldogs.
Prediction: Gamecocks by 14

Frederick Breedon/Getty Images

Vanderbilt is a program on the rise. They play with a great deal of passion and are starting to recruit like an SEC program.
They're going to surprise a lot of people in 2013, and there is no doubt that coach James Franklin has this team on the rise. They have always have always been great in terms of academics, and now, they're finally putting together the athletic success that draws top recruits.
Again, they will surprise many teams next season.
Unfortunately, it will not be against the Gamecocks.
Prediction: Gamecocks by 10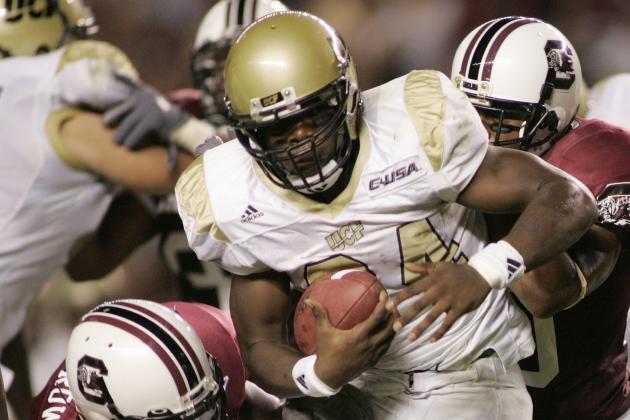 Grant Halverson/Getty Images

One would look at UCF and think that they should be an easy opponent for the Gamecocks, right?
Well, hold your horses.
The Knights were not a terrible team in 2012. They finished the season with a 10-4 record, and played big-time programs like Ohio State and Missouri tough as well.
It's at Central Florida as well, so the Gamecocks can't look past these guys. They could get beaten by a quality team with a strong defense.
Still, South Carolina will pull it out handily.
Prediction: Gamecocks by 17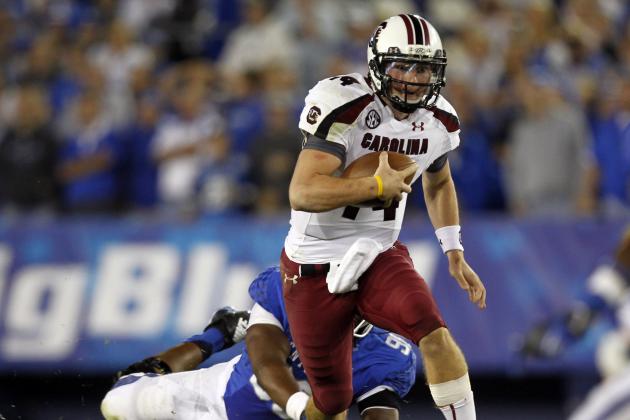 John Sommers II/Getty Images

Kentucky is still really bad, and new head coach Mark Stoops has his work cut out for him.
Last year, the Wildcats put together one of the most inept SEC seasons that I've ever witnessed. The got crushed by almost everyone that they played, including a 40-0 beat down by Vanderbilt.
They played the Gamecocks close in the first half last season, however, South Carolina pulled away in the second half, en route to a 38-17 victory.
The Gamecocks will demolish the Wildcats again this year.
Prediction: Gamecocks win by 28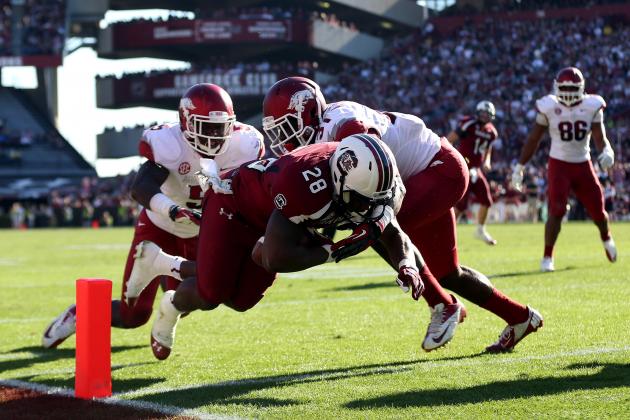 Streeter Lecka/Getty Images

Another team in distress, Arkansas is a team that is officially entering rebuilding mode. Gone is their superstar quarterback Tyler Wilson, and Brett Beielma is taking over as head coach after doing fantastic things at Wisconsin.
The Razorbacks could very well rise back up to the top of the SEC West before long, but it won't happen next year. They've lost too much talent and have too many issues to be competitive this early.
Prediction: Gamecocks win by 10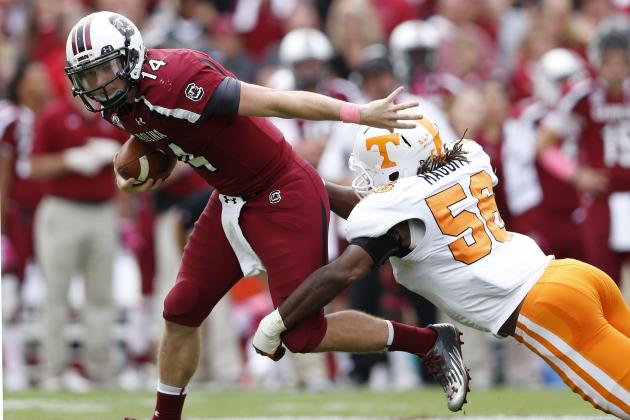 Joe Robbins/Getty Images

Does anyone remember when Tennessee was good? Anyone?
Yeah, it's been a while.
The Volunteers have a long road ahead of them. The outlook for the 2013 became a great deal more depressing with Tyler Bray's announcement that he will jump to the NFL this year. As a result, the Volunteers will need some serious help on offense and defense.
They didn't have a great recruiting cycle this year, and they don't return much top-tier talent, either. I think 2013 will be a low point for the Volunteers before they bounce back into competitiveness.
Prediction: Gamecocks win by 21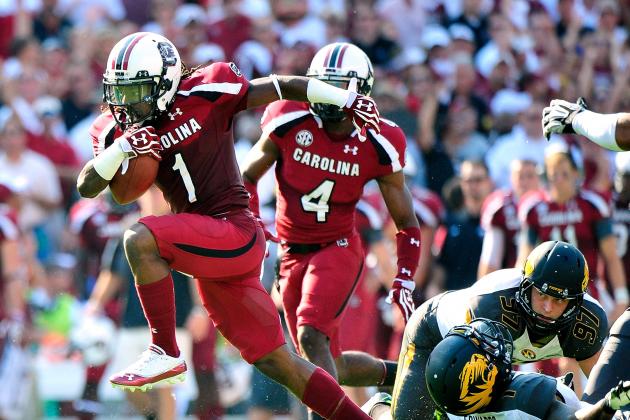 Grant Halverson/Getty Images

Missouri had a disappointing 2012 campaign. While Texas A&M flourished in their inaugural year in the SEC, Missouri immediately became a bottom feeder during their first season in the conference.
They followed up their awful season with an abysmal recruiting effort, where they finished dead-last in the 2013 SEC recruitment rankings, according to Rivals.com.
This is all setting up for a disastrous 2013 season for the Tigers.
Missouri looks like they will, once again, be the SEC East's bottom feeder, along with Kentucky and Tennessee. However, unlike Tennessee and Kentucky, it looks like there is little room for improvement.
It's a tough time to be a Missouri fan.
Prediction: Gamecocks win by 24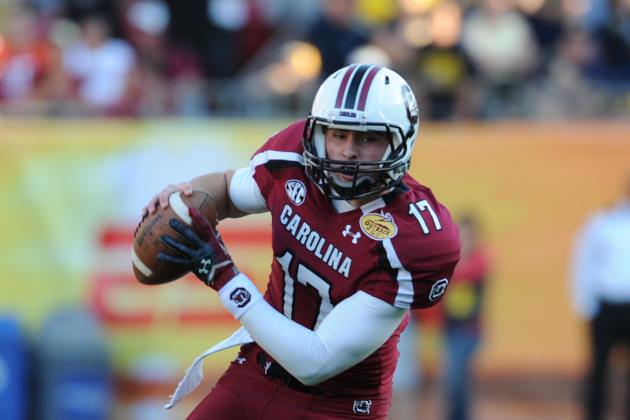 Al Messerschmidt/Getty Images

Mississippi State had a surprisingly good season in 2012. They no longer have their excellent receiver Chad Bumphis, but they will retain their solid starting quarterback (Tyler Russell) and their solid running back (LaDarius Perkins).
They also have a good defense.
This is a game that feels like a "trap" for South Carolina. The Gamecocks will be coming off of a three-game road trip heading into this game, and they have a game with Florida looming two weeks after this contest. If Mississippi State comes in and plays well, they could beat the Gamecocks.
It's in Columbia, and I believe the stakes will be very high for this game. Still, the Gamecocks will pull off a close one.
Prediction: Gamecocks win by 7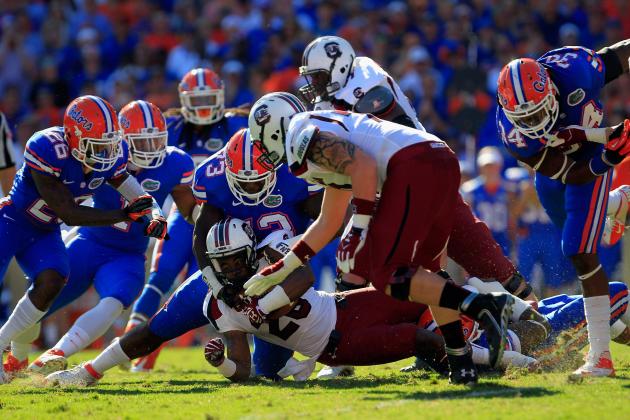 Chris Trotman/Getty Images

Florida was the biggest surprise of 2012. They had a stellar defense and an effective offense that got better with each passing week.
Next season, they will return a great deal of talent and they also had an incredible recruiting cycle in 2013. The Gators are loaded and will most likely be the favorites to win the SEC East in 2013.
Their schedule isn't particularly difficult next season—much like the Gamecocks—so this contest will be the make-or-break SEC East game of the season.
The game will be played in Columbia, and the Gamecocks will be fired up. Steve Spurrier will taste victory here and get the Gamecocks back into the SEC championship game.
Prediction: Gamecocks win by three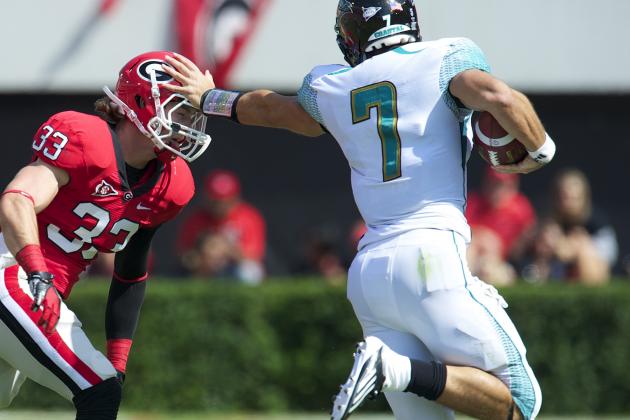 Dale Zanine-USA TODAY Sports

This is Coastal Carolina we're talking about here, and there is no way that this game will be a close contest. The Gamecocks will slaughter this team and will probably rest their starters by the end in anticipation of next week's game against Clemson.
Prediction: Gamecocks win by 35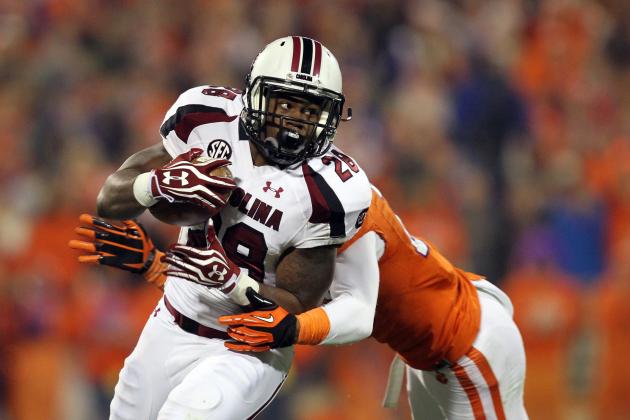 Streeter Lecka/Getty Images

Every year for the past four years the Clemson Tigers have walked into this game over confident and highly ranked. While the Tigers feast on afwul ACC teams and coast into this game, the Gamecocks have sharpened their talons against SEC opposition.
This year, they open the season against a pretty good Georgia team. However, the Gamecocks will be the best team they face all season.
The Gamecocks will demolish Clemson in this game and walk away with a fifth win in a row. The Tigers are weak on the offensive line. With Jadeveon Clowney and company leading the way, Tahj Boyd needs to make sure he has extra padding on for this game.
Prediction- Gamecocks win by 21.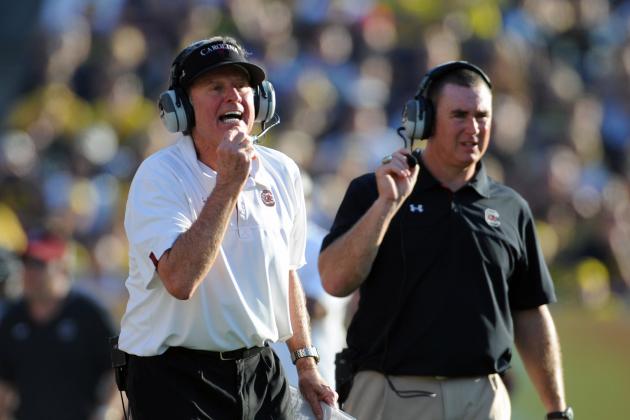 Al Messerschmidt/Getty Images

Looking at the schedule, it's tough to see one game that the Gamecocks shouldn't win. The most important—and most difficult—game of the season will be against Florida. Yet that game will take at Williams-Brice Stadium, which should give the Gamecocks the edge, as long as they hold on to the ball this year.
The Gamecocks have an incredible defensive line and the potential for a really strong offense. The questions surrounding the Gamecocks linebackers and defensive backs should be answered by talented young players that will step up.
The Gamecocks have a great chance to go 12-0 during the regular season, and they will probably face Alabama in the SEC championship game.
Unfortunately, like those before them, they will be probably be beaten by the Crimson Tide in that game.
However, their outstanding record otherwise will be enough to put the Gamecocks in a BCS bowl. That would be a huge accomplishment and a major step up for the Gamecocks.