WWE Elimination Chamber 2013 Results: 10 Most Surprising Developments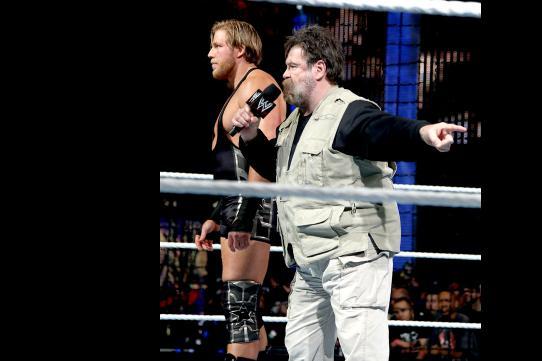 photo courtesy of wwe.com
WWE Elimination Chamber provided a great bump on the Road to WrestleMania 29 with a number of expected and unexpected developments in storylines.
It came as no surprise that Antonio Cesaro, Kaitlyn and The Rock walked away victorious.
However, what were the most surprising developments of WWE Elimination Chamber 2013?
While many WWE fans were probably surprised to see Jack Swagger win the chamber match, there were a number of other developments that seemed to be even less expected.
With that said, here are the 10 most surprising instances and situations from the February 2013 WWE pay-per-view.
Begin Slideshow

»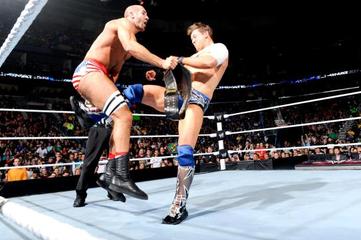 photo courtesy of wwe.com
It wasn't much of a surprise to see The Miz lose to Antonio Cesaro for the United States title. It was a surprise though, how The Miz lost.
The Miz's face turn has been questionable, while Cesaro is on the verge of becoming a main event star in WWE. The Miz was also injured, leaving little reason for the awesome Superstar to lose in a controversial way.
The Miz losing by a disqualification leaves open the idea that this feud will not end here. While the outcome probably won't be any different, one should expect to see another match between the two at WrestleMania.
photo courtesy of wwe.com
When Paul Heyman convinced Mr. McMahon to add a stipulation to the WWE title match, fans were probably expecting some sort of interference. Whether it would be The Rock or CM Punk disqualified, one expected the stipulation to come into play.
However, The Shield and The Undertaker were nowhere to be seen during or after the match. The stipulation wasn't really necessary other than to have people talking.
WWE fans expected The Rock to win and set up a twice in a lifetime match with John Cena. The stipulation proved to be a trick and give CM Punk some hope of winning the match and title. A Punk win could have set up a triple threat match for the WWE title at WrestleMania.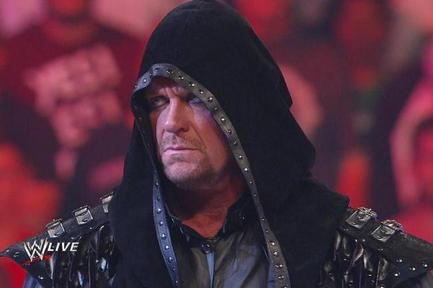 photo courtesy of wwe.com
When CM Punk lost once again to The Rock at WWE Elimination Chamber 2013, WWE fans may have expected the lights to go out. It has been speculated that The Undertaker would face CM Punk at WrestleMania 29. However, at the conclusion of the pay-per-view, the Phenom of WWE was nowhere to be found.
It is still possible that The Undertaker will return on Monday Night Raw or a future show to set up a WrestleMania match. There is nearly seven weeks until WrestleMania on April 7th, leaving a lot of time to build up to matches.
It just seemed a bit surprising that CM Punk's match for WrestleMania remains a mystery due to a lack of the Undertaker.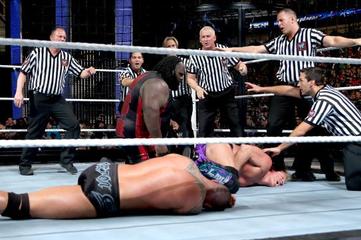 wwe.com
Mark Henry was certainly the favorite to win the chamber match and most likely to face Alberto Del Rio for the World Heavyweight title at WrestleMania.
Not only did Henry lose, but also he was just the third Superstar eliminated in the chamber match.
Henry did eliminate both members of Team Hell No, but his destruction ended when Randy Orton hit the RKO. Henry would re-enter the chamber and deliver his World's Strongest Slam to the remaining competitors.
After Henry returned recently, WWE Superstars have been unable to stop the World's Strongest Man. This made Henry's loss at WWE Elimination Chamber 2013 that much more surprising.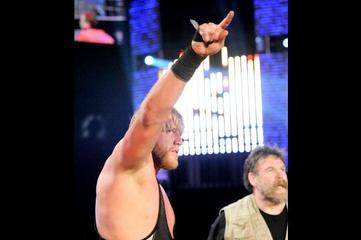 wwe.com
While Mark Henry was the favorite to win, Jack Swagger came away victorious as the Real American will now challenge for the World Heavyweight title at WrestleMania.
I considered Swagger to be the dark horse to win this match as, like Henry, Swagger also returned recently. Also like Henry, Swagger has been on a rampage since his return.
Swagger's win sets up a very interesting match with Alberto Del Rio at WrestleMania 29. As discussed in my weekly radio show, there is a huge Latino population in the New York City area that is hosting WrestleMania. Swagger and his manager, Uncle Zeb Colter, have come off a bit racist. This will hopefully lead to some intriguing promos and situations between the two leading up to their match.
Either way, Swagger's win was not as surprising as other events from the pay-per-view, but it certainly wasn't expected.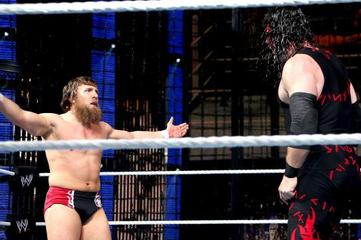 photo courtesy of wwe.com
Team Hell No members Kane and Daniel Bryan planned on helping one another in the chamber match. However, after Bryan tried to pin Kane, their partnership ended for the match.
At the Royal Rumble this year, Bryan eliminated Kane who then helped eliminate Bryan. I was expecting a similar situation in the chamber match with one tag team champion eliminating the other. This did not happen as Mark Henry eliminated both Superstars.
Having Kane eliminate Bryan or vice versa would have added to the friction already established between the two Superstars.
It seems to be only a matter of time until the team splits up and WWE could have done more with this situation at WWE Elimination Chamber 2013.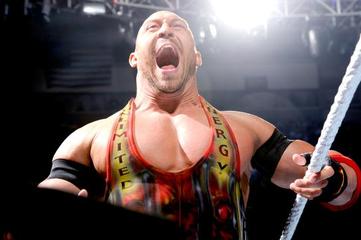 photo courtesy of wwe.com
When The Shield were pitted against John Cena, Ryback and Sheamus, many were wondering who would be the one pinned. It was possible for a disqualification loss, but that would have made the end look lackluster.
If The Shield were to win, it seemed unlikely that John Cena would get pinned. He just won the Royal Rumble match and is set to challenge for the WWE title at WrestleMania 29.
That left Ryback and Sheamus.
Ryback had lost four pay-per-views in a row prior to WWE Elimination Chamber 2013. Losses at Hell in a Cell, Survivor Series WWE TLC 2012 and Royal Rumble meant that Ryback couldn't really afford to lose again.
Surprisingly, it was Ryback who took the pin. He looked frustrated at the end of match. What this means for his future is still to be determined, but losing four pay-per-views in a row can not be good for someone who was being built as the next top babyface.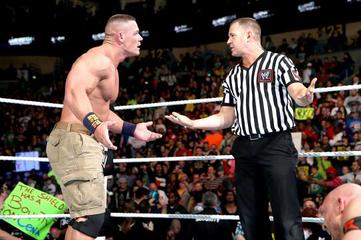 photo courtesy of wwe.com
While Ryback took the pin, this loss still counts for John Cena as well.
WWE chose to give The Shield the win, probably due to the fact that it was only their second official match.
After a horrendous 2012 in which Cena lost to The Rock, CM Punk and even Dolph Ziggler, Cena is supposedly going to have a better year in 2013. He began the year becoming just the fourth Superstar to win multiple Royal Rumble matches.
Cena needs to look strong going into his WWE title match with The Rock. Therefore, having his team lose had to be considered as long as Cena didn't take the pin.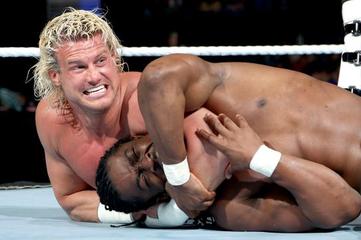 photo courtesy of wwe.com
While Ziggler was not advertised as having a match, the Show Off did make an appearance that led to an impromptu match with Kofi Kingston.
The match was unnecessary, as Kingston has been used as a jobber recently, while Ziggler continues to be pushed. Regardless, it was an opportunity for Ziggler to get a match on the pay-per-view.
Although having the match was a surprise, it was nice to see WWE also show off Big E Langston. The trio of Ziggler, Langston and A.J. have not always had time on WWE TV. Langston seems to have a bright future and WWE should continue to build him as the next top monster heel. He could easily take Mark Henry's place as the World's Strongest Man seems to be at the end of his career.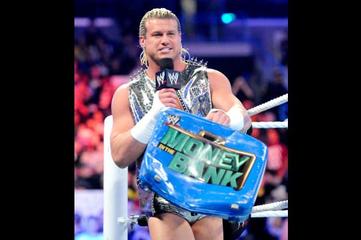 photo courtesy of wwe.com
Without a pre-announced match at WWE Elimination Chamber 2013, many WWE fans might have been expecting a cash in by Mr. Money in the Bank Dolph Ziggler.
However, once again, Ziggler chose to hold onto the briefcase and settle for a meaningless match with Kofi Kingston.
Ziggler has until July to cash in his briefcase, but a cash in at the Elimination Chamber pay-per-view would have guaranteed him a main event match at WrestleMania 29.
Perhaps Ziggler is waiting to cash in at the show of shows, but some fans were hoping for a Ziggler versus Jericho match for the title at WrestleMania.
When the World Heavyweight title match began the pay-per-view, it seemed possible that Ziggler would cash in. However, Del Rio did not suffer any attacks following his win and Jericho did not win the chamber match.
It remains to be seen when Ziggler will cash in.

What did you find to be the most surprising development of WWE Elimination Chamber 2013? Please leave your thoughts and ideas in the comment section below.
Follow me on Twitter (@sethgutt) and check out my site guttwrenchpowerblog.com.
You can like GWP on Facebook here.