The Ultimate Fighter 17, Ep. 4 Play-by-Play & Results: The Uriah Hall Aftermath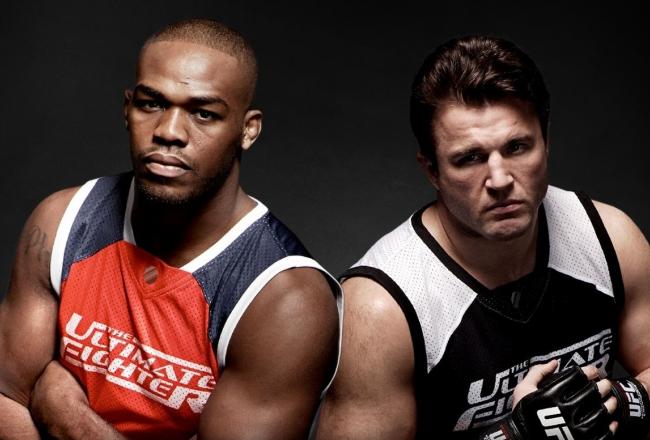 Can Team Jones avoid going 0-3 against Team Sonnen?

Season 17 of The Ultimate Fighter continues Tuesday night at 9 p.m. PT/ET on FX with the middleweight tournament between Team Jon Jones and Team Chael Sonnen—and things are looking dire for the UFC's light heavyweight champion.
In Episode 3, Uriah Hall announced himself as the fighter to beat with a sickeningly violent head kick KO victory over Adam Cella, moving Team Sonnen to 2-0 in the first-round bracket.
Thankfully, Cella eventually regained his senses, but was nonetheless sent to the hospital (with Jones in tow) to check for brain damage. That left Sonnen running things solo as he made the next matchup of the season, pitting Kevin Casey against Collin Hart.
(Check out the full list of competitors and team rosters.)
For the first time in the season so far, a Team Sonnen fighter has been paired off with a higher-ranked opponent based on roster picks, but the biggest issue facing Casey is whether or not a cut over his eye will affect his bout. Can he push Team Sonnen to a perfect 3-0 and retain control of the fight picks?
UPDATE: Check out the full episode recap right over here, with impressions and thoughts on the match.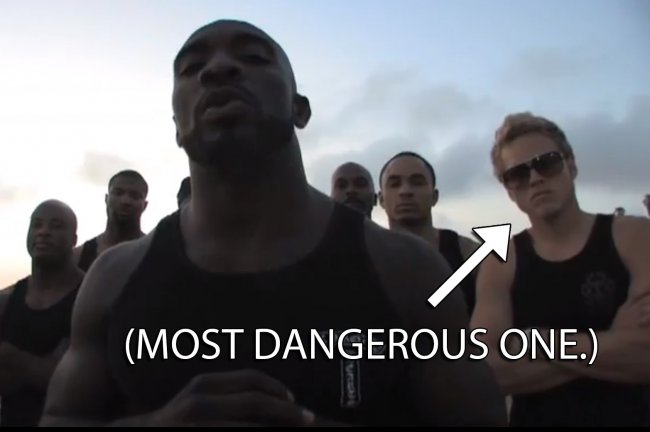 Oh, well. Maybe someone goes to the hospital next episode.
OK, that's a wrap.
Full episode recap coming up soon.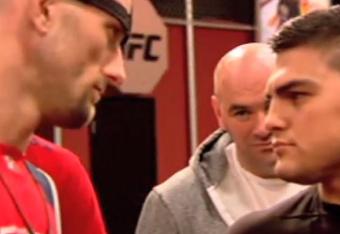 Jones says that having the fight picks back is really going to help his team.
Jones picks Bubba McDaniel vs. Kelvin Gastelum next, and we're reminded that Gastelum is the youngest fighter in TUF history.
Sonnen admits that Bubba's the favorite, but Kelvin will surprise them.
Preview for the next episode shows Team Sonnen dealing with their first loss, and it should be interesting to see how it affects them.
Sonnen tells the camera crew that Collin Hart set the pace early.
Casey didn't fight back when he needed to, and Dana White agrees that Casey didn't really show up to fight.
Hart apologizes for flipping off Casey, for what it's worth.
Hart says that the win wasn't really a win, since he let it go to the judges, and immediately gets on a treadmill. Bet he's mad that he lost a paycheck by not finishing.
Casey says that he was waiting for Hart to gas, but it never happened.
UGH. Casey has another cut on from an accidental headbutt and it's DEEP.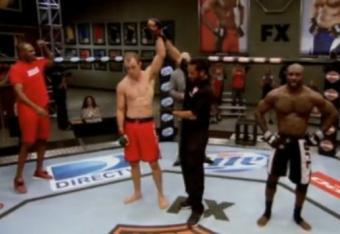 Result: Collin Hart def. Kevin Casey via Unanimous Decision
Team Jones - 1, Team Sonnen - 2
Before the judges announced the scores, Jones claimed that Casey was already mentally defeated.
It's hard to say whether or not Casey's cut played into his loss—he just looked tired.
Kevin Casey vs. Collin Hart
Round 2 - Jones tell Hart to pressure Casey more, and Casey is breathing like a wounded rhino in his corner. They comes out of her corners and Casey immediately starts swinging at Hart.
Uh-oh. Casey is bleeding badly. Must've gotten clipped in that last brawl. Hart pushes Casey against the fence and lands a ton of knees.
Hart gets a takedown on Casey and passes guard without much trouble.
Casey eating punches now, and that's not going to help his cut. Hart is scoring points all over the place, and Herb Dean doesn't seem in a hurry to stand things up.
Jones tells Hart to cover Casey's mouth, and then instructs him to aim for the eye. Casey has been trapped underneath Hart for most of the round now. Casey tries a guillotine off his back, but it goes nowhere. Casey is offering little resistance and he looks extremely tired.
Hart sits and Casey's guard and fights wrist control. Casey briefly creates space, but Hart goes right back on top of him. Hart lands more shots as the round ends. That's a win for Hart in my book, 20-18.
Kevin Casey vs. Collin Hart
Round 1 - Herb Dean is reffing the fight, and Hart BLITZES across the cage and dumps Casey on his back. Casey defends, but Hart is controlling him pretty effectively.
Casey closes guard, and not much striking going on. Casey trying to tie up Hart, but Hart manages to throw some short punches.
Hart fights off a guillotine, but Casey is hanging onto it for all he's worth. Casey uses the attempt to get back up to his feet, and they clinch against the cage. Hart pushes off the cage and lands a few knees, then drives Casey back into the fence. Casey turns Hart into the fence and looks for space to strike.
Hart getting the better of Casey here with his taller frame and knees to the body. Casey pushes Hart to the cage, but it doesn't last as Hart reverses and pushes him into the fence.
Sonnen tells Casey to work a little big harder and keep scoring.
Round winds down to the last 30 seconds and Hart gets enough space to land a few punches.
Hart controls Casey against the fence to end the round. Seems like a 10-9 for Hart, mostly due to a higher striking output.
Jon Jones is cheesing it up, telling his team that he really wants this win.
Casey and Hart get their last interviews before they walk out to the cage.
Sonnen says that Casey will have to work hard to get the win, and that he can't rest at any point in the match-up.
Jones is telling Hart that he has the better cardio, and it'll make the difference.
Hart does a little trash-talk:
Collin Hart: "Kevin, I'm going to knock you out, fool. I'm going to make some money, and everyone's going to remember me."
Back at the TUF house, Uriah Hall isn't happy that Hart flipped off Casey at the weigh-ins and goes to confront him about it.
Hart says that he didn't like having his sleep schedule messed with, and Uriah is puzzled at the excuse.
Uh-oh. Don't make Uriah angry, guys.
Casey walks up to Hart and says that they're professionals and need to act like it. Casey chalks it up to Hart being younger.
Hart: "I want to set an example that it's not OK to come into my room in the middle of the night when we're about to fight. I'm going to hurt him and I'm going to make his whole team watch."
That actually sounded pretty reasonable. Getting woken up really sucks, so he probably has a right to be pissed off.
Uriah Hall was a big draw last week, no one on Twitter talking about TUF tonight.
Or maybe they're watching the news—isn't the President speaking or something?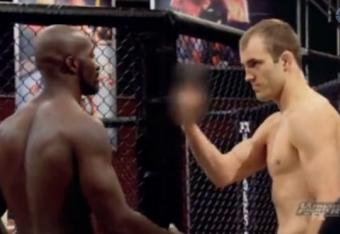 We cut to the weigh-ins, and Hart takes an extra pound of wiggle room at 186.
Casey also clocks in at 186 pounds, and Hart flips him off before the staredown.
Everyone reacts like it's in bad taste and the fighters go nose-to-nose before Gilbert Smith breaks them up.
Uriah Hall asks Casey if he can fight Hart instead, and Sonnen tries to get his team maintain cooler heads.
Team Sonnen talks about potential match-ups as well, and the fights that they think they can win.
Tor Troeng, one of the most experienced guys on the cast, says that there's no point in picking easy fights at the start.
Suddenly, the lights go off in the TUF house, and Team Sonnen goes off to prank Team Jones.
Kevin Casey proves that he's clearly the most inventive prankster in TUF history, and throws toilet paper at a sleeping Team Jones.
Sigh.
Uriah Hall wins bonus points for calling it "the dumbest prank" they could've pulled.
Collin Hart is pissed about it, though, since the teams apparently have a standing rule that you don't mess with anyone's sleep.
First "prank" of the season, folks.
Training footage of Casey plays as he details meeting up with Rickson Gracie and his son, Rockson Gracie.
Casey talks about Rockson's death and how it motivated him to succeed and represent the Gracie family.
Coach Sonnen weighs in on the match-up and says that although Hart is a good ground guy, he thinks that Casey can control him on the mat with wrestling.
Another clip shows Sonnen doing a private pep talk with Casey, as the team tries to patch any holes in his game.
Back at the TUF house, the guys are talking about Kevin Casey, who apparently has a rap album and videos online.
(And yes, it's just as bad as you would think.)
Oh, dear.
Gilbert Smith just started a rap battle with Casey. "Rapper Law" states that they must "throw down." Casey used "Q-Bert" in his freestyle. And he rhymed "gayin'" with "sayin'" to cap it off.
Clearly, he's the next Busta Rhymes.
Clint Hester jumps in with his own rap verses, but FX bleeps out the "N-word" repeatedly, so we don't get to experience the sheer mastery of it before he chokes.
Adam Cella gets the spotlight in a Miller Lite commercial, talking about teamwork.
Says that he would do anything for his teammates. Hence, they would do anything for him.
Romantic.
Also, ugh, gross. Miller Lite?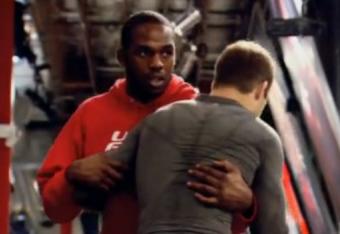 Jon Jones talks up Collin Hart and calls him one of the team's "better ground fighters" and dirty boxers.
Training footage of Hart is interstitched with him telling stories about how he was constantly beaten up by groups of kids when he was younger. Unlike Uriah Hall, it doesn't seem to have given Hart any super powers.
Hart says he never really played "a lot" of sports growing up, then immediately details his high school football and wrestling career. Uh-huh.
Jones says his plan is for Hart to exhaust Casey through the fight, and the very next clip shows him instructing Hart to hit Casey in the eye with elbows.
Hart says that while he doesn't want to hit Casey on his injured eye, getting called out is "a sign of disrespect" and he's going to elbow his face in.
At least Jones didn't teach anyone on his team how to push-kick their opponents' knees.
Team Jones recaps Cella on what happened during the fight, and Cella admits that Uriah is probably the best guy on their team.
Cella also consoles himself, saying that he gave Uriah "a pretty good run." At least he's a positive thinker.
Kevin Casey is still talking about the cut over his left eye, and this just seems like bad strategy. If you have an injury, you should really stop talking it up to guys who might have to fight you.
Casey: "Stylistically, I would rather go up against somebody with great hands right now, somebody that could work the cut easier."
Picking Collin Hart over Bubba McDaniel seems like the safe bet to Casey, who says that Bubba would be more likely to open up his eye.
Bubba says that Hart's best chance to beat Casey is to "f---ing smack him in the face" a lot. How eloquent.
Bubba also predicts that Casey will gas out in the second round, and all he does is takedowns off the cage, making him a one-note type of wrestler.
Bubba: "I would've been a little nicer and stayed away from his eye on purpose, just to prove that I'm a better fighter. Colin's going to rip that thing open with his fingernails if he's got to." Again, how eloquent.
Uriah: "It's the hurt business, and you've got to be ready to handle that. I guess when I hit him, I didn't know that I hit him that hard."
Manly response from Mr. Hall.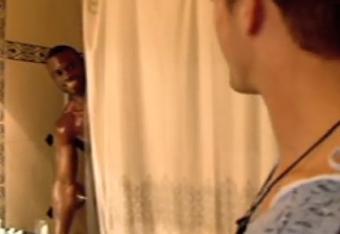 We tune into the episode as Adam Cella returns to the TUF 17 house straight from the hospital. Josh Samman is there to greet his teammate.
Cella doesn't remember anything from his fight against Uriah Hall, but he's in good spirits nonetheless.
Cella: "It was a pretty gnarly knockout. Call it what it is."
Not skipping a beat, Cella barges in Uriah while he's in he shower and (jokingly) demands an explanation for why he hit him so hard.
Uriah shakes Cella's hand while hanging halfway out of the shower and it's not quite as erotic as it might sound. Close, but not quite.
Cella notes some mild disappointment that he didn't even bruise up Uriah's eye at all. Pillow hands.
OK. Just waiting on FX now.
Oh, this is rich.
Team Sonnen's Kevin Casey actually DOES have a rap video. And here I thought that whole thing was a joke.
As funny/awful as it looks, the hilarious part is the lone white guy. Every group of black dudes has to have at least one white guy.
(Because he's likely the most dangerous one.)
KEVIN CASEY MMA FIGHTER WARNING TO ALL COMPETITORS
PS:
I'm just kidding, calm down.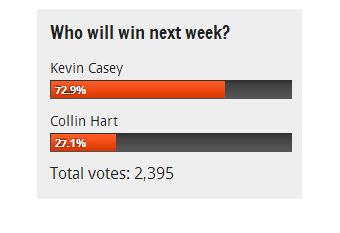 Let's recap the current roster standings, too.
Here's how TUF 17 has shaken out so far, with Team Sonnen boasting a healthy 2-0 lead. I'm not sure if Team Jones can afford to lose three straight matches, but none of their best fighters have gotten into the Octagon yet.
Team Jones:
1. Clint Hester (7-3)
2. Josh Samman (9-2)
3. Robert "Bubba" McDaniel (20-6)
4. Gilbert Smith Jr. (5-1)
5. Collin Hart (4-1-1)
6. Adam Cella (4-0)
7. Dylan Andrews (16-4-1)
Team Sonnen:
1. Luke Barnatt (5-0)
2. Uriah Hall (7-2)
3. Zak Cummings (15-3)
4. Tor Troeng (15-4-1)
5. Jimmy Quinlan (3-0)
6. Kevin Casey (5-2)
7. Kelvin Gastelum (5-0)
[Note: Winners are in bold, losers are scratched off the list and the next competitors' names for this episode are in italics.]
This article is
What is the duplicate article?
Why is this article offensive?
Where is this article plagiarized from?
Why is this article poorly edited?