The Ultimate Fighter 17, Ep. 3 Live Results: Can Team Jon Jones Beat Uriah Hall?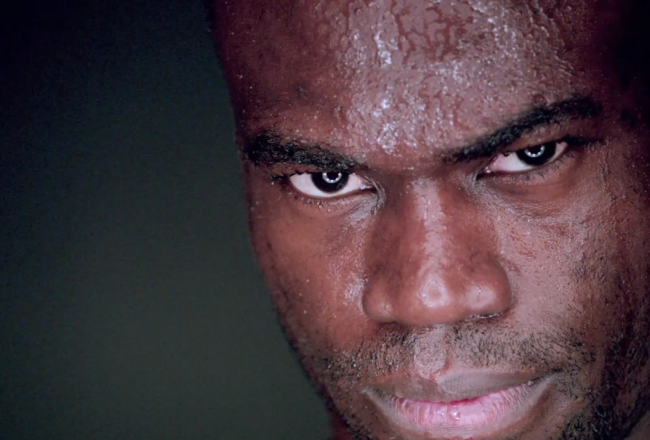 Can Uriah Hall push Team Sonnen to 2-0 against Team Jones? (Photo Credit: FX)

Season 17 of The Ultimate Fighter continues Tuesday night at 9 p.m. PT on FX with the middleweight tournament between Team Jon Jones and Team Chael Sonnen.
In episode three, all eyes are on middleweight bruiser Uriah Hall, who will attempt to keep some early momentum going by putting his crew 2-0 over their opponents.
To do that, Team Sonnen's No. 2 pick will have to get through undefeated prospect Adam Cella (Team Jones' No. 6 pick), a strong striker with some submission skills in his back pocket. As most of the cast members have already admitted, the mighty Hall is the clear favorite.
(Check out the full list of competitors here.)
Seemingly outgunned, the question is whether Team Jones and Cella can score an upset. Whatever happens will be memorable, as UFC president Dana White calls the end of this second first-round match "one of the nastiest knockouts" he's ever seen in the fight business.
UPDATE: Check out the full episode recap right over here, with impressions and thoughts on the match.
Well, that didn't take long.
It's not yet time for the West Coast broadcast, but FX and the UFC have posted the video of Uriah Hall's KO win over Adam Cella.
Vicious.
If that's the "KO of the Season," it wouldn't be shocking.
Result:
Uriah Hall def. Adam Cella via KO (WTF Kick), Round 1 (4:55)
Team Sonnen - 2, Team Jones - 0.
Recap coming up soon.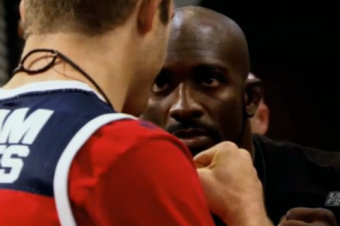 Uriah: "I feel bad about it. Adam, I hope you don't hate me."
Cella is going to the hospital for a CAT scan and Dana White tells the other fighters they made as well start working for Submission and Fight of the Season awards.
Jones goes to the hospital with Cella.
Sonnen picks Kevin Casey vs. Colin Hart next, and we have the third first-round fight.
Sonnen says that Casey's fight with Bubba will happen later.
Good Lord, I'm still tense over that knockout. Not the best I've ever seen, but the aftermath was worse than the actual kick.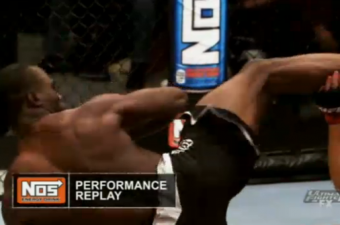 Folks, that KO was insane.
Cella eventually wakes up, and both teams applaud him for just living through it.
Cella: "What happened, bro?"
Jesus. Hall hit a rear kick and smacked Cella in the skull with his heel.
I don't think it's happenstance Hall is on that NOS commercial. — Nathan (@ACCBiggz) February 6, 2013
In my 13 years at UFC I have only seen 5 KO's like this. — Dana White (@danawhite) February 6, 2013
CELLA IS OUT COLD.
HALL hit him FLUSH with a some kind of spinning kick and Cella is LEVELED. Hall looks shocked at the damage he did and no one is celebrating.
Cella looks really hurt.
I have NO IDEA what that was called. Hall hit Cella with a spinning... back hook... kick?
Uriah Hall vs. Adam Cella
Round 1 - Alright, here we go. Dana White does the honors and the bell rings.
Both fighters touch hands and start pawing with jabs and kicks. Cella lunges in with an overhand punch and Hall responds with a clinch.
Hall holds the clinch and lands a bunch of knees before Cella breaks away.
Cella continues to flick out strikes, and Hall catches a leg. Hall dumps Cella on his back and starts to land shots in his guard. Cella tries a triangle attempt, and Hall stands straight up.
Hall looms over Cella, but Cella gets to his feet. Hall tags Cella with a show and knocks Cella down, but Cella pops right back up to his feet.
Sonnen tells Hall to keep his jabs going. Cella continues to throw soft strikes. Hall catches a foot and tosses Cella to the mat. Cella continues to probe with strikes, and Hall answer back with a loud high kick.
Cella blocks and keeps throwing overhand punches. Hall's hands are pretty low. Neither fighter seems to be doing much damage yet. Hall lets Cella swing at air, and both guys land punches and kicks up to the bell—nothing serious lands for either man and the round ends.
JESUS! HALL KOs CELLA!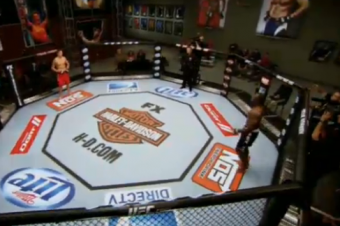 Both fighters warm up, and we cut to Team Sonnen first.
Hall warms up by hitting the pads, and Sonnen tells him to visualize every part of the fight. Not just winning, but also how Hall plans to come back if he's losing.
Cella talks about not being super athletic, and not having "abs for miles" like Hall, and how he wants to make sure to win regardless.
Both guys walk out to the cage and we cut to commercial. Moment of truth soon.
Commercial: Shaq is shilling some kind of "man lotion."
That's false, folks—there's no such thing as "man" lotion.
Dana White on Uriah Hall: "Where the Hell is this guy, and why haven't we signed him?"
Way to bury your talent-scouting office.
Hall and Cella both weigh-in, and Cella mocks surprise at Hall's physique.
Jon Jones comes to visit his team back at the TUF house, and hosts a campfire BBQ.
Jones asks his team why they're fighting in TUF, and Cella notably gives completely different answers from his previous interview, not letting on that he doesn't feel any pressing need to win.
More of the team tell their backstories, and we get the usual statements about this being 'everything' that the fighters have to look forward to.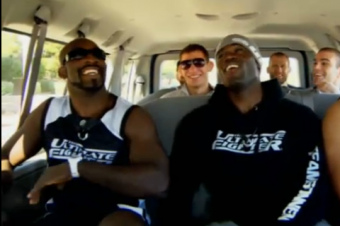 Team Sonnen talks some trash in the car as we tune back.
Kevin Casey is talking again about wanting to fight Bubba McDaniel later due to the cut over his eye.
Everyone else doesn't seem to thrilled about it.
Team Sonnen interestingly has a board on their wall of match-ups, because they don't want to keep secrets and have the matches open. Kevin Gastelum thinks that Casey is playing games as he fidgets about fighting Bubba.
We've got a UFC 157 commercial in the break.
Surprisingly, the UFC gives a decent amount of time to Liz Carmouche, as well as Ronda Rousey.
Chael: "For Uriah to win this fight, he needs to stay on the attack. We're not defensive fighters, we're focusing purely on offense."
Sonnen says that gameplans "aren't necessary" in MMA, a good explanation for all of his submission losses.
Uriah Hall says that he has everything to gain and nothing to lose.
However, he says that losing confidence is the worst thing he could do now.
Hall chats with Sonnen about it, and Sonnen talks about losing a ton of fights by second-round submission. Sonnen says it was a mental problem, and that like alcohol, he had to deal with not being embarrassed about it.
Sonnen name-drops Randy Couture, who apparently told him to compete and deal with the doubt.
Sonnen: "They'll tell you failure is not an option. That is ridiculous. Failure is always an option. It's a choice. You can chose to fail. It's OK." Key scene here shows why Sonnen looks like the better coach, as he's taking the time to understand Hall and give him a life lesson.
Pretty powerful stuff. Also, pretty powerful editing.
After failing the matchmaking portion of show by pairing his shortest guy with Chael's tallest, Jones is acing the motivational slogan test. — smoogy (@smoogymma) February 6, 2013
Key words from Jon Jones:
"Never feel sorry for yourself! It's a cold world!"
Here's another one from last episode.
"I believe in you. That's why I stuck with you. As long as I believe in you, you've got nothing to worry about, my friend." — Jon Jones to Gilbert Smith, doing his best Jesus Christ impression.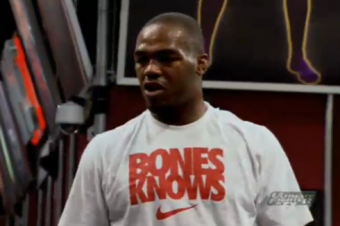 Back at the TUF house, Adam Cella chats with Bubba.
Cella: "What separates me from a lot of guys is I don't have to do this." He then talks about going to school and having jobs, which he assumes most of the cast didn't have.
Not a real ringing endorsement.
"I want to win this. I don't have to."
Coach Jon Jones starts to give Cella some pointers on kickboxing. Jones is wearing casual clothes and khakis, which seems odd. Maybe he's not rolling or training with the team too much.
More footage of Team Jones working as Jones shouts slogans at them: "You do NOT break when you're winning! You do NOT break when you lose!"
Team Sonnen goes to the TUF gym to practice, and there's trouble.
Chael Sonnen says that Hall is "clearly" the best guy on the show, but he's too intense in practice. Too competitive.
On cue, we get a look at that as Kevin Casey catches Hall in an arm submission during a scramble.
Hall doesn't take it too well and pouts until the show cuts to commercial.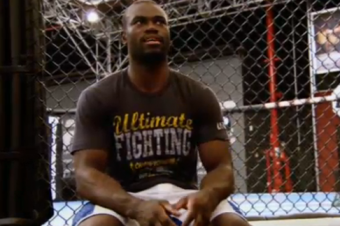 Both teams are hanging out at the house.
Hall reveals that he's a "professional cooker" and Josh Samman points out that Hall means "chef" —the tone must've been snarky enough, because Uriah now plans to call him out.
Hall tells us a frightening story of being picked on as a kid, with other calling him "stupid."
Hence, Hall doesn't like being bullied, as he goes to the house's pantry to vent about it. He's selling that he's REALLY mad at Samman for making fun of him.
Hall: "I try to do the right thing. If it wasn't for MMA, I wouldn't be here."
Profound words from the show's top pick.
OK! Show's kicking off.
We've got a brief recap before the show starts. First scene we go into, and Cella talks to coaches Jon Jones and Frank Mir.
Bubba McDaniel says that Cella can "smash" Uriah Hall, and complains about not getting to fight Kevin Casey.
Team Sonnen rides back to the house, and Kevin Casey talks about Bubba calling him out in the TUF gym, due to the cut on his eye: "I thought it was a weak move."
Bubba and Casey jaw about it in the house.
Casey: "You wanna pick an easy fight, pick an easy fight. Not one of the top dogs."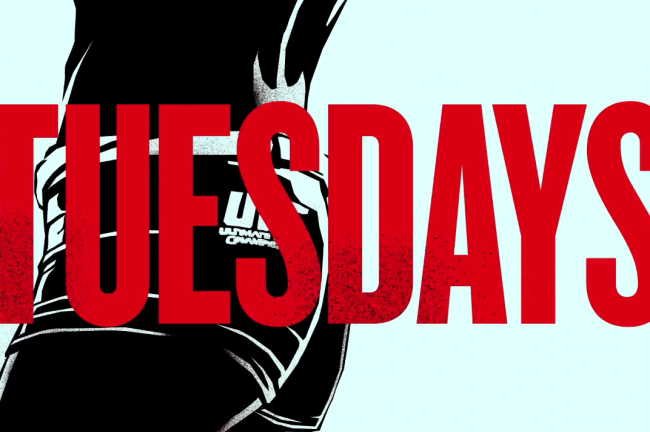 OK, 10 minute warning!
Get your snacks and grab your friends!
Less than 90 minutes to go before showtime!
As a last-minute reminder, here's how the bracket stands, with defeated fighters crossed out, winners bolded and upcoming competitors italicized.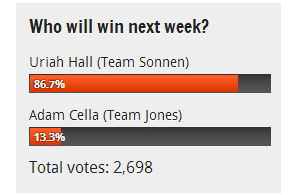 Team Jones:
1. Clint Hester (7-3)
2. Josh Samman (9-2)
3. Robert "Bubba" McDaniel (20-6)
4. Gilbert Smith Jr. (5-1)
5. Collin Hart (4-1-1)
6. Adam Cella (4-0)
7. Dylan Andrews (16-4-1)
Team Sonnen:
1. Luke Barnatt (5-0)
2. Uriah Hall (7-2)
3. Zak Cummings (15-3)
4. Tor Troeng (15-4-1)
5. Jimmy Quinlan (3-0)
6. Kevin Casey (5-2)
7. Kelvin Gastelum (5-0)
Looking back to the poll we ran after last week's episode, more than 86 percent of you picked Hall to beat Cella in the second first-round match.
Anyone having second thoughts?
This article is
What is the duplicate article?
Why is this article offensive?
Where is this article plagiarized from?
Why is this article poorly edited?